Table of contents: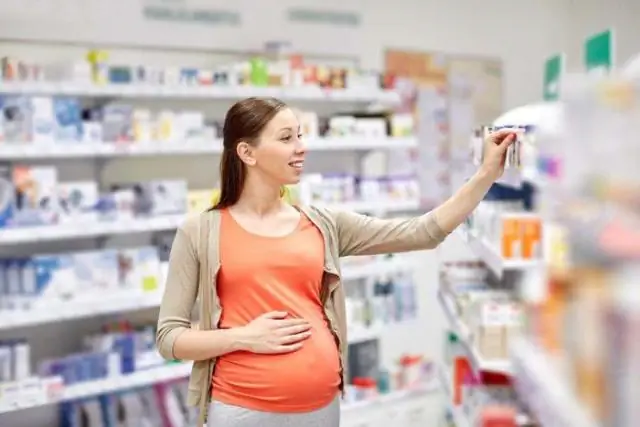 Video: Mefenamic Acid - Instructions, Use For Children, Price, Reviews, Analogues
Mefenamic acid
Mefenamic acid: instructions for use and reviews
1. Release form and composition
2. Pharmacological properties
3. Indications for use
4. Contraindications
5. Method of application and dosage
6. Side effects
7. Overdose
8. Special instructions
9. Use in childhood
10. Drug interactions
11. Analogs
12. Terms and conditions of storage
13. Terms of dispensing from pharmacies
14. Reviews
15. Price in pharmacies
Latin name: Mefenamic acid
ATX code: M01AG01
Active ingredient: mefenamic acid (mefenamic acid)
Manufacturer: Flamingo Pharmaceuticals Ltd., India
Description and photo update: 2019-13-08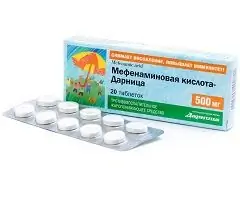 Mefenamic acid is a drug with analgesic, antipyretic and anti-inflammatory effects.
Release form and composition
Mefenamic acid is produced in the form of tablets (in blisters of 10 pcs., 1 or 2 packs in a cardboard box).
The composition of 1 tablet includes:
Active substance: Mefenamic acid - 0.5 g;
Auxiliary components: octadecanoic acid, potato starch, methylcellulose, croscarmellose sodium, magnesium stearic acid.
Pharmacological properties
Pharmacodynamics
Mefenamic acid is a derivative of anthranilic acid and belongs to the group of antirheumatic and non-steroidal anti-inflammatory drugs. The drug is able to reduce the intensity of the body's production of specific inflammatory mediators - prostaglandins and serotonin. Mefenamic acid affects both the central mechanisms of increasing pain sensitivity and the processes occurring in the periphery, and also inhibits the activity of lysosome proteases.
Mefenamic acid helps stabilize cell membranes and protein ultrastructures, eliminates puffiness and reduces capillary permeability. The antipyretic effect of the active component of the drug is explained by its ability to affect the thermoregulatory center located in the brain and suppress the production of inflammatory mediators.
Also, mefenamic acid is characterized by a moderately pronounced antiviral effect due to the stimulation of interferon synthesis and an increase in the concentration of T-lymphocytes and T-helpers.
Pharmacokinetics
After oral administration of mefenamic acid, its maximum concentration in the blood is reached after about 3 hours. The content of the substance in the blood plasma directly depends on the dose taken (there is a linear relationship). Mefenamic acid binds to proteins to a high degree and is metabolized in the liver. The half-life is 120-240 minutes, and the drug is excreted in urine and feces.
Indications for use
Symptomatic therapy of pain syndrome;
Influenza and acute respiratory viral infections (along with other drugs);
Feverish conditions (as an antipyretic agent);
Inflammatory disorders of the osteoarticular apparatus: rheumatism, rheumatoid arthritis, ankylosing spondylitis;
Pain, inflammation and swelling that develop in the post-traumatic and postoperative periods;
Blood loss with menorrhagia, which is caused by ovulatory dysfunctional bleeding in the absence of pelvic organ pathologies;
Functional dysmenorrhea.
Contraindications
Functional disorders of the kidneys and liver;
Inflammatory diseases of the gastrointestinal tract;
Peptic ulcer of the stomach and duodenum;
Diseases of the blood;
Age up to 5 years;
Pregnancy and lactation (breastfeeding);
Hypersensitivity to drug components.
Instructions for the use of Mefenamic acid: method and dosage
Mefenamic acid is taken orally, after a meal.
A single dose is determined by age:
Adults and children over 12 years old: 0.25-0.5 g (maximum daily dose - 3 g, with improvement, the dose is reduced to 1 g);
Children 5-12 years old: 0.25 g.
The frequency of taking the drug is 3-4 times a day.
The doctor sets the duration of treatment individually (on average - 20-60 days). When carrying out symptomatic therapy of pain syndrome, the drug is usually used for up to 7 days.
Side effects
Most often, during the use of Mefenamic acid, the occurrence of disorders from the gastrointestinal tract is noted, manifested as dyspepsia, gastrointestinal discomfort, pain in the epigastric region, diarrhea, and an increase in the level of liver enzymes. Taking the drug can lead to the development of stomach ulcers and gastrointestinal bleeding.
Also during therapy, the following side effects may occur:
Cardiovascular system: increased blood pressure, rhythm disturbances, peripheral edema; rarely - congestive heart failure;
Central nervous system: very rarely - irritability, sleep disturbance;
Genitourinary system: non-specific inflammation of the kidneys, functional disorders of the kidneys, dysuria, albuminuria, hematuria;
Respiratory system: bronchospasm, dyspnea;
Hematological effects: eosinophilia, agranulocytosis, thrombocytopenic purpura or thrombocytopenia, hemolytic anemia;
Allergic reactions: urticaria, skin rash.
Overdose
Symptoms of an overdose of Mefenamic acid include drowsiness, decreased blood pressure, nausea, vomiting, gastrointestinal bleeding, pain in the abdomen, depression of the respiratory center, convulsions, coma.
The active ingredient of the drug has no specific antidote. When taking too high doses of Mefenamic acid, it is recommended to wash the stomach and take enterosorbents. Acidification of urine and forced diuresis are also shown. The effectiveness of hemodialysis in this case remains insignificant.
special instructions
According to the instructions, mefenamic acid should not be taken by patients with an allergy to aspirin and nonsteroidal anti-inflammatory drugs, severe heart failure, ulcers, intestinal perforation, severe cirrhosis of the liver, and also after heart surgery.
The drug should be taken with caution in elderly patients, as well as in case of epilepsy, dehydration, allergies, asthma, diabetes mellitus, circulatory disorders, risk of stroke, angina pectoris, bleeding disorders, porphyria, decreased liver or kidney function. This group of patients may require dose reduction or change in therapy regimen.
To reduce irritation of the gastric mucosa, the drug is recommended to be taken with meals. Also, if necessary, it is possible to reduce the dose taken. With the development of skin rashes or diarrhea, the drug should be discontinued.
With prolonged treatment, blood counts and kidney and liver function should be monitored.
During the use of Mefenamic acid, it is not recommended to drive vehicles and perform work that requires high attention and quick psychomotor reactions.
Pediatric use
Mefenamic acid is not prescribed for children under the age of 5 years.
The maximum daily dose of mefenamic acid for children from 5 to 12 years old is 1 g. Usually 250 mg is prescribed 3-4 times a day. The duration of therapy is determined by the doctor.
Drug interactions
With the simultaneous use of Mefenamic acid with certain drugs, undesirable effects may occur:
Opioid analgesics, dicoumarin, vitamins B6, B1, phenothiazine derivatives: enhancement of the effect of Mefenamic acid;
Anticoagulants, vitamin K antagonists: enhancing their effect;
Methotrexate: enhancement of its negative effects;
Warfarin, non-steroidal anti-inflammatory drugs: increased risk of gastrointestinal disorders;
Antacids: increasing the bioavailability of mefenamic acid, increasing its side effects.
Analogs
Analogs of Mefenamic acid are: Mefenamic acid-Darnitsa, Jenospa.
Terms and conditions of storage
Keep out of reach of children at temperatures up to 25 ° C.
Terms of dispensing from pharmacies
Available without a prescription.
Reviews of Mefenamic acid
Almost all reviews of Mefenamic acid are positive. Patients note that the drug fights well with various viruses, allows you to quickly and permanently bring down a high temperature, has practically no side effects. Many people like the low cost of the drug.
Price for Mefenamic acid in pharmacies
At the moment, the price of Mefenamic acid remains unknown, since the drug is not available for sale.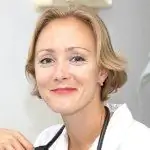 Anna Kozlova Medical journalist About the author
Education: Rostov State Medical University, specialty "General Medicine".
Information about the drug is generalized, provided for informational purposes only and does not replace the official instructions. Self-medication is hazardous to health!
Popular by topic