Table of contents: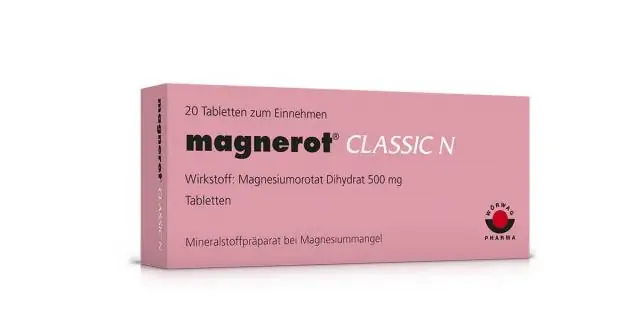 Video: Magnerot - Instructions For Use, Price, Reviews, Tablet Analogs
Magnerot
Magnerot: instructions for use and reviews
1. Release form and composition
2. Pharmacological properties
3. Indications for use
4. Contraindications
5. Method of application and dosage
6. Side effects
7. Overdose
8. Special instructions
9. Application during pregnancy and lactation
10. Use in childhood
11. In case of impaired renal function
12. For violations of liver function
13. Drug interactions
14. Analogs
15. Terms and conditions of storage
16. Terms of dispensing from pharmacies
17. Reviews
18. Price in pharmacies
Latin name: Magnerot
ATX code: A12CC09
Active ingredient: magnesium orotate
Producer: MAUERMANN ARZNEIMITTEL (Germany)
Description and photo update: 2019-20-08
Prices in pharmacies: from 258 rubles.
Buy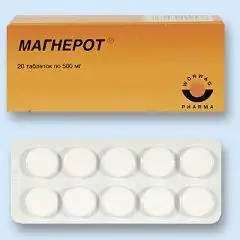 Magnerot is a magnesium-containing mineral supplement.
Release form and composition
Magnerot is produced in the form of tablets: round, flat, white, with a line on one side and chamfers on both (10 pcs. In blisters, in a cardboard box 2 or 5 blisters).
Active ingredient: magnesium orotate dihydrate, in 1 tablet - 500 mg.
Excipients: sodium carmellose, povidone K30, microcrystalline cellulose, colloidal silicon dioxide, sodium cyclamate, magnesium stearate, lactose monohydrate, corn starch, talc.
Pharmacological properties
Pharmacodynamics
Magnerot is a drug that contains magnesium orotate as an active substance. Magnesium is an essential macronutrient required for many energy processes, involved in the metabolism of fats, carbohydrates, proteins and nucleic acids, as well as in the process of neuromuscular excitation (inhibits neuromuscular transmission).
Magnesium is a natural physiological calcium antagonist. It is necessary for the normal functioning of myocardial cells, since it takes part in its contractile function.
In stressful situations, the body loses large amounts of free ionized magnesium, so the additional intake of this macronutrient helps to increase resistance to stress.
Due to magnesium deficiency, the development of neuromuscular disorders (sensory and motor hyperexcitability, paresthesia, seizures), psychological changes (hallucinations, confusion, depression), cardiovascular diseases (tachycardia, ventricular extrasystole, hypersensitivity to cardiac glycosides) is possible. Lack of magnesium in pregnant women can lead to toxicosis and premature birth.
Magnerot contains magnesium in the form of orotat. Salts of orotic acid are involved in the metabolic process, they are necessary for the fixation of magnesium on the angiotensin-converting enzyme in the cell and for the manifestation of its action.
Pharmacokinetics
Approximately 35–40% of the dose taken is absorbed. The presence of orotic acid salts in the composition of Magnerot helps to improve the absorption of magnesium.
Hypomagnesemia stimulates the absorption of magnesium ions.
The drug is excreted by the kidneys. Excretion increases with an excess of magnesium in the body and decreases with its deficiency.
Indications for use
Complex therapy and prevention:
Angina pectoris;
Arrhythmias (due to magnesium deficiency);
Myocardial infarction;
Chronic heart failure;
Arteritis;
Atherosclerosis;
Spastic conditions - pain and muscle spasms (including angiospasm);
Lipid metabolism disorders.
Contraindications
Renal dysfunction;
Liver cirrhosis with ascites;
Predisposition to the formation of calcium-magnesium-ammonium-phosphate stones;
Urolithiasis disease;
Lactase deficiency, glucose-galactose malabsorption, lactose intolerance;
Age under 18;
Hypersensitivity to Magnerot's components.
Instructions for use Magnerot: method and dosage
Magnerot should be taken orally with a small amount of liquid before meals.
In the first 7 days, 2 tablets are prescribed 3 times a day, then 1 tablet 2-3 times a day. The total duration of treatment is at least 4 weeks, if necessary, the drug can be taken for a long time.
With night cramps of the calf muscles, the drug is recommended to take 2-3 tablets in the evening.
Side effects
Digestive system: when taking the drug in high doses - unstable stool, diarrhea (when the dose is reduced, they pass on their own);
Others: allergic reactions.
Overdose
In patients with normal renal function, magnesium does not cause toxic reactions when taken orally. Poisoning is possible with renal failure. The severity of the effects depends mainly on the concentration of magnesium in the blood serum. The main symptoms of an overdose: nausea, vomiting, slow reflexes, depression, anuric syndrome, respiratory depression, decreased blood pressure, coma, cardiac arrest.
Rehydration and forced diuresis are indicated as therapeutic measures. Patients with renal failure require hemodialysis or peritoneal dialysis.
special instructions
It should be borne in mind that a lack of magnesium in the body can develop due to the following factors:
Diseases of the gastrointestinal tract;
Consuming foods low in magnesium;
Taking certain medicines (for example, diuretics, laxatives, oral contraceptives, glucocorticosteroids, cardiac glycosides, aminoglycoside antibiotics);
Intense physical activity (due to increased sweating);
Prolonged sun exposure;
Conditions requiring an increased intake of magnesium, including pregnancy, lactation, stress, physical inactivity;
Chronic alcoholism.
Magnerot does not adversely affect the speed of reactions and the ability to increase concentration of attention.
Application during pregnancy and lactation
During pregnancy and lactation, Magnerot can be used according to indications, since during these periods the need for magnesium increases significantly. If the content of this macronutrient is not balanced, serious complications can develop, including miscarriage.
Pediatric use
According to the instructions, Magnerot is contraindicated for use in patients under the age of 18.
With impaired renal function
It is contraindicated to prescribe the drug to patients with impaired renal function and urolithiasis.
For violations of liver function
Magnerot is prohibited from admission for cirrhosis of the liver, accompanied by ascites (accumulation of fluid in the abdominal cavity).
Drug interactions
Glucocorticosteroids, muscle relaxants, oral contraceptives, insulin and diuretics reduce the effectiveness of Magnerot.
In the case of the simultaneous administration of iron preparations, tetracyclines or sodium fluoride, 2-3-hour intervals should be observed between medications. Magnerot may reduce their absorption.
Analogs
Magnerot's analogs are: Magnesium sulfate, Magnesium sulfate-J, Magvit, Kormagnesin, Magne B6, Magne B6 Forte, Magnesium Diasporal 300.
Terms and conditions of storage
Keep out of reach of children at temperatures up to 25 ° C.
The shelf life is 5 years.
Terms of dispensing from pharmacies
Available without a prescription.
Reviews about Magnerot
In general, the reviews about Magnerot are positive. Patients note that the drug helps to get rid of the cramps of the calf muscles, normalizes cardiac activity, eliminates the symptoms of arrhythmia (caused by a lack of magnesium), increases stress resistance, relieves the tone of the uterus.
The disadvantages of many patients include only a fairly high cost of the drug, especially given the fact that the course of treatment in most cases is long and usually involves taking from 3 to 6 tablets per day.
The price of Magnerot in pharmacies
Approximate prices for Magnerot (500 mg tablets): 262-300 rubles. per pack of 20 tablets, 562–657 rubles. per pack of 50 tablets.
Magnerot: prices in online pharmacies
Drug name
Price
Pharmacy
Magnerot 500 mg tablets 20 pcs.
258 r
Buy
Magnerot tablets 500mg 20 pcs.
285 r
Buy
Magnerot 500 mg tablets 50 pcs.
509 RUB
Buy
Magnerot 500mg tablets 50 pcs.
591 r
Buy
Magnerot 500mg tablets 100 pcs.
1073 RUB
Buy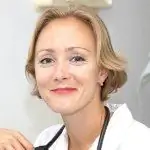 Anna Kozlova Medical journalist About the author
Education: Rostov State Medical University, specialty "General Medicine".
Information about the drug is generalized, provided for informational purposes only and does not replace the official instructions. Self-medication is hazardous to health!
Popular by topic