Table of contents:
Video: Loratadin-VERTEX - Instructions For The Use Of Tablets, Price, Reviews
Loratadin-VERTEX
Latin name: Loratadine-VERTEX
ATX code: R06AX13
Active ingredient: loratadine (Loratadine)
Manufacturer: JSC "VERTEX" (Russia)
Description and photo update: 2020-18-08
Prices in pharmacies: from 83 rubles.
Buy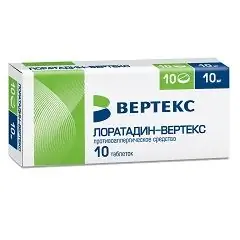 Loratadin-VERTEX is an antiallergic drug.
Release form and composition
The drug is produced in the form of tablets: almost white or white, round, flat-cylindrical, with a chamfer (10, 20 or 30 pieces in a blister strip packaging, in a cardboard box 1, 2 or 3 packages of 10 pieces each or 1 package of 20 or 30 pcs., as well as instructions for the use of Loratadin-VERTEX).
Composition for 1 tablet:
active substance: loratadine - 10 mg;
additional substances: microcrystalline cellulose, calcium stearate, sodium carboxymethyl starch (sodium starch glycolate, type A), lactose monohydrate.
Pharmacological properties
Pharmacodynamics
Loratadine is a tricyclic compound with a pronounced antihistamine effect and belongs to the group of selective blockers of peripheral H 1 -histamine receptors. It is characterized by a rapidly manifested, long-term antiallergic activity. After oral administration, the antihistamine effect of Loratadin-VERTEX manifests itself after 0.5 hours, reaches a maximum after 8-12 hours from the onset of action and lasts more than 24 hours.
The active substance, when used in recommended doses, does not affect the central nervous system (CNS), practically does not exhibit sedative and anticholinergic effects, that is, it does not lead to drowsiness and does not affect the speed of psychomotor reactions.
Vital signs, laboratory test results or electrocardiography, as well as physical examination data do not undergo significant changes against the background of a long course of therapy. Taking Loratadin-VERTEX does not cause lengthening of the QT interval on the electrocardiogram (ECG).
The drug does not block the reuptake of norepinephrine, does not have a significant effect on H 2 -histamine receptors. There is practically no effect of loratadine on the function of the pacemaker and the activity of the cardiovascular system.
Pharmacokinetics
The active substance is quickly and well absorbed in the gastrointestinal tract (GIT). The maximum plasma concentration (C max) of loratadine after oral administration is noted after 1-1.5 hours, and its active derivative (desloratadine) - after 1.5-3.7 hours. Simultaneous food intake leads to an increase in the period of reaching C max (T max) on average for 1 hour, but this does not affect the effectiveness of the drug.
Loratadine and its active metabolite desloratadine bind to plasma proteins by 97–99% and 73–76%, respectively. Stationary plasma concentrations (C ss) of loratadine and desloratadine are recorded on the fifth day of administration. The drug does not cross the blood-brain barrier.
The active substance is metabolized in the liver with the help of cytochrome P 450 isoenzymes CYP3A4 and, to a lesser extent, CYP2D6. As a result of metabolic transformation, the active metabolite descarboethoxyloratadine (desloratadine) is formed.
The drug is eliminated for more than 10 days, mainly in the form of conjugated metabolites: about 40% of the oral dose administered through the kidneys and about 42% through the intestines. On average, it is excreted by the kidneys for 24 hours after taking 27% of the dose received, while unchanged - less than 1%. The half-lives (T 1/2) of loratadine and desloratadine are approximately 8.4 hours (3–20 hours) and 28 hours (8.8–92 hours), respectively.
In the presence of chronic renal pathologies, C max and the area under the pharmacokinetic curve (AUC) of loratadine and its active derivative increase in comparison with these indicators with normal renal function. At the same time, T 1/2 of loratadine and its metabolite in patients with chronic kidney disease are similar to those in healthy patients. Treatment with hemodialysis in patients with chronic renal failure did not lead to changes in the pharmacokinetics of loratadine and desloratadine.
In the presence of alcoholic liver damage, the AUC and C max of loratadine and desloratadine increased 2-fold compared with these indicators with normal hepatic function. At the same time, T 1/2 of the active substance and its metabolite increases against the background of aggravation of the severity of the disease.
In healthy adult volunteers and elderly volunteers, the pharmacokinetic profiles of the active substance and its active metabolite were comparable. In elderly patients, T 1/2 of loratadine and desloratadine are approximately 18.2 hours (6.7–37 hours) and 17.5 hours (11–39 hours), respectively.
Indications for use
seasonal (hay fever) and perennial allergic rhinitis, allergic conjunctivitis - in order to eliminate symptoms caused by these diseases, such as itching of the nasal mucosa, sneezing, rhinorrhea, watery eyes, itching and burning sensation in the eyes;
chronic idiopathic urticaria.
Contraindications
Absolute:
glucose-galactose malabsorption, lactase deficiency, lactose intolerance (the drug contains lactose monohydrate);
age up to 3 years and body weight less than 30 kg;
period of breastfeeding;
intolerance or hypersensitivity to any component of the drug.
Relative (use Loratadin-VERTEX with caution):
pregnancy;
severe hepatic dysfunction.
Loratadin-VERTEX, instructions for use: method and dosage
Loratadin-VERTEX tablets are taken orally, regardless of meal time. They should be swallowed whole without chewing and drinking plenty of water.
Children over 3 years of age, adolescents and adult patients are recommended to take the drug once a day at a dose of 10 mg (1 tablet).
Patients with severely impaired liver function need to take Loratadin-VERTEX in a reduced dose - every other day, 10 mg (1 tablet).
Side effects
In the course of clinical studies in which children 2–12 years old took part, in the group receiving loratadine, the most common disorders, compared with the placebo group, were such disorders as fatigue (1%), nervousness (2.3%), headache. pain (2.7%). In adults, in the course of research, undesirable effects were observed in 2% of patients receiving an antihistamine. Most often, patients from this group, when compared with those taking placebo, experienced insomnia (0.1%), increased appetite (0.5%), headache (0.6%) and drowsiness (1.2%) …
Also, in the post-registration period, reports of the following adverse reactions were extremely rare: dry mouth, fatigue, dizziness, gastrointestinal disorders (including nausea, gastritis), palpitations, weight gain, alopecia, rash, angioedema, anaphylaxis, tachycardia, liver dysfunction, seizures.
Overdose
Symptoms of an overdose of Loratadin-VERTEX may include drowsiness, headache, tachycardia. If you suspect an overdose, you should immediately consult a doctor for symptomatic and supportive treatment. It is possible to carry out gastric lavage and the introduction of adsorbents (crushed activated carbon with water). The drug is not eliminated by hemodialysis. After providing the patient with emergency care, you should continue to monitor his condition.
special instructions
If it is necessary to carry out allergic skin tests, it is necessary to stop taking Loratadin-VERTEX at least 48 hours before their start, since the drug may affect the results of these tests.
Influence on the ability to drive vehicles and complex mechanisms
No negative effect of loratadine on the ability to drive motor vehicles or other potentially dangerous and complex equipment was found. However, in some cases, while taking Loratadin-VERTEX tablets, drowsiness and headache may develop, which may affect the ability to perform these types of activities.
Application during pregnancy and lactation
The safety of using loratadine in pregnant women has not been determined. Loratadin-VERTEX therapy during pregnancy is possible only if the intended benefit of the treatment for the expectant mother significantly outweighs the possible threat to the fetus.
It has been established that desloratadine, as well as loratadine, are excreted in breast milk, therefore, if it is necessary to use Loratadine-VERTEX during lactation, it is necessary to decide on the termination of breastfeeding.
Pediatric use
Loratadin-VERTEX is contraindicated for children under 3 years of age and weighing less than 30 kg.
With impaired renal function
Patients with impaired renal function do not need to change the dosage regimen.
For violations of liver function
Patients with severely impaired liver function need to take an antihistamine in a reduced dose - every other day, 10 mg (1 tablet).
Use in the elderly
There is no need to adjust the dose of Loratadin-VERTEX for the elderly.
Drug interactions
ketoconazole, cimetidine, erythromycin: there is an increase in the plasma content of loratadine and its metabolite in the blood, but it is not clinically significant, including ECG results;
ethanol: there is no increase in the effect of this substance on the central nervous system.
Analogs
Loratadin-VERTEX analogs are Loratadin, Erolin, Loratadin-OBL, Clarifer, Loratadin Stada, Claridol, LoraGEXAL, Alerpriv, Loratadin-AKOS, Lomilan, etc.
Terms and conditions of storage
Store out of the reach of children and protected from light, at a temperature not exceeding 25 ° C.
The shelf life is 3 years.
Terms of dispensing from pharmacies
Available without a prescription.
Reviews about Loratadin-VERTEX
On specialized sites, patients leave in most cases positive reviews about Loratadine-VERTEX. The antihistamine has been shown to be effective in relieving symptoms of allergic rhinitis and conjunctivitis, as well as in the treatment of chronic idiopathic urticaria. The advantages of the product include an affordable price, a convenient dosing regimen and minimal development of adverse events.
In rare cases, there is an insufficient or short-term effect of Loratadin-VERTEX and the appearance of drowsiness while taking it.
Price for Loratadin-VERTEX in pharmacies
The average price for Loratadin-VERTEX in tablet form (10 mg) is 80 rubles. for 30 pcs. packaged.
Loratadin-VERTEX: prices in online pharmacies
Drug name
Price
Pharmacy
Loratadin-Vertex tablets 10mg 30 pcs.
83 rbl.
Buy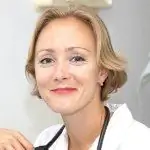 Anna Kozlova Medical journalist About the author
Education: Rostov State Medical University, specialty "General Medicine".
Information about the drug is generalized, provided for informational purposes only and does not replace the official instructions. Self-medication is hazardous to health!
Popular by topic