Table of contents: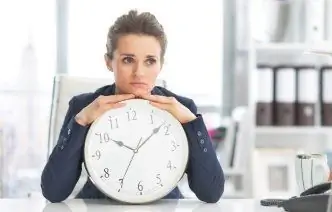 Video: Menopause. How To Maintain Beauty And Attractiveness
Menopause. How to maintain beauty and attractiveness
Modern society imposes very strict requirements on a woman: she must be a loving wife, a caring mother, and a successful business woman. At the same time, it is desirable to "look young", to remain attractive and active even in the most difficult periods of life.
One of these periods is menopause. Many women are afraid even of the word itself. But fears are associated more with the traditional attitude to this phenomenon and a lack of understanding of how to behave during menopause.
Menopause and menopause: physiology features
Strictly speaking, menopause and menopause are different terms. Experts call menopause a condition when at least 1 year has passed since the last menstruation. Climax is a more general name for the period of extinction of the reproductive system, which begins with a gradual "shutdown" of reproductive functions and ends after 5-10 years. However, in general, these words mean the same condition - a woman can no longer get pregnant and give birth to a child.
Usually menopause begins at the age of 43-55 years. During this period, the supply of eggs is depleted, and the ovaries synthesize less and less estrogen.
Estrogens are a group of female sex hormones. It is obvious that their main "area of responsibility" is the work of the reproductive system. However, estrogens are involved in the regulation of other body functions, for example, in the absorption of calcium, collagen production, and maintenance of the emotional background.
A small amount of estrogen is produced by the adrenal glands, but this amount is not enough to compensate for the reduction in estrogen synthesis in the ovaries. Therefore, the body begins to rebuild to work in a different hormonal regime. And the symptoms of this restructuring can be very unpleasant: hot flashes, mood swings (emotional lability), changes in libido, skin aging, weight gain. It is worth remembering that most of these phenomena can be eliminated. The main thing is not to consider discomfort as the norm.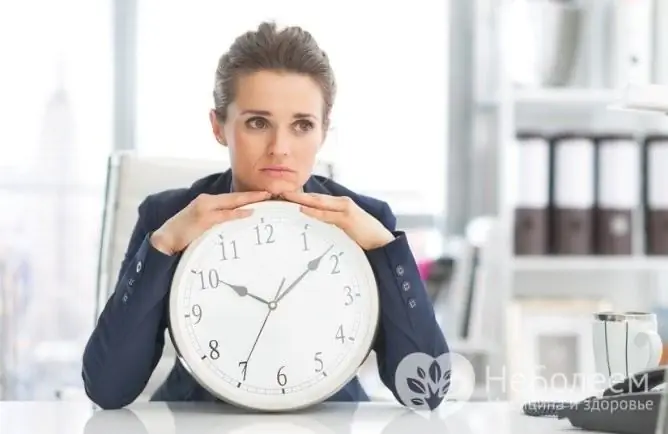 Don't give depression a chance
It is very important to understand that a bad mood, dull thoughts are the result of a change in hormonal balance, and not a real state of affairs. Try to look at the situation from the other side. At the age of 40, a woman has already achieved a lot, she understood a lot about herself and knows what she wants. The family, most likely, does not take as much time and energy as it did when the children were younger. Now you can and should devote more time to yourself! You can do whatever you were denied yourself: hobbies, sports, travel, self-care … By the way, a decreasing supply of eggs does not mean that a woman loses sexually attractive or has to give up intimacy with her beloved man. See, life doesn't end! Many women will now probably dismiss what they read: they say, all this is fine in theory, but what about in practice, when after work there is no strength left,no mood?
The answer is simple. The loss of energy is associated with a decrease in energy production. Add to your diet the intake of B vitamins, which are necessary for energy metabolism in the body. B vitamins are not energy, you will not feel an instant boost of vivacity, but when taken regularly, they normalize energy production, and you will be able to stay active longer.
A low emotional background is caused by a drop in serotonin levels. And its production in the body is closely related to estrogens, the amount of which is rapidly decreasing during menopause. The natural amino acid 5-Hydroxytryptophan (5-HTP) helps maintain serotonin levels. Do not be intimidated by the long name - 5-HTP is a natural substance that is involved in the synthesis of serotonin. 5-Hydroxytryptophan reduces anxiety, soothes, improves mood, sleep, concentration and memory.
5-HTP, derived from the Griffonia plant, is part of the natural, non-hormonal Mensa preparation for menopausal women. "Mensa", by the way, also contains B vitamins.
Another aspect of maintaining your mood is also important. Do not withdraw into yourself! Talk to your partner, family, and friends about your fears and moods. Surely you will be surprised when you find out that you have not become less attractive, interesting and important person in their eyes. Sometimes the support of loved ones is enough to calm down and reduce unpleasant emotions.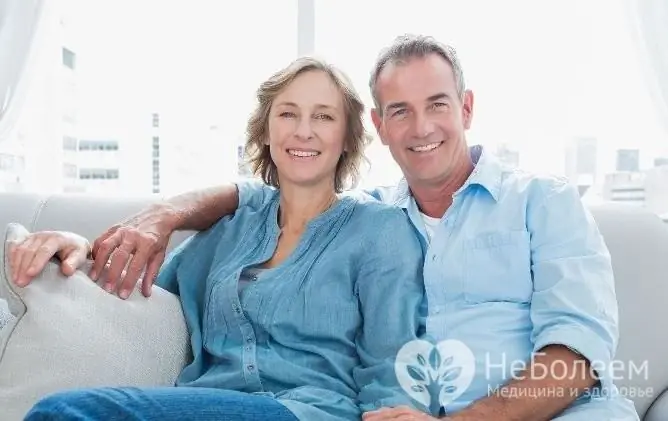 Move more
It takes effort to stay healthy and fit. Choose the time and physical activity that you enjoy. Swimming, yoga, dancing, cycling, or even kickboxing will do anything that makes you want to move. Don't have time and money for subscriptions to sports complexes? Find suitable videos online and set aside 15 minutes in the morning or evening to work out. Walk a lot or ride a bicycle, scooter - this will surprise no one.
What does it do? Physical activity affects the emotional background, reduces the risk of developing cardiovascular diseases and helps to cope with other negative manifestations of menopause.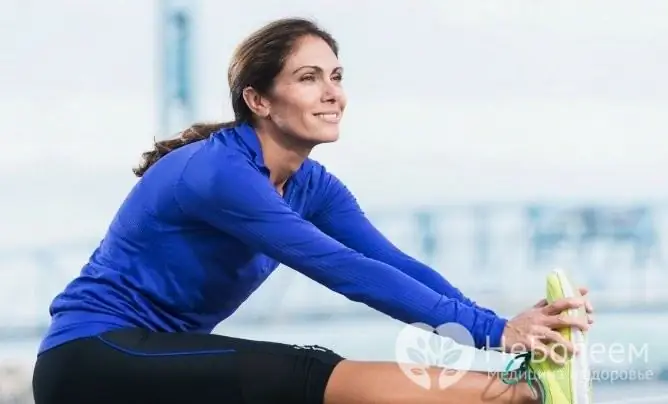 Take good care of your skin
Estrogens affect collagen production, and collagen is the main constituent of the skin skeleton. Therefore, the dependence is obvious: less estrogen - less collagen and hyaluronic acid (water depot). So don't forget to moisturize your skin. Creams and tonics with hyaluronic acid, peptide serums and occlusive creams are the cosmetics of choice for aging skin. You should not leave yourself without protection from ultraviolet radiation, which provokes skin aging. You need to regularly use a cream or powder with sunscreen components, even if you live in the middle lane, not to mention a vacation in southern countries.
In addition, there are medical technologies for maintaining youth and beauty: from mesotherapy, peelings and biorevitalization, to botulinum toxin therapy (botox), the introduction of fillers and the installation of threads.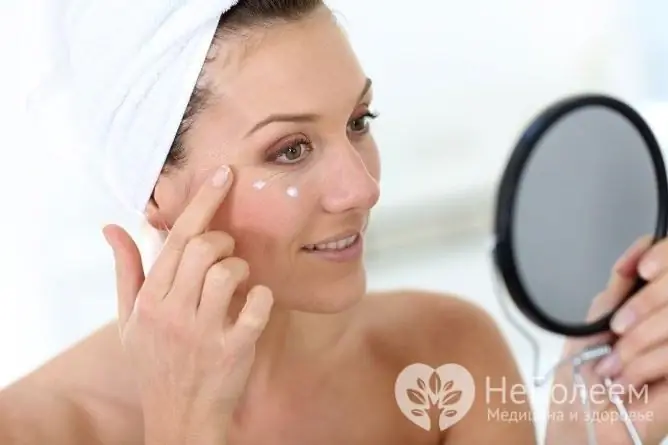 Watch your diet
Weight gain during menopause is another reason for fear of this condition. But remember that weight does not increase on its own, simply because you are getting older. It's all about nutrition. Yes, it has been proven that during menopause, many women experience increased cravings for sugary and fatty foods. And again, hormones are to blame. On the one hand, food is the fastest way to get positive emotions, because the emotional background during menopause decreases. But on the other hand, the hand does not reach for salads or chicken breast, right? The thing is that adipose tissue also synthesizes estrogens. And the body tends to store more fat in order to get more estrogen. This means that it requires sweet and fatty. Therefore, it is advisable to pay attention to your diet and slightly correct it. Also give up spicy foods, chocolate,cocoa and alcohol - they provoke hot flashes.
Recently, diets high in phytoestrogens have become popular during menopause. These are bioflavonoids (plant active substances) that can act on the body like human estrogens, although their effect is many times weaker than the effect of female sex hormones. But this has its advantages - the effect of plant substances is not aggressive and practically cannot harm the body.
Phytoestrogens are found in many foods: nuts and oilseeds, soy products, cereals and bran bread, flax seeds, fruits (citrus fruits, apples) and vegetables (broccoli, spinach, garlic, parsley). Many herbs (clover, licorice, alfalfa) also contain phytoestrogens.
But the largest amount of phytoestrogens is found in soy. This type of phytoestrogen is by far the most studied. It is the high amount of soy phytoestrogens in everyday food that explains the fact that women in Southeast Asia are significantly less likely to have breast cancer than in Europe and the United States, and menopause symptoms (osteoporosis, hot flashes) are less pronounced. However, it is not at all necessary to switch to eating soy. Today, complexes with soy phytoestrogens are produced, for example, Mensa. And it is more convenient to take such preparations than to prepare soy products.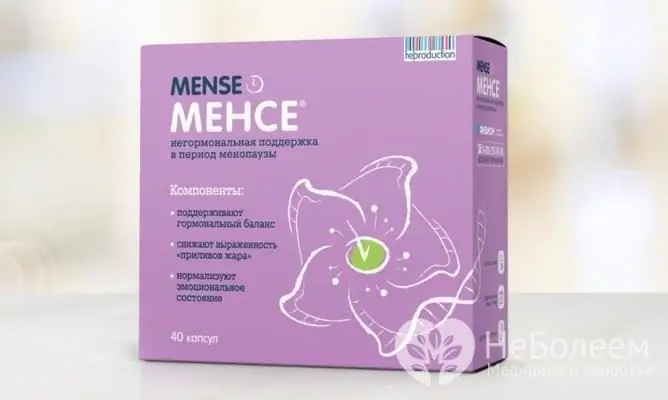 Non-hormonal support or hormone replacement therapy?
The question may arise: if menopause is associated with a decrease in estrogens, then is it possible to take them to avoid menopause and live as before? The answer is no and yes. It is impossible to avoid menopause, if the reserves of eggs are depleted, then new ones will not appear. But taking hormones during menopause will actually reduce the side effects. However, there are many pitfalls along this seemingly easy path. Only a doctor can prescribe hormonal drugs and dosages, after you pass a number of tests. The fact is that hormone replacement therapy has a number of absolute contraindications - liver disease, cardiovascular disease, increased tendency to blood clots, and others. In addition, serious side effects, including cognitive impairment, can develop when taking hormonal drugs. Therefore, womenthose taking hormones during menopause need to regularly check a number of indicators.
As practice shows, taking phytoestrogens in combination with vitamins also effectively eliminates the negative manifestations of menopause. The Mensa drug has been developed specifically for non-hormonal support during menopause.
"Mensa" contains phytoestrogens (isoflavones) soy, beta-alanine and vitamins C, E, B 5, B 6, B 9, B 12 and the already mentioned 5-hydroxytryptophan.
Soy isoflavones reduce the frequency of hot flashes, stimulate collagen and elastin synthesis, improve calcium absorption and prevent the development of infections of the genitourinary system.
Beta-alanine is an amino acid essential for normal thermoregulation. Taking beta-alanine can help relieve hot flashes in as little as 30 minutes. Therefore, the drug "Mensa" can be taken before important events so that the tide does not overtake you at the most inopportune moment.
B vitamins improve the state of the nervous system and metabolic processes in the body, help maintain the synthesis of estrogen, reduce the feeling of fatigue, and increase efficiency.
Vitamin E improves skin condition and helps prevent blood vessels from dilating during hot flashes.
Vitamin C is involved in the synthesis of estrogen, helps to absorb calcium and vitamin B 9, and reduces the risk of developing infections of the genitourinary system.
Support yourself and don't pause your life!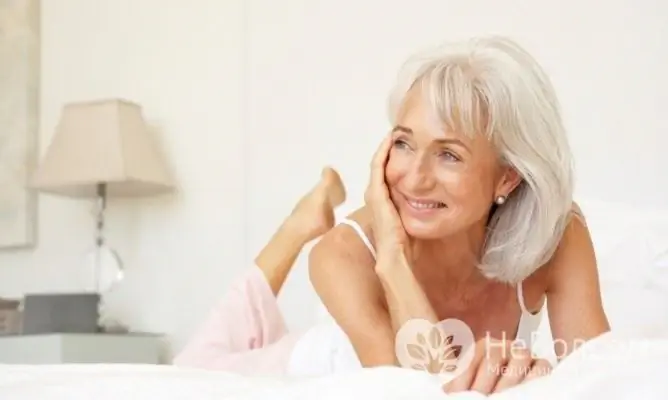 Found a mistake in the text? Select it and press Ctrl + Enter.
Recommended: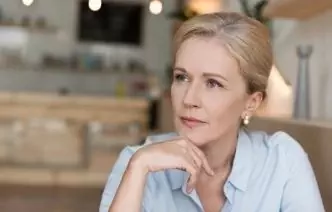 Women between the ages of forty and sixty often experience specific discomfort caused by menopause or menopause. The article provides an overview of the causes and stages of the climacteric period, its first signs, symptoms and treatment. Before using drugs, consult a gynecologist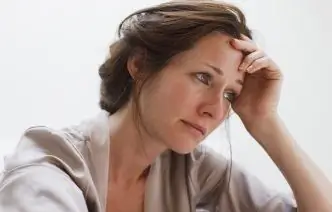 What candles with menopause effectively moisturize the mucous membrane and restore microflora? How to quickly eliminate unpleasant symptoms with menopause using topical products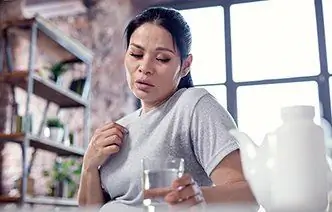 About half of women during menopause or perimenopause experience various uncomfortable symptoms - hot flashes, night sweats, insomnia, high blood pressure, depressed mood, irritability, etc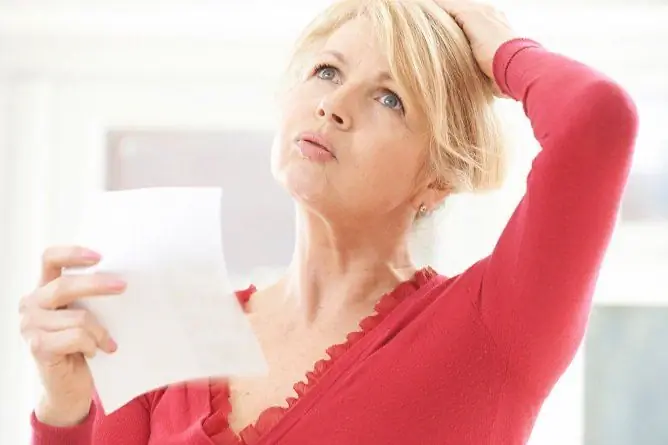 One of the first manifestations of menopause is a violation of the menstrual cycle - menstruation with menopause becomes irregular, their duration changes

Male potency is lost for two reasons. First of all, these are health problems, and secondly, psychological reasons. The ability to perform full sexual intercourse is a subtle mechanism in the regulation of which the nervous, hormonal and cardiovascular systems take part