Table of contents: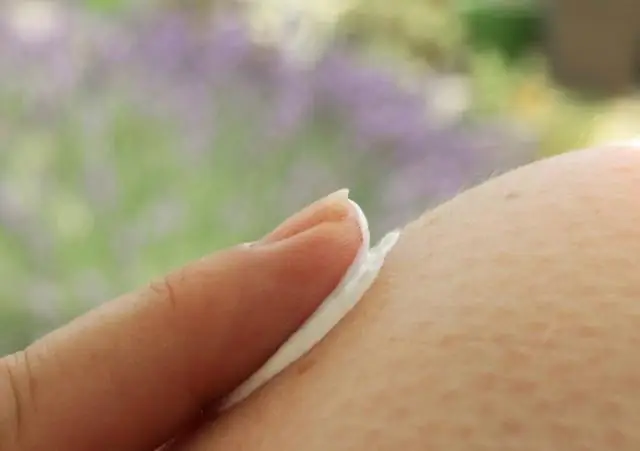 Video: Oxolinic Ointment - Instructions, Use For Children, Reviews, Price, Analogues
Oxolinic ointment
Oxolinic ointment: instructions for use and reviews
1. Release form and composition
2. Pharmacological properties
3. Indications for use
4. Contraindications
5. Method of application and dosage
6. Side effects
7. Overdose
8. Special instructions
9. Application during pregnancy and lactation
10. Use in childhood
11. Drug interactions
12. Analogs
13. Terms and conditions of storage
14. Terms of dispensing from pharmacies
15. Reviews
16. Price in pharmacies
Latin name: Oxolin ointment
ATX code: S01AD
Active ingredient: dioxotetrahydroxytetrahydronaphthalene (dioxotetrahydrooxytetrahydronaphthalinum)
Producer: Zhytomyr pharmaceutical factory Vishpha (Ukraine), LLC "Ternopharm" (Ukraine)
Description and photo updated: 12.12.2018
Prices in pharmacies: from 52 rubles.
Buy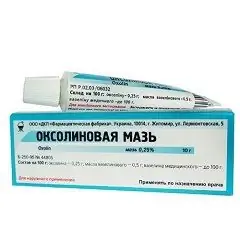 Oxolinic ointment is an antiviral drug for external and local use with virucidal activity.
Release form and composition
The dosage form of the drug is an ointment: a thick mass from white to yellow, with prolonged storage it can acquire a pinkish tint (10 g each in tubes, in a cardboard box 1 tube).
Composition of 1 g of ointment:
active substance: oxoline (dioxotetrahydroxytetrahydronaphthalene) - 2.5 mg;
auxiliary components (manufacturer 1): soft white paraffin, mineral oil;
auxiliary components (manufacturer 2): petroleum jelly, petroleum jelly.
Pharmacological properties
Pharmacodynamics
The active component of the ointment is oxolin, it has antiviral efficacy against DNA and RNA viruses: adenovirus, influenza viruses, herpes simplex and herpes zoster. The mechanism of the antiviral action of the substance is based on its chemical interaction with the guanine residues of the nucleic acids of the virus, after which the nucleic acid loses its functional activity.
Pharmacokinetics
When the drug is applied topically (applied to the mucous membranes and skin), oxolin is rapidly absorbed and partially penetrates the parenchymal organs (kidneys, liver, spleen) and blood.
Oxolin is excreted from the body through the kidneys in the urine relatively quickly, without accumulating in the organs.
Indications for use
According to the instructions, Oxolinic ointment is intended for individual prevention of influenza during seasonal epidemics and the treatment of viral rhinitis / rhinoconjunctivitis.
Contraindications
Oxolinic ointment is not recommended for patients with proven hypersensitivity to oxolin and its other components.
Instructions for the use of Oxolinic ointment: method and dosage
The ointment is applied externally, mainly intranasally.
Recommended dosage according to indications:
treatment of viral rhinitis: the nasal mucosa is lubricated 2-3 times a day for 3-4 days;
prevention of influenza (with the rise and maximum outbreak of seasonal epidemics, usually within 25 days, or upon contact with a person infected with influenza): the nasal mucosa is lubricated 2 times a day in the morning and evening, every day.
Side effects
When applying the ointment, rhinorrhea and / or a short-term burning sensation at the sites of application are sometimes possible.
Overdose
Overdose data are unknown.
special instructions
The product should not be applied to the mucous membrane of the eyes.
It is contraindicated to prescribe Oxolinic ointment to children under 2 years of age due to the anatomical features of the structure of the ENT organs, upper and lower respiratory tract at this age.
Influence on the ability to drive vehicles and complex mechanisms
The drug does not affect the ability to drive vehicles and perform work associated with the speed and speed of psychomotor reactions.
Application during pregnancy and lactation
There is not enough clinical data on the efficacy and safety of using Oxolinic ointment during pregnancy and lactation, so the drug is recommended to be used with caution, given the ratio of benefits from use to the mother with potential risks to the fetus and the child. You should also take into account the fact that viral infections pose a great danger to the health of the mother and child.
Pediatric use
Studies on the effectiveness and safety of using oxolin in pediatrics have not been conducted. Do not use Oxolinic ointment for children under 2 years of age.
Drug interactions
Oxolinic ointment is recommended to be applied with caution along with adrenergic agonists for intranasal use due to the risk of overdrying of the nasal mucosa.
Analogs
An analogue of Oxolinic ointment 0.25% is Oxolin ointment.
Terms and conditions of storage
Store the ointment in its original packaging. Storage temperature of the ointment: on a paraffin base - 2-8 ° C, on a vaseline base - up to 10 ° C.
Shelf life is 2 years.
Terms of dispensing from pharmacies
Available without a prescription.
Reviews about Oxolinic ointment
Most of the reviews about Oxolinic ointment are positive. The patients who used the drug consider it a good means of preventing viral infections and treating a viral rhinitis. It is noted the need to use the ointment at the very beginning of the increase in viral danger and regularly, and not episodically. Compliance with these rules significantly increases the therapeutic effectiveness.
From negative reviews, one can note an unpleasant burning sensation when applying the ointment to the nasal mucous membranes and its unstable state at elevated temperatures "… the ointment flows in the warmth."
Price for Oxolinic ointment in pharmacies
The approximate price for Oxolinic ointment 0.25% 10 g in a tube is about 40 rubles.
Oxolinic ointment: prices in online pharmacies
Drug name
Price
Pharmacy
Oxolinic ointment 0.25% 10g
52 RUB
Buy
Oxolinic ointment 0.25% 10g Ozone
RUB 60
Buy
Oxolinic ointment 0.25% 10g
RUB 66
Buy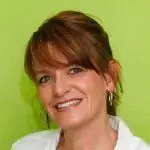 Maria Kulkes Medical journalist About the author
Education: First Moscow State Medical University named after I. M. Sechenov, specialty "General Medicine".
Information about the drug is generalized, provided for informational purposes only and does not replace the official instructions. Self-medication is hazardous to health!
Popular by topic