Table of contents: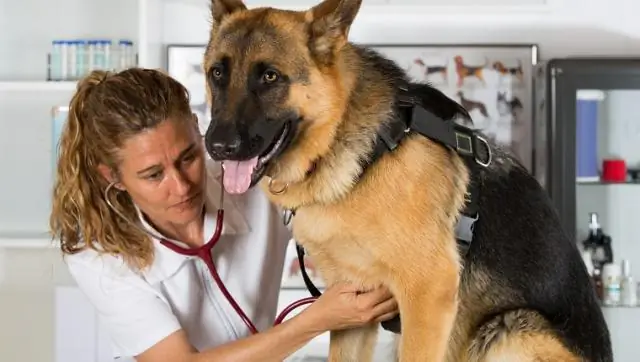 Video: Norvask - Instructions For Use, Price, Reviews, Analogs Of Tablets
Norvask
Norvask: instructions for use and reviews
1. Release form and composition
2. Pharmacological properties
3. Indications for use
4. Contraindications
5. Method of application and dosage
6. Side effects
7. Overdose
8. Special instructions
9. Application during pregnancy and lactation
10. Use in childhood
11. In case of impaired renal function
12. For violations of liver function
13. Use in the elderly
14. Drug interactions
15. Analogs
16. Terms and conditions of storage
17. Terms of dispensing from pharmacies
18. Reviews
19. Price in pharmacies
Latin name: Norvasc
ATX code: C08CA01
Active ingredient: amlodipine (amlodipine)
Producer: R-PHARM GERMANY (Germany)
Description and photo update: 2019-26-08
Prices in pharmacies: from 167 rubles.
Buy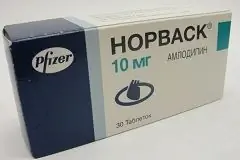 Norvasc is a drug that has antihypertensive and antianginal effects.
Release form and composition
The drug is available in the form of tablets: white or almost white, in the form of an octagon with uneven sides, on one side - the Pfizer logo, on the other (depending on the dosage) - AML-5 or AML-10 (10 pcs in blisters, 1, 3, 4, 9 blisters in a cardboard box; 14 pcs. in blisters, 1 blister in a cardboard box; each box also contains instructions for using Norvask).
The composition of 1 tablet includes:
Active substance: amlodipine - 5 or 10 mg (equivalent to the content of amlodipine besylate - 6.944 and 13.889 mg, respectively);
Additional components (5/10 mg of active substance): magnesium stearate - 2/4 mg, microcrystalline cellulose - 124.056 / 248.111 mg, sodium carboxymethyl starch - 4/8 mg, calcium hydrogen phosphate - 63/126 mg.
Pharmacological properties
Pharmacodynamics
The active substance of Norvasca is amlodipine, which is a slow calcium channel blocker derived from dihydropyridine. It has antihypertensive and antianginal effects. Blocks slow calcium channels, and also inhibits the transmembrane transition of calcium ions into cells (into vascular smooth muscle cells to a greater extent than into cardiomyocytes).
The antianginal effect is due to the ability of amlodipine to dilate the coronary and peripheral arteries and arterioles.
With angina pectoris, Norvasc reduces the total peripheral vascular resistance (due to the expansion of peripheral arterioles), reduces the severity of myocardial ischemia, heart afterload and myocardial oxygen demand. Prevents spasm of the coronary arteries, including those caused by smoking. Due to the expansion of the coronary arteries and arterioles in the unchanged and ischemic zones of the myocardium, Norvasc increases the supply of oxygen to the myocardium, especially with vasospastic angina.
With stable angina pectoris, the drug can increase exercise tolerance and reduce the consumption of nitroglycerin or other nitrates, reduce the frequency of angina attacks, slow down the development of angina attacks and ischemic ST segment depression.
Norvasc has a long-term dose-dependent hypotensive effect, which is explained by its ability to have a direct relaxing effect on vascular smooth muscles. With arterial hypertension, a single dose of the drug provides a significant decrease in blood pressure (BP) in the supine and standing position for 24 hours.
Orthostatic hypotension (a decrease in blood pressure when moving from a horizontal position to a vertical one) rarely develops with amlodipine.
Norvasc reduces the degree of left ventricular myocardial hypertrophy. Does not cause a decrease in the left ventricular ejection fraction. Increases the rate of glomerular filtration, inhibits platelet aggregation, has a weak natriuretic effect. Does not cause a reflex increase in heart rate. Does not affect myocardial contractility and conductivity.
In patients with diabetic nephropathy, Norvasc does not increase the severity of microalbuminuria.
It does not have a negative effect on the concentration of blood plasma lipids and metabolism. It can be used in the presence of such concomitant diseases as diabetes mellitus, gout, bronchial asthma.
A clinically significant decrease in blood pressure occurs after 6-10 hours and is observed within 24 hours.
The use of Norvask prevents the development of thickening of the intima-media of the carotid arteries, reduces the frequency of interventions aimed at restoring coronary blood flow, hospitalizations for unstable angina pectoris and progression of chronic heart failure, reduces mortality from coronary artery bypass grafting, percutaneous transluminal angioplasty of coronary arteries (TLI), infarction myocardium in patients with diseases of the cardiovascular system (including coronary atherosclerosis with damage to one vessel and up to stenosis of three or more arteries and atherosclerosis of the carotid arteries) who have had myocardial infarction or TLP, suffering from angina pectoris.
Norvasc does not contribute to the development of complications and does not increase the mortality rate in patients with chronic heart failure (III and IV functional class according to the NYHA classification) during therapy with ACE inhibitors (angiotensin-converting enzyme), diuretics and digoxin. However, in chronic heart failure of non-ischemic etiology, amlodipine increases the risk of developing pulmonary edema.
Pharmacokinetics
Amlodipine, entering the gastrointestinal tract, is well absorbed. The maximum concentration in the blood reaches after 6-12 hours. The average absolute bioavailability varies from 64 to 80%. Food, if taken simultaneously, does not affect the absorption of the substance.
The volume of distribution is on average 21 l / kg of mass, which indicates the predominant distribution of the drug in the tissues than in the blood. Penetrates the blood-brain barrier.
It is characterized by a high bond with proteins - about 97.5%.
Equilibrium plasma concentration is achieved 7–8 days after the start of treatment.
Amlodipine is slowly but actively metabolized in the liver, does not have a significant effect of the first passage through the liver. Substance metabolites do not exhibit significant pharmacological activity.
The total clearance of amlodipine is 0.116 ml / s / kg (7 ml / min / kg, 0.42 l / h / kg). The half-life (T ½) after a single dose of Norvasc is 35-50 hours, with repeated doses - about 45 hours.
Excreted: approximately 70% of the dose - by the kidneys with urine (60% - in the form of metabolites, 10% - unchanged), 20-25% - through the intestines with bile. Not removed by hemodialysis.
In patients over 65 years of age, T ½ amlodipine increases to 65 hours, but this phenomenon has no clinical significance.
In patients with hepatic insufficiency, with prolonged use of Norvasc, T ½ of amlodipine increases to 60 hours.
Renal failure does not significantly affect the pharmacokinetics of amlodipine.
Indications for use
Arterial hypertension;
Vasospastic angina (variant angina or Prinzmetal angina);
Stable angina.
Norvasc can be used alone or in combination with other antihypertensive or antianginal drugs.
Contraindications
Absolute:
Severe arterial hypotension (systolic pressure less than 90 mm Hg);
Hemodynamically unstable heart failure after myocardial infarction;
Left ventricular outflow tract obstruction, including severe aortic stenosis;
Age up to 18 years (studies confirming the safety and efficacy of Norvask for this age category of patients have not been conducted);
Hypersensitivity to the components of the drug, as well as to other derivatives of dihydropyridine.
Relative (Norvask's appointment requires caution against the background of the following diseases / conditions):
Chronic heart failure of non-ischemic etiology (NYHA classification - III-IV functional class);
Acute myocardial infarction (additionally - within 30 days after it);
Liver failure;
Hypertrophic obstructive cardiomyopathy;
Unstable angina;
Arterial hypotension;
Aortic and mitral stenosis;
Sick sinus syndrome, including severe tachycardia, bradycardia;
Simultaneous use with inducers or inhibitors of the isoenzyme CYP3A4.
Due to the lack of information on the safety and efficacy of Norvask, the drug is prescribed to pregnant women only after assessing the ratio of benefits and risks to the health of the mother and the fetus. During lactation, breastfeeding should be interrupted during therapy.
Norvask, instructions for use: method and dosage
Norvasc tablets should be taken orally with sufficient water (100 ml).
Recommended dosage regimen: 5 mg once a day. If necessary, it is possible to increase a single dose to a maximum of 10 mg.
For elderly patients, patients with functional disorders of the kidneys or liver, as well as when combined with thiazide diuretics, angiotensin-converting enzyme inhibitors and β-blockers, correction of the Norvasc regimen is not required.
Side effects
Possible side effects (more than 1/10 - very often; more than 1/100 and less than 1/10 - often; more than 1/1000 and less than 1/100 - infrequently; more than 1/10 000 and less than 1/1000 - rarely; less 1/10 000 (taking into account individual messages) - very rare):
Nervous system: often - drowsiness, increased fatigue, dizziness, headache; infrequently - hypesthesia, asthenia, general malaise, peripheral neuropathy, paresthesia, irritability, tremors, mood lability, insomnia, unusual dreams, depression, ringing in the ears, taste perversion, anxiety; very rarely - ataxia, migraine, amnesia, increased sweating, agitation, apathy;
Cardiovascular system: often - rush of blood to the skin of the face, palpitations, peripheral edema (mainly feet and ankles); infrequently - excessive lowering of blood pressure; very rarely - vasculitis, fainting, chest pain, shortness of breath, orthostatic hypotension, myocardial infarction, worsening of the course or occurrence of chronic heart failure, heart rhythm disturbances (including atrial fibrillation, bradycardia and ventricular tachycardia);
Gastrointestinal tract: often - abdominal pain, nausea; infrequently - thirst, vomiting, diarrhea or constipation, dyspepsia, flatulence, dryness of the oral mucosa, anorexia; rarely - increased appetite, gum fibromatosis; very rarely - gastritis, pancreatitis, jaundice (caused by cholestasis), hepatitis, an increase in the amount of bilirubin in the blood serum, an increase in the activity of hepatic transaminases;
Musculoskeletal system: infrequently - arthrosis, back pain, muscle cramps, arthralgia, myalgia; rarely - myasthenia gravis;
Respiratory system: infrequently - rhinitis, dyspnea, nosebleeds; very rarely - cough;
Hematopoietic system: very rarely - leukopenia, Werlhof's disease, thrombocytopenia;
Urogenital system: infrequently - nocturia, painful and / or frequent urination, erectile dysfunction; very rarely - polyuria, dysuria;
Skin: rarely - dermatitis; very rarely - cold sweat, pigmented xeroderma, hair loss, impaired skin pigmentation;
Sense organs: infrequently - violation of accommodation and vision, diplopia, pain in the eyes, xerophthalmia, conjunctivitis;
Metabolism: very rarely - hyperglycemia; infrequently - a change (increase or decrease) in body weight;
Laboratory data: very rarely - an increase in serum glucose;
Allergic reactions: infrequently - itchy skin, rash (including urticaria, erythematous, maculopapular rash); very rarely - erythema multiforme, angioedema;
Others: infrequently - gynecomastia, chills; very rarely - impaired sense of smell (parosmia).
Overdose
In case of an overdose, a pronounced decrease in blood pressure is noted, the development of reflex tachycardia and excessive peripheral vasodilation is possible, which can lead to the appearance of severe and persistent arterial hypotension, including with the development of shock and death.
Gastric lavage and the intake of activated charcoal are recommended, especially if no more than 2 hours have passed since taking Norvask. The patient should take a horizontal position with a low headboard. In a hospital setting, it is shown to control the volume of circulating blood, urine output, indicators of the work of the heart and lungs, and maintain the functions of the cardiovascular system. Hemodialysis is ineffective. To restore vascular tone, vasoconstrictor drugs are prescribed (provided that there are no contraindications to their use). The consequences of calcium channel blockade are eliminated by intravenous administration of calcium gluconate.
special instructions
To avoid the development of pain, hyperplasia and bleeding of the gums, you need to maintain dental hygiene and be observed by a dentist.
Elderly patients need more careful monitoring of the condition.
In hypertensive crisis, Norvasc is not prescribed (there is no data on its safety and effectiveness).
In chronic heart failure (NYHA class III and IV) of nonischemic genesis, there is an increase in the incidence of pulmonary edema in the absence of signs of worsening heart failure.
Influence on the ability to drive vehicles and complex mechanisms
Due to the likelihood of a pronounced decrease in blood pressure, drowsiness, dizziness and other side effects when driving and performing other potentially hazardous work, patients need to be careful, especially at the beginning of the course of taking Norvasc and when the dosage is increased.
Application during pregnancy and lactation
The safety of amlodipine during pregnancy has not been established, therefore, Norvasc can be prescribed by a doctor only if the expected benefit to the woman outweighs the potential risks to the fetus.
Whether amlodipine passes into breast milk is unknown. However, it has been found that other blockers of slow calcium channels, which are derivatives of dihydropyridine, are excreted in mother's milk. For this reason, it is necessary to resolve the issue of stopping breastfeeding, if the appointment of Norvask during lactation is clinically justified.
In studies on rats, the effect of amlodipine on fertility was not revealed.
Pediatric use
The safety of amlodipine in childhood and adolescence has not been precisely established, therefore Norvasc is not prescribed for patients under 18 years of age.
With impaired renal function
Correction of the Norvasc dose in the presence of impaired renal function is not required, however, it should be borne in mind that the patient may have a slight increase in the half-life of amlodipine.
For violations of liver function
Correction of the dose of the drug in the presence of liver dysfunction is not required, but it should be borne in mind that an increase in the half-life of amlodipine is possible.
With caution, Norvasc tablets should be used in patients with hepatic impairment.
Use in the elderly
No dose adjustment of Norvask is required for elderly patients.
Drug interactions
Norvasc, depending on the indication, can be safely used in combination with the following drugs:
Arterial hypertension: thiazide diuretics, α-blockers, β-blockers or angiotensin-converting enzyme inhibitors;
Stable angina pectoris: other antianginal agents, including β-blockers, short-acting or prolonged-acting nitrates.
With the combined use of Norvask with non-steroidal anti-inflammatory drugs (including indomethacin), antibiotic and oral hypoglycemic drugs, no clinically significant interaction was detected.
With the combined use of Norvask with some drugs, the following effects may be observed:
Antipsychotics, α 1 -adrenergic blockers: enhancement of their antihypertensive action;
Angiotensin-converting enzyme inhibitors, diuretics (thiazide and loop), β-blockers and nitrates: enhancement of antianginal and antihypertensive action;
Simvastatin (multiple simultaneous administration of simvastatin at a dose of 80 mg and amlodipine at a dose of 10 mg): increasing the exposure of simvastatin (it is necessary to limit its dose to 20 mg);
Antiarrhythmic drugs that cause prolongation of the QT interval (quinidine, amiodarone): increased severity of negative inotropic action;
Antipsychotics and isoflurane: enhancement of the antihypertensive effect of Norvask;
Antiviral drugs (ritonavir): an increase in the plasma concentration of amlodipine;
Lithium preparations: increased manifestation of its neurotoxicity (in the form of tinnitus, ataxia, nausea, tremor, vomiting, diarrhea);
Inhibitors of the isoenzyme CUR3A4: an increase in the systemic exposure of amlodipine in elderly patients with arterial hypertension;
Potent inhibitors of the isoenzyme CYP3A4 (itraconazole, ketoconazole): an increase in the concentration of amlodipine in the blood plasma (combined use requires caution);
Inducers of the CYP3A4 isoenzyme: effect on blood pressure (careful monitoring is required while taking with Norvask);
Grapefruit juice: an increase in the bioavailability of amlodipine and, as a result, an increase in the hypotensive effect (the combination is not recommended).
Analogs
The analogues of Norvasc are: Adalat, Zanidip, Kordaflex, Cordipin, Corinfar, Lerkamen, Nimopin, Nifedipine, Felodip, Amlodipine, Amlodipine-Teva, Amlodipine-Prana, Amlo, Agen, Amlodak, Amlotop, Normodipin, Corvadil.
Terms and conditions of storage
Keep out of reach of children at temperatures up to 25 ° C.
Shelf life is 4 years.
Terms of dispensing from pharmacies
Dispensed by prescription.
Reviews about Norvask
According to reviews, Norvasc is an effective antihypertensive and antianginal agent. However, according to the majority, it is very expensive. Doctors, however, explain the high cost of originality, that is, it was under the Norvask trademark that the first drug containing amlodipine was released. Today, there are many domestic analogues with this active substance, but the imported agent surpasses them in the degree of purification and has passed all possible tests, which means much better tolerance and reliability.
Of the most common side effects, only peripheral edema of the lower extremities is noted.
Price for Norvasc in pharmacies
Approximate prices for Norvasc: 5 mg tablets - 240 rubles. per pack of 14 pcs., 472-540 rubles. per pack of 30 pcs.; tablets of 10 mg - 466-533 rubles. per pack of 14 pcs., 827-1023 rubles. per pack of 30 pcs.
Norvask: prices in online pharmacies
Drug name
Price
Pharmacy
Norvasc 5 mg tablets 30 pcs.
167 r
Buy
Norvasc 10 mg tablets 30 pcs.
169 RUB
Buy
Norvasc 5 mg tablets 14 pcs.
230 RUB
Buy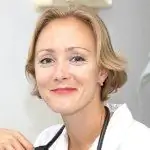 Anna Kozlova Medical journalist About the author
Education: Rostov State Medical University, specialty "General Medicine".
Information about the drug is generalized, provided for informational purposes only and does not replace the official instructions. Self-medication is hazardous to health!
Popular by topic