Table of contents: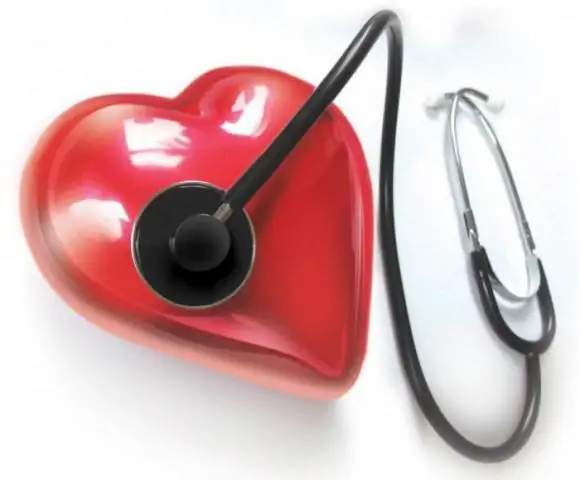 Video: Nitrosorbide - Instructions For Use, Price, Reviews, Analogs Of Tablets
Nitrosorbide
Nitrosorbide: instructions for use and reviews
1. Release form and composition
2. Pharmacological properties
3. Pharmacokinetics
4. Indications for use
5. Contraindications
6. Method of application and dosage
7. Side effects
8. Overdose
9. Special instructions
10. Application during pregnancy and lactation
11. Use in childhood
12. In case of impaired renal function
13. For violations of liver function
14. Use in the elderly
15. Drug interactions
16. Analogs
17. Terms and conditions of storage
18. Terms of dispensing from pharmacies
19. Reviews
20. Price in pharmacies
Latin name: Nitrosorbide
ATX code: C01DA08
Active ingredient: isosorbide dinitrate (Isosorbide dinitrate)
Manufacturer: Pharmapol-Volga (Russia); Pharmstandard-Tomskkhimfarm, JSC (Russia); Uralbiopharm, JSC (Russia); Ozon, LLC (Russia); Biosynthesis (Russia); Dalkhimpharm (Russia); Tatkhimpharmpreparaty, JSC (Russia); Pharmstandard-UfaVITA (Russia); Update, PFC (Russia)
Description and photo updated: 2019-27-08
Prices in pharmacies: from 24 rubles.
Buy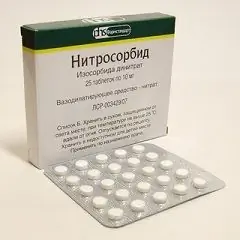 Nitrosorbide is an antianginal drug from the group of organic nitrates.
Release form and composition
Dosage form - tablets: flat-cylindrical, white (10 pcs. In blisters, in a cardboard box 1, 2, 3, 4, 5, 6 or 10 packages; 10, 20, 25, 30, 40, 50 or 100 pcs.in polymer cans or cans made of polyethylene terephthalate, in a cardboard bundle of 1 can; 25 or 50 pcs.in blister packs, in a cardboard bundle 1 pack; each pack also contains instructions for the use of Nitrosorbide).
1 tablet contains:
Active ingredient: isosorbide dinitrate - 10 mg;
Excipients, including lactose and sucrose.
Pharmacological properties
Pharmacodynamics
The active ingredient in the composition of Nitrosorbide - isosorbide dinitrate, is a peripheral vasodilator, which has a predominant effect on the venous vessels.
The drug stimulates the formation of nitric oxide (an endothelial relaxing factor) in the vascular endothelium, which promotes the activation of intracellular guanylate cyclase, as a result of which cGMP (a mediator of vasodilation) increases.
Nitrosorbide reduces the end-diastolic volume of the left ventricle and reduces the systolic tension of its walls, thereby reducing pre- and afterload, and thereby reducing myocardial oxygen demand. It has a coronary dilating effect. Reduces blood flow to the right atrium and pressure in the pulmonary circulation. Redistributes coronary blood flow to areas with reduced circulation. With ischemic heart disease and angina pectoris, it increases exercise tolerance. With pulmonary edema, it contributes to the regression of symptoms.
Isosorbide dinitrate has an expanding effect on the vessels of the brain and dura mater, which can lead to headaches.
The drug, like other nitrates, may develop cross-tolerance. After a break in admission, sensitivity to Nitrosorbide quickly recovers.
The drug takes effect 2–5 minutes after sublingual administration or chewing a tablet, 15–40 minutes after oral administration. The duration of action is respectively 1–2 hours and 4–6 hours.
Pharmacokinetics
Isosorbide dinitrate is highly absorbed. Its bioavailability is: for sublingual administration - 60%, for oral administration - 22% (has the effect of the first passage through the liver).
After oral administration, the maximum concentration reaches within 1 hour. The connection with plasma proteins is 30%. The half-life is 4 hours.
The drug is metabolized in the liver, resulting in the formation of two active metabolites - isosorbide-5-mononitrate (75–85%) and isosorbide-2-mononitrate (15–25%). The half-life of the first is 5 hours, the second is 2.5 hours.
The drug is excreted by the kidneys almost completely in the form of metabolites.
Indications for use
Nitrosorbide is indicated for the treatment of coronary heart disease, including:
Prevention and relief of angina attacks;
Complex rehabilitation therapy for patients with myocardial infarction.
Also, the drug is used as part of a combination therapy for pulmonary hypertension and chronic heart failure.
Contraindications
Absolute:
Malabsorption of glucose-galactose, lactase deficiency;
Traumatic brain injury;
Acute myocardial infarction with toxic pulmonary edema and arterial hypotension;
Anemia;
Hemorrhagic stroke;
Closed-angle glaucoma;
Systolic blood pressure less than 100 ml Hg;
Constrictive pericarditis;
Hypertrophic cardiomyopathy;
Cardiac tamponade;
Collapse;
Shock;
Cerebral circulation disorders;
Tendency to orthostatic hypotension;
Lactation (or feeding should be interrupted);
Childhood;
Hypersensitivity to the drug.
Relative (care should be taken due to the risk of complications):
Mitral and / or aortic stenosis;
Elderly age;
Pregnancy (in this case, the drug can be prescribed only after a careful assessment of the expected benefits and possible risks).
Nitrosorbide, instructions for use: method and dosage
Nitrosorbide tablets can be taken orally, buccal (cheek), or sublingual (under the tongue). In the case of oral administration, the tablets should be swallowed whole with a sufficient amount of water, for buccal and sublingual administration, keep in the mouth until completely dissolved.
The doctor determines the dose and duration of treatment individually, depending on the clinical situation.
Recommended doses:
Prevention of angina pectoris, as well as the recovery period after myocardial infarction: 1 tablet orally 3-4 times a day 30 minutes before meals. If necessary, a single dose is increased to 2-3 tablets. The maximum allowable daily dose is 180 mg isosorbide dinitrate (18 tablets). If the regular use of Nitrosorbide is undesirable, it is prescribed 1 tablet 30-40 minutes before the upcoming load;
Chronic heart failure: 1-2 tablets orally 3-4 times a day;
Pulmonary hypertension: 2 tablets 5-6 times a day before meals at regular intervals;
Relief of an attack of angina pectoris: 1 tablet buccal or sublingual. To speed up the onset of the therapeutic effect, the tablet can be chewed and then held in the mouth until it is completely dissolved.
Side effects
Nitrosorbide is generally well tolerated. In rare cases, the following side effects are noted:
Digestive system: dryness of the oral mucosa, nausea, vomiting, with buccal and sublingual use - burning and tingling of the tongue;
Allergic reactions: skin rash, hives, itching;
Central and peripheral nervous system: disturbance of the sleep-wakefulness regime, increased fatigue, dizziness, visual impairment, cerebral ischemia, nitrate headache (most pronounced at the beginning of treatment, disappears with continued use of the drug);
Cardiovascular system: arterial hypotension (including orthostatic hypotension), flushing of the face, tachycardia, a feeling of heat, a paradoxical nitrate reaction, manifested by increased angina attacks, as well as a significant decrease in blood pressure, up to collapse.
Overdose
Overdose symptoms: headache, dizziness, visual disturbances, fainting, methemoglobinemia (cyanosis, anoxia), diarrhea, nausea, vomiting, perspiration, skin hyperemia, dyspnoea, hyperpnea, palpitations, bradycardia, craniocerebral hypertension, cerebral hypertension …
Gastric lavage is recommended as a first aid measure. Further treatment is symptomatic. In case of methemoglobinemia, a 1% solution of methylene blue is injected intravenously at a dose of 1–2 mg / kg. Epinephrine and related compounds are ineffective.
special instructions
For the period of application of Nitrosorbide, it is recommended to refuse to drive a vehicle and perform potentially dangerous types of work.
In the case of a reduction in the intervals between doses, as well as with prolonged use of the drug, especially in high doses, there is a risk of developing tolerance to Nitrosorbide.
Influence on the ability to drive vehicles and complex mechanisms
During treatment, especially during the period of increasing the dose, careful monitoring of heart rate and blood pressure indicators is required.
Application during pregnancy and lactation
The experience of using isosorbide dinitrate during pregnancy and lactation is not enough, therefore, the use of Nitrosorbide is possible only after a careful assessment of the expected benefits and possible risks.
Pediatric use
In children and adolescents under 18 years of age, Nitrosorbide is contraindicated.
With impaired renal function
If the patient has severe renal failure, the drug should be used with caution.
For violations of liver function
With severe hepatic failure, the risk of developing methemoglobinemia is increased, therefore, Nitrosorbide should be used with caution.
Use in the elderly
Elderly patients during the treatment period should be under close medical supervision.
Drug interactions
It is contraindicated to use nitrosorbide simultaneously with sildenafil (Viagra) due to the risk of severe arterial hypotension and myocardial infarction.
Ethanol, peripheral vasodilators, antihypertensive agents, calcium channel blockers, tricyclic antidepressants, antipsychotics, FED inhibitors, beta-blockers enhance the hypotensive effect of isosorbide dinitrate.
Sympathomimetics reduce the antianginal effect of Nitrosorbide.
Adsorbents, coatings and astringents reduce the absorption of isosorbide dinitrate in the gastrointestinal tract.
Nitrosorbide increases the plasma concentration and therapeutic effect of dihydroergotamine.
Analogs
Analogs of Nitrosorbide are: Dikor Long, Izodinite, Izodinitrate, Izoket, Iso-Mik, Nitrosorbid-Rusfar, Kardiket.
Terms and conditions of storage
Store in a dry place out of the reach of children, out of direct sunlight. Observe the temperature regime of 8-15 ºС.
Shelf life is 2 years.
Terms of dispensing from pharmacies
Dispensed by prescription.
Reviews about Nitrosorbide
According to reviews, Nitrosorbide, despite its low cost, is an effective and high-quality drug used for ischemic heart disease. Of the shortcomings indicate the likelihood of a sharp drop in pressure.
Price for Nitrosorbide in pharmacies
The price of Nitrosorbide depends on the manufacturer and averages 30 rubles for 60 tablets of 10 mg each.
Nitrosorbide: prices in online pharmacies
Drug name
Price
Pharmacy
Nitrosorbide 10 mg tablets 60 pcs.
RUB 24
Buy
Nitrosorbide tablets 10mg 60 pcs.
34 rbl.
Buy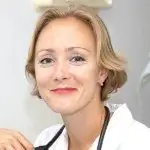 Anna Kozlova Medical journalist About the author
Education: Rostov State Medical University, specialty "General Medicine".
Information about the drug is generalized, provided for informational purposes only and does not replace the official instructions. Self-medication is hazardous to health!
Popular by topic