Table of contents: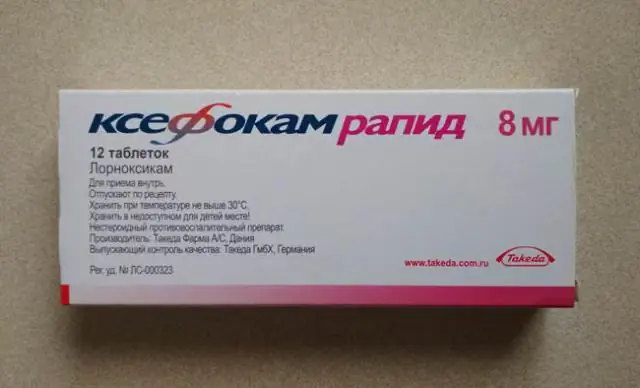 Video: Ksefokam Rapid - Instructions For The Use Of Tablets, Price, Reviews, Analogues
Ksefokam rapid
Ksefokam Rapid: instructions for use and reviews
1. Release form and composition
2. Pharmacological properties
3. Indications for use
4. Contraindications
5. Method of application and dosage
6. Side effects
7. Overdose
8. Special instructions
9. Application during pregnancy and lactation
10. Use in childhood
11. In case of impaired renal function
12. For violations of liver function
13. Use in the elderly
14. Drug interactions
15. Analogs
16. Terms and conditions of storage
17. Terms of dispensing from pharmacies
18. Reviews
19. Price in pharmacies
Latin name: Xefocam rapid
ATX code: M01AC05
Active ingredient: lornoxicam (lornoxicam)
Producer: Takeda Pharma A / S (Denmark), Nycomed Danmark ApS (Denmark), Nycomed GmbH (Germany)
Description and photo updated: 20.11.2018
Prices in pharmacies: from 200 rubles.
Buy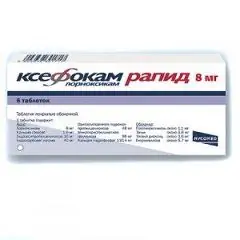 Ksefokam Rapid is a non-steroidal anti-inflammatory drug (NSAID).
Release form and composition
The dosage form of the release of Ksefokam Rapid is film-coated tablets: biconvex, round, from light yellow to white (in blisters of 6 or 10 pcs., In a cardboard box 1 or 2 blisters of 6 pcs. Or 1, 2, 3, 5, 10 or 25 blisters of 10 pcs.).
Composition of 1 tablet:
active substance: lornoxicam - 0.008 g;
auxiliary components: anhydrous calcium hydrogen phosphate - 0.110 4 g; microcrystalline cellulose - 0.096 g; low-substituted hyprolosis - 0.048 g; sodium bicarbonate - 0.04 g; hyprolosis - 0.016 g; calcium stearate - 0.001 6 g;
shell: hypromellose - about 0.005 to 7 g; titanium dioxide - about 0.003 6 g; talc - about 0.003 6 g; propylene glycol - about 0.001 1 g
Pharmacological properties
Pharmacodynamics
Ksefokam rapid has a pronounced analgesic and anti-inflammatory properties. The active substance of the drug, lornoxicam, has a complex mechanism of action, the basis of which is the suppression of prostaglandin synthesis by inhibiting the activity of cyclooxygenase 1 and 2 isoenzymes in the focus of inflammation and healthy tissues. It also serves to inhibit the release of free oxygen radicals from activated leukocytes.
Its analgesic effect is not related to narcotic action. The drug does not cause drug dependence, does not depress respiration and does not have an opiate-like effect on the central nervous system.
Pharmacokinetics
Characteristic of lornoxicam:
absorption: almost completely and quickly absorbed from the gastrointestinal tract; With max (maximum concentration in blood plasma) is reached after 1-2 hours after oral administration; food intake reduces it C max by 30%, T max (time to reach maximum concentration) increases from 1.5 to 2.3 hours, can reduce absorption up to 20%; absolute bioavailability - 90-100%; when it is taken, the effect of the first passage through the liver does not occur; half-life - 3-4 hours; found in plasma unchanged and in the form of its hydroxylated metabolite; its hydroxylated metabolite does not exhibit pharmacological activity;
distribution: the connection with plasma proteins is 99%, regardless of its concentration;
metabolism and excretion: completely metabolized to form a pharmacologically inactive metabolite; about 2/3 is excreted through the liver and 1/3 through the kidneys; metabolized with the participation of cytochrome P450 2C9; in patients with slow metabolism (as a result of genetic polymorphism), its plasma level increases markedly; induction of liver enzymes does not cause; after repeated administration at the recommended dosage does not cumulate.
When taken in combination with antacids, the pharmacokinetics of lornoxicam does not change. The clearance in elderly patients is reduced by 30-40%. No significant changes in its kinetics are observed with impaired liver or kidney function.
Indications for use
pain syndrome in trauma and after surgery (for short-term therapy);
sciatica;
algodismenorrhea;
rheumatoid arthritis and osteoarthritis (for symptomatic treatment).
Contraindications
Absolute:
gastrointestinal bleeding, hemorrhage in the brain (including if they are suspected);
a history of active peptic ulcer or recurrent peptic ulcer;
severe hepatic or renal impairment;
severe thrombocytopenia;
severe heart failure and hypovolemia;
age under 18;
pregnancy;
lactation period;
individual intolerance to the components contained in the drug, as well as other NSAIDs, including acetylsalicylic acid (ASA).
Relative (diseases / conditions in the presence of which the appointment of Xefocam rapid requires caution):
a history of gastrointestinal bleeding and ulcers;
renal failure;
blood clotting disorders;
liver pathology (for example, cirrhosis of the liver);
period after surgery;
extensive surgical intervention;
impaired renal function;
heart failure;
spinal or epidural anesthesia;
long-term use of the drug (more than 1 month);
combination therapy with diuretics and drugs, which may damage the kidneys;
body weight <50 kg;
advanced age (over 65).
Instructions for the use of Ksefokam rapid: method and dosage
Ksefokam Rapid tablets are taken orally with water (sufficient amount).
The dosage regimen is set individually, depending on the patient's response to the drug.
The recommended dose is 1 pc. per day, maximum - 2 pcs. in a day.
For elderly patients, no special dose selection is required if there is no insufficiency of renal / liver function, in which the dose of Xefocam Rapid is reduced.
Side effects
Possible adverse reactions (> 10% - very common;> 1% and 0.1% and 0.01% and <0.1% - rarely; <0.01% - very rare):
infections and invasions: rarely - pharyngitis;
hematopoietic system and lymphatic system: rarely - an increase in bleeding time, leukopenia, thrombocytopenia, anemia; very rarely - ecchymosis;
immune system: rarely - hypersensitivity;
metabolism, eating disorders: infrequently - weight change, anorexia;
psyche: infrequently - depression, sleep disturbance; rarely - agitation, nervousness, confusion;
neurology: often - dizziness, short-term headaches of mild intensity; rarely - migraine, tremor, taste disturbance, paresthesia, somnolence;
organ of vision: infrequently - conjunctivitis; rarely - visual disturbances;
vestibular apparatus: infrequently - tinnitus, dizziness;
heart: infrequently - heart failure, edema, tachycardia, palpitations;
vessels: infrequently - flushing of the face; rarely - hematoma, hemorrhage, hot flushes, arterial hypertension;
respiratory system, chest and mediastinum: infrequently - rhinitis; rarely - bronchospasm, cough, dyspnea;
gastrointestinal tract: often - vomiting, diarrhea, dyspeptic symptoms, abdominal pain, nausea; infrequently - ulceration in the oral cavity, gastric ulcer and duodenal ulcer, epigastric pain, gastritis, dry mouth, belching, flatulence, constipation; rarely - perforated peptic ulcer, glossitis, aphthous stomatitis, dysphagia, gastroesophageal reflux, esophagitis, stomatitis, bloody vomiting, melena;
hepatobiliary system: infrequently - an increase in liver function tests, glutamate oxaloacetate transaminase, glutamate pyruvate transaminase; rarely - liver dysfunction; very rarely - damage to hepatocytes;
skin and subcutaneous tissues: infrequently - alopecia, urticaria, erythematous rash, sweating, itching, rash; rarely - purpura, dermatitis; very rarely - toxic epidermal necrolysis, Stevens-Johnson syndrome, bullous reactions, edema;
musculoskeletal system and connective tissue: infrequently - arthralgia; rarely - myalgia, muscle spasms, bone pain;
kidneys and urinary system: rarely - an increase in the level of urea and creatinine in the blood, urinary disorders, nocturia;
general disorders and reactions at the injection sites: infrequently - facial edema, malaise; rarely asthenia.
Overdose
Main symptoms: vomiting, nausea, cerebral symptoms (dizziness, ataxia, turning into convulsions and coma); possible bleeding disorders, changes in liver and kidney function.
Therapy: abolition of Xefocam rapid, carrying out the usual emergency measures, including gastric lavage, taking activated charcoal.
special instructions
During the period of therapy, alcohol should not be consumed.
The risk of the ulcerogenic effect of lornoxicam is reduced with the combined use of synthetic analogs of prostaglandins, omeprazole, H2-blockers.
48 hours before the determination of 17-ketosteroids, Ksefokam rapid is canceled.
In cases of gastrointestinal ulcer and history of bleeding, clinical observation is carried out at regular intervals. With the development of peptic ulcers and / or gastrointestinal bleeding during the period of taking the drug, treatment is canceled and appropriate therapeutic measures are taken.
Patients with implicit renal insufficiency should be examined on a quarterly basis, and patients with moderate renal insufficiency should be examined with an interval of 1-2 months. If kidney function deteriorates, therapy is discontinued.
In case of blood clotting disorders, liver pathologies, careful clinical observation and assessment of laboratory parameters are carried out.
With prolonged use of Xefocam Rapid (more than 1 month), the condition of the blood, liver enzymes and kidney function are regularly assessed.
After major surgical interventions, with impaired renal function, heart failure, concomitant use of diuretics or drugs that can cause kidney damage, during the period of taking the drug, kidney function is monitored.
Xefocam Rapid increases the risk of epidural / spinal hematoma during epidural or spinal anesthesia.
Influence on the ability to drive vehicles and complex mechanisms
Patients during the period of therapy should refrain from driving and conducting potentially hazardous activities.
Application during pregnancy and lactation
Ksefokam rapid is contraindicated for use during pregnancy and lactation, since there is insufficient experience with its use in these cases.
Pediatric use
According to the instructions, Ksefokam rapid is contraindicated in children under the age of 18, since the clinical experience of using the drug in this age group is insufficient.
With impaired renal function
The drug is contraindicated in severe renal failure. Ksefokam rapid is prescribed with caution to patients with implicit or moderate renal failure.
For violations of liver function
The drug is contraindicated in severe hepatic impairment. With caution, it is prescribed to patients with liver pathologies (for example, cirrhosis of the liver).
Use in the elderly
Ksefokam Rapid is used with caution in elderly patients.
Drug interactions
Effect of substances / drugs on lornoxicam in combination therapy:
other NSAIDs: increase the likelihood of side effects;
cimetidine: increases the plasma concentration of lornoxicam;
tricyclic antidepressants, phenylbutazone, rifampicin, barbiturates, ethanol, phenytoin: reduce the concentration of lornoxicam in plasma;
inhibitors of microsomal oxidation: may increase the severity of side effects.
The effect of lornoxicam on drugs / substances in combined use:
loop diuretics: decreases their effectiveness;
angiotensin-converting enzyme inhibitors: may reduce their effect;
lithium preparations: can increase the maximum concentration of lithium and enhance its undesirable effects;
methotrexate, cyclosporine: increases their serum concentrations;
digoxin: decreases its renal clearance;
sulfonylurea derivatives: may enhance their hypoglycemic effect.
With the combined use of lornoxicam with anticoagulants and inhibitors of platelet aggregation, an increase in bleeding time is possible.
Analogs
The analogues of Ksefokam rapid are Zornika, Ksefokam.
Terms and conditions of storage
Store in a place protected from light and moisture at temperatures up to 30 ° C. Keep out of the reach of children.
Shelf life is 2 years.
Terms of dispensing from pharmacies
Dispensed by prescription.
Reviews about Xefocam Rapid
According to reviews, Ksefokam Rapid is a drug that effectively relieves mild to moderate pain syndrome. Among the disadvantages, the high toxicity of the drug is noted, due to which it cannot be used systematically.
Price for Xefocam Rapid in pharmacies
The approximate price of Xefocam Rapid is 357 rubles (12 pieces per package).
Ksefokam rapid: prices in online pharmacies
Drug name
Price
Pharmacy
Ksefokam rapid 8 mg film-coated tablets 12 pcs.
RUB 200
Buy
Ksefokam Rapid tablets p.o. 8mg 12 pcs.
326 RUB
Buy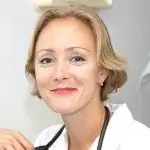 Anna Kozlova Medical journalist About the author
Education: Rostov State Medical University, specialty "General Medicine".
Information about the drug is generalized, provided for informational purposes only and does not replace the official instructions. Self-medication is hazardous to health!
Popular by topic