Table of contents: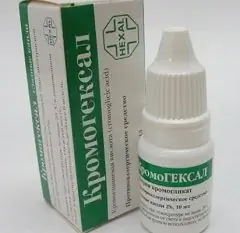 Video: KromoGEXAL - Instructions For Use, Indications, Doses, Analogues
KromoHEXAL
Instructions for use:
1. Release form and composition
2. Indications for use
3. Contraindications
4. Method of application and dosage
5. Side effects
6. Special instructions
7. Drug interactions
8. Analogs
9. Terms and conditions of storage
10. Terms of dispensing from pharmacies
Prices in online pharmacies:
from 91 rub.
Buy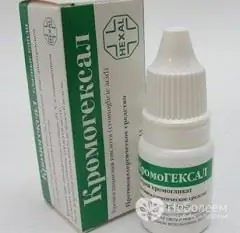 KromoHEXAL is an anti-allergic drug.
Release form and composition
Dosed nasal spray (15 ml (85 doses) or 30 ml (170 doses) in plastic vials with a dosing device, 1 vial in a cardboard box);
Eye drops 2% (10 ml each in polyethylene dropper bottles, 1 bottle in a cardboard box);
Solution for inhalation (2 ml in polyethylene ampoules, 10 ampoules in a tape, in a pack of cardboard 5 or 10 tapes).
All forms of release of the drug are a solution: transparent, colorless or slightly yellowish, without mechanical impurities.
The active ingredient of KromoGEXAL is sodium cromoglycate, content:
1 dose of nasal spray - 2.8 mg;
1 ml eye drops - 20 mg;
1 ampoule of inhalation solution - 20 mg.
Auxiliary components of the spray and drops: sodium dihydrogen phosphate dihydrate, benzalkonium chloride, liquid uncrystallized sorbitol, sodium chloride, disodium hydrogen phosphate dodecahydrate, disodium edetate, water for injection. The drops contain sodium hydroxide.
Auxiliary component of the solution for inhalation: purified water.
Indications for use
For the spray - treatment and prevention:
Allergic rhinitis (including year-round and seasonal);
Pollinosis.
For drops - treatment and prevention:
Keratoconjunctivitis;
Allergic keratitis;
Allergic conjunctivitis;
Irritation of the mucous membrane of the eyes due to exposure to irritants such as plants, pets, cosmetics or household chemicals, ophthalmic preparations, environmental factors.
For solution - prophylactic treatment of asthmatic complaints:
Endogenous asthma caused by infection, stress, or exercise
Bronchial asthma, including those of an allergic nature.
Contraindications
Regardless of the form of release, KromoGEXAL should not be used in case of hypersensitivity to the components of the drug.
The spray is contraindicated in pregnant and breastfeeding women.
For children, KromoGEXAL is contraindicated in the form of a spray - up to 5 years, in the form of drops and solution - up to 2 years.
With caution, KromoGEXAL is prescribed in the following cases:
Spray: polyps in the nasal cavity, renal / hepatic failure;
Drops: children under 4 years of age, pregnancy, lactation.
Method of administration and dosage
Spray KromoHEXAL is applied intranasally.
Adults and children over 5 years old are prescribed 1 dose (corresponding to 2.8 mg sodium cromoglycate) in each nasal passage 4 times a day. If necessary, the frequency of application is increased up to 6 times a day. After achieving the required therapeutic effect, the frequency of administration of the drug is reduced and used only in case of contact with allergens (pollen, house dust, fungal spores, etc.).
The course of treatment with the drug in the form of a solution for inhalation lasts at least 4 weeks. The drug is canceled gradually, reducing the frequency of use within 1 week.
How to use the spray: remove the protective cap from the bottle, insert the spray into the nostril and press hard on the spray mechanism. Before the first use, spray several times into the air until droplets of liquid appear.
Eye drops KromoHEXAL for adults and children over 2 years old are prescribed 1-2 drops in the conjunctival sac of the eye 4 times a day (with an interval of 4-6 hours). If necessary, the frequency of instillations is increased up to 6-8 times a day. After the therapeutic effect is achieved, the frequency of instillation is reduced and the drug is used only in contact with allergens.
Solution for inhalation KromoGEXAL, if the doctor has not prescribed another treatment regimen, should be inhaled 4 times a day, 1 bottle at regular intervals. If necessary, a single dose is doubled, and the frequency of use is increased up to 6 times a day. After achieving a therapeutic effect, use the drug as needed.
The course of treatment lasts at least 4 weeks. The dose should be reduced gradually over 1 week.
To open a disposable bottle with inhalation solution, you need to break off its upper marked part. KromoHEXAL is inhaled using special inhalers, for example, ultrasonic.
Side effects
When using the spray KromoGEXAL, the following side effects are possible:
Respiratory system: burning or irritation of the nasal mucosa, rhinorrhea, frequent sneezing, coughing; rarely - nosebleeds;
Allergic reactions: itching, rash, hives, difficulty swallowing and / or breathing, swelling of the face, eyelids or lips;
Others: headache, unpleasant taste sensations.
When treating with KromoHEXAL eye drops, violations of the organ of vision are possible, such as burning and sensation of a foreign body in the eye, lacrimation, meibomitis, conjunctival edema, impaired clarity of visual perception, dry eyes, as well as superficial damage to the epithelium of the cornea.
When using the inhalation solution KromoHEXAL, in rare cases, there is a cough, slight irritation of the pharynx and trachea, which sometimes leads to reflex spasm of the bronchi. Also possible: skin rash, inflammation of the skin and gastrointestinal tract. These phenomena are usually insignificant, short-term and go away on their own after drug withdrawal.
special instructions
Eye drops KromoHEXAL reduce the need for ophthalmic preparations containing glucocorticoids.
During treatment, soft contact lenses should not be worn (due to benzalkonium chloride in the preparation), and hard contact lenses should be removed 15 minutes before instillation and put on no earlier than 15 minutes later.
During instillation, care should be taken not to touch the pipette tip to the eye or other surfaces.
During the period of application of eye drops, special care is required when driving vehicles and performing potentially hazardous types of work that require concentration of attention and speed of reactions.
Inhalation solution KromoHEXAL is not intended for the relief of acute asthmatic attacks.
In the case of long-term treatment, it is necessary to monitor the condition of the kidneys and liver.
If, when using the spray, burning or irritation of the nasal mucosa does not go away or intensifies, the drug should be discontinued.
Drug interactions
Cromoglycic acid can enhance the action of H 1 -histamine blockers.
CromoHEXAL solution should not be inhaled simultaneously with ambroxol or bromhexine.
Analogs
Analogs of KromoHEXAL are: Kromoglin, Krom-Allerg, Lekrolin, Ifiral, Dipolkrom, Vividrin, Intal, Kromolin, Taleum, Kuzikrom, Kromogen.
Terms and conditions of storage
Keep out of reach of children, protected from light at temperatures up to 25 ºС.
The shelf life is 3 years. Drops and spray after opening the bottle can be used within 6 weeks. Inhalation vials are for single use only.
Terms of dispensing from pharmacies
Available without a prescription.
KromoHEXAL: prices in online pharmacies
Drug name
Price
Pharmacy
KromoGeksal (eye drops) 2% eye drops 10 ml 1 pc.
91 rbl.
Buy
Reviews KromoHeksal (eye drops)
91 rbl.
Buy
Information about the drug is generalized, provided for informational purposes only and does not replace the official instructions. Self-medication is hazardous to health!
Popular by topic