Table of contents: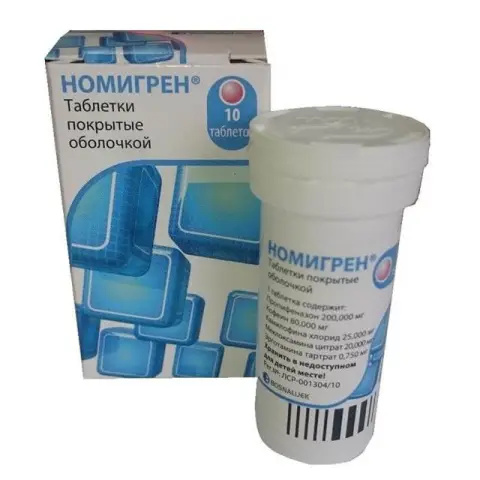 Video: Kofetamin - Instructions For Use, Price, Reviews, Composition, Analogues
Cofetamine
Kofetamin: instructions for use and reviews
1. Release form and composition
2. Pharmacological properties
3. Indications for use
4. Contraindications
5. Method of application and dosage
6. Side effects
7. Overdose
8. Special instructions
9. Application during pregnancy and lactation
10. Use in childhood
11. In case of impaired renal function
12. In case of impaired liver function
13. Use in the elderly
14. Drug interactions
15. Analogs
16. Terms and conditions of storage
17. Terms of dispensing from pharmacies
18. Reviews
19. Price in pharmacies
Latin name: Coffetamin
ATX code: N02CA72
Active ingredient: caffeine (caffeine) + ergotamine (ergotamine)
Manufacturer: JSC "Tatkhimfarmpreparaty" (Russia)
Description and photo updated: 22.11.2018
Prices in pharmacies: from 136 rubles.
Buy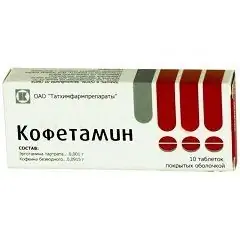 Cofetamine is an anti-migraine drug.
Release form and composition
Dosage form of Kofetamin - film-coated tablets: round, biconvex; the shell is white, the core is from white to white with a cream shade, marbling is allowed (10 tablets in a blister, 1 or 2 blisters in a cardboard box).
Active ingredients in 1 tablet:
caffeine - 100 mg;
ergotamine tartrate - 1 mg.
Additional components in the composition of Cofetamine:
auxiliary components: potato starch, talc, calcium stearate;
film coat: sucrose, dextrose monohydrate, potato starch, talc, calcium stearate.
Pharmacological properties
Pharmacodynamics
Kofetamin is a combined drug, the action of which is due to the properties of its constituent components.
Caffeine has a stimulating effect on the central nervous system (CNS), mainly on the cerebral cortex, vasomotor and respiratory centers, thereby increasing physical and mental performance, reducing fatigue and drowsiness. Caffeine also increases heart rate and strength, raising blood pressure (BP) during hypotension.
Ergotamine has a vasoconstrictor effect, and its absorption is enhanced by caffeine.
Pharmacokinetics
When taken orally, caffeine is rapidly and almost completely absorbed. Communication with plasma proteins - 35%. It is almost completely metabolized. Excretion occurs mainly in the urine. The half-life is about 3.5 hours.
When ergotamine is taken orally, 62% of the substance is absorbed from the gastrointestinal tract. Its maximum plasma concentration is reached within 2 hours. The connection with plasma proteins is 98%. Ergotamine is metabolized in the liver, resulting in the formation of pharmacologically active metabolites. Excretion occurs mainly with bile, in 2 phases. The half-life for phase I is 2.7 hours, for phase II - 21 hours.
Indications for use
migraine;
arterial hypotension.
Contraindications
Absolute contraindications:
age up to 12 years;
pregnancy and lactation;
increased sensitivity to any component of Cofetamine.
Relative contraindications:
panic anxiety disorder, agoraphobia;
sleep disorders;
organic diseases of the cardiovascular system (acute myocardial infarction, severe atherosclerosis, angina pectoris, paroxysmal tachycardia, frequent ventricular extrasystole, obliterating peripheral vascular disease, arterial hypertension);
glaucoma;
renal or hepatic impairment;
elderly age.
Instructions for the use of Kofetamin: method and dosage
During an attack, children over 12 years old and adults are advised to take 1-2 tablets of Cofetamine, then 1 pc. 2-3 times a day for several days.
Maximum single dose - 2 pcs., Daily dose - 4 pcs.
If you need to take the drug for more than 7 days, you should take a break for 3-4 days.
Side effects
CNS: anxiety, agitation, tremor, dizziness, headache, paresthesia in the limbs, convulsions, increased reflexes, tachypnea, insomnia;
cardiovascular system: tachycardia, palpitations, cardialgia, increased blood pressure;
Gastrointestinal tract: diarrhea, nausea, vomiting;
allergic reactions: itching, swelling.
Long-term use of Cofetamine can lead to addiction, drug dependence, weakness in the legs, myalgia, Leriche syndrome (severe cyanosis, lack of pulse on the legs, pain, distal sensory impairment).
Overdose
Symptoms of a cofetamine overdose: nausea, vomiting, numbness of fingers and toes, lethargy, drowsiness, epileptic seizures, stupor, coma.
Gastric lavage, activated charcoal intake, symptomatic therapy are recommended.
special instructions
Sudden withdrawal of the drug can lead to increased inhibition of the central nervous system, increased drowsiness and fatigue.
Influence on the ability to drive vehicles and complex mechanisms
During therapy with Cofetamine, care should be taken when driving vehicles and other complex mechanisms that require the speed of psychomotor reactions.
Application during pregnancy and lactation
According to the instructions, Cofetamine is contraindicated in pregnancy.
If it is necessary to use it during lactation, breastfeeding should be discontinued.
Pediatric use
Kofetamine is contraindicated in children under 12 years of age.
With impaired renal function
Patients with impaired renal function should use the drug with caution.
If liver function is impaired
It is recommended to use the drug with caution in case of impaired liver function.
Use in the elderly
Cofetamine should be used with caution in elderly patients.
Drug interactions
preparations containing ergot alkaloids and caffeine: caffeine enhances their pharmacological action;
barbiturates, primidone, anticonvulsants (in particular, hydantoin derivatives, especially phenytoin): risk of increased metabolism and increased caffeine clearance;
cimetidine, oral contraceptives, disulfiram, ciprofloxacin, norfloxacin: the risk of reducing the metabolism of caffeine, slowing its excretion and increasing the concentration of the substance in the blood;
drugs that stimulate the central nervous system: the risk of overstimulation;
mexiletine: reduction of caffeine excretion by 50%;
caffeine: accelerating the elimination of caffeine;
monoamine oxidase inhibitors, furazolidone, selegiline, procarbazine: the risk of developing a pronounced increase in blood pressure and dangerous arrhythmias when taken with large doses of caffeine;
calcium preparations: reducing their absorption in the digestive tract;
narcotic and sleeping pills: reducing their action;
non-narcotic analgesics: enhancing their effect by increasing absorption;
lithium preparations: an increase in their excretion in the urine;
cardiac glycosides: accelerating their absorption, enhancing action and increasing toxicity;
β-blockers: the risk of mutual suppression of therapeutic effects;
adrenergic bronchodilator drugs: additional stimulation of the central nervous system and other additive toxic effects are possible;
theophylline and other xanthines: the risk of a decrease in their clearance and an increase in the possibility of undesirable effects and toxic effects;
α-adrenostimulants, β-blockers, serotonin agonists, nicotine: increased vasoconstrictor action of cofetamine;
macrolides: increased toxicity of ergotamine by reducing its hepatic clearance.
Analogs
The analogues of Cofetamine are Kafergot, Nomigren, Ergofein, Ergoffin.
Terms and conditions of storage
Store in a dry place, away from light, at a temperature not exceeding 25 ° C. Keep out of the reach of children.
Shelf life is 2 years.
Terms of dispensing from pharmacies
Dispensed by prescription.
Reviews about Cofetamine
Few online reviews of Kofetamine show the effectiveness of the drug in the fight against migraines at an affordable cost. Among the minuses, the possibility of developing side effects is mentioned.
Price for Kofetamin in pharmacies
Estimated price for Kofetamin, tablets, 10 pcs. is 160 rubles.
Cofetamine: prices in online pharmacies
Drug name
Price
Pharmacy
Kofetamin coated tablets 10 pcs.
136 RUB
Buy
Kofetamin tablets p.o. 10 pieces.
140 RUB
Buy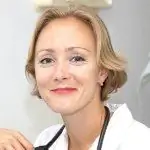 Anna Kozlova Medical journalist About the author
Education: Rostov State Medical University, specialty "General Medicine".
Information about the drug is generalized, provided for informational purposes only and does not replace the official instructions. Self-medication is hazardous to health!
Popular by topic