Table of contents: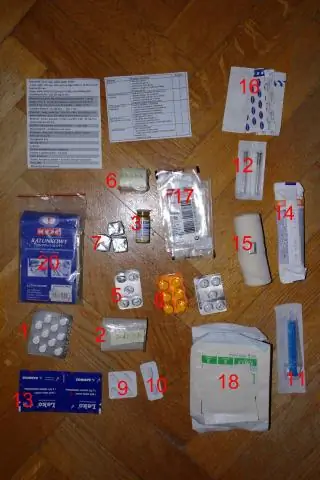 Video: Cordipin Retard - Instructions For Use, Reviews, Price, Analogues
Cordipin retard
Cordipin retard: instructions for use and reviews
1. Release form and composition
2. Pharmacological properties
3. Indications for use
4. Contraindications
5. Method of application and dosage
6. Side effects
7. Overdose
8. Special instructions
9. Application during pregnancy and lactation
10. Use in childhood
11. In case of impaired renal function
12. For violations of liver function
13. Drug interactions
14. Analogs
15. Terms and conditions of storage
16. Terms of dispensing from pharmacies
17. Reviews
18. Price in pharmacies
Latin name: Cordipin retard
ATX code: C08CA05
Active ingredient: nifedipine (nifedipine)
Manufacturer: JSC "Krka" (Slovenia)
Description and photo update: 2018-18-05
Prices in pharmacies: from 89 rubles.
Buy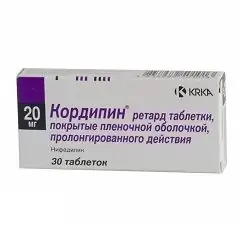 Cordipin retard is an antihypertensive drug with anti-ischemic action.
Release form and composition
Dosage form of Cordipin retard - film-coated tablets, prolonged action: round, slightly convex on both sides, with a beveled edge, covered with a yellow shell (in a blister 15 pcs., In a cardboard box 2 blisters).
Composition of one tablet:
active substance: nifedipine - 20 mg;
auxiliary components (core): microcrystalline cellulose, talc, glyceryl palmitostearate, colloidal anhydrous silicon dioxide, magnesium stearate, povidone, sodium lauryl sulfate;
shell: macrogol, titanium dioxide (E171), talc, methacrylic acid copolymer, quinoline yellow dye (E104).
Pharmacological properties
Pharmacodynamics
The active substance of Cordipin retard, nifedipine, is a class II selective calcium channel blocker derived from 1,4-dihydropyridine. Thanks to it, the flow of calcium into the cells of vascular smooth muscles and cardiomyocytes decreases. Nifedipine has antianginal and antihypertensive effects. It promotes the expansion of coronary and peripheral arterial vessels, a decrease in the tone of smooth vascular muscles, a decrease in OPSS (total peripheral vascular resistance), a decrease in blood pressure (BP) and, to a small extent, myocardial contractility.
Nifedipine helps to reduce the afterload on the heart, myocardial tone and heart muscle oxygen demand, increases coronary blood flow, activates the blood supply to ischemic myocardial zones, increases the duration of diastolic relaxation of the LV (left ventricle), activates the functioning of collaterals.
The drug has no effect on venous tone, has no antiarrhythmic effect, and does not suppress myocardial conductivity.
Pharmacokinetics
When taken orally, 50-60% of nifedipine is absorbed in the gastrointestinal tract. The maximum concentration in blood plasma (C max) after oral administration of nifedipine in a dose of 20 mg is achieved after 2-4 hours.
The substance is well distributed in tissues. Plasma proteins (mainly albumin) bind 90%. It is almost completely metabolized in the liver to form inactive metabolites. Nifedipine tends to penetrate the blood-brain barrier and the placenta, as well as into breast milk.
The kidneys excrete 80% of the substance in the form of inactive metabolites, through the intestines - the rest. The half-life (T 1/2) is 8-10 hours. In patients with impaired renal function, elimination may be slowed down.
Nifedipine has no cumulative properties. Chronic renal failure, as well as hemodialysis and peritoneal dialysis do not affect pharmacokinetic processes.
In the case of long-term use, it is possible to develop tolerance to nifedipine.
Indications for use
stable angina pectoris, spontaneous angina pectoris (Prinzmetal's angina);
arterial hypertension.
Contraindications
Absolute:
chronic heart failure (in the stage of decompensation);
severe stenosis of the aortic valve;
severe arterial hypotension (upper blood pressure below 90 mm Hg);
cardiogenic shock (due to the risk of developing myocardial infarction);
acute stage of myocardial infarction (first 4 weeks);
collapse;
first trimester of pregnancy;
lactation period;
age up to 18 years;
individual hypersensitivity to nifedipine, other dihydropyridine derivatives or auxiliary ingredients of the drug.
Relative (diseases / conditions in which the use of Cordipin retard requires caution):
hypertrophic obstructive cardiomyopathy;
malignant arterial hypertension;
severe tachycardia;
myocardial infarction with left ventricular failure;
sick sinus syndrome;
severe stenosis of the aortic orifice or mitral valve;
unstable angina;
severe disorders of cerebral circulation;
concomitant use of rifampicin;
the combined appointment of cardiac glycosides or beta-blockers;
impaired renal and / or liver function;
hemodialysis (due to the risk of developing arterial hypotension).
Instructions for the use of Cordipin retard: method and dosage
Cordipin retard tablets are taken orally, swallowing whole.
The dosage regimen should be selected by the attending physician for each patient individually, depending on the therapeutic effect and the severity of the disease.
It is recommended at the initial stage of treatment to take 1 tablet (20 mg) 2 times a day. In case of insufficient effect, it is possible to increase the dose to 2 tablets (40 mg) 2 times a day. For patients with variant angina pectoris, the dose may be increased to 80 or 120 mg per day. The maximum dose of nifedipine is 120 mg per day.
Side effects
Possible side reactions from systems and organs when using Cordipin retard:
cardiovascular system: tachycardia, manifestations of excessive vasodilation (arterial hypotension, flushing of the face, fever, flushing of the skin of the face), arrhythmia, palpitations, chest pains, peripheral edema; rarely - a strong decrease in blood pressure, syncope, fainting. In some patients (especially at the initial stage of treatment), angina attacks may occur, in such cases the drug must be canceled. There have been isolated cases of myocardial infarction;
digestive system: increased appetite, dry mouth, dyspeptic disorders (nausea, constipation or diarrhea); rarely - swelling, soreness, bleeding, gingival hyperplasia. With prolonged use - liver dysfunction (increased activity of hepatic transaminases, intrahepatic cholestasis);
central nervous system: dizziness, headache, drowsiness, weakness, increased fatigue. In cases of prolonged oral use in high doses - depression, paresthesia of the extremities, anxiety; with prolonged use in high doses - parkinsonian (extrapyramidal) disorders (shuffling gait, mask-like face, ataxia, difficulty swallowing, tremor of the fingers and hands, stiffness of limb movements);
musculoskeletal system: arthritis; rarely - cramps of the lower and upper extremities, myalgia, joint swelling, arthralgia;
hematopoietic system: leukopenia, thrombocytopenic purpura, thrombocytopenia, asymptomatic agranulocytosis, anemia;
urinary system: deterioration of kidney function (with renal failure), an increase in the volume of daily urine output;
allergic reactions: rarely - urticaria, pruritus, photodermatitis, exfoliative dermatitis, exanthema; very rarely - autoimmune hepatitis;
the body as a whole: rarely - cough, shortness of breath; very rarely - gynecomastia in elderly patients (completely resolving after discontinuation of nifedipine), visual disturbances (including transient blindness at the maximum plasma concentration of nifedipine), bronchospasm, pulmonary edema, weight gain, galactorrhea, hyperglycemia.
Overdose
With an overdose of Cordipin retard, the following symptoms may develop: due to peripheral vasodilation with severe and prolonged systemic arterial hypotension - facial flushing, headache, pronounced and prolonged decrease in blood pressure, tachycardia and / or bradycardia, inhibition of the sinus node, bradyarrhythmia. In case of severe intoxication: loss of consciousness, coma.
Treatment for overdose consists in gastric lavage and / or intake of activated carbon, normalization of hemodynamic parameters, careful monitoring of the functioning of the heart, lungs and excretory organs.
The antidote is calcium preparations: intravenous administration of a 10% solution of calcium chloride or calcium gluconate is recommended, followed by long-term infusion. The use of hemodialysis is ineffective due to the high level of binding of nifedipine to blood plasma proteins.
In case of an overdose, it is recommended to control the blood glucose (due to a possible decrease in insulin release), potassium and calcium.
In patients with hepatic insufficiency, an increase in the clearance of nifedipine is observed.
special instructions
Patients with severe heart failure should dose the drug with extreme caution.
It is necessary to stop therapy with Cordipin retard gradually. It is important to keep in mind that at the initial stage of treatment, angina pectoris may develop, especially after the rapid and recent withdrawal of beta-blockers (the latter must be canceled gradually).
Combined therapy with beta-blockers should be carried out under close medical supervision because of the possibility of an excessive decrease in blood pressure and aggravation of symptoms of heart failure.
In cases of an increase in the frequency, duration and severity of angina attacks after taking nifedipine in patients with severe obstructive cardiomyopathy, Cordipin retard should be canceled.
For patients with vasospastic angina, the drug is prescribed if the following diagnostic criteria are present: a clinical picture with classical signs and an elevated ST segment, the occurrence of spasm of the coronary arteries or ergonovine-induced angina pectoris, the detection of an angiospastic component without confirmation (for example, with unstable angina pectoris or with different stress thresholds, when the electrocardiogram indicates transient angiospasm) or the detection of coronary spasm during angiography.
To use Cordipin retard in patients with high blood pressure, with irreversible renal failure, with a reduced total amount of blood on hemodialysis, it is necessary to be extremely careful because of a possible sharp drop in blood pressure. Patients with functional hepatic impairment require careful monitoring and, if necessary, reduce the dose of the drug and / or the use of other dosage forms of nifedipine.
During therapy with Cordipin retard, a direct Coombs' test and laboratory tests for antinuclear antibodies can give positive results.
Prescribe nifedipine concurrently with flecainamide and disopyramide with caution because of the possible increase in inotropic action.
If it is necessary to carry out a surgical intervention under general anesthesia during treatment with the drug, the anesthesiologist should be informed about the composition of the therapy.
Influence on the ability to drive vehicles and complex mechanisms
According to the instructions, Cordipin retard can cause weakness and dizziness (especially at the beginning of therapy), therefore, it is recommended to limit driving or performing actions that require a quick motor and mental reaction. The degree of restriction in further treatment depends on the individual tolerance of the drug.
Application during pregnancy and lactation
The use of the drug in the first trimester of pregnancy is contraindicated. It is necessary to prescribe Cordipin retard to pregnant women in the future only when the expected benefit to the mother outweighs the potential risk to the fetus.
Since nifedipine passes into breast milk, it is recommended to stop breastfeeding while using the drug.
Pediatric use
The efficacy and safety of the use of Cordipin retard in pediatrics has not been established, therefore, it is prohibited to prescribe it to children and adolescents under 18 years of age.
With impaired renal function
The drug should be used in patients with impaired renal function with caution and under mandatory medical supervision. High doses of nifedipine are not recommended for these patients.
For violations of liver function
Prescribe Cordipin retard to patients with impaired liver function should be provided with careful medical supervision. It is necessary to avoid the use of the drug in high doses.
Drug interactions
The use of nifedipine concurrently with certain drugs can lead to the development of the following effects:
beta-blockers, cimetidine (to a lesser extent ranitidine), nitrates, inhalation anesthetics, diuretics, tricyclic antidepressants and antihypertensive drugs: increased severity of blood pressure reduction;
quinidine and amiodarone: an increase in their negative inotropic effect (lowering the force of heart contraction), a decrease in the plasma concentration of quinidine (after discontinuation of nifedipine, a sharp increase in the level of quinidine in the blood plasma is possible);
theophylline and digoxin: an increase in their concentration in blood plasma, in connection with which this indicator and the clinical effect must be controlled;
rifampicin and other inducers of microsomal liver enzymes: decrease in the concentration of nifedipine;
nitrates: increased tachycardia;
non-steroidal anti-inflammatory drugs (NSAIDs), sympathomimetics, calcium preparations, estrogens: reducing the hypotensive effect;
drugs with a high degree of binding (including indirect anticoagulants - derivatives of indandione and coumarin; NSAIDs; anticonvulsants; sulfinpyrazone, salicylates, quinine): displacement of them from the connection with proteins and, as a result, an increase in their concentration in blood plasma;
vincristine: worsening of its excretion from the body and increased side effects (the dose of vincristine is reduced if necessary);
lithium preparations: increased toxic effects (nausea / vomiting, diarrhea, ataxia, tinnitus, tremor);
grapefruit juice: suppression of the metabolism of nifedipine, and therefore their simultaneous use is contraindicated.
Analogs
Analogs of Cordipin retard are: Cordaflex, Cordipin CL, Corinfar, Corinfar retard, Nifedipine, Nifecard CL, Osmo-Adalat, Fenigidin and others.
Terms and conditions of storage
Store in a dark, dry place at a temperature not exceeding 25 ° C.
Keep out of the reach of children.
Shelf life is 5 years.
Terms of dispensing from pharmacies
Dispensed by prescription.
Reviews of Kordipin retard
In reviews of Cordipin retard, users note that the pills work well in cases where it is necessary to lower blood pressure. With systemic use, the pressure is completely normalized. But there are complaints from patients about the unwanted effects of the drug, such as lack of appetite, dry mouth, nausea, headache, shortness of breath, stomach pain, arrhythmia and weakness.
Price for Cordipin retard in pharmacies
The price of Cordipin retard for a pack of 30 tablets varies from 80 to 104 rubles.
Cordipin retard: prices in online pharmacies
Drug name
Price
Pharmacy
Cordipin retard 20 mg film-coated tablets of prolonged action 30 pcs.
89 RUB
Buy
Cordipin Retard tablets p.o. prolonged action 20mg 30 pcs.
RUB 99
Buy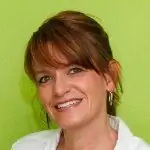 Maria Kulkes Medical journalist About the author
Education: First Moscow State Medical University named after I. M. Sechenov, specialty "General Medicine".
Information about the drug is generalized, provided for informational purposes only and does not replace the official instructions. Self-medication is hazardous to health!
Popular by topic