Table of contents:
Video: Kontrateks - Instructions For Use, Reviews, Candle Price, Analogues
Contratex
Contratex: instructions for use and reviews
1. Release form and composition
2. Pharmacological properties
3. Indications for use
4. Contraindications
5. Method of application and dosage
6. Side effects
7. Overdose
8. Special instructions
9. Application during pregnancy and lactation
10. Drug interactions
11. Analogs
12. Terms and conditions of storage
13. Terms of dispensing from pharmacies
14. Reviews
15. Price in pharmacies
Latin name: Kontratex
ATX code: G02BB
Active ingredient: benzalkonium chloride (Benzalkonium chloride)
Producer: CJSC "Moscow Pharmaceutical Factory" ("MosPharma") (Russia)
Description and photo update: 2019-12-07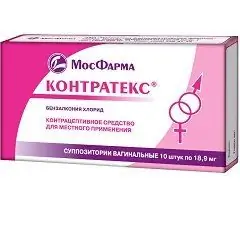 Contratex is a drug for local use of contraceptive action.
Release form and composition
The drug is produced in the form of vaginal suppositories, torpedo-shaped, white or white with a slight yellowish tinge, with a specific weakly pronounced odor (5 pcs. In blisters, in a cardboard box 2 blisters and instructions for use of Kontrateks).
Composition for 1 suppository:
active substance: benzalkonium chloride - 18.9 mg (in terms of 100% substance);
auxiliary components: solid fat, benzoic acid.
Pharmacological properties
Pharmacodynamics
Benzalkonium chloride has antiseptic properties, and also has a local contraceptive (spermicidal), antiprotozoal, antifungal and antiviral (inactivates Herpes simplex) effect.
The drug exhibits bactericidal properties against streptococci, staphylococci, anaerobic bacteria, gram-negative bacteria (Pseudomonas aeruginosa, Escherichia coli, Klebsiella, Proteus, etc.), and also affects mold and other fungi. Benzalkonium chloride suppresses even those strains that are resistant to antibiotics and chemotherapy. It inhibits staphylococcal enzymes such as hyaluronidase and plasmacoagulase, and also prevents secondary infection of wounds with hospital strains.
The spermicidal properties of benzalkonium chloride are related to its ability to damage the membranes of the flagella and sperm heads. Damaged sperm cells lose their ability to fertilize. This effect develops within 5 minutes after the introduction of the Contratex vaginal suppositories.
In vitro, the drug is active against Herpes simplex (type 2), Chlamydia spp., Staphylococcus aureus, Trichomonas vaginalis and Neisseria gonorrhoeae. Benzalkonium chloride has no effect on Mycoplasma spp. and has little effect on Candida albicans, Treponema pallidum, Gardnerella vaginalis and Haemophilus ducreyi.
In vivo, the drug showed some prophylactic properties against STDs (sexually transmitted diseases). Vaginal suppositories do not affect the hormonal cycle and do not alter the normal microflora of the vagina (in particular, they do not suppress Doderlein's wand).
Pharmacokinetics
With intravaginal use of benzalkonium chloride, it is almost not absorbed into the systemic circulation. It is removed with normal physiological secretions and by simple rinsing with clean water.
Indications for use
Contratex is used in women of reproductive age for the purpose of local contraception in the following cases:
the postpartum period and the period of breastfeeding;
premenopausal period;
the presence of contraindications to the use of oral contraceptives or the use of an intrauterine device;
period after abortion (termination of pregnancy);
skipping or being late in taking birth control pills;
the need for irregular protection from unwanted pregnancy.
Contraindications
Contratex is contraindicated for use in case of irritation and / or ulceration of the mucous membrane of the uterus or vagina, vaginitis, as well as increased individual sensitivity to its components.
Kontrateks, instructions for use: method and dosage
Vaginal suppositories Kontrateks are intended for intravaginal use.
For the purpose of contraception, the drug is injected deep into the vagina (in the supine position) 5 minutes before the start of intercourse. The duration of action is 4 hours. With each repeated intercourse, a new suppository should be introduced.
Side effects
Possible side effects of the drug include candidiasis, contact dermatitis, vulvovaginitis, and allergic reactions.
Overdose
To date, an overdose of the drug has not been registered.
special instructions
To achieve the best effectiveness of Contratex, you must carefully follow the instructions for use of the drug.
Vaginal suppositories can be used concurrently with intrauterine contraceptives or the vaginal diaphragm.
Do not irrigate or wash the vagina with soapy water, as soap destroys the active substance of the drug. External toilet of the labia is possible only with ordinary clean water.
Application during pregnancy and lactation
Benzalkonium chloride does not affect the course of pregnancy, and is also not secreted with mother's milk. Kontratex can be used by women during gestation and breastfeeding.
Drug interactions
Contratex is incompatible with any soaps and anionic surfactants, iodides, permanganates, tartrates, citrates, silver salts, nitrates and salicylates.
The local spermicidal effect of the drug may decrease when used simultaneously with other drugs or substances (especially with soap and soap solutions).
Analogs
Analogues of Contratex are: Benatex, Benzalkonium chloride, Gynecotex, Dettol Benzalkonium Chloride, Spermatex, Katatsel, Pharmatex, Pharmaginex, Erotex.
Terms and conditions of storage
Store in a dark, dry place at a temperature not exceeding 25 ° C. Keep out of the reach of children.
The shelf life is 2 years.
Terms of dispensing from pharmacies
Available without a prescription.
Reviews about Contratex
Reviews about Contratex, if it is used as the main means of preventing pregnancy, are ambiguous. The drug is not intended for regular use and does not protect against unwanted pregnancy by 100%. In addition, it can cause vaginal itching, burning, and dryness. The most optimal is the use of vaginal suppositories Contratex as an additional contraceptive.
Price for Contratex in pharmacies
The current price for Contratex is unknown, since the drug is not available in pharmacies.
The approximate cost of similar funds, for example, Benatex, is 315–340 rubles. Pharmatex vaginal suppositories can be purchased for 440-505 rubles.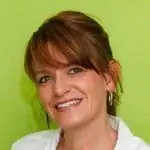 Maria Kulkes Medical journalist About the author
Education: First Moscow State Medical University named after I. M. Sechenov, specialty "General Medicine".
Information about the drug is generalized, provided for informational purposes only and does not replace the official instructions. Self-medication is hazardous to health!
Popular by topic