Table of contents:
Video: Complivit Radiance - Instructions For Use, Reviews, Price, Composition
Complivit Shining
Complivit Radiance: instructions for use and reviews
1. Release form and composition
2. Pharmacological properties
3. Indications for use
4. Contraindications
5. Method of application and dosage
6. Side effects
7. Overdose
8. Special instructions
9. Application during pregnancy and lactation
10. Drug interactions
11. Analogs
12. Terms and conditions of storage
13. Terms of dispensing from pharmacies
14. Reviews
15. Price in pharmacies
Latin name: Complivit Siyanie
Active ingredient: vitamins + microelements (Vitamins + Microelements)
Manufacturer: Pharmstandard-UfaVITA (Russia)
Description and photo update: 19.10.2018
Prices in pharmacies: from 281 rubles.
Buy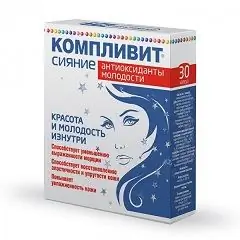 Complivit Radiance is a biologically active additive (BAA), a source of natural antioxidants - lycopene, hydroxytyrosol and resveratrol.
Release form and composition
Dosage form - capsules of 300 mg (10, 15, 20 and 30 pcs. In blisters, in a cardboard box 1, 2, 3, 4, 5 or 6 packages; 30, 60, 90 and 120 pcs. In plastic containers with a lid, in a cardboard box 1 container).
Composition of Complivit Radiance: green olive extract, Kollidon K-25 (polyvinylpyrrolidone), resveratrol, lycopene, magnesium stearate, amorphous silicon dioxide, calcium carbonate.
Content in 1 capsule% of the recommended daily requirement: lycopene - 100% (5 mg), resveratrol - 83% (25 mg), hydroxytyrosol - 30% (3 mg).
Pharmacological properties
The components of the dietary supplement Complivit Radiance are found in tomatoes (lycopene), red grapes (resveratrol) and green olives (hydroxytyrosol).
The properties of the drug are due to its constituent components, which play an important role in maintaining the youth and health of the skin, helping to fight its aging. The effectiveness of the anti-aging action of the components contained in dietary supplements has been confirmed by several studies. Due to the oral form of the release of the supplements, they act on the skin from the inside.
So, the components in Complivit Radiance are characterized by the following properties:
Lycopene (a carotenoid isolated from red tomatoes) is one of the most powerful antioxidants among the "dietary" carotenoids. It accumulates in all layers of the skin and protects its cells from the damaging effects of ultraviolet rays, regulates its pigmentation and slows down the processes of photoaging;
resveratrol (isolated from red wine extract, which is a product of red grape processing, polyphenol) - a powerful antioxidant that increases the lifespan of cells in experimental models of aging, reduces collagen destruction, slows down the processes of photoaging of the skin, thereby contributing to an increase in skin elasticity and tone and, as a consequence, reducing the severity of wrinkles;
hydroxytyrosol (polyphenol isolated from olive fruits) is a biologically active substance containing flavonoids (lutein, rutin, hesperidin), ascorbic and oleanolic acid, which slows down the aging process of the skin, protects skin cells from the effects of adverse environmental factors and ultraviolet rays, and has an anti-inflammatory effect.
According to the results of a clinical study of Complivit Radiance, conducted at the State Scientific Center for Dermatovenereology and Cosmetology of the Ministry of Health of Russia, in women with external signs of skin aging (dryness, wrinkles), the use of supplements for 3 months helped to reduce the manifestation of skin aging processes.
Unlike women who use only anti-aging cream, women who take supplemental dietary supplements:
the severity of wrinkles decreases;
increased hydration (hydration) of the skin;
the elasticity and firmness of the skin is restored;
the processes of photoaging are reduced;
increased skin resistance to the negative effects of environmental factors (improved barrier function).
Thus, Complivit Radiance optimally complements and enhances the effect of external anti-aging cosmetics.
Indications for use
According to the instructions, Complivit Radiance is recommended as a dietary supplement - a source of naturally occurring antioxidants such as lycopene, hydroxytyrosol and resveratrol; to improve the condition of the skin and slow down the aging process.
Contraindications
pregnancy;
lactation period;
individual intolerance to the components of dietary supplements.
Instructions for use of Complivit Radiance: method and dosage
The supplement should be taken with meals.
The recommended dosing regimen for adults is 1 capsule 1 time per day for 1 month.
On the recommendation of a doctor, repeated courses are possible.
Side effects
Allergic reactions are possible.
Overdose
Overdose is manifested by clinical symptoms of hypervitaminosis.
Therapy: measures aimed at removing the components of the dietary supplement from the body, symptomatic treatment.
special instructions
Complivit Radiance is not a medicine. Before taking a course of admission, you should consult with your doctor.
Application during pregnancy and lactation
Complivit Radiance during pregnancy / lactation is not prescribed.
Drug interactions
There is no information about the interaction of dietary supplements with other substances / drugs.
Analogs
The analogues of Complivit Radiance are Duovit, Vitacap, Bio-Max, Berocca Plus, Menopace, Vitrum Plus, Multi-Tabs, etc.
Terms and conditions of storage
Shelf life is 2 years.
Storage conditions: original packaging, temperature up to 25 ° С, place inaccessible to children.
Terms of dispensing from pharmacies
Available without a prescription.
Reviews about Complivi Shine
Reviews of Complivite Radiance are quite diverse. Some users are satisfied with the effect of the dietary supplement and note a noticeable improvement in both the condition of hair and nails, and overall well-being. In other cases, they indicate insufficient effect or its complete absence. The cost of the supplement is predominantly assessed as affordable.
Price for Complivit Radiance in pharmacies
The approximate price for Complivit Radiance (30 tablets) is 215–839 rubles.
Complivit Radiance: prices in online pharmacies
Drug name
Price
Pharmacy
Complivit Radiance 735 mg tablets 30 pcs.
281 r
Buy
Complivit Radiance Antioxidants of Youth 300 mg capsules 30 pcs.
373 r
Buy
Reviews Complivit Radiance Antioxidants of Youth
373 r
Buy
Complivit Radiance tablets 30 pcs.
RUB 488
Buy
Complivit Radiance antioxidants of youth 300mg capsules 30 pcs.
647 r
Buy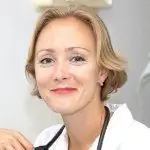 Anna Kozlova Medical journalist About the author
Education: Rostov State Medical University, specialty "General Medicine".
Information about the drug is generalized, provided for informational purposes only and does not replace the official instructions. Self-medication is hazardous to health!
Popular by topic