Table of contents: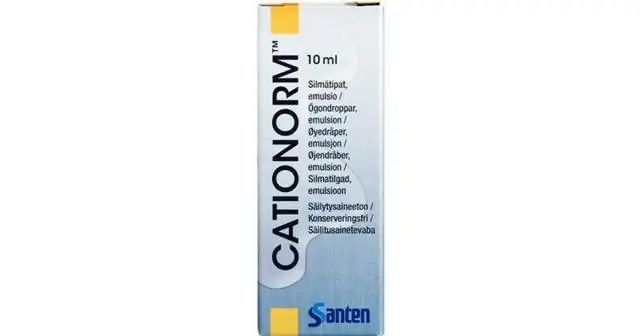 Video: Cationorm - Instructions For The Use Of Eye Drops, Price, Analogues
Cationorm
Cationorm: instructions for use and reviews
1. Release form and composition
2. Pharmacological properties
3. Indications for use
4. Contraindications
5. Method of application and dosage
6. Side effects
7. Overdose
8. Special instructions
9. Drug interactions
10. Analogs
11. Terms and conditions of storage
12. Terms of dispensing from pharmacies
13. Reviews
14. Price in pharmacies
Latin name: Cationorm
Active ingredient: mineral oils + tyloxapol + glycerol + poloxamer 188 + tromethamine + tris hydrochloride + cetalkonium chloride + purified water (mineralis oleum + tyloxapol + glycerol + poloxamer 188+ trometamin + tris hydrochloride + cetalkonii chloridum + purification aqua)
Manufacturer: Santen OY (Finland)
Description and photo updated: 2018-23-11
Prices in pharmacies: from 515 rubles.
Buy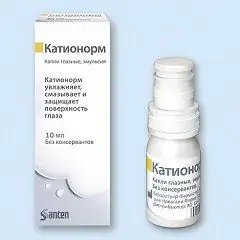 Cationorm is an ophthalmic moisturizer.
Release form and composition
Dosage form - eye drops (hypotonic emulsion with a pH of 5–7.5): a milky liquid that does not contain preservatives [10 ml (300 drops) in vials, 1 vial in a cardboard box].
The composition of the drops: mineral oils, tris hydrochloride, tyloxapol, cationic compound cetalkonium chloride, tromethamine, glycerol, poloxamer 188, purified water.
Pharmacological properties
Cationorm is an agent that moisturizes, lubricates and protects the surface of the eye.
Indications for use
According to the instructions, Cationorm is used to relieve and eliminate the symptoms of dry eye syndrome, such as burning, itching, tingling, a feeling of a foreign body (feeling of dust / sand in the eyes), including during intense visual stress (for example, in cases of prolonged work at the computer) and external influences (wind, smoke, dust, pollution, air conditioning, air travel, etc.).
Contraindications
The use of the drug is contraindicated in case of hypersensitivity to its components.
Instructions for the use of Cationorm: method and dosage
The drug is dropped into the conjunctival sac of each eye 1 drop from 1 to 4 times a day.
Instructions for use:
Wash the hands.
Open the bottle by gently pulling on the cap. Before the first use, remove the protective ring from the cap by pulling on the folding valve.
Place the bottle between your index and thumb.
Tilt your head back, take the lower eyelid, look up.
Carefully instill 1 drop into the conjunctival sac and blink several times.
Close the bottle with a cap.
Side effects
Eye drops Cationorm in some cases can cause temporary slight discomfort after instillation.
Overdose
No information available.
special instructions
This product is not intended for the treatment of ophthalmic diseases other than dry eye syndrome.
Avoid contact of the tip of the bottle with eye tissue, eyelashes, fingers and other surfaces.
Cationorm eye drops do not affect the condition of contact lenses.
Do not use the drug if the vial is damaged.
Drug interactions
If necessary, the simultaneous use of other ophthalmic agents between instillations should be maintained at least 5-minute intervals.
Analogs
The analogs of Cationorm are: Hilo-kea, Sikapos, Oksial, Avisor Comfort Drops, Moister Drops Unidoz, Artelak, Artelak splash, Artelak Splash Uno, Artelak Balance, Artelak Balance Uno, Vidisik gel, Slezol Forte, Vial-Nilea, Vistivalin, Vet-Chest of drawers, Tealoz, Tealoz Duo, Oftagel, Oftolik, Vita-Pos, Pinallex, Efralia, Sistein, Nimokid, Defislez, Slezin, Istil, Sikaprotekst.
Terms and conditions of storage
Store in a cardboard box at temperatures up to 30 ° C out of reach of children.
Shelf life - 3 years, after the first opening of the bottle - 3 months.
Terms of dispensing from pharmacies
Available without a prescription.
Reviews about Kationorm
According to reviews, Cationorm is an effective moisturizer that eliminates dryness and discomfort in the eyes, redness and fatigue.
Price for Cationorm in pharmacies
The price for Cationorm is approximately 565-610 rubles. for 1 bottle.
Cationorm: prices in online pharmacies
Drug name
Price
Pharmacy
Cationorm eye drops 10 ml 1 pc.
RUB 515
Buy
Cationorm eye drops 10ml
RUB 524
Buy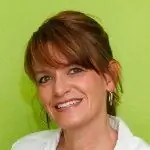 Maria Kulkes Medical journalist About the author
Education: First Moscow State Medical University named after I. M. Sechenov, specialty "General Medicine".
Information about the drug is generalized, provided for informational purposes only and does not replace the official instructions. Self-medication is hazardous to health!
Popular by topic