Table of contents: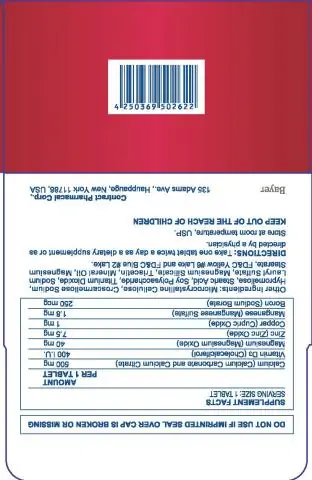 Video: Calcemin - Instructions For The Use Of Tablets, Reviews, Analogs, Price
Kalcemin
Kalcemin: instructions for use and reviews
1. Release form and composition
2. Pharmacological properties
3. Indications for use
4. Contraindications
5. Method of application and dosage
6. Side effects
7. Overdose
8. Special instructions
9. Application during pregnancy and lactation
10. Use in childhood
11. In case of impaired renal function
12. Drug interactions
13. Analogs
14. Terms and conditions of storage
15. Terms of dispensing from pharmacies
16. Reviews
17. Price in pharmacies
Latin name: Сalcemin
ATX code: A12AX
Active ingredient: Combined preparation
Manufacturer: Sagmel, USA
Description and photo update: 2019-09-08
Prices in pharmacies: from 240 rubles.
Buy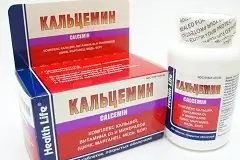 Calcemin is a combined drug that affects the phosphorus-calcium metabolism in the body.
Release form and composition
It is produced in the form of film-coated tablets: white, biconvex, oval, with a line on one side (30, 60 or 120 pcs. In high density polyethylene bottles, 1 bottle in a cardboard box).
The composition of 1 tablet contains active substances:
Calcium - 250 mg (in the form of calcium carbonate and calcium citrate tetrahydrate);
Colecalciferol (vitamin D3) - 50 IU (international units);
Copper - 0.5 mg (in the form of copper oxide);
Manganese 0.5 mg (in the form of manganese sulfate)
Zinc 2 mg (in the form of zinc oxide)
Boron - 0.05 mg (in the form of sodium borate decahydrate).
Auxiliary components: soy polysaccharide - 10 mg, sodium lauryl sulfate - 5 mg, colloidal silicon dioxide - 3.9 mg, croscarmellose sodium - 28 mg, microcrystalline cellulose - 199.45 mg, stearic acid - 35 mg, magnesium stearate - 10 mg.
Shell composition: hypromellose - 11.71 mg, triacetin - 2.53 mg, mineral oil - 1.27 mg, sodium lauryl sulfate - 0.004 mg, titanium dioxide - 7.03 mg, magnesium silicate - 5 mg.
Pharmacological properties
Pharmacodynamics
The action of Calcemin is due to the properties of its constituent components.
Calcium takes part in the formation of bone tissue, increases its density and reduces resorption (resorption), and also helps to strengthen the joints and skeletal system and prevents diseases of the musculoskeletal system.
Calcium citrate has the following effects on the body:
ensures the absorption of calcium even in conditions of disruption of the normal functioning of the gastrointestinal tract (for example, with a decrease in secretory function and during the period of taking drugs to reduce secretion);
regulates the level of parathyroid hormone, thus improving the regulation of calcium homeostasis;
slows down the processes of destruction of bone tissue.
Also, this substance does not increase the content of calcium and oxalate in the urine (does not lead to the formation of kidney stones) and does not block the absorption of iron (does not cause iron deficiency anemia).
Vitamin D 3 participates in the regulation of phosphorus and calcium metabolism, the formation of the bone skeleton, ensures the preservation of the structure of bones, enhances the processes of calcium absorption in the intestine and reabsorption of phosphorus in the renal tubules.
Zinc regulates the formation of sex hormones and slows down the process of bone destruction.
Manganese takes part in the synthesis of proteoglycans, forms the protein matrix of bone tissue and improves its quality.
Boron reduces the excess activity of parathyroid hormone and the risk of developing cholecalciferol deficiency, improves calcium absorption and reduces the likelihood of developing osteoporosis.
Copper takes part in the production of collagen and elastin, which is part of the connective and bone tissues.
Indications for use
Osteoporosis of various origins (treatment and prevention);
Replenishment of calcium and microelement deficiencies in adolescents, as well as lactating and pregnant women.
Contraindications
Hypercalcemia;
Urolithiasis disease;
Hypercalciuria;
Age up to 5 years;
Hypersensitivity to drug components.
Instructions for the use of Calcemin: method and dosage
The tablets are taken orally during meals.
Typically, the drug is prescribed as follows:
Adults and children from 12 years old, lactating and pregnant women (from the 20th week): 2 times a day, 1 tablet;
Children 5-12 years old: 1 tablet once a day.
With a deficiency of trace elements and calcium, Calcemin should be taken 1 tablet per day.
The duration of therapy is determined by the doctor individually.
Side effects
Digestive system: flatulence, vomiting, nausea;
Metabolism: hypercalciuria, hypercalcemia;
Others: allergic reactions.
Overdose
In case of an overdose of the drug, the development of vitamin D hypervitaminosis, hypercalcemia and hypercalciuria is possible. The main symptoms are: thirst, nausea, decreased appetite, vomiting, constipation, polyuria, fainting, dizziness.
Long-term use of excessive doses can cause the development of tissue and vascular calcification. When the described symptoms appear, it is recommended to reduce the dose of the drug or to stop taking it. In case of accidental overdose, it is necessary to induce vomiting, gastric lavage and symptomatic therapy.
special instructions
When using Calcemin, the recommended doses should not be exceeded, since the intake of calcium in doses exceeding the necessary ones can lead to inhibition of absorption in the intestine of zinc, iron and other essential minerals.
Application during pregnancy and lactation
According to the instructions, Calcemin can be used during this period only after prior consultation with a doctor. The maximum daily dose of the active substances of the drug is 600 IU of vitamin D 3 and 1500 mg of calcium. In case of an overdose of the drug during pregnancy, hypercalcemia may occur, which can lead to the appearance in the fetus of defects in physical and mental development.
Breastfeeding women should take into account the fact that colecalciferol and its metabolites pass into breast milk, therefore, during this period, the intake of vitamin D 3 and calcium from other sources should be taken into account.
Pediatric use
It is forbidden to use Calcemin in the treatment of children under 5 years of age.
With impaired renal function
It is forbidden to use the drug for nephrolithiasis and severe renal failure.
Drug interactions
There are no data on the interaction of Calcemin with other drugs.
Analogs
Analogs of Calcemin are: Beresh Calcium plus D3, Calcium D3 Nycomed, Osteokea, Vitrum Calcium D3.
Terms and conditions of storage
Store in a dry place out of the reach of children at a temperature of 15-30 ° C.
The shelf life is 3 years.
Terms of dispensing from pharmacies
Available without a prescription.
Reviews about Kalcemin
Reviews of Calcemin are predominantly positive, since when taken, the condition of the hair and nails is significantly improved. Many users use the drug in parallel with medicines that flush calcium from the bones.
Taking Calcemin during pregnancy allows you to make up for the lack of calcium and prevent tooth decay. According to doctors, the drug is effective in the prevention of muscle cramps in pregnant women and calcium deficiency in the mother and child. Another undoubted advantage of the remedy is the absence of aspartame in its composition, with an excess of which increases the risk of a decrease in intelligence in children.
Price for Calcemin in pharmacies
The price of Calcemin is 370–390 rubles for a pack of 30 tablets, 510–540 rubles for a pack of 60 tablets and 730–790 rubles for a pack of 120 tablets.
Kalcemin: prices in online pharmacies
Drug name
Price
Pharmacy
Calcemin film-coated tablets 30 pcs.
240 RUB
Buy
Calcemin film-coated tablets 60 pcs.
270 RUB
Buy
Calcemin Advance film-coated tablets 30 pcs.
RUB 300
Buy
Calcemin tablets p.p. 30 pcs.
327 r
Buy
Calcemin Advance tablets p.p. 30 pcs.
423 r
Buy
Calcemin tablets p.p. 60 pcs.
434 r
Buy
Calcemin Advance film-coated tablets 60 pcs.
RUB 590
Buy
Calcemin Advance tablets p.p. 60 pcs.
RUB 616
Buy
Calcemin film-coated tablets 120 pcs.
644 r
Buy
Calcemin tablets p.p. 120 pcs.
657 r
Buy
Calcemin Advance film-coated tablets 120 pcs.
809 RUB
Buy
Calcemin Advance tablets p.o. 120 pcs.
RUB 830
Buy
See all offers from pharmacies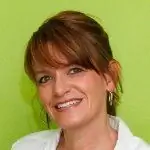 Maria Kulkes Medical journalist About the author
Education: First Moscow State Medical University named after I. M. Sechenov, specialty "General Medicine".
Information about the drug is generalized, provided for informational purposes only and does not replace the official instructions. Self-medication is hazardous to health!
Popular by topic