Table of contents: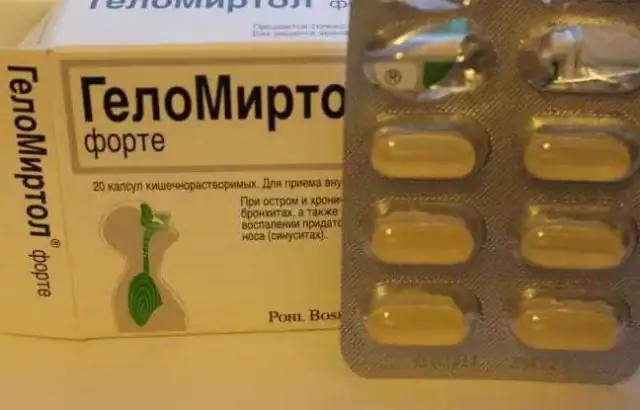 Video: Mirlox - Instructions For Use, Price, Reviews, Analogs Of Tablets
Mirlox
Mirlox: instructions for use and reviews
1. Release form and composition
2. Pharmacological properties
3. Indications for use
4. Contraindications
5. Method of application and dosage
6. Side effects
7. Overdose
8. Special instructions
9. Application during pregnancy and lactation
10. Use in childhood
11. In case of impaired renal function
12. For violations of liver function
13. Use in the elderly
14. Drug interactions
15. Analogs
16. Terms and conditions of storage
17. Terms of dispensing from pharmacies
18. Reviews
19. Price in pharmacies
Latin name: Mirlox
ATX code: M01AC06
Active ingredient: meloxicam (Meloxicam)
Producer: Grodzisk Pharmaceutical Works Polfa (Poland); Unicem Laboratories Ltd. (Unichem Laboratories Ltd.) (India)
Description and photo update: 2019-26-08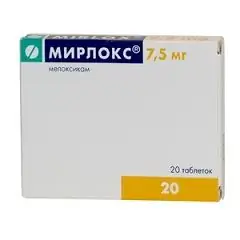 Mirlox is a drug with antipyretic, analgesic and anti-inflammatory effects.
Release form and composition
The dosage form of Mirlox is tablets: light yellow, round, flat, on one side there is a dividing risk (7.5 mg each: 20 pcs. In blisters, 1 blister in a cardboard box; 15 mg each: 10 pcs. in blisters, 1 or 2 blisters in a cardboard box).
The composition of 1 tablet includes:
Active ingredient: meloxicam - 7.5 or 15 mg;
Additional ingredients: magnesium stearate, lactose, micronized crospovidone, corn starch, sodium citrate, maltodextrin.
Pharmacological properties
Pharmacodynamics
Mirlox belongs to non-steroidal anti-inflammatory drugs. It has analgesic, antipyretic and analgesic effects.
The anti-inflammatory effect of meloxicam is due to inhibition of the enzymatic activity of cyclooxygenase-2 (COX-2), which is involved in the biosynthesis of prostaglandins in the inflammatory focus. To a lesser extent, the substance affects cyclooxygenase-1 (COX-1), which is an integral element of prostaglandin synthesis, which is involved in the regulation of blood flow in the kidneys and plays the role of a protective barrier for the mucous membrane of the gastrointestinal tract (GIT).
Pharmacokinetics
Meloxicam is well absorbed from the gastrointestinal tract. Its absolute bioavailability is 89%. The degree and rate of absorption do not change when the drug is taken simultaneously with food. After oral administration of Mirlox in doses of 7.5 and 15 mg, its content in the body changes in direct proportion to the dose received. Equilibrium concentration is achieved within 3-5 days. With long-term administration of the drug (more than 1 year), its concentrations practically coincide with those registered after the first achievement of a stable pharmacokinetic state.
The degree of binding of meloxicam to plasma proteins exceeds 99%. The range of differences between the basal and maximum concentrations of the substance after taking Mirlox 1 time per day is relatively insignificant and ranges from 0.4 to 1 μg / ml when taking the drug at a dose of 7.5 mg and from 0.8 to 2 μg / ml when taken in dose of 15 mg (the values of the minimum and maximum concentrations are given, respectively). Meloxicam overcomes histohematogenous barriers, and its content in synovial fluid reaches 50% of the maximum drug content in blood plasma.
Meloxicam is almost 100% metabolized in the liver, forming four metabolites that actually do not exhibit pharmacological activity. The main metabolite is 5'-carboxymeloxicam - 60% of the dose taken, which is formed by oxidation of the intermediate metabolite 5'-hydroxymethylmeloxicam. The latter also stands out in free form, but to a lesser extent - it does not exceed 9% of the dose taken. According to the results of in vitro studies, the isoenzyme CYP2C9 plays a key role in this metabolic process, and the isoenzyme CYP3A4 also takes part in it. The formation of two other metabolites, the proportion of which is 16% and 4% of the dose of Mirlox taken, occurs with the participation of peroxidase (it is assumed that its activity changes in each case).
Meloxicam is excreted equally in urine and faeces, mainly in the form of metabolites. Less than 5% of the daily dose of Myrlox is excreted unchanged through the intestines. In urine, meloxicam in unchanged form is determined only in trace concentrations. The half-life is 15-20 hours. Plasma clearance reaches 8 ml / min on average. In elderly patients, a decrease in clearance is observed. The apparent volume of distribution is small and is approximately 11 liters. Moderate renal or hepatic failure does not significantly alter the pharmacokinetics of meloxicam.
Indications for use
According to the instructions, Mirlox is prescribed for the symptomatic treatment of the following diseases:
Rheumatoid arthritis;
Arthrosis;
Bechterew's disease (ankylosing spondylitis).
Contraindications
Absolute:
Exacerbation of gastric ulcer and duodenal ulcer;
"Aspirin" asthma;
Severe renal (if hemodialysis is not performed) and liver failure;
Age up to 15 years;
Pregnancy and breastfeeding period;
Hypersensitivity to drug components.
Relative (Mirlox tablets are prescribed with caution):
Erosive and ulcerative lesions of the gastrointestinal tract (indications in anamnesis);
Elderly age.
Instructions for the use of Mirlox: method and dosage
Mirlox tablets are taken orally, preferably with meals.
The daily dose should be taken in 1 dose.
Dosing regimen (daily dose):
Osteoarthritis: 7.5 mg, possibly up to 15 mg;
Rheumatoid arthritis: 15 mg, possibly reduced to 7.5 mg;
Bechterew's disease: 15 mg.
The maximum dose against the background of severe renal failure, the presence of risk factors for the development of side effects, as well as for patients on hemodialysis is 7.5 mg per day.
Side effects
Cardiovascular system: increased blood pressure, tachycardia, hot flashes;
Gastrointestinal tract: perforation (perforation) of the intestine or stomach, flatulence, nausea, vomiting, increased activity of liver enzymes, abdominal pain, diarrhea, constipation, erosive and ulcerative lesions of the gastrointestinal tract, gastrointestinal bleeding, dry mouth, hepatitis, stomatitis, colitis, esophagitis;
Hematopoietic system: anemia, thrombocytopenia, leukopenia;
Respiratory system: cough, exacerbation of bronchial asthma;
Urinary system: interstitial nephritis, proteinuria, edema, hematuria, renal medullary necrosis, renal failure, urinary tract infections;
Central nervous system: sleep disturbance, confusion of thoughts, headache, tinnitus, dizziness, disorientation;
Allergic and dermatological reactions: allergic vasculitis, pruritus, skin rash, increased photosensitivity, urticaria, toxic epidermal necrolysis, anaphylactoid reactions (including anaphylactic shock), edema of the tongue and lips, exudative erythema multiforme;
Organ of vision: blurred vision, inflammation of the conjunctiva;
Others: fever.
Overdose
An overdose of Mirlox can be determined by symptoms such as pain in the epigastric region, nausea, vomiting, gastrointestinal bleeding, impaired consciousness, asystole, acute renal and / or hepatic failure, respiratory arrest.
There is no specific antidote. In case of an overdose of meloxicam, it is recommended to wash the stomach, take activated charcoal (as soon as possible, preferably within the first hour). If necessary, symptomatic treatment is prescribed. Cholestyramine accelerates the excretion of meloxicam from the body. Hemodialysis, urinary alkalization and forced diuresis are considered ineffective due to the high degree of binding of the substance to blood plasma proteins.
special instructions
Caution is required by the appointment of Mirlox in the presence of the following diseases / conditions:
Simultaneous use with anticoagulants;
Peptic ulcer of the stomach and duodenum (anamnestic data).
Also, with caution and under the control of the functional state of the kidneys, the drug should be taken by elderly patients and patients with the following diseases / conditions:
Chronic heart failure with symptoms of circulatory insufficiency;
Hypovolemia associated with surgery;
Cirrhosis of the liver.
Correction of the dosage regimen for patients with creatinine clearance greater than 25 ml per minute is not required.
When used in combination with diuretics, it is necessary to ensure that a sufficient amount of fluid is obtained.
The development of allergic reactions (in the form of itching, skin rash, urticaria) or photosensitization may cause discontinuation of therapy.
Influence on the ability to drive vehicles and complex mechanisms
Due to the fact that while taking Myrlox, side effects in the form of drowsiness, headache and dizziness may develop, it is recommended to be careful when driving vehicles and servicing mechanisms.
Application during pregnancy and lactation
Mirlox is contraindicated for use during pregnancy and lactation period.
Pediatric use
In pediatric practice, the appointment of Mirlox is permissible for the treatment of children over 15 years old.
With impaired renal function
severe renal failure: the use of Mirlox is contraindicated;
renal failure, severe in patients on hemodialysis: the daily dose should not exceed 7.5 mg.
For violations of liver function
Mirlox is contraindicated for use in patients with severe hepatic impairment.
Use in the elderly
For elderly patients, the drug is prescribed with caution.
Drug interactions
With the combined use of Mirlox with some drugs, the following effects may occur:
Intrauterine contraceptives, antihypertensive drugs: decrease in their effectiveness;
Diuretics, cyclosporine: increasing the likelihood of developing renal failure;
Other nonsteroidal anti-inflammatory drugs (including acetylsalicylic acid): increased risk of developing erosive and ulcerative lesions and bleeding from the gastrointestinal tract;
Methotrexate: increasing its side effects on the hematopoietic system, increasing the risk of developing leukopenia and anemia (it is recommended to periodically monitor the general blood test);
Lithium preparations: the development of lithium accumulation, an increase in its toxic effect (it is recommended to monitor the concentration of lithium in the blood);
Cholestyramine: an increase in the rate of its excretion (due to binding with meloxicam);
Thrombolytics (including fibrinolysin, streptokinase), anticoagulants (including ticlopidine, heparin, warfarin): an increase in the likelihood of bleeding (it is recommended to periodically monitor the blood clotting test).
Analogs
Mirlox's analogues are: Amelotex, Artrozan, Liberum, Melox, Meloxicam, Meloxicam-Teva, Mesipol, Movalis, Movasin.
Terms and conditions of storage
Store in a dark place, out of reach of children, at temperatures up to 25 ° C.
Shelf life is 2 years.
Terms of dispensing from pharmacies
Dispensed by prescription.
Reviews about Mirlox
According to reviews, Mirlox is no less effective in the treatment of osteoarthritis than Piroxicam or Diclofenac, but it is often much better tolerated. Its long duration of action makes it an ideal choice for patients with diseases associated with chronic pain syndrome. But at the same time, the drug stops pain rather slowly, which is what the patients report. This is due to the rate at which the maximum concentration of meloxicam is reached, which is determined in the blood only after 5–6 hours. The equilibrium therapeutic concentration of a substance in the blood is recorded only on the 3-4th day. Therefore, to quickly get rid of acute pain, specialists usually first prescribe meloxicam intramuscularly for 2-3 days, after which it is replaced by oral administration of Mirlox. Patients often mention such a treatment regimen for osteochondrosis, in which pain attacks are more pronounced than in osteoarthritis.
Some doctors believe that Myrlox is an indispensable remedy for osteoarthritis because it prevents the destruction of cartilage by increasing the production of proteoglycans and hyaluronic acid in cartilage cells.
Among the most common adverse reactions, various disorders of the gastrointestinal tract are reported: nausea, diarrhea, a feeling of heaviness and pain in the epigastric region, in some cases - erosive lesions of the gastric mucosa.
The price of Myrlox in pharmacies
Approximate price for Mirlox for 20 tablets per pack:
dosage of 7.5 mg - 110‒174 rubles;
dosage 15 mg - 196-320 rubles.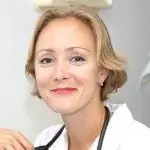 Anna Kozlova Medical journalist About the author
Education: Rostov State Medical University, specialty "General Medicine".
Information about the drug is generalized, provided for informational purposes only and does not replace the official instructions. Self-medication is hazardous to health!
Popular by topic