Table of contents: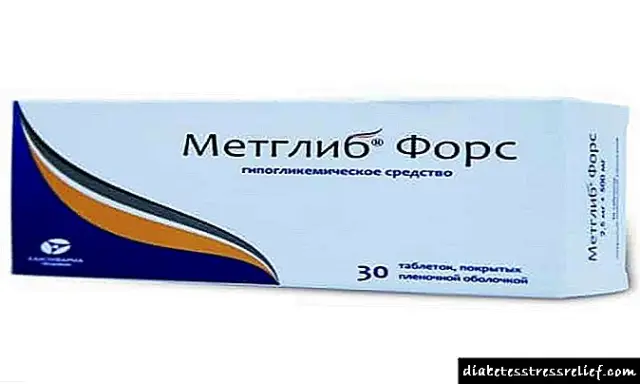 Video: Metglib - Instructions For Use, Price, Reviews, Tablet Analogs
Metglib
Metglib: instructions for use and reviews
1. Release form and composition
2. Pharmacological properties
3. Indications for use
4. Contraindications
5. Method of application and dosage
6. Side effects
7. Overdose
8. Special instructions
9. Application during pregnancy and lactation
10. Use in childhood
11. In case of impaired renal function
12. For violations of liver function
13. Use in the elderly
14. Drug interactions
15. Analogs
16. Terms and conditions of storage
17. Terms of dispensing from pharmacies
18. Reviews
19. Price in pharmacies
Latin name: Metglib
ATX code: A10BD02
Active ingredient: glibenclamide (Glibenclamide) + metformin (Metformin)
Producer: CJSC "Kanonfarma production" (Russia)
Description and photo update: 2019-08-07
Prices in pharmacies: from 81 rubles.
Buy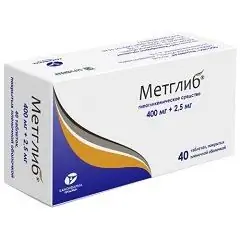 Metglib is a combined oral hypoglycemic agent.
Release form and composition
The drug is produced in the form of film-coated tablets: round, biconvex, brown-orange, almost white in cross-section (10 pieces in a blister strip, in a cardboard box 1, 2, 3, 4, 6 or 9 packages; 15 pcs. in a blister strip, in a cardboard box 2, 4 or 6 packs; each pack also contains instructions for the use of Metglib).
1 tablet contains:
active substances: metformin hydrochloride - 400 mg, glibenclamide - 2.5 mg;
additional components: corn starch, macrogol (polyethylene glycol 6000), calcium hydrogen phosphate dihydrate, sodium stearyl fumarate, croscarmellose sodium, microcrystalline cellulose, povidone;
film shell: Opadry orange [hyprolose (hydroxypropyl cellulose), hypromellose (hydroxypropyl methylcellulose), titanium dioxide, talc, iron dye yellow oxide and red oxide].
Pharmacological properties
Pharmacodynamics
Metglib is a fixed combination of two oral hypoglycemic substances belonging to different pharmacological groups - metformin and glibenclamide.
Metformin belongs to the biguanide group and provides a decrease in basal and postprandial glucose in blood plasma. This active substance does not stimulate the production of insulin, therefore it does not lead to the development of hypoglycemia.
Four mechanisms of action of metformin:
Decrease in the production of glucose by the liver as a result of suppression of the processes of gluconeogenesis and glycogenolysis;
Strengthening the sensitivity of peripheral receptors to insulin, increasing the absorption and utilization of glucose by muscle cells;
Slowing down the absorption of glucose in the digestive tract;
Stabilization / reduction of body weight in patients with diabetes mellitus.
Also, the agent has a beneficial effect on the lipid composition of the blood, reduces the level of total cholesterol, triglycerides and low density lipoproteins (LDL).
Glibenclamide belongs to the group of II generation sulfonylurea derivatives. When using this active substance, due to the stimulation of insulin production by β-cells of the pancreas, the glucose level decreases.
Although metformin and glibenclamide have different ways of interacting with specific binding sites in the body, they complement and enhance each other's hypoglycemic activity. The combined use of these antidiabetic agents belonging to different pharmacological groups has a synergistic effect in terms of lowering glucose concentration.
Pharmacokinetics
When taken orally, the absorption of glibenclamide from the gastrointestinal tract (GIT) is more than 95%. In plasma, the maximum concentration of this substance (C max) is noted after about 4 hours, the volume of its distribution (V d) is on average 10 liters. Glibenclamide binds to plasma proteins by 99%. In the liver, it is almost completely metabolized, as a result of which 2 inactive metabolites are formed, which are excreted in the bile (60%) and urine (40%), the half-life (T 1/2) can vary from 4 to 11 hours.
Absorption of metformin from the gastrointestinal tract after oral administration is quite complete, in its plasma C max is achieved within 2.5 hours. The absolute bioavailability is 50-60%. Metformin binds to plasma proteins to an extremely small extent, it is rapidly and actively distributed in tissues. Almost not metabolized and excreted by the kidneys; about 20-30% of the substance is excreted unchanged through the gastrointestinal tract, T 1/2 is about 6.5 hours.
With the combined use of metformin and glibenclamide in one dosage form, the same bioavailability is noted as with the separate isolated administration of tablets that include these active substances. Food intake does not affect the bioavailability of metformin used in combination with glibenclamide, as well as the bioavailability of the latter. During meals, the absorption rate of glibenclamide increases.
Indications for use
Metglib is recommended for the treatment of type 2 diabetes mellitus in adults in the following cases:
ineffectiveness of diet therapy, exercise and prior treatment with metformin or sulfonylurea derivatives in monotherapy;
replacement of previous treatment with two drugs (metformin and a sulfonylurea derivative) in patients with stable and well-controlled glycemic levels.
Contraindications
Absolute:
type 1 diabetes mellitus;
diabetic precoma, diabetic ketoacidosis, diabetic coma;
renal failure or impaired renal function with creatinine clearance (CC) below 60 ml / min;
liver failure, porphyria;
acute / chronic diseases associated with the occurrence of tissue hypoxia: recent myocardial infarction, heart or respiratory failure;
acute conditions that aggravate the risk of impaired renal function: intravascular administration of iodine-containing contrast media, severe infections, shock, dehydration;
infectious lesions, major surgical interventions, extensive burns, trauma and other conditions in which insulin therapy is required;
lactic acidosis (including history data);
acute alcohol intoxication, chronic alcoholism;
hypocaloric diet (less than 1000 kcal per day);
age up to 18 years;
pregnancy and lactation;
combined use with miconazole (due to the aggravation of the risk of hypoglycemia, up to the development of coma);
hypersensitivity to any component of the drug, as well as to other sulfonylurea derivatives.
Relative contraindications (using Metglib tablets is required with extreme caution): diseases of the thyroid gland (with uncompensated dysfunction); hypofunction of the anterior pituitary gland; adrenal insufficiency; febrile syndrome; age over 70 years.
Metglib, instructions for use: method and dosage
Metglib tablets are taken orally.
The dose of the drug, the regimen of use and the duration of therapy are determined by the attending physician, taking into account the state of carbohydrate metabolism and the plasma concentration of glucose in the blood.
In most cases, Metglib is taken in an initial daily dose of 1–2 tablets with the main meal. In the future, a gradual dose adjustment is carried out in order to achieve the most effective one, which can provide a stable normalization of the blood glucose level. In this case, the maximum permissible daily dose should not exceed 6 tablets, divided into three doses.
Side effects
blood and lymphatic system: rarely - thrombocytopenia, leukopenia; extremely rarely - hemolytic anemia, agranulocytosis, pancytopenia and bone marrow aplasia (these side effects disappear after the drug is discontinued);
immune system: extremely rare - anaphylactic shock; cross-hypersensitivity reactions to sulfonamides and their derivatives;
metabolism and nutritional errors: hypoglycemia; rarely - attacks of cutaneous porphyria and hepatic porphyria; extremely rarely - lactic acidosis (in the absence of urgent treatment, it can lead to high mortality); with prolonged use of metformin - a decrease in the absorption of vitamin B 12, leading to a decrease in its level in the blood serum (if megaloblastic anemia is detected, the likelihood of such an etiology of this disease should be taken into account); in the case of using ethanol, a disulfiram-like reaction (ethanol intolerance);
nervous system: often - taste disturbance (metallic taste in the mouth);
organ of vision: temporary visual impairment (at the beginning of the course due to a decrease in blood glucose levels);
digestive system: very often - lack of appetite, vomiting, abdominal pain, nausea, diarrhea (symptoms are observed more often at the beginning of therapy and, as a rule, go away on their own; to prevent their development, a daily dose should be taken in 2 or 3 doses and, if necessary, titrate the dose upward gradually); extremely rarely - changes in liver activity indicators or hepatitis (it is required to stop treatment);
skin and subcutaneous tissues: rarely - urticaria, itching, maculopapular rash; extremely rare - photosensitivity, cutaneous / visceral allergic vasculitis, exfoliative dermatitis, erythema polymorphism;
laboratory and instrumental data: infrequently - an increase in serum from an average to a moderate degree of urea and creatinine; extremely rare - hyponatremia.
Overdose
In case of an overdose of Metglib, hypoglycemia may occur due to the glibenclamide included in its composition. Mild to moderate signs of this pathological condition without loss of consciousness and neurological symptoms can be removed after immediate consumption of sugar. In this case, it is necessary to adjust the dose and / or change the diet.
If there is the development of severe hypoglycemia, manifested by paroxysm, other neurological disorders or coma, urgent hospitalization is required. If hypoglycemia is suspected or immediately after its detection, an intravenous infusion of dextrose solution should be given before hospitalization. To prevent the recurrence of hypoglycemia, after the patient regains consciousness, he needs to eat food rich in digestible carbohydrates.
Plasma clearance of glibenclamide can increase in the presence of liver disease, since this substance forms an active bond with blood proteins, the drug is not eliminated during dialysis. Due to the metformin in the composition of Metglib, against the background of a prolonged overdose or with existing associated risk factors, the development of lactic acidosis, a condition requiring urgent medical attention, is possible. An effective treatment for this complication is hemodialysis, which removes lactate and metformin.
special instructions
Metglib therapy should be performed only under the supervision of a physician. In the course of treatment, it is necessary to strictly follow the doctor's recommendations on adherence to concomitant nutrition and self-monitoring of blood glucose levels. It is required to regularly monitor the level of fasting glucose and after eating.
When taking Metglib, due to the accumulation of metformin, such a serious adverse reaction as lactic acidosis was rarely recorded. This complication arose during treatment with metformin in patients with severe renal failure. It is also necessary to take into account other concomitant risk factors for the development of lactic acidosis, which include: ketosis, inadequate control of diabetes mellitus, alcohol abuse, prolonged fasting, mild to moderate hepatic impairment and other conditions associated with severe hypoxia.
Signs of a complication can be disorders such as muscle cramps, accompanied by abdominal pain, dyspeptic disorders and severe malaise. In severe lactic acidosis, hypoxia, hypothermia, acidotic dyspnea, coma may occur. Diagnostic laboratory parameters include: plasma lactate levels greater than 5 mmol / L, low blood pH, increased anion gap, and increased lactate / pyruvate ratio.
Since one of the active components of Metglib is glibenclamide, when using the drug, the risk of hypoglycemia is aggravated. Its appearance can be prevented by a gradual dose adjustment after the start of the course of therapy. Treatment with the drug is allowed only in patients adhering to an appropriate meal regimen (including breakfast). Regular consumption of carbohydrates is especially important, since the threat of hypoglycemia increases in the case of late meals, insufficient or unbalanced intake of carbohydrates into the body. The likelihood of this side effect increases after intense / prolonged physical activity, in the case of a low-calorie diet, when drinking ethanol-containing drinks, or when taking hypoglycemic agents together.
Due to compensatory reactions due to hypoglycemia, the following disorders may appear: a feeling of fear, increased sweating, hypertension, tachycardia, palpitations, arrhythmia, angina pectoris. The latter effects may not be observed with the slow development of hypoglycemia, the presence of autonomic neuropathy, or against the background of the concomitant use of sympathomimetics, β-blockers, reserpine, clonidine or guanethidine.
Also, in patients with diabetes mellitus, symptoms of hypoglycemia may include: nausea, vomiting, hunger, headache, severe fatigue, dizziness, aggression, agitation, sleep disorders, impaired concentration and psychomotor reactions, speech impairment, trembling, blurred vision, seizures, paralysis and paresthesias, delirium, confusion, depression, unconsciousness, somnolence, bradycardia and shallow breathing.
To reduce the risk of hypoglycemia, individual dose selection and proper instructions for the patient play an important role. If there are recurrent episodes of hypoglycemia, which are severe or due to ignorance of symptoms, treatment with other antidiabetic drugs should be considered.
Factors contributing to the development of hypoglycemia:
irregular food intake, poor diet, fasting, or changes in diet;
the simultaneous use of alcohol, especially against the background of fasting;
severe liver failure;
renal failure;
imbalance between physical activity and carbohydrate intake;
insufficient function of the thyroid gland, adrenal glands and pituitary gland;
refusal or inability of the patient (applies mainly to elderly patients) to interact with the doctor and adhere to the recommendations set out in the instructions;
Metglib overdose;
combined administration with individual drugs.
If surgery is necessary or for another reason requiring decompensation of diabetes mellitus, the patient can be temporarily transferred to insulin therapy.
Symptoms of hyperglycemia may include severe thirst, increased urination, and dry skin.
You should stop taking Metglib 48 hours before elective surgery or X-ray testing with intravenous iodine-containing contrast agent. It is recommended to resume therapy with the drug 48 hours after the operation or study, provided that the kidneys function normally.
If, during treatment, a bronchopulmonary infection or an infection of the genitourinary organs occurs, it is required to consult a specialist.
Influence on the ability to drive vehicles and complex mechanisms
In view of the possible development of hypoglycemia during therapy, caution should be exercised when driving vehicles and managing complex mechanisms.
Application during pregnancy and lactation
Metglib is contraindicated for pregnant women. During the period of therapy, it is necessary to inform the attending physician about the planned pregnancy or its onset, since in these cases it is necessary to stop taking the drug and transfer the patient to insulin.
During breastfeeding, the use of Metglib is contraindicated, due to the lack of information about its ability to be excreted in human milk. If you need to take the drug during lactation, you should stop breastfeeding or switch to insulin therapy.
Pediatric use
Treatment with Metglib is contraindicated in patients under 18 years of age.
With impaired renal function
In patients with impaired renal activity, the renal clearance of metformin, like CC, decreases, however, T 1/2 increases, which causes an increase in the plasma level of metformin in the blood. Reception of Metglib is contraindicated in patients with renal insufficiency or functional impairment of the kidneys, whose CC value is below 60 ml / min.
Due to the fact that metformin is excreted by the kidneys, before starting the course of therapy and regularly during treatment with Metglib, it is required to establish CC and / or serum creatinine levels in the blood. In patients with normal renal function, such examinations are recommended at least once a year. In the elderly or in patients with CC reaching the upper limit of the norm - 2-4 times a year. Special care should be taken in case of a possible risk of impaired renal function, for example, in elderly patients or at the beginning of concomitant antihypertensive therapy, as well as when using diuretics or non-steroidal anti-inflammatory drugs (NSAIDs).
For violations of liver function
Treatment with the drug is contraindicated in patients with hepatic insufficiency, since against the background of this disorder, a change in the pharmacokinetics and / or pharmacodynamics of Metglib is possible, which can cause the development of prolonged hypoglycemia.
Use in the elderly
Metglib should not be taken by people over 60 years of age who perform heavy physical work, as this increases their risk of lactic acidosis.
In patients over 70 years of age, drug therapy should be carried out with caution, in view of the aggravation of the threat of hypoglycemia.
Drug interactions
It is not recommended to use Metglib in combination with the following substances / agents:
phenylbutazone: the hypoglycemic effect of sulfonylurea derivatives increases due to the replacement of the latter by this substance at the sites of protein binding and / or a decrease in their excretion; it is recommended to use other anti-inflammatory drugs or to enhance self-control of glycemic levels; if necessary, this combination during therapy and after completion of treatment with phenylbutazone, the dose of the antidiabetic drug should be adjusted;
ethanol: when combined with glibenclamide, disulfiram-like reactions are rarely recorded; alcohol can cause an increase in hypoglycemic action by suppressing compensatory reactions or slowing down its metabolic inactivation, which can provoke a hypoglycemic coma; should be avoided during treatment with Metglib, taking drinks and medications containing ethyl alcohol;
bosentan: the risk of hepatotoxic action is aggravated when combined with glibenclamide, the hypoglycemic effect of the latter may be weakened.
Caution should be exercised when using Metglib in combination with the following substances / agents (dose adjustment may be required during combination therapy and after its completion, as well as self-monitoring of blood glucose):
chlorpromazine (in a daily dose of 100 mg): the level of glycemia increases due to a decrease in the release of insulin;
tetracosactide, glucocorticosteroids (GCS): the blood glucose level increases in some cases, accompanied by ketosis, since GCS leads to a decrease in glucose tolerance;
danazol: its hyperglycemic effect is noted; control of glycemic levels is necessary;
β 2 -adrenergic agonists: increases the level of glucose in the blood as a result of stimulation of β 2 -adrenergic receptors; it is necessary to control the concentration of glucose in the blood, it is possible to switch to insulin therapy;
captopril, enalapril and other angiotensin-converting enzyme (ACE) inhibitors: there is a decrease in blood glucose;
diuretics: the concentration of glucose in the blood increases; when used with metformin, the threat of lactic acidosis is aggravated in the event of functional renal failure caused by the action of diuretics, especially loop diuretics;
non-selective β-blockers: the incidence and severity of hypoglycemia associated with the use of glibenclamide increases;
fluconazole: the half-life of glibenclamide and the likelihood of symptoms of hypoglycemia increase;
desmopressin: there is a decrease in the antidiuretic effect of this substance;
fluoroquinolones, chloramphenicol; anticoagulants derived from coumarin; antibacterial agents from the sulfonamide group, monoamine oxidase (MAO) inhibitors, hypolipidemic agents from the fibrate group, disopyramide, pentoxifylline: the risk of hypoglycemia in combination with glibenclamide increases.
Analogs
Metglib analogs are Metglib Force, Glukovans, Bagomet Plus, Glibomet, Gluconorm Plus, Gluconorm, Glibenfazh, etc.
Terms and conditions of storage
Store in a place protected from light and moisture, out of the reach of children, at a temperature not exceeding 25 ° C.
Shelf life is 2 years.
Terms of dispensing from pharmacies
Dispensed by prescription.
Reviews about Metglib
On specialized medical sites, patients leave both positive and negative reviews about Metglib. In most of them, it is noted that with optimally selected therapeutic dosages, good treatment results are achieved. However, due to the fact that patients with diabetes mellitus often take this drug in combination with other hypoglycemic drugs, they cannot give an objective assessment of the effectiveness of Metglib. All those suffering from diabetes mellitus are unanimous on one thing - when treating this disease, only the attending physician should prescribe a drug, set doses and dosage regimens.
As disadvantages, they usually refer to an extensive list of contraindications and adverse reactions. The cost of Metglib is predominantly called affordable.
Price for Metglib in pharmacies
Price for Metglib, film-coated tablets (400 mg + 2.5 mg), per pack containing 40 pcs. can be from 180 to 260 rubles.
Metglib: prices in online pharmacies
Drug name
Price
Pharmacy
Metglib Force 2.5 mg + 500 mg film-coated tablets 30 pcs.
RUB 81
Buy
Metglib Force tablets p.o. 2.5mg + 500mg 30 pcs.
155 RUB
Buy
Metglib tablets p.p. 400mg + 2.5mg 40 pcs.
225 RUB
Buy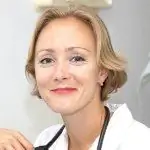 Anna Kozlova Medical journalist About the author
Education: Rostov State Medical University, specialty "General Medicine".
Information about the drug is generalized, provided for informational purposes only and does not replace the official instructions. Self-medication is hazardous to health!
Popular by topic