Table of contents: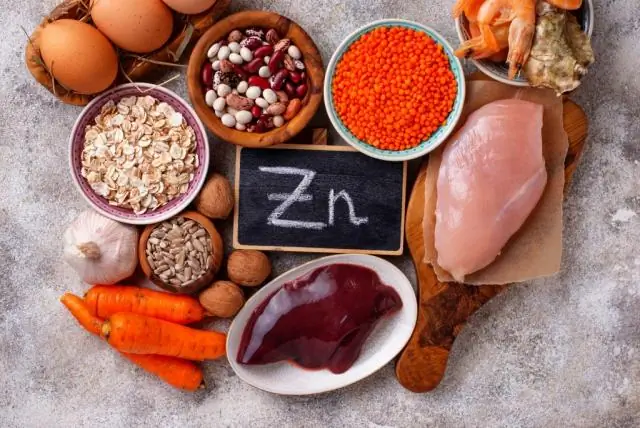 Video: Makulin Plus - Instructions For Use, Price, Reviews, Analogues
Makulin Plus
Makulin Plus: instructions for use and reviews
1. Release form and composition
2. Pharmacological properties
3. Indications for use
4. Contraindications
5. Method of application and dosage
6. Side effects
7. Overdose
8. Special instructions
9. Application during pregnancy and lactation
10. Drug interactions
11. Analogs
12. Terms and conditions of storage
13. Terms of dispensing from pharmacies
14. Reviews
15. Price in pharmacies
Latin name: Maculin Plus
Active ingredient: docosahexaenoic acid (acidum docosahexaenoic), eicosapentaenoic acid (acidum eicosapentaenoic), zeaxanthin (zeaxanthin), lutein (lutein), ascorbic acid (vitamin C) [Ascorbic acid (Vitamin C) acetate (vitamin Eherol)], tocopherol acetas (Vitamin E)], zinc (Zincum), copper (Cuprum)
Manufacturer: Fidifarm doo (Fidifarm doo) (Croatia)
Description and photo updated: 2018-23-11
Prices in pharmacies: from 564 rubles.
Buy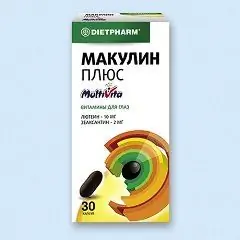 Makulin Plus is a dietary supplement (BAA) to food, which is a source of zeaxanthin, lutein, omega-3 polyunsaturated fatty acids (docosahexaenoic acid), vitamins E and C, copper and zinc, necessary to reduce the severity of age-related changes occurring in the retina and lens, and improving the functional state of photoreceptors.
Release form and composition
Maculin Plus is produced in the form of capsules weighing 1.025 g (10 pcs. In blisters, in a carton pack 3 blisters).
Capsule composition: fish oil (EPAX 1050 TG), FloraGLO lutein (suspension with 1% zeaxanthin and 20% lutein in safflower oil), Zea one zeaxanthin (suspension containing 14% zeaxanthin in safflower oil), vitamin C (L-ascorbic acid), vitamin E (D-alpha-tocopherol), copper (copper sulfate), zinc (zinc gluconate), glycerol (water-retaining agent), mono- and diglycerides of fatty acids (thickener), soybean oil, red and black iron oxides, gelatin, water, titanium dioxide.
Active substances for 1 capsule:
eicosapentaenoic acid - 40 mg (6.67% AUP **);
docosahexaenoic acid - 172 mg (24.57% AUP);
zeaxanthin - 2.1 mg (210% AUP);
lutein - 10 mg (200% AUP);
vitamin C - 60 mg (100% DP *);
vitamin E - 10 mg (100% DP);
copper - 0.37 mg (37% AUP);
zinc - 10 mg (66.67% SP).
* Average daily requirement for basic nutrients and energy, not exceeding the upper permissible level of consumption.
** Adequate level of consumption of biologically active and nutritional substances.
Pharmacological properties
Pharmacodynamics
Maculin Plus is a naturally occurring source of Zeaxanthin and Lutein. These active substances belong to carotenoids, which have the ability to filter the negative effects of high-energy blue light rays, as well as antioxidant properties, which are manifested in protecting cells from damage and maintaining eye health. Of the 600 naturally occurring carotenoids in the retina, only zeaxanthin and lutein have been found in large volumes. The amount of these two carotenoids in the macular region of the retina (area of the macula) is called macular pigment optical density (MPD) and can be measured.
In the course of studies, the purpose of which was to determine the degree of influence of selected doses of minerals and vitamins on the course of age-related macular dystrophy (AMD), it was found that a complex including zeaxanthin at a dose of 2 mg, lutein at a dose of 10 mg, vitamins E, C and zinc, has the following effect:
significantly reduces the likelihood of AMD progression [relative risk (RR) 0.72];
significantly reduces the threat of loss of vision (RR 0.73);
greatly reduces the risk of wet AMD (RR 0.63).
AMD refers to diseases in which dystrophic changes in the macula develop, in this case the photoreceptors-cones that perceive light are affected, and over time, central vision is lost. When retinal dystrophy occurs, the level of macular pigmentation is particularly important, since macular pigment is the only retinal antioxidant. It limits blue light, which has a phototoxic effect on the retina, and eliminates the effects of free radicals.
The microelements contained in Maculin Plus are not produced by the body and, in order to reduce the threat of retinal degenerative changes with age, should be present in the daily diet.
The combination of lutein and Zea one zeaxanthin, derived from FloraGLO marigolds, is one of the most clinically researched carotenoid complexes in the world, proven to be effective in the treatment of retinal lesions.
Vitamin C, which is part of Maculin Plus, helps to strengthen the walls of the capillaries, which improves the condition of the vessels of the fundus, and as a result, reduces the risk of hemorrhage in the retina and vitreous body of the eye. A decrease in the concentration of L-ascorbic acid in the eye tissue can exacerbate the risk of macular degeneration or retinopathy, the cause of which is a disturbance of the blood supply, leading to a non-inflammatory lesion of the retina of the eyeball. The daily intake of vitamin C is 60 mg. The functions of this active substance also include maintaining the physical activity of the eye muscles, improving the transmission of the visual signal and its perception, normalizing the state of the optic nerve, providing a high content of collagen in the vitreous body and lens.
Zinc takes part in the course of especially important biochemical reactions of the retina, which are necessary for maintaining good vision. The level of zinc in the retina exceeds that in many other organs. A deficiency of this biologically active mineral can lead to the development of AMD and cataracts.
Indications for use
According to the instructions, Makulin Plus is recommended for use as a food dietary supplement, a source of lutein and zeaxanthin, omega-3 polyunsaturated fatty acids (docosahexaenoic acid), vitamins C and E, copper and zinc, for the following diseases and conditions:
myopia, diabetic retinopathy, dry forms of AMD, cataract (as part of combination therapy);
increased visual stress (including those caused by working with a computer), deterioration of twilight vision (in order to normalize it).
Contraindications
pregnancy and breastfeeding;
individual intolerance to the constituents of the product.
Instructions for the use of Maculin Plus: method and dosage
Maculin Plus is taken orally with meals.
Dosage for adult patients: 1 capsule once a day, course - at least 30 days. If necessary, the admission may be repeated.
Side effects
No data available.
Overdose
No data available.
special instructions
Since Makulin Plus is not a drug, you should consult a specialist before using it.
Application during pregnancy and lactation
Taking Makulin Plus is contraindicated for pregnant and lactating women.
Drug interactions
No data available.
Analogs
Maculin Plus analogues are Ophthalmix, Ocuwaite lutein forte, Visiox lutein, Direct, Omegami clear vision, Vitrum Vision forte, Lutein forte, etc.
Terms and conditions of storage
Store in a place protected from moisture and direct sunlight, out of reach of children, at a temperature not exceeding 25 ° C.
Shelf life is 2 years.
Terms of dispensing from pharmacies
Available without a prescription.
Reviews about Makulin Plus
According to a few reviews, Makulin plus demonstrates good results in the combination therapy of myopia, dry forms of AMD, cataract prevention. With excessive visual stress after a course of treatment with the drug, tension and a feeling of sand in the eyes that occur during prolonged work at the computer are eliminated, redness is removed, the eyes get tired less, vision becomes clearer.
The lack of funds, patients consider its frequent absence in pharmacies.
The price of Maculin Plus in pharmacies
Approximate price of Maculin Plus capsules weighing 1.025 g for 30 pcs. in the package varies from 515 to 847 rubles.
Makulin Plus: prices in online pharmacies
Drug name
Price
Pharmacy
Maculin Plus capsules 30 pcs.
564 RUB
Buy
Maculin Plus eye vitamins capsules 30 pcs.
RUB 616
Buy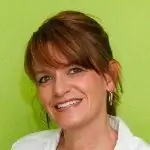 Maria Kulkes Medical journalist About the author
Education: First Moscow State Medical University named after I. M. Sechenov, specialty "General Medicine".
Information about the drug is generalized, provided for informational purposes only and does not replace the official instructions. Self-medication is hazardous to health!
Popular by topic