Table of contents: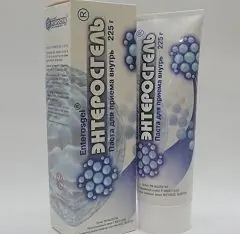 Video: Enterosgel - Instructions For Use, Reviews, Analogues
Enterosgel
Instructions for use:
1. Pharmacological action
2. Release form
3. Indications for use
4. Contraindications
5. Instructions for use
6. Side effects
7. Analogs of the drug
8. Storage conditions
Prices in online pharmacies:
from 353 rub.
Buy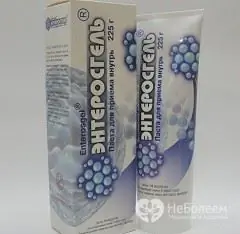 Enterosgel is a drug of the enterosorbent group.
Pharmacological action of Enterosgel
Enterosgel has enterosorbent, antidiarrheal, enveloping, detoxifying effects due to its structure - a hydrophobic organosilicon matrix. This structure allows the drug to adsorb only medium-molecular toxic metabolites.
The pronounced detoxification and sorption properties of Enterosgel are due to its ability to bind and remove exogenous and endogenous toxic substances from the body, including bacterial toxins and bacteria, food allergens, heavy metal salts, antigens, alcohol, and poisons. In addition, the drug is able to sorb some of the metabolic products: excess urea, bilirubin, lipid complexes, cholesterol, a number of metabolites responsible for the development of endogenous toxicosis. Adsorption occurs selectively from the intestines and blood.
Against this background, the relief of manifestations of dysbiosis and toxicosis is carried out, the functions of the liver, intestines and kidneys improve, the functions of the immune and hematopoietic systems are normalized.
Numerous reviews about Enterosgel confirm the ability of the drug to restore the disturbed intestinal microflora and stimulate its peristalsis.
The drug has established itself as an anti-inflammatory and regenerating agent on the intestinal and gastric mucosa, preventing the development of erosions.
Enterosgel is harmless and non-toxic, does not affect the absorption of vitamins and microelements. Suitable for use from the first month of a child's life.
Release form
According to the instructions for Enterosgel, the drug is available in two dosage forms:
in the form of a gel for the preparation of a suspension intended for oral administration. The gel is a wet white mass with a jelly-like structure with lumps of various sizes. There is no smell. Enterosgel in the form of a gel is packed in plastic bags containing 45 or 225 g of the drug, or in jars containing 225 g of the drug;
in the form of a paste for oral administration. The paste is white, almost odorless. Packaged in two-layer bags weighing 15 or 45 g. Packages are placed in cardboard boxes. In addition, Enterosgel paste weighing 45 or 225 g can be packaged in tubes, and a preparation weighing 225 g - in plastic jars.
Indications for the use of Enterosgel
Indications for Enterosgel are various intoxication lesions of the body:
chronic kidney disease (including pyelonephritis, glomerulonephritis, polycystic kidney disease);
burn disease in the intoxication phase;
purulent-septic conditions;
toxicosis during pregnancy;
allergic and atopic diseases (including dermatitis, bronchial asthma, diathesis);
ARVI;
radiation damage;
diarrhea;
alcohol intoxication;
food poisoning;
intestinal syndrome caused by allergic food intolerance.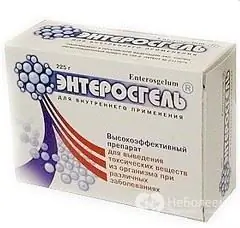 Also in the reviews about Enterosgel, the high efficiency of the drug in the treatment of diseases of the digestive system is noted, in particular:
with toxic-infectious liver damage (including viral hepatitis types A and B, toxic hepatitis);
with cholestasis of various origins;
with cirrhosis of the liver;
with hypo- or hyperacid gastritis;
with peptic ulcer of the duodenum and stomach;
with enterocolitis;
with ulcerative colitis;
with irritable bowel syndrome;
with post-resection syndrome;
in the periods before and after operations on the gastrointestinal tract.
Contraindications
Before using the drug, you should carefully read the instructions for Enterosgel, since there are a number of contraindications to the drug:
peptic ulcer of the duodenum or stomach in the acute stage;
morphophysiological disorders in the gastrointestinal tract of a different nature, including intestinal atony, syndrome of acute gastric dilatation, etc.;
hypersensitivity to the components of Enterosgel and drug analogues;
bleeding from the gastrointestinal tract.
Instructions for the use of Enterosgel
Enterosgel in the form of a gel should be turned into an aqueous suspension before ingestion, for which the required amount of gel is ground in a quarter of a glass of water, then taken with water. It is recommended to take a fresh, just prepared suspension. The preparation in the form of a paste can be used in its original form, directly inside, also with water.
Enterosgel is indicated for use three times a day. The medicine should be taken between meals. It is important to observe the following framework: 2 hours before or after meals.
A single dose depends on the age of the patients:
adults and adolescents over 14 years old are prescribed 1 tbsp. l. drug (15 g);
children from 7 to 14 years old should take 1 dessert spoon (no more than 10 g);
children from 2 to 7 years old - one teaspoon of Enterosgel, which equals 5 g;
babies from one to 2 years old should divide the volume of two teaspoons into 3 or 4 doses;
infants under 1 year old need to take a dose of one teaspoon, divided into 3 or 4 doses.
It is also important to take into account that the maximum permissible daily dose is: for adults - 45 g, for children under 7 years old - 15-20 g.
The duration of treatment with Enterosgel is 10 days in case of acute poisoning; 2-3 weeks - with chronic intoxication. It is permissible to repeat the course of treatment only after a doctor's recommendation.
In case of severe forms of diseases, Enterosgel is taken in a double dose for the first three days. Long-term use of the drug (more than six months) is allowed with obstructive jaundice, cirrhosis of the liver.
In case of acute respiratory viral infections, it is necessary to rinse the throat, having previously prepared a solution: in half a glass of water, rub 15 g (a tablespoon) of Enterosgel.
Side effects of Enterosgel
In some cases, while taking the drug, nausea and flatulence may occur, which should be the reason for discontinuation.
In severe forms of hepatic or renal failure, aversion to Enterosgel may occur after 2-3 applications.
Drug analogues
A number of drugs similar in composition and mode of action to Enterosgel are listed below:
Polysorb;
Activated carbon;
Lactofiltrum;
Atoxil and others.
Storage conditions
It is recommended to store Enterosgel at a temperature not exceeding 25 ° C (the lower limit is 15 ° C). The opened preparation should be protected from drying out by storing it in an airtight container. The shelf life under the storage conditions is 3 years.
Enterosgel: prices in online pharmacies
Drug name
Price
Pharmacy
Enterosgel oral paste 225 g 1 pc.
353 r
Buy
Enterosgel oral paste, sweet 225 g 1 pc.
368 RUB
Buy
Enterosgel oral paste 22.5 g 10 pcs.
395 RUB
Buy
Enterosgel paste for internal approx. sweet 225g
410 RUB
Buy
Enterosgel paste for internal approx. 225g
410 RUB
Buy
Information about the drug is generalized, provided for informational purposes only and does not replace the official instructions. Self-medication is hazardous to health!
Popular by topic