Table of contents: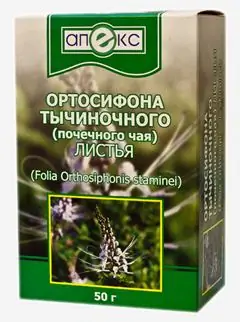 Video: Ortosiphon - Instructions, Reviews, Indications
Ortosiphon
Instructions for use:
1. Pharmacological action
2. Release form
3. Indications for use
4. Instruction method of application
5. Side effects
6. Contraindications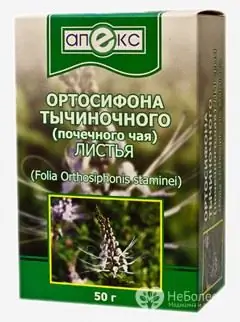 Ortosiphon is a diuretic agent.
pharmachologic effect
In the leaves of the plant Ortosiphon staminate, tannins, the glycoside orthosiphonin and saponins were found. Infusion on the leaves is also called kidney tea - it has a diuretic, choleretic and disinfectant effect, relieves spasms, and helps to increase the production of gastric juice.
Positive reviews about Ortosiphon are due to the fact that due to the effect of the plant on the body, chlorides, uric acid and urea are excreted along with urine.
Release form
Medicinal raw materials are produced in loose form in paper or cardboard packages of 50 g or in briquettes convenient for brewing. One briquette contains 6 g of crushed leaves.
Indications for use of Ortosiphon
Ortosiphon, according to the instructions, is taken to relieve puffiness that occurs with chronic heart or renal failure and poor circulation, as a diuretic for nephrourolithiasis, or as a choleretic agent for cholecystitis (inflammation of the gallbladder).
In addition, Ortosiphon relieves spasms well, therefore it is recommended to drink it for renal colic.
It is allowed to take Ortosiphon during pregnancy, it relieves swelling well, which often occurs during this period due to the increasing load on the kidneys. In addition, pregnant women will be prescribed renal tea for pyelonephritis and gestosis, and nursing mothers are advised to take a remedy for hypogalactia - insufficient milk production.
Due to the antiseptic properties of Ortosiphon, it can be drunk with urethritis, cystitis and urolithiasis.
Ortosiphon instruction: method of application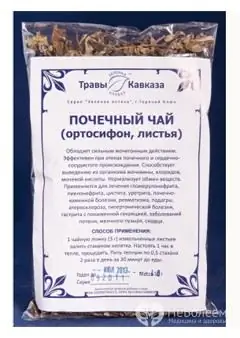 The herbal infusion is taken twice a day.
If pure herb is used to make Ortosiphon kidney tea, 3.5 g of leaves are taken for 200 ml of boiling water, and 400 ml of boiling water is used for one whole briquette for brewing (6 g of leaves).
Infusion of Ortosiphon is taken warm in ½ cup (100 ml), for 30 minutes. before meals. Therapy usually lasts 2-3 weeks.
Ready, but not used kidney tea is usable only for the next two days.
Side effects of Ortosiphon
Reviews of Ortosiphon indicate that the infusion on the leaves is well tolerated, but with individual intolerance, a rash or redness on the skin and other allergic reactions may appear.
Contraindications
You can not take infusions from the plant in the presence of hypersensitivity to it.
During pregnancy, Ortosiphon is taken only under the supervision of a supervising physician.
Information about the drug is generalized, provided for informational purposes only and does not replace the official instructions. Self-medication is hazardous to health!
Popular by topic