Table of contents: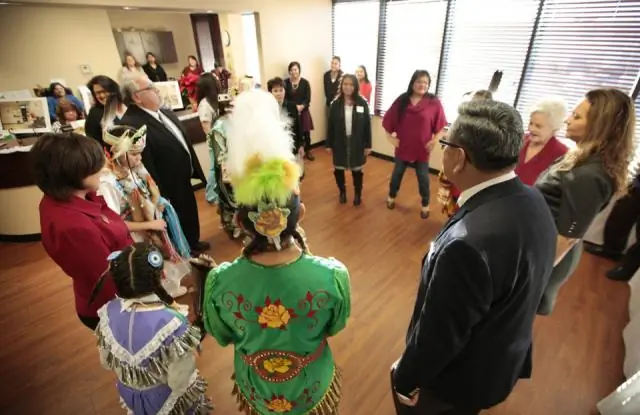 Video: Resonative - Instructions For Use, Price, Reviews, Analogues
Resonative
Resonative: instructions for use and reviews
1. Release form and composition
2. Pharmacological properties
3. Indications for use
4. Contraindications
5. Method of application and dosage
6. Side effects
7. Overdose
8. Special instructions
9. Application during pregnancy and lactation
10. Drug interactions
11. Analogs
12. Terms and conditions of storage
13. Terms of dispensing from pharmacies
14. Reviews
15. Price in pharmacies
Latin name: Rhesonativ
ATX code: J06BB01
Active ingredient: immunoglobulin human antirhesus Rho (D) [immune globulin human antirhesus Rho (D)]
Manufacturer: Octapharma AB (Sweden)
Description and photo updated: 20.11.2018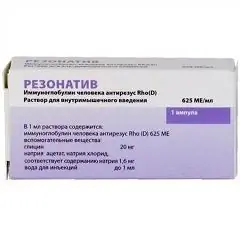 Resonant - anti-rhesus immunoglobulin.
Release form and composition
Dosage form - solution for intramuscular injection: transparent or slightly opalescent, from colorless to light brown or pale yellow in color (1 ml each in colorless glass ampoules with a red break point, in plastic blister packs of 1 ampoule, in a cardboard box 1 blister pack; 2 ml each in colorless glass ampoules with a red break point, in plastic blister packs of 1 or 5 ampoules, in a cardboard box 1 pack with 1 ampoule or 2 packs with 5 ampoules).
Composition of 1 ml solution:
active substance: human immunoglobulin antiresus Rho (D) - 625 ME;
additional components: water for injection, sodium acetate, glycine, sodium chloride.
Pharmacological properties
The drug Resonative as an active ingredient contains human immunoglobulin anti-rhesus Rho (D), which in a Rho (D) -negative organism prevents Rh-sensitization when exposed to Rho (D) -positive blood.
Antibodies in the blood are noted approximately 20 minutes after drug administration, the maximum concentration is reached within 2-3 days.
The half-life of the drug at a normal level of IgG antibodies is 3-4 weeks. IgG and IgG complexes are destroyed by cells of the reticuloendothelial system.
Indications for use
According to the instructions, Resonative is used to prevent Rh immunization in Rh-negative women who are not sensitized to Rho (D) antigen (i.e., who have not developed Rh antibodies):
planned antenatal prophylaxis;
prevention of various complications such as ectopic pregnancy, spontaneous or induced abortion, intrauterine fetal death, transplacental bleeding, cystic drift, amniocentesis, chorionic biopsy or other obstetric manipulations (for example, external obstetric rotation), abdominal trauma during pregnancy;
postpartum prophylaxis in the event of the birth of a Rh-positive baby.
Also, Resonative is prescribed for Rh-negative patients with transfusion of Rh-positive blood or other drugs containing red blood cells.
Contraindications
Resonation is contraindicated in case of hypersensitivity to its components.
Instructions for use Resonative: method and dosage
The drug is intended for intramuscular injection. Intravenous administration of Resonative is prohibited due to the risk of anaphylactic shock, therefore, after inserting the needle into the muscle, push the syringe plunger back a little and make sure that there is no blood in the syringe. If the drug was mistakenly administered intravenously, the patient's condition should be monitored for at least 1 hour.
Before the introduction, the ampoule with the solution must be warmed to room temperature.
When prescribing a drug in a volume of more than 5 ml, it is advisable to divide the dose into several parts and inject it separately into different zones.
In some cases, subcutaneous administration of Resonative is allowed, if intramuscular injections are contraindicated, for example, in hemorrhagic disorders. After the injection, it is recommended to gently massage the injection site and put a compress on it.
The dose of Resonative is determined depending on the number of Rh-positive erythrocytes of the fetus that have entered the mother's bloodstream. It is taken into account that 50 IU (0.01 mg) of anti-D immunoglobulin neutralizes approximately 1 ml of Rh-positive blood or 0.5 ml of Rh-positive erythrocytes.
For antenatal prophylaxis, Resonative is administered once, at 28-30 weeks of gestation, at a dose of 1250 IU (2 ml of solution), or twice, at 28 and 34 weeks of gestation, at 1250 IU.
For postpartum prophylaxis, a single administration of the drug at a dose of 1250 IU is sufficient. The injection is recommended within the first 72 hours after delivery. If more than 72 hours have passed, you should not refuse to administer Resonative, you must make an injection as soon as possible. Human immunoglobulin anti-rhesus Rho (D) is prescribed regardless of whether it was used in the prenatal period, and whether there are residual amounts of anti-rhesus antibodies in the mother's serum.
For prophylaxis in case of various complications, Resonative is administered once: at a dose of 625 IU (1 ml of solution) for gestational age up to 12 weeks or at a dose of 1250 IU (2 ml of solution) for a period of more than 12 weeks. The drug is recommended to be administered in the first 72 hours after the complication is detected. If necessary, the injections can be repeated every 6–12 weeks, until delivery.
In the case of a chorionic biopsy or amniocentesis, a single administration of Resonative at a dose of 1250 IU is indicated.
If there is a suspicion that fetal-maternal bleeding is more than 4 ml (in case of fetal / newborn anemia or intrauterine fetal death), its value should be assessed, for example, by acid washout according to Kleihauer-Betke (allows to determine fetal hemoglobin) or by flow cytometry (identifies rhesus -positive erythrocytes). An additional dose of the drug is calculated taking into account the fact that 100 IU of the drug is required per 1 ml of fetal erythrocytes.
When transfusing patients with Rh-incompatible blood, Resonative is prescribed at a dose of 100 IU per 1 ml of erythrocyte mass or 2 ml of Rh-positive blood. To determine the optimal dose, it is recommended to consult a transfusion doctor. Every 48 hours, the recipient must determine the presence of Rh-positive erythrocytes and, if necessary, prescribe additional injections of anti-Rho (D) immunoglobulin until they are completely eliminated.
The maximum dose of Resonative in case of transfusion of large volumes of incompatible blood or red blood cells is 15,000 IU, despite the fact that the volume of transfused Rh-positive red blood cells may exceed 300 ml. Large doses of the drug must be administered over several days.
Side effects
Resonance is usually well tolerated, in rare cases, the following side effects occur:
from the gastrointestinal tract: nausea, vomiting;
on the part of the cardiovascular system: lowering blood pressure, tachycardia;
from the nervous system: headache;
from the musculoskeletal system: arthralgia;
from the immune system: hypersensitivity reactions, anaphylactic shock;
on the part of the skin: itching, erythema;
local reactions: soreness, swelling, induration, erythema, itching, rash;
others: malaise, fever, chills.
Overdose
Overdose cases have not been reported to date. Patients who are shown to administer large doses of Resonative during transfusion of Rh-incompatible blood, due to the risk of hemolytic complications, require dynamic monitoring, including monitoring of biochemical parameters.
special instructions
Resonation is not used in patients immunized to the Rho (D) antigen and in Rh-positive patients.
When administered in the postpartum period, the drug is administered only to the woman in labor. The administration of human immunoglobulin anti-rhesus Rho (D) to newborns is contraindicated.
Patients should be under medical supervision for at least 20 minutes after drug administration.
When prescribing Resonative, the doctor must register his series number in the medical record or medical history.
Do not use the solution if it becomes cloudy or precipitated.
1 ml of Resonative solution contains less than 1 mmol (23 mg) of sodium, therefore it is considered sodium free.
During the administration of the drug in large doses during transfusion of Rh-incompatible blood, careful monitoring of the recipient is necessary due to the risk of a hemolytic reaction.
Even in patients who previously tolerated the administration of human immunoglobulins well, the risk of a drop in blood pressure and the development of an anaphylactic reaction is not excluded. With the development of allergic or anaphylactic reactions, the administration of the drug should be stopped immediately.
True hypersensitivity reactions are extremely rare, but allergic reactions to anti-Rho immunoglobulin (D) are possible. In this connection, patients should be informed about their early symptoms, such as generalized skin rash, urticaria, wheezing, chest tightness, anaphylaxis, and decreased blood pressure. The types of therapeutic measures depend on the severity of the hypersensitivity reaction. In shock, standard anti-shock therapy is indicated.
The Resonative contains a small amount of immunoglobulin A (IgA), therefore, when prescribing the drug to patients with IgA deficiency, the doctor should evaluate the ratio of the benefits of therapy and the risk of developing hypersensitivity reactions. In individuals with IgA deficiency, after administration of a drug containing IgA, IgA antibodies may appear and anaphylactic reactions may develop.
Standard measures for the prevention of infections caused by the use of medicines derived from human plasma or blood:
donor selection;
checking individual portions and plasma pools for specific markers of infection;
inclusion in the production process of effective measures for inactivation and elimination of viruses.
These measures are effective against enveloped viruses of hepatitis B, hepatitis C and human immunodeficiency virus, non-enveloped hepatitis A virus, to a lesser extent - against parvovirus B19. Despite all the warnings, the risk of transmission of the causative agent of infectious diseases when using drugs made from human plasma or blood cannot be completely excluded.
Influence on the ability to drive vehicles and complex mechanisms
No negative influence of Resonative on motor and psychological abilities of a person was revealed.
Application during pregnancy and lactation
It is used according to indications.
Drug interactions
Resonative should not be mixed with any other drugs. It should always be entered separately.
After the introduction of human immunoglobulin anti-rhesus Rho (D), the levels of various antibodies may temporarily increase, which is why false-positive results may be obtained during serological diagnostic methods.
Passive transfer of antibodies to erythrocyte antigens (A, B, D) can affect the results of some serological tests, for example, the Coombs test (antiglobulin test for the determination of incomplete anti-red blood cells), especially in Rh-positive newborns whose mothers received Resonative for antenatal prophylaxis.
Anti-Rho immunoglobulin can reduce the effect of live viral vaccines (for example, measles, rubella, mumps), therefore, immunization with such drugs should be carried out no earlier than 3 months after the last administration of Resonative.
Analogs
The analogues of Resonation are Rezogam N, KamROU, HyperROU S / D, Partobulin SDF, Immunoro Kedrion.
Terms and conditions of storage
Store for no more than 2.5 years in a dark place out of the reach of children at a temperature of 2-8 ° C.
Terms of dispensing from pharmacies
Dispensed by prescription.
Reviews about Resonative
Reviews about Resonative are positive: the drug avoids complications associated with Rh-conflict, rarely causes side effects. The only drawback is the high cost.
According to doctors, Rh-conflict is a rather serious problem that can cause the development of hemolytic anemia in a newborn and miscarriage of subsequent pregnancies. If a woman has a negative Rh factor, and the child's father is positive, then there is a high probability that the child will inherit a Rh-positive factor from the father. In this case, during pregnancy, the mother's immune system may begin to develop antibodies against the fetal Rh factor, which cross the placenta and destroy the fetal red blood cells, thereby causing anemia, as a result of which compensatory extramedullary hematopoiesis appears. It develops mainly in the liver and leads to impaired liver function, portal hypertension and further to ascites, hypoproteinemia and dropsy of the fetus. That is why, in such situations, it is most advisable to prophylactically administer anti-Rhesus immunoglobulin - it is a kind of Rh-inoculation, binding the fetal erythrocytes that have entered the woman's blood and preventing an immune response.
According to doctors, the introduction of the drug is mandatory for Rh-negative women after an ectopic pregnancy, miscarriage, intrauterine fetal death or medical abortion.
Price for Resonative in pharmacies
The price of a Resonative is an average of 5350 rubles. for 1 ampoule with a volume of 1 ml.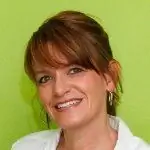 Maria Kulkes Medical journalist About the author
Education: First Moscow State Medical University named after I. M. Sechenov, specialty "General Medicine".
Information about the drug is generalized, provided for informational purposes only and does not replace the official instructions. Self-medication is hazardous to health!
Popular by topic