Table of contents:

Video: Neovasculgen - Instructions For Use, Price, Reviews, Analogues
Neovasculgen
Neovasculgen: instructions for use and reviews
1. Release form and composition
2. Pharmacological properties
3. Indications for use
4. Contraindications
5. Method of application and dosage
6. Side effects
7. Overdose
8. Special instructions
9. Application during pregnancy and lactation
10. Use in childhood
11. Drug interactions
12. Analogs
13. Terms and conditions of storage
14. Terms of dispensing from pharmacies
15. Reviews
16. Price in pharmacies
Latin name: Neovasculgen
ATX code: V03AX
Active ingredient: deoxyribonucleic acid plasmid two-chain supercircular convoluted pCMV-VEGF165
Manufacturer: FGBU Hematological Scientific Center of the Ministry of Health of the Russian Federation (Russia)
Description and photo updated: 2018-11-07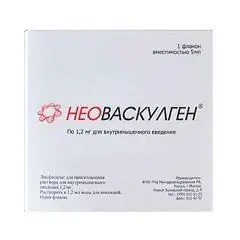 Neovasculgen is a drug that stimulates the proliferation of endothelial cells, facilitating revascularization in occlusive peripheral arterial disease.
Release form and composition
The drug is produced in the form of a lyophilisate for the preparation of a solution for intramuscular administration: white lyophilized powder (in a glass bottle, 1 or 2 bottles in a cardboard box).
Contents of 1 bottle:
active substance: deoxyribonucleic acid plasmid supercoiled pCMV-VEGF165 - 1.2 mg;
additional components: sodium dihydrogen phosphate dihydrate, sodium hydrogen phosphate dodecahydrate, dextrose monohydrate.
Pharmacological properties
Pharmacodynamics
Neovasculgen is a highly purified supercoiled form of the plasmid pCMV-VEGF165, which encodes a vascular endothelial growth factor (VEGF) under the control of a promoter, a control region of deoxyribonucleic acid (DNA). Recombinant plasmid DNA contains the following components: a fragment of the regulatory region (22 nucleotide pairs), which causes gene transcription, a VEGF minigene, against the background of the expression of which isoform VEGF containing 165 amino acids is produced, the SV40 transcription terminator, a splicing signal, a polyadenylation signal that ensures the production of mature ribonucleic acid (RNA) gene and auxiliary regions required for an efficient process of plasmid DNA biosynthesis occurring in the cells of the producer strain of Escherichia coli.
When the molecules of this plasmid enter the mammalian cell, VEGF is produced, which stimulates endothelial cells, which in turn causes the growth of blood vessels (vascularization) in the injection zone. Endothelial cells are involved in vasodilation, vasoconstriction and antigen presentation, and are also very important elements of blood vessels (capillaries, veins and arteries). VEGF is of the greatest importance for the process of angiogenesis (the formation of new blood vessels), since it stimulates endothelial cells through its influence.
On the surface of vascular endothelial cells are two different, but structurally similar VEGF receptors, known as type 1 VEGF (Flt-1) and type 2 VEGF (KDR / Flk-1), which are receptor tyrosine kinases that undergo phosphorylation after binding to ligand VEGF. Activation of these receptors enables a large number of intracellular postreceptor signaling cascades that trigger angiogenesis to be activated.
Penetration of a plasmid into cells is a spontaneous process, while plasmid DNA cannot reproduce in mammalian cells. The size of the plasmid is 4559 base pairs, the molecular weight is 2817091.85 g / mol. Supercoiled circular DNA has such a feature as sensitivity to breaking even one of the 9116 phosphodiester chemical bonds. With a single break in the bond, the DNA molecule loses its supercoiling and transforms into a related compound - a relaxed ring shape.
In the course of the experiments, the stimulation of the proliferation of human endothelial cells by the drug was comparable to the recombinant vascular endothelial growth factor. In experiments on animals, the drug led to a significant increase in the blood vessels of the mouse.
Neovasculgen is intended to reduce the incidence of amputation and mortality in patients with chronic limb ischemia, especially in patients who are unable to perform standard revascularization aimed at eliminating occlusive peripheral arterial lesions.
Pharmacokinetics
No data provided.
Indications for use
According to the instructions, Neovasculgen is recommended for use in combination therapy for revascularization for ischemia of the lower extremities of atherosclerotic etiology (IIa – III degrees according to the Pokrovsky – Fontaine classification).
Contraindications
pregnancy and lactation;
age up to 18 years;
hypersensitivity to the components of Neovasculgen.
Instructions for the use of Neovasculgen: method and dosage
The drug, diluted according to the instructions, is administered intramuscularly at a dosage of 1.2 mg 2 times with a break of 14 days, preferably in a place that is as close as possible to the affected area. After the standard skin treatment, Neovasculgen, subject to the rules of asepsis, is injected fractionally with several injections so as to produce maximum infiltration with the solution of the entire muscle mass of the ischemic segment.
Side effects
During the use of Neovasculgen, allergic reactions may occur.
Overdose
There is no data.
special instructions
A solution of the drug is prepared immediately before its administration. Water for injection is used as a solvent, which is added to the contents of the vial in an amount of 1.2 ml. After that, it is required to wait for the complete dissolution of the lyophilisate (as a rule, this happens after 5-10 minutes). Before the injection, the finished solution should be at room temperature.
The introduction of Neovasculgen must be carried out under the supervision of surgeons on an outpatient basis or in a hospital.
Influence on the ability to drive vehicles and complex mechanisms
There are no data on the effect of the drug on the concentration of attention and the speed of physical and mental reactions, as a result of this, patients who drive transport and other complex mechanisms need to be careful.
Application during pregnancy and lactation
Neovasculgen is contraindicated in pregnant and breastfeeding women.
Pediatric use
The drug is contraindicated for people under 18 years of age.
Drug interactions
There is no data.
Analogs
There is no information about Neovasculgen analogues.
Terms and conditions of storage
Store in a place protected from light and out of reach of children, at a temperature of 2-8 ° C.
Shelf life is 2 years.
Terms of dispensing from pharmacies
Dispensed by prescription.
Reviews about Neovasculgen
There are very few reviews of Neovasculgen. Patients who used the drug in the complex therapy of chronic ischemia of the lower extremities note its high efficiency. Also, the reviews indicate that, thanks to the drug, there is no need for numerous injections against the background of long-term treatment.
The disadvantages of the tool are all attributed to its extremely high cost. Also, some patients believe that the build-up of new vessels with a tendency of the body to atherosclerosis will not eliminate the further formation of atherosclerotic plaques and blood clots in them. Therefore, in the treatment, in their opinion, the main role should belong to proper nutrition, general health improvement of the body, playing sports and cleaning blood vessels.
The price of Neovasculgen in pharmacies
The price of Neovasculgen for a package containing 1 bottle of lyophilisate can vary from 48,970 to 49,500 rubles.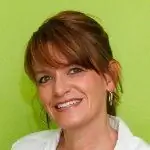 Maria Kulkes Medical journalist About the author
Education: First Moscow State Medical University named after I. M. Sechenov, specialty "General Medicine".
Information about the drug is generalized, provided for informational purposes only and does not replace the official instructions. Self-medication is hazardous to health!
Popular by topic