Table of contents: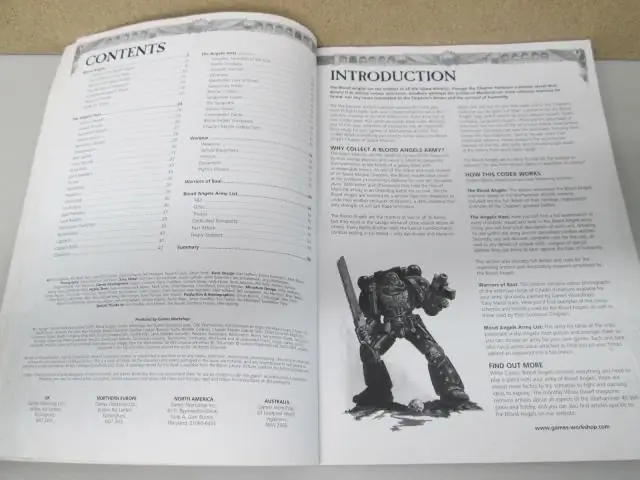 Video: Creon 40,000 - Instructions For Use, Price, Reviews, Capsule Analogues
Creon 40,000
Creon 40,000: instructions for use and reviews
1. Release form and composition
2. Pharmacological properties
3. Indications for use
4. Contraindications
5. Method of application and dosage
6. Side effects
7. Overdose
8. Special instructions
9. Application during pregnancy and lactation
10. Use in childhood
11. In case of impaired renal function
12. For violations of liver function
13. Use in the elderly
14. Drug interactions
15. Analogs
16. Terms and conditions of storage
17. Terms of dispensing from pharmacies
18. Reviews
19. Price in pharmacies
Latin name: Kreon 40000
ATX code: A09AA02
Active ingredient: pancreatin (Pancreatin)
Manufacturer: Abbott Laboratories, GmbH (Germany); JSC "Veropharm" (Russia)
Description and photo update: 2020-31-07
Prices in pharmacies: from 1258 rubles.
Buy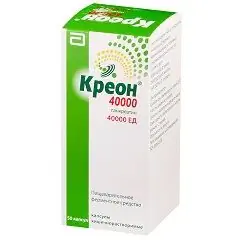 Creon 40,000 is a digestive enzyme agent.
Release form and composition
The drug is produced in the form of enteric capsules: size No. 00, hard, gelatinous, with an opaque brown lid and a transparent colorless body; contents - light brown minimicrospheres (in a cardboard box 1 bottle containing 20, 50 or 100 capsules and instructions for using Creon 40,000).
Composition of 1 capsule:
active substance: pancreatin - 400 mg, which corresponds to the content of lipase - 40,000 units (units of action), amylase - 25,000 units, protease - 1600 units;
auxiliary components: cetyl alcohol, hypromellose phthalate, macrogol 4000, triethyl citrate, dimethicone;
capsule shell: gelatin, sodium lauryl sulfate, titanium dioxide, food colors E172 (iron oxide black, iron oxide yellow and iron oxide red).
Pharmacological properties
Pharmacodynamics
Creon 40,000 is an enzymatic agent that promotes better food digestion. Thanks to this, the symptoms of pancreatic enzyme deficiency, such as flatulence, abdominal pain, changes in the consistency and frequency of stools, are reduced.
The enzymes contained in pancreatin with lipolytic, amylolytic and proteolytic activity facilitate the breakdown of fats, proteins and carbohydrates, as a result of which they are completely absorbed in the small intestine.
In Creon 40,000 capsules, pancreatin is present in the form of minimicrospheres covered with an acid-resistant enteric coating. The gelatin capsule dissolves quickly in the stomach, releasing hundreds of microspheres. After that, the minimicrospheres enter the intestines with food from the stomach and are thoroughly mixed with the intestinal contents. As a result, enzymes are better distributed throughout the intestines.
Pharmacokinetics
In the course of studies carried out on animals, it was found that uncleaved enzymes are not absorbed in the body, therefore, classical pharmacokinetic studies are inappropriate.
Preparations containing pancreatic enzymes must not be absorbed for the effects to occur. On the contrary, their activity is fully realized in the lumen of the gastrointestinal tract. In terms of chemical activity, enzyme preparations are proteins, therefore they are cleaved in the gastrointestinal tract (GIT) until they become amino acids and peptides that undergo absorption.
Indications for use
Creon 40,000 is used for the replacement therapy of enzymatic (exocrine) pancreatic insufficiency caused by a decrease in its activity in violation of production, regulation of secretion or delivery of pancreatic enzymes, as well as in case of increased destruction of enzymes in the intestinal lumen. These disorders can be caused by various diseases of the intestines, stomach, gall bladder, liver. Also common in the following cases:
chronic pancreatitis;
Schwachman-Diamond syndrome;
cystic fibrosis;
partial gastric resection;
obstruction of the common bile duct or pancreatic ducts (for example, due to a neoplasm);
postoperative period after surgical intervention on the pancreas;
pancreas cancer;
conditions after gastrectomy and an attack of acute pancreatitis.
Creon 40,000 is used in case of normal gastrointestinal tract function to improve food digestion in case of impaired chewing function, errors in nutrition, a sedentary lifestyle, prolonged immobilization.
The drug is prescribed in preparation for an ultrasound or X-ray examination of the abdominal organs.
Contraindications
Absolute:
acute pancreatitis;
hypersensitivity to the components of Creon 40,000.
The enzyme should be used with caution during pregnancy.
Creon 40,000, instructions for use: method and dosage
Creon 40,000 capsules should be taken orally during or immediately after every meal, including light snacks. They should not be chewed or broken; they must be washed down with a sufficient amount of liquid.
For patients with swallowing problems (including children and the elderly), capsules can be opened and the contents added to soft foods that do not need to be chewed, which have a sour taste (pH <5.5), or sour drinks. This can be yogurt, applesauce, pineapple, orange, or apple juice. You should avoid taking the drug with hot food. After adding minimicrospheres to drinks or dishes, they must not be stored, therefore, they should be taken immediately after mixing.
When mixed with drinks / food with a pH> 5.5, chewing and grinding minimicrospheres, their protective enteric coating may be disturbed. This is fraught with early release of enzymes in the oral cavity, irritation of the mucous membranes and a decrease in the effectiveness of pancreatin. After taking the drug, make sure that all microspheres are swallowed.
During the treatment period, it is imperative to ensure sufficient fluid intake in order to avoid the occurrence or increase of constipation.
With cystic fibrosis, the dose is selected taking into account the patient's body weight. At the beginning of treatment, it should be: for children under 4 years old - 1000 lipase units per kg of body weight with each meal, for children from 4 years old and adults - 500 lipase units per kg of body weight with each meal. The optimal dose may be influenced by the severity of the symptoms of the disease, the results of steatorrhea control and the ability to maintain an adequate nutritional status. For most patients, the dose should not exceed 10,000 lipase units per kg of body weight per day, or 4000 lipase units for each gram of fat consumed.
In other conditions and diseases accompanied by enzymatic insufficiency of the pancreas, the dose of Creon 40,000 is determined individually, taking into account the severity of symptoms, the problem that caused digestive disorders, and the amount of fat in the diet. With the main meal, the recommended dose may be from 25,000 to 80,000 units of lipase. For light meals, take half of the prescribed dose.
Side effects
Possible adverse reactions:
from the gastrointestinal tract *: very often (≥ 1/10) - abdominal pain; often (≥ 1/100 to <1/10) - bloating, constipation, diarrhea, nausea, vomiting; unknown frequency (it is not possible to establish the frequency based on the available data) - strictures of the colon, ileum and cecum (fibrosing colonopathy);
on the part of the skin: infrequently (from ≥ 1/1000 to <1/100) - skin rashes; unknown frequency - urticaria, itching of the skin;
from the immune system: unknown frequency - hypersensitivity reactions (anaphylactic).
* Disorders from the gastrointestinal tract are mainly due to the underlying disease. The incidence of reactions such as abdominal pain and diarrhea is similar to that of patients in the placebo group. Fibrosing colonopathy has been observed with high doses of pancreatin in patients with cystic fibrosis.
In children, specific reactions were not observed while taking Creon 40,000. In children with cystic fibrosis, the type of adverse reactions, their frequency and severity were similar to those in adults.
Overdose
Due to the intake of an excessively high dose of the drug, hyperuricemia and hyperuricosuria may develop.
In this case, Creon 40,000 is canceled and symptomatic therapy is performed.
special instructions
High doses of pancreatin in patients with cystic fibrosis can cause fibrosing colonopathy. In this regard, when unusual symptoms appear or changes in the abdominal cavity are detected, it is recommended to conduct an examination to exclude the presence of strictures, especially when taking the drug in a daily dose of more than 10,000 lipase units per kg of body weight.
Side effects from the digestive system are possible with increased sensitivity to pancreatin, meconium ileus, a history of bowel resection.
Creon 40,000 is not recommended for use during an exacerbation of chronic pancreatitis.
Children are at increased risk of constipation due to high lipase activity. In this connection, this category of patients should gradually increase the dose of the drug.
Influence on the ability to drive vehicles and complex mechanisms
Creon 40,000 does not have a negative effect or slightly affects the speed of reactions and the ability to concentrate.
Application during pregnancy and lactation
In women during pregnancy, clinical studies on the effect of pancreatic enzymes have not been conducted. In experiments on animals, the absorption of enzymes was not revealed, therefore it is assumed that pancreatin does not have a toxic effect on the development of the fetus, as well as does not affect reproductive function. However, during pregnancy, Creon 40,000 is recommended to be used with caution.
In animal studies, there was no negative effect of pancreatin on offspring when using the drug during lactation. Accordingly, no harmful effects on infants are expected, therefore, nursing mothers are allowed to take Creon 40,000.
Pediatric use
Creon 40,000 capsules are used to treat children as prescribed by a doctor and in dosages recommended by him.
With impaired renal function
There is no information on the need to correct the dosage regimen of Creon 40,000 for renal dysfunction.
For violations of liver function
There is no information on the need to correct the dosage regimen of Creon 40,000 for liver dysfunction.
Use in the elderly
There is no information on the need to correct the dosage regimen of Creon 40,000 for elderly patients.
Drug interactions
A decrease in the effectiveness of pancreatitis is possible with the simultaneous use of antacids, which include magnesium hydroxide and / or calcium carbonate.
Pancreatitis is thought to reduce the clinical efficacy of acarbose and reduce the absorption of iron preparations.
Analogs
The analogues of Creon 40,000 are Abomin, Glurazim, Creon 10,000, Creon 25,000, Creon Micro, Longidaza, Mezim Forte, Micrasim, Panzikam, Pancreazim, Pancreatin, Holenzim, Cerezim, Enzistal, Ermital, etc.
Terms and conditions of storage
Keep out of the reach of children, tightly closing the bottle with a lid. Storage temperature should not exceed 25 ° C.
The shelf life is 3 years.
Terms of dispensing from pharmacies
Dispensed by prescription.
Reviews about Creon 40,000
According to reviews, Creon 40,000 is an effective remedy that well and quickly helps with insufficient enzymatic activity of the pancreas, including due to inaccuracies in nutrition. There are only a few reports of the development of some unpleasant side effects, such as bloating and nausea.
The cost of the drug is estimated by the majority as relatively high, especially if not an episodic admission is required, but a course treatment. Also, some patients note the inconvenience of dosing for children, especially younger ones.
Price for Creon 40,000 in pharmacies
Depending on the pharmacy chain, the approximate price for Creon 40,000 in capsule form is 1365-1635 rubles. per pack of 50 pcs.
Creon 40,000: prices in online pharmacies
Drug name
Price
Pharmacy
Creon 40,000 40,000 IU enteric capsules 50 pcs.
1258 RUB
Buy
Creon 40,000 caps. ksh / solution n50
1462 RUB
Buy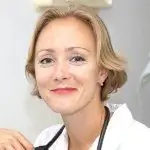 Anna Kozlova Medical journalist About the author
Education: Rostov State Medical University, specialty "General Medicine".
Information about the drug is generalized, provided for informational purposes only and does not replace the official instructions. Self-medication is hazardous to health!
Popular by topic