Table of contents: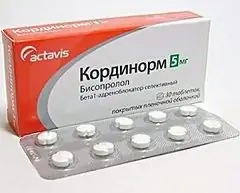 Video: Cordinorm - Instructions For Use, Reviews, Analogues
Cordinorm
Instructions for use:
1. Composition and form of release
2. Pharmacological action
3. Pharmacokinetics
4. Indications for use
5. Contraindications to use
6. Method of administration and dosage
7. Side effects
8. Analogs
Prices in online pharmacies:
from 147 rub.
Buy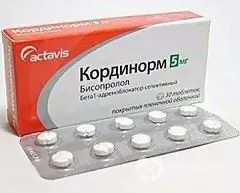 Cordinorm is a selective beta1-blocker without membrane-stabilizing properties and sympathomimetic intrinsic activity.
Composition and form of release
According to the instructions, Cordinorm is available in the form of white film-coated tablets with an amount of active substance of 5 and 10 milligrams. Cordinorm tablets have a rounded and convex shape.
The active substance of Cordinorm is bisoprolol fumarate. Microcrystalline cellulose, croscarmellose sodium, mannitol, magnesium stearate, titanium dioxide, hypromellose, macrogol 6000 are also present as auxiliary substances in the Cordinorm tablets.
Pharmacological action of Kordinorm
According to the instructions, Cordinorm blocks in small doses β 1 -adrenergic receptors of the heart, thereby reducing the formation of cAMP from ATP, which stimulate catecholamines, and reduces the flow of calcium ions inside cells. Bisoprolol also reduces myocardial oxygen demand, has a negative batmo-, dromo-, chrono- and inotropic effect, inhibits excitability and conductivity, slows down AV conductivity. Reduces heart rate during exercise and at rest. Cordinorm has antiarrhythmic, hypotensive and antianginal effects. Reduces the activity of blood plasma renin.
If you increase the dose of bisoprolol, beta 2 -adrenoceptor blocking effect will be provided.
On the first day after the use of Cordinorm, the systemic vascular resistance (total peripheral vascular resistance) increases slightly due to the elimination of stimulation of β 2 -adrenoreceptors and a reciprocal increase in the activity of α-adrenergic receptors. The total peripheral vascular resistance returns to the initial level after 1-3 days, and decreases with prolonged use.
According to the instructions, Cordinorm has a hypotensive effect by reducing the IOC and the activity of the renin-angiotensin system, stimulating the peripheral vessels. This is very important for those with underlying renin hypersecretion.
The antiarrhythmic effect of bisoprolol is due to the elimination of arrhythmogenic factors, such as tachycardia, increased activity of the sympathetic nervous system, increased cAMP content, and arterial hypertension.
The antianginal effect of Cordinorm occurs due to a decrease in myocardial oxygen demand due to a decrease in heart rate and a decrease in contractility, an improvement in perfusion and a lengthening of myocardial diastole.
In contrast to non-selective beta-blockers, bisoprolol, prescribed in medium doses for therapy, does not have such a pronounced effect on organs containing β 2 -adrenergic receptors: the pancreas, smooth muscles, peripheral arteries, bronchi, uterus and skeletal muscle tissues. Bisoprolol in medium doses has no pronounced effect on carbohydrate metabolism, does not retain sodium in the body.
If you use large doses of bisoprolol, there will be a blocking effect on both subtypes of β-adrenergic receptors.
Pharmacokinetics
In the gastrointestinal tract, bisoprolol is absorbed by 80-90%. The simultaneous use of Cordinorm with food does not affect absorption. The maximum concentration in the blood is observed after 1-3 hours.
Approximately 35% of bisoprolol binds to blood plasma proteins. Has low penetrating ability through the placenta and into breast milk.
Half of the taken dose of Cordinorm is metabolized in the liver and forms inactive metabolites, the other half is excreted from the body unchanged.
Indications for use of Kordinorm
• ischemic heart disease (for the prevention of angina attacks);
• arterial hypertension.
Contraindications to the use of Kordinorm
Cordinorm is contraindicated for:
• shock (including cardiogenic);
• collapse;
• pulmonary edema;
• chronic heart failure in the stage of decompensation;
• acute heart failure;
• sinoatrial blockade;
• AV blockade II-III degree (without a pacemaker);
• SSSU;
• severe bradycardia (heart rate less than 50 beats per minute);
• cardiomegaly (not showing signs of heart failure);
• Prinzmetal's angina;
• arterial hypotension (systolic blood pressure less than 100 mm Hg, especially in myocardial infarction);
• history of bronchial asthma and COPD;
• late stages of peripheral circulatory disorders;
• simultaneous administration of MAO inhibitors (except for MAO type B);
• Raynaud's disease;
• metabolic acidosis;
• pheochromocytoma (without the joint use of alpha-blockers);
• hypersensitivity to other beta-blockers;
• hypersensitivity to any other component of the drug;
• children and adolescents under 18 years of age (safety and efficacy have not been established).
Caution should be taken to apply Cordinorm to those who have liver failure, chronic renal failure, myasthenia gravis, thyrotoxicosis, diabetes mellitus, depression (including a history), psoriasis, old age.
Method of administration and dosage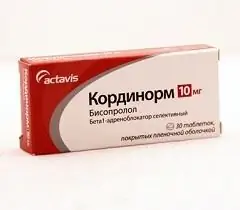 Cordinorm tablets are taken orally on an empty stomach, without chewing, in the morning. A single dose should be 2.5 to 5 milligrams. Usually at the beginning of treatment, the daily dose is 5 milligrams. If necessary, increase the daily dose to 10 milligrams. The minimum daily dose for adults is 20 milligrams.
Side effects of Cordinorm
According to reviews, Cordinorm has the following side effects:
From the side of the central nervous system: weak condition, severe fatigue, dizziness, insomnia or drowsiness, headache, nightmares, depressive conditions, hallucinations, myasthenia gravis, asthenia, tremor.
From the digestive tract: nausea, abdominal pain, vomiting, dry mouth, diarrhea or constipation, abnormalities in the liver, which are manifested by dark urine, yellowness of the skin and sclera, cholestasis.
From the respiratory system: stuffy nose, shortness of breath.
From the side of the cardiovascular system: palpitations, sinus bradycardia, disturbances in myocardial conduction, arrhythmias, chest pains, poor myocardial contractility, development or complication of existing heart failure (shortness of breath, swelling of the ankles and feet).
From the hematopoietic system: leukopenia, agranulocytosis, thrombocytopenia.
From the reproductive system: reduced potency and weakened libido.
According to reviews, Cordinorm can cause eye problems: soreness and dryness of the eyes, visual impairment, conjunctivitis.
Reviews of Cordinorm also suggest that it can cause allergic reactions in the form of itching and rash, urticaria, as well as side effects from the musculoskeletal system: back pain, cramps in the calf muscles, arthralgia, muscle weakness.
Analogs of Kordinorm
The analogues of Cordinorm are Aritel, Bidop, Biol, Biprol, Bisokard, Coronal, Concor, Niperten and Tirez. Also a good analogue of Cordinorm is Bisoprolol.
Cordinorm: prices in online pharmacies
Drug name
Price
Pharmacy
Cordinorm 5 mg film-coated tablets 30 pcs.
147 RUB
Buy
Cordinorm 10 mg film-coated tablets 30 pcs.
197 RUB
Buy
Cordinorm Cor 2.5 mg tablets 90 pcs.
296 r
Buy
Cordinorm 5 mg film-coated tablets 90 pcs.
331 r
Buy
Cordinorm 10 mg film-coated tablets 90 pcs.
RUB 350
Buy
Information about the drug is generalized, provided for informational purposes only and does not replace the official instructions. Self-medication is hazardous to health!
Popular by topic