Table of contents: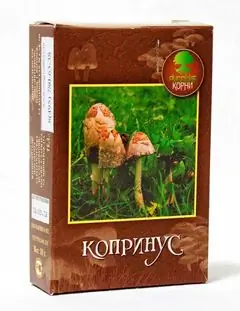 Video: Koprinus - Instructions For Use, Indications, Doses
Koprinus
Instructions for use:
1. Release form and composition
2. Indications for use
3. Contraindications
4. Method of application and dosage
5. Side effects
6. Special instructions
7. Drug interactions
8. Terms and conditions of storage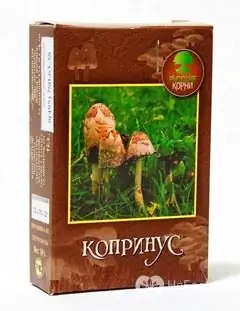 Koprinus is a dietary supplement used as a source of biologically active substances (chitin, polyphenols, polysaccharides, macro- and microelements) to remove toxins from the body, in particular those associated with alcohol intoxication, as well as for general strengthening of the body.
Release form and composition
Koprinus is available in the following dosage forms:
Capsules of 0.3 g (in plastic containers of 60 pcs.);
Powder (in bags of 10 g, complete with a measuring spoon);
Rectal suppositories, 2.2 g (pack of 10).
1 capsule contains:
Active ingredient: dry powder of coprinus (Coprinus comatus) - 100%;
Auxiliary component: gelatin.
The active ingredient is a part of 1 package: dry powder of Coprinus comatus - 100%.
The composition of 1 rectal suppository includes:
Active ingredient: coprinus (Coprinus comatus) - 0.1 g;
Auxiliary component: cocoa butter.
Indications for use
Chronic alcoholism and domestic drunkenness;
Diabetes;
Prostate and breast cancer;
Constipation and hemorrhoids.
Koprinus is also prescribed as an anti-inflammatory and analgesic agent.
Contraindications
Diarrhea;
Liver and kidney damage;
Peptic ulcer of the stomach and duodenum;
Diseases of the cardiovascular system;
Pregnancy and lactation;
Childhood;
Hypersensitivity to drug components.
Method of administration and dosage
Koprinus in the form of capsules and powder is taken orally, preferably half an hour before meals. Single dose - 0.5-1 g of powder or 1-3 capsules, frequency of administration - 1 time per day, course duration - 1-3 months. Repeated courses can be carried out according to the doctor's prescription.
Dosage regimen of suppositories: 1 time in 1-3 days, 1 suppository for a month.
Side effects
With the simultaneous administration of Coprinus with alcohol, it is possible to develop such disorders as palpitations, vomiting, diarrhea, thirst, fever, skin redness, difficulty speaking and visual impairment. Symptoms go away on their own after a few hours, but they may return with repeated alcohol intake.
special instructions
Do not exceed the recommended dosage regimen.
Before starting to use Coprinus, as well as in the event of atypical symptoms, you should consult a specialist.
Drug interactions
Data on the interaction of Coprinus with other dietary supplements and / or drugs are not presented.
Terms and conditions of storage
Store in a dark, dry place out of reach of children at a temperature of 2-20 ° C.
The shelf life is 3 years.
Information about the drug is generalized, provided for informational purposes only and does not replace the official instructions. Self-medication is hazardous to health!
Popular by topic