Table of contents: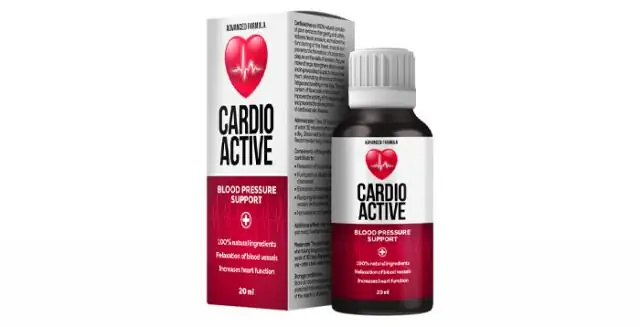 Video: CardioActive Taurine - Instructions For Use, Reviews, Price, Analogues
CardioActive Taurine
CardioActive Taurine: instructions for use and reviews
1. Release form and composition
2. Pharmacological properties
3. Indications for use
4. Contraindications
5. Method of application and dosage
6. Side effects
7. Overdose
8. Special instructions
9. Drug interactions
10. Analogs
11. Terms and conditions of storage
12. Terms of dispensing from pharmacies
13. Reviews
14. Price in pharmacies
Latin name: Cardioactive Taurine
ATX code: C01EB
Active ingredient: taurine (taurine)
Manufacturer: CJSC "Evalar" (Russia)
Description and photo update: 2018-25-10
Prices in pharmacies: from 338 rubles.
Buy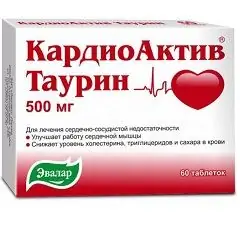 CardioActive Taurine is a metabolic drug.
Release form and composition
CardioActive Taurine is available in the form of tablets: flat-cylindrical, white or almost white, with a chamfer and a risk (20 pieces in a blister strip, in a cardboard box, 2 or 3 packages).
Composition of 1 tablet:
active substance: taurine - 500 mg;
auxiliary components: povidone, microcrystalline cellulose, croscarmellose sodium, calcium stearate, colloidal silicon dioxide.
Pharmacological properties
Pharmacodynamics
Taurine normalizes the exchange of calcium and potassium ions in cells, has a positive effect on the phospholipid composition of cell membranes, has an osmoregulatory and membrane-protective effect. Able to regulate the release of gamma-aminobutyric acid, adrenaline, prolactin and other hormones, as well as responses to them. Shows the properties of an inhibitory neurotransmitter. Taurine has an antioxidant effect, regulates oxidative processes, taking part in the synthesis of proteins in the respiratory chain in mitochondria. In addition, it affects the cytochromes involved in the metabolism of various xenobiotics. Thanks to taurine, metabolic processes in the liver, heart and other tissues and organs improve, blood flow increases and the severity of cytolysis decreases in liver diseases.
In patients with cardiovascular insufficiency, taurine reduces intracardiac diastolic pressure and increases myocardial contractility. With arterial hypertension, taking taurine moderately lowers blood pressure (BP), with hypotension it has practically no effect on blood pressure.
The drug reduces the hepatotoxicity of antifungal agents, the undesirable effects that occur with an overdose of cardiac glycosides and blockers of slow calcium channels. In patients undergoing heavy physical exertion, CardioActive Taurine increases endurance.
In patients with diabetes mellitus, a decrease in blood glucose concentration occurs within 14 days after the start of drug therapy.
When taurine is taken for 6 months, there is an improvement in the microcirculatory blood flow of the eye.
Pharmacokinetics
The maximum concentration of taurine in the blood when taking 500 mg is achieved in 90-120 minutes. After 24 hours CardioActive Taurine is completely eliminated from the body.
Indications for use
CardioActive Taurine is indicated in the complex therapy of the following diseases:
cardiovascular insufficiency;
intoxication associated with the intake of cardiac glycosides;
diabetes mellitus type 2 (including with moderate hypercholesterolemia) and type 1.
Contraindications
Absolute:
severe decompensated heart failure;
age up to 18 years;
pregnancy and lactation;
increased sensitivity to the components of the drug.
The drug should be taken with caution in patients with severe renal impairment.
Instructions for use of CardioActive Taurine: method and dosage
CardioActive Taurine is taken orally, 20 minutes before meals.
Recommended dosage:
heart failure: 250-500 mg 2 times a day, the duration of the drug intake is 1 month. If necessary, the dose can be increased to 2000-3000 mg;
intoxication with cardiac glycosides: at least 750 mg per day;
type 1 diabetes mellitus: 500 mg 2 times a day in combination with insulin therapy; the duration of the drug intake is 3–6 months;
type 2 diabetes mellitus: 500 mg 2 times a day in combination with diet therapy or other oral hypoglycemic drugs;
diabetes mellitus type 2 (including with moderate hypercholesterolemia): 500 mg 2 times a day.
Side effects
The development of allergic reactions is possible.
Overdose
There is no data on drug overdose.
special instructions
Medical supervision is necessary when taking the drug as part of complex therapy for the treatment of intoxication with cardiac glycosides, diabetes mellitus, heart failure.
Influence on the ability to drive vehicles and complex mechanisms
According to the instructions, CardioActive Taurine does not affect the ability to drive vehicles and other complex mechanisms that require psychomotor speed.
Drug interactions
Taking the drug CardioActive Taurine enhances the inotropic effect of cardiac glycosides. Care should be taken when taking it together with cardiac glycosides, slow calcium channel blockers.
Analogs
The analogues of CardioAktiv Taurine are: Dibikor, Igrel, Taurine.
Terms and conditions of storage
Store at a temperature not exceeding 25 ° C. Keep out of the reach of children.
Shelf life is 3 years.
Terms of dispensing from pharmacies
Available without a prescription.
Reviews about CardioActive Taurine
Few reviews of CardioActive Taurine indicate its effectiveness. Among the advantages, patients note that the drug moderately lowers blood pressure, lowers blood glucose levels, increases the body's endurance, and is also relatively inexpensive.
Price for CardioActive Taurine in pharmacies
The approximate price for CardioActive Taurine is 300 rubles per pack containing 60 tablets.
CardioActive Taurine: prices in online pharmacies
Drug name
Price
Pharmacy
CardioActive Taurine 500 mg tablets 60 pcs.
338 r
Buy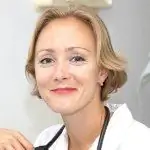 Anna Kozlova Medical journalist About the author
Education: Rostov State Medical University, specialty "General Medicine".
Information about the drug is generalized, provided for informational purposes only and does not replace the official instructions. Self-medication is hazardous to health!
Popular by topic