Table of contents: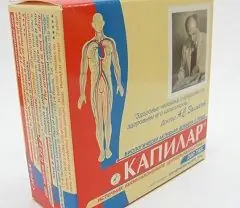 Video: Kapilar - Instructions For Use, Indications, Doses, Reviews
Capilar
Instructions for use:
1. Pharmacological action
2. Release form
3. Indications for use
4. Contraindications
5. Instructions for use and dosage
6. Side effects
7. Storage conditions
Prices in online pharmacies:
from 116 rubles.
Buy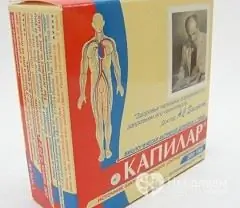 Capilar is a biologically active additive based on Siberian larch, which has a vasoregulatory, antioxidant, tonic effect.
It is widely used for the prevention of diseases associated with capillary disorders and as part of the complex therapy of many diseases.
pharmachologic effect
Capilar is a preparation containing plant components, namely flavonoids of Siberian larch. Designed in accordance with the teachings of A. S. Zalmanov by Russian doctors to protect cells and improve the functioning of capillaries.
Capilar tablets are classified as dietary supplements. The active ingredients of the drug have antioxidant, antihistamine, anti-inflammatory and anti-edema effects, reduce blood viscosity, restore blood microcirculation throughout the body, reduce thrombus formation and cholesterol levels, and normalize metabolism at the cellular level.
Capilar is effective as part of complex therapy in the treatment of cardiac arrhythmias, coronary artery disease and hypertension.
Capilar gel penetrates deeply into the skin, providing an antioxidant, tonic, anti-edema, anti-inflammatory, bactericidal and capillary-protective effect. Increases the lumen of blood vessels and the volume of blood in the capillary bed, improves microcirculation of blood in tissues and tissue nutrition, and also helps to eliminate toxins from the body.
Release form
The drug is released in the form of tablets and gel:
Each Capilar 250 mg tablet contains 10 mg of dihydroquercetin and 240 mg of sorbitol. 50, 100 and 200 pieces per pack;
Capilar gel contains dihydroquercetin, mint and fir oils, gum turpentine, camphor. 75 ml of the drug in an aluminum tube, in a cardboard box.
Indications for use of Kapilar
According to the instructions, Kapilar tablets are used as part of complex therapy for various diseases:
In case of heart failure, ischemic heart disease, disturbances in the rhythm of cardiac activity, angina pectoris - the effect is achieved by improving the trophism of cells and increasing the capillary blood volume;
With hypertension, the risk of relapse is reduced;
With pneumonia, stroke, bronchitis, heart attack - it is effective by improving metabolism and the outflow of toxins from the affected organ;
In acute respiratory diseases, Kapilar tablets reduce bronchial edema, increasing the working volume of the lungs;
For headaches and migraines caused by vascular spasms;
For various eye diseases (dystrophic, inflammatory and sclerotic) - improves vision and accelerates the resorption of hemorrhages.
According to the instructions, capilar is also used as a preventive measure for the development of diseases against the background of smoking and exposure to other toxic substances and to slow down the aging of the body.
According to reviews, Kapilar is effective for improving performance, reducing fatigue and restoring immunity after prolonged illness.
Capilar gel is used for:
Hematomas;
Muscle fatigue and leg fatigue;
Venous insufficiency and varicose veins;
Muscle sprains or other soft tissue injuries that have not compromised the integrity of the skin;
Swelling and heaviness in the legs;
Convulsions;
Bruises.
Also, according to reviews, Kapilar is effective for reducing pain in myositis, neuralgia and joint pain.
Gel Capilar is not applied to mucous membranes, damaged skin, open ulcers and eczematous surfaces.
Contraindications
Capilar according to the instructions is contraindicated in case of individual intolerance to the components of the drug.
Instructions for use of Kapilar and dosage
As a prophylactic agent, Capilar tablets are taken 3 times a day, 1-2 tablets. The course is 3 weeks. The course can be repeated after a break of 7-10 days.
In complex therapy, Kapilar is used according to the instructions depending on the disease:
For cardiovascular diseases, take 2 tablets 4 times a day during the entire treatment period;
In the treatment of hypertension, the drug is taken in the same doses for 3-4 weeks, which can be repeated after 10 days;
In acute diseases - bronchitis, strokes, heart attacks and pneumonia, take 2-4 tablets three times a day;
During the rehabilitation period after a heart attack or stroke, take 2-4 tablets until complete recovery twice a day;

Gel Capilar

For chronic respiratory diseases, during the entire period of treatment, take 2 Kapilar tablets 4 times a day;

For the treatment of acute headaches and migraine attacks, you can take up to 8 tablets at once. If necessary, you can repeat the appointment after a few hours;
For ophthalmic disorders, take 2 tablets three times a day.
A small amount of Capilar gel is applied to clean skin of the legs and massaged with gentle movements of full absorption. Apply several times a day.
Side effects
In the course of Kapilar's studies, no side effects were identified.
During pregnancy during lactation, it is possible to use Capilar after consulting a doctor.
Storage conditions
Capilar is dispensed without a doctor's prescription. Shelf life of tablets - 3 years, gel - 1 year.
Kapilar: prices in online pharmacies
Drug name
Price
Pharmacy
Capilar cream-balm body cream cooling body 75 g 1 pc.
116 RUB
Buy
Reviews Kapilar cream-balm for the body
116 RUB
Buy
Capilar with flavosomes foot gel 30 ml 1 pc.
122 RUB
Buy
Capilar cooling body cream-balm 75 g
126 RUB
Buy
Capilar tablets 250 mg 50 pcs.
162 RUB
Buy
Capilar 0.25 g tablets 50 pcs.
162 RUB
Buy
Capilar gel for feet with flavosomes 30 g
195 RUB
Buy
Cardio Capilar with Coenzyme Q10 500 mg tablets 40 pcs.
238 r
Buy
Capilar tablets 250 mg 100 pcs.
287 r
Buy
Capilar 0.25 g tablets 100 pcs.
287 r
Buy
Cardio Capilar with coenzyme Q10 tablets 500 ml 40 pcs.
323 r
Buy
Capilar tablets 250 mg 200 pcs.
RUB 513
Buy
Capilar 250 mg tablets 200 pcs.
RUB 513
Buy
See all offers from pharmacies
Information about the drug is generalized, provided for informational purposes only and does not replace the official instructions. Self-medication is hazardous to health!
Popular by topic