Table of contents: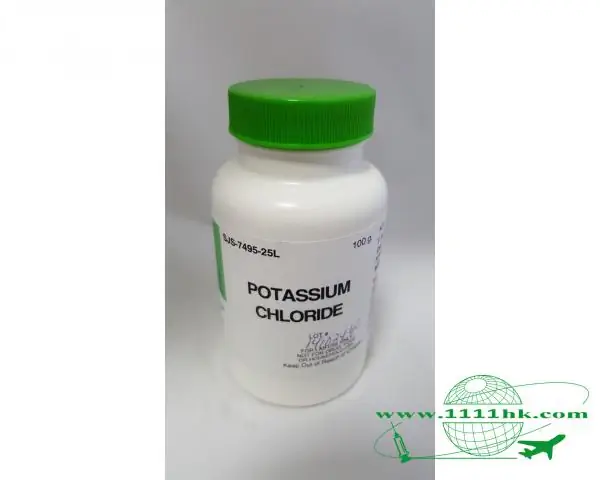 Video: Potassium-normin - Instructions For Use, Price, Tablet Analogs, Reviews
Potassium-normmin
Potassium-normmin: instructions for use and reviews
1. Release form and composition
2. Pharmacological properties
3. Indications for use
4. Contraindications
5. Method of application and dosage
6. Side effects
7. Overdose
8. Special instructions
9. Application during pregnancy and lactation
10. Use in childhood
11. In case of impaired renal function
12. Drug interactions
13. Analogs
14. Terms and conditions of storage
15. Terms of dispensing from pharmacies
16. Reviews
17. Price in pharmacies
Latin name: Kalium-normin
ATX code: A12BA01
Active ingredient: potassium chloride
Manufacturer: Alkaloid Chemical Company, Ltd. (Alkaloida Chemical Company, Ltd.) (Hungary)
Description and photo update: 2019-12-07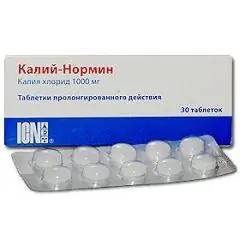 Potassium-normin is a potassium preparation.
Release form and composition
Dosage form - tablets of prolonged action: disc-shaped, slightly convex, white, with a marble pattern, bitter in taste, odorless; at the break, the color of the tablets is white (in cartons of cardboard 3 blisters, each containing 10 tablets, and instructions for the use of Potassium-Normin).
Composition of 1 tablet:
active substance: potassium chloride - 1000 mg [corresponds to the potassium content - 524.44 mg (13.3 mmol)];
auxiliary components: talc - 8 mg, magnesium stearate - 1 mg, cetyl alcohol - 17 mg, Aerosil 200 (colloidal anhydrous silicon dioxide) - 10 mg, Movital B30T (polyvinyl butyral) - 57.5 mg.
Pharmacological properties
Pharmacodynamics
Potassium-normin contains K +, which compensates for the deficiency of the macronutrient in the body. Potassium helps to weaken the toxic effects of cardiac glycosides, without affecting their positive ionotropic effect; reduces conductivity and excitability in the myocardium.
Reception of a macronutrient in small doses serves to expand the coronary vessels, in large doses - to narrow them. K + regulates the transport of amino acids, protein synthesis and intracellular osmotic pressure, activates many cytoplasmic enzymes, takes part in the process of conducting nerve impulses, and also improves the contraction of skeletal muscles in muscular dystrophy and myasthenia gravis.
Pharmacokinetics
After oral administration, potassium is easily and practically in any amount passively absorbed (by 70%). This is due to the fact that the concentration of food and substances released from the dosage form in the blood is lower than in the lumen of the small intestine.
K + is slowly and gradually released from retard tablets throughout the gastrointestinal tract. In the large intestine and ileum, it is released into the intestinal lumen according to the principle of conjugated exchange with Na + and excreted in the bile (10%).
From the moment of administration, the distribution of potassium in the body lasts approximately 8 hours. In the absorption phase, its half-life is 1.31 hours, and the release time from retard tablets is 6 hours.
Indications for use
Potassium-normmin is prescribed for the prevention and treatment of hypokalemia of various origins, including those caused by taking medications (cardiac glycosides, glucocorticosteroids, diuretics), as well as those caused by various conditions and pathologies (diarrhea, vomiting).
Contraindications
Absolute:
chronic renal failure;
adrenal insufficiency;
erosive and ulcerative lesions of the gastrointestinal tract;
complete atrioventricular (AV) block;
hyperkalemia;
metabolic disorders (acidosis, hypovolemia with hyponatremia);
combined intake of potassium-sparing diuretics;
lactation period;
age under 18;
individual intolerance to the components of the drug.
During pregnancy, the drug is used with caution, under medical supervision.
Potassium-normmin, instructions for use: method and dosage
Potassium-normmin tablets are taken orally. The dose of the drug is set by the doctor on an individual basis, depending on the pathology and the concentration of potassium in the blood plasma.
The recommended dosage of Potassium-normin is 1-2 tablets per day (1000-2000 mg), with a possible increase in the dose to 6 pcs. (6000 mg).
Side effects
gastrointestinal tract: intestinal obstruction / perforation, gastrointestinal bleeding, ulceration of the gastrointestinal tract mucosa, abdominal pain, flatulence, nausea, diarrhea, vomiting;
nervous system: confusion, muscle weakness, paresthesia;
cardiovascular system: arrhythmia, decreased blood pressure, heart block and cardiac arrest;
others: allergic reactions, hyperkalemia.
Overdose
The main symptoms: hyperkalemia - arrhythmia, muscle hypotonia, slowing of AV conduction, paresthesia, cardiac arrest. The initial stage of hyperkalemia is usually observed when the serum potassium concentration exceeds 6 meq per liter, and is manifested by the sharpening of the T wave and widening of the QRS complex. At a K + concentration of 9 to 10 meq per liter, more severe signs of hyperkalemia develop - muscle paralysis and cardiac arrest.
Therapy: oral administration or intravenous administration of sodium chloride solution, peritoneal dialysis / hemodialysis (if necessary).
special instructions
The use of Potassium-normmin requires concomitant monitoring of the potassium content in the blood serum, an electrocardiogram (ECG), and in the treatment of hypokalemia, the acid-base state.
It should be taken into account that adherence to a diet high in sodium chloride increases the excretion of K + from the body. It is important to consider that fatal hyperkalemia can develop rapidly and be asymptomatic.
Application during pregnancy and lactation
Potassium-normmin during pregnancy can be used only in cases where the potential therapeutic effect for the mother outweighs the possible risks to the fetus.
During the period of breastfeeding, the drug is not prescribed.
Pediatric use
Patients under 18 years of age are not prescribed potassium-normmin tablets, since the safety and efficacy of using potassium chloride in patients of this age group has not been established.
With impaired renal function
In chronic renal failure, Potassium-normmin is not used.
Drug interactions
Possible interactions of potassium chloride with other substances / drugs:
nonsteroidal anti-inflammatory drugs, angiotensin-converting enzyme inhibitors, potassium preparations, potassium-sparing diuretics: the likelihood of developing hyperkalemia increases;
cardiac glycosides: their side effects are reduced;
quinidine: its effect is enhanced;
disopyramide: its side effects are enhanced.
Analogs
Potassium-normin analogs are: Potassium chloride Velpharm, Potassium chloride bufus, Potassium chloride, K-Dur, Potassium chloride B. Brown, Kalipoz prolongatum.
Terms and conditions of storage
Store in a place protected from light and moisture at temperatures up to 30 ° C. Keep out of the reach of children.
The shelf life is 3 years.
Terms of dispensing from pharmacies
Dispensed by prescription.
Reviews about Potassium-Normin
Reviews of Potassium-normine are few, since the drug is rarely found in pharmacies.
Price for Potassium-normmin in pharmacies
The approximate price for Potassium-normmin (30 tablets per pack) is 1580 rubles.
Maria Kulkes Medical journalist About the author
Education: First Moscow State Medical University named after I. M. Sechenov, specialty "General Medicine".
Information about the drug is generalized, provided for informational purposes only and does not replace the official instructions. Self-medication is hazardous to health!
Popular by topic