Table of contents: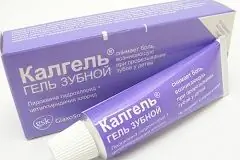 Video: Kalgel - Instructions For Use, Indications, Doses, Analogues
Calgel
Instructions for use:
1. Release form and composition
2. Indications for use
3. Contraindications
4. Method of application and dosage
5. Side effects
6. Special instructions
7. Drug interactions
8. Analogs
9. Terms and conditions of storage
10. Terms of dispensing from pharmacies
Prices in online pharmacies:
from 341 rub.
Buy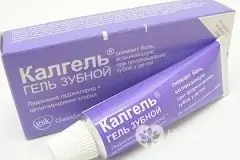 Kalgel is a combined drug with antimicrobial and local anesthetic effect, used for teething in children.
Release form and composition
Calgel is produced in the form of a dental gel: yellow-brown in color, soft, homogeneous, with a characteristic odor, free from lumps, grains and foreign particles (in aluminum tubes of 10 g, 1 tube in a cardboard box).
The composition of 1000 mg of gel contains active substances:
Lidocaine hydrochloride - 3.3 mg;
Cetylpyridinium Chloride - 1 mg
Auxiliary components: xylitol - 140 mg, 70% non-crystallizing solution of sorbitol 70% - 210 mg, glycerol - 70 mg, 96% ethanol - 93.6 mg, lauromacrogol 600 - 3.3 mg, caramel (E150) - 1 mg, hyetellose - 25 mg, macrogol glyceryl hydroxystearate - 10 mg, macrogol 300 - 3.3 mg, sodium saccharinate - 1 mg, levomenthol - 0.6 mg, herbal flavor 17.42.5490 - 4.8 mg, citric acid monohydrate - 1.05 mg, sodium citrate - 8.3 mg, water - up to 1000 mg.
Indications for use
Kalgel is prescribed to relieve pain in children from the age of five months with teething.
Contraindications
Violation of intraventricular conduction;
Bradycardia;
Stage II-III heart failure;
Arterial hypotension;
Hepatic and renal failure;
Hypersensitivity to drug components.
Method of administration and dosage
Kalgel is used topically.
A small amount of gel (about 7.5 mm) should be applied to the tip of a clean finger and gently rubbed into the inflamed gum area. Kalgel, if necessary, can be reapplied with a break of at least 20 minutes, but no more than 6 times a day.
Side effects
During the use of Kalgel, there may be a violation of swallowing and allergic reactions (in the form of urticaria, itching, anaphylactic shock).
If signs of allergy develop during therapy, you need to cancel the drug and consult a doctor.
special instructions
Do not exceed the recommended dose in the instructions, since you need to take into account the possibility of swallowing Kalgel during sleep and feeding.
Before starting to use the gel, as well as in cases of development of atypical symptoms, you should consult a pediatrician.
Drug interactions
If you need to use other medicines, you should consult your doctor.
Analogs
Calgel's analogs are: Dentinox, Doctor Baby, Kamistad, Mundizal.
Terms and conditions of storage
Keep out of reach of children at temperatures up to 25 ° C.
The shelf life is 3 years.
Terms of dispensing from pharmacies
Dispensed by prescription.
Calgel: prices in online pharmacies
Drug name
Price
Pharmacy
Calgel dental gel 10 g 1 pc.
341 r
Buy
Calgel dental gel 10g
390 RUB
Buy
Information about the drug is generalized, provided for informational purposes only and does not replace the official instructions. Self-medication is hazardous to health!
Popular by topic