Table of contents: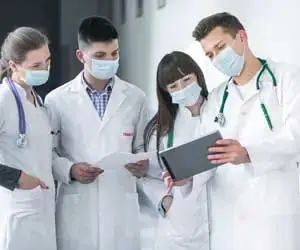 Video: Mukolvan - Instructions For Use, Ampoules, Price, Reviews, Analogues
Mukolvan
Mukolvan: instructions for use and reviews
1. Release form and composition
2. Pharmacological properties
3. Indications for use
4. Contraindications
5. Method of application and dosage
6. Side effects
7. Overdose
8. Special instructions
9. Application during pregnancy and lactation
10. Use in childhood
11. In case of impaired renal function
12. For violations of liver function
13. Drug interactions
14. Analogs
15. Terms and conditions of storage
16. Terms of dispensing from pharmacies
17. Reviews
18. Price in pharmacies
Latin name: Mucolvanum
ATX code: R05CB06
Active ingredient: ambroxol (ambroxol)
Producer: Pharmaceutical company Zdorov'e (Ukraine), LLC Experimental plant "GNTSLS" (Ukraine)
Description and photo updated: 2018-26-11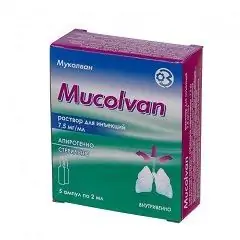 Mucolvan is a mucolytic agent.
Release form and composition
Mukolvan is released in the form of a solution for injection: a clear, colorless liquid (2 ml in a glass ampoule, 5 ampoules in a blister, 5 ampoules or 2 blisters in a cardboard box).
1 ml of solution contains:
active substance: ambroxol hydrochloride - 7.5 mg;
additional components: water for injection, citric acid monohydrate, sodium chloride, sodium hydrogen phosphate dodecahydrate.
Pharmacological properties
Pharmacodynamics
It has been established that ambroxol hydrochloride (the active substance of Mukolvan) increases the secretion of mucus in the respiratory tract, enhances the release of pulmonary surfactant and increases the activity of the ciliary epithelium. These properties of the substance have a beneficial effect on mucus secretion and its excretion (mucociliary clearance). Increased fluid production and increased mucociliary clearance promote mucus clearance and relieve coughing.
In vitro studies have shown that ambroxol hydrochloride reduces the number of cytokines, as well as the number of mononuclear cells and polymorphonuclear cells circulating and associated with tissue.
In the course of many preclinical studies, the antioxidant activity of ambroxol has been noted. After using the active substance in sputum and in bronchopulmonary secretions, an increase in the concentration of antibiotics (cefuroxime, amoxicillin, erythromycin) was observed.
Pharmacokinetics
The connection of ambroxol hydrochloride with plasma proteins in adults is approximately 90%, in newborns 60–70%. The substance crosses the placental barrier and enters the lungs of the fetus. The agent is characterized by a high volume of distribution, equal to 410 liters, which indicates a greater accumulation in tissues than in plasma. The concentration level of the substance in the lung tissues exceeds the corresponding indicator in the plasma with a coefficient exceeding 17.
The metabolic transformation process takes place in the liver mainly through glucuronization, and to a much lesser extent through cleavage to dibromantranilic acid (which is approximately 10% of the administered dose), other small metabolites are also formed. The study of liver microsomes demonstrated that the CYP3A4 enzyme is involved in the biotransformation of the active substance into dibromantranilic acid.
3 days after intravenous (iv) administration, about 4.6% of the dose is excreted unchanged, while in the urine in conjugated form, about 35.6%.
The half-life (T ½) of a substance from plasma is on average 10 hours. In newborns, after repeated intravenous administration, T ½ increases approximately 2 times, which indicates a decrease in clearance.
Ambroxol crosses the blood-brain barrier.
Indications for use
According to the instructions, Mukolvan is recommended for use to enhance the production of pulmonary surfactant in premature babies and newborns with respiratory distress syndrome.
Contraindications
The use of Mukolvan is contraindicated in the presence of hypersensitivity to ambroxol hydrochloride or other components of the drug.
Instructions for the use of Mukolvan: method and dosage
Mukolvan in ampoules is intended for intravenous administration.
The effectiveness of the daily dose of ambroxol hydrochloride, which is 30 mg per 1 kg of body weight, has been established. The daily dose of Mukolvan is administered as a slow intravenous infusion in 4 divided doses, while each individual dose is recommended to be administered intravenously for at least 5 minutes using a pump infusion device.
Immediately before administration, the contents of 1–6 ampoules should be diluted in Ringer's solution or physiological saline at a dose of 250–500 ml. The resulting solution for infusion from the moment of preparation must be used within 6 hours. The course of therapy is 5 days.
Side effects
digestive tract: drooling, dry mouth / throat, abdominal pain, constipation, vomiting, diarrhea, nausea, dyspepsia;
immune system / skin and subcutaneous fatty tissue: anaphylactic reactions (including shock), erythema, angioedema; itching, rash, urticaria, other hypersensitivity reactions; severe skin lesions: Lyell's syndrome (toxic epidermal necrolysis), Stevens-Johnson syndrome;
kidneys and urinary system: urinary disorders;
respiratory system, organs of the chest and mediastinum: rhinorrhea, shortness of breath (as a sign of a hypersensitivity reaction);
general and pathological phenomena at the injection site of Mukolvan: chills, fever, reactions from the mucous membranes.
Overdose
To date, specific symptoms of Mukolvan overdose have not been registered. In case of a medical error or accidental overdose, symptoms similar to the known side effects that appear with the use of the drug in the recommended doses are noted. This condition may require symptomatic therapy.
special instructions
If there are violations of bronchial motility and increased production of mucus (including due to such a rare disease as primary ciliary dyskinesia), Mukolvan must be used with caution, since it can increase the production of mucus.
It is extremely rare against the background of ambroxol therapy that the development of severe skin reactions - Stevens-Johnson syndrome or Lyell's syndrome - was noted. The occurrence of these undesirable effects in most cases is associated with the underlying disease or with the concomitant use of another drug. With the development of any disorders from the skin or mucous membranes, treatment with a mucolytic agent should be discontinued and an urgent need to consult a specialist.
The sodium concentration in a single dose of Mucolvan is less than 1 mmol (23 mg).
Application during pregnancy and lactation
It was found that ambroxol crosses the placental barrier and enters breast milk. Mukolvan is recommended for use only in premature babies and newborns.
Pediatric use
A mucolytic agent is prescribed according to indications for premature babies and newborns.
With impaired renal function
In the presence of severe renal dysfunction, there may be an accumulation of ambroxol metabolites formed in the liver in the form of glucuronides and dibromantranilic acid. Patients in this risk group should be treated with extreme caution.
For violations of liver function
In case of severe liver damage, the clearance of ambroxol decreases by 20-40%. Patients with severe liver disease are advised to use Mukolvan with caution.
Drug interactions
Until now, clinically significant interactions of the drug with other drugs / agents have not been established.
With the simultaneous use of Mukolvan with drugs that suppress coughs, excessive accumulation of mucus may occur, due to inhibition of the cough reflex. Therefore, such combinations are allowed only on the prescription of the attending physician, after a thorough assessment of the ratio of the expected benefits and potential risks from the use of these funds.
Mucolvan should be diluted only in solutions specified in the section "Method of administration and dosage". The drug should not be mixed with other drugs, as this can lead to the formation of mixtures with an elevated pH value (more than 6.3), and cause the precipitation of ambroxol hydrochloride in the form of a free base.
Analogs
Analogs of Mukolvan are: Ambroxol, Ambrobene, Ambroxol-Teva, Ambroxol-Solofarm, Ambrohexal, Bronhoxol, Lazolvan, Orvis Broncho, Ambrosan, Flavamed Forte.
Terms and conditions of storage
Store at a temperature not exceeding 25 ° C, out of the reach of children.
The shelf life is 5 years.
Terms of dispensing from pharmacies
Dispensed by prescription.
Reviews about Mukolvane
In reviews of Mukolvane, in the overwhelming majority of cases, its effectiveness in treating cough is confirmed. Although the instructions do not describe the inhalation route of administration of the drug, in almost all reviews, patients indicate the high effectiveness of Mukolvan when used for inhalation through a nebulizer. This method of using the drug in children and adults provides direct penetration of the drug into the small bronchioles and alveoli, which significantly enhances its effect, promotes the discharge and excretion of sputum, relieves the inflammatory process and facilitates breathing.
The ampoule with the solution, in order to maintain its sterility, should be opened only before inhalation. In the nebulizer reservoir, as indicated in the reviews, the drug should be injected in doses depending on the patient's age: children under 6 years old - 1 ml of solution (½ ampoule), children over 6 years old - 2 ml of solution (1 ampoule). The required amount of the drug before the procedure should be diluted in 2-4 ml of 0.9% sodium chloride solution. Parents of young patients recommend breathing through the mask for 5–8 minutes and only if the body temperature does not exceed 37.5 ° C. Children under 2 years of age should be inhaled no more than 2 times a day, children 2-6 years old - no more than 2-3 times, children over 6 years old - no more than 3 times.
Some adults also use the drug by inhalation, while the contents of the ampoule (2 ml) are recommended to be diluted in saline in a 1: 1 ratio. Adults are advised to breathe through a nebulizer 3-4 times a day, the duration of the procedure is 8-10 minutes at intervals of 3-4 hours. The average course is 5 days.
Before starting treatment with the drug, you should consult your doctor.
There are no complaints about the appearance of side effects.
Price for Mukolvan in pharmacies
The price for Mukolvan in ampoules (5 pcs. In a package) can be 100–120 rubles.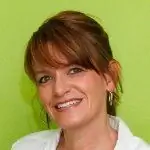 Maria Kulkes Medical journalist About the author
Education: First Moscow State Medical University named after I. M. Sechenov, specialty "General Medicine".
Information about the drug is generalized, provided for informational purposes only and does not replace the official instructions. Self-medication is hazardous to health!
Popular by topic