Table of contents: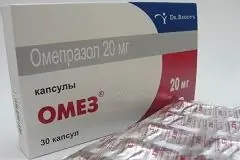 Video: Omez - Instructions, Application, Indications
Omez
Instructions for use:
1. Pharmacological action
2. Release form
3. Indications for use
4. Contraindications
5. Method of application
6. Side effects
7. Storage conditions
Prices in online pharmacies:
from 59 rub.
Buy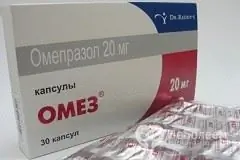 Omez is a synthetic antiulcer drug.
pharmachologic effect
The active substance Omeza has an antiulcer effect, reducing the level of basal and stimulated secretion. According to the instructions, the therapeutic effect of Omez does not depend on the nature of the stimulus.
Domperidone, which is part of Omez D, has an antiemetic effect, increases the tone of the lower esophageal sphincter, and also accelerates gastric emptying while slowing this process.
As a rule, the effect of the drug occurs quickly, within the first hour after administration, and lasts at least a day.
Omez release form
Omez is available in two types of capsules:
Transparent, colorless capsules with a pink cap containing 20 mg of omeprazole;
Omez D white hard capsules with a purple cap, containing 10 mg of omeprazole and domperidone.
In strips of 10.
In addition, Omez is produced in the form of a lyophilisate for the preparation of a solution for infusion. One bottle contains 40 mg of omeprazole in the form of a white powder or homogeneous porous lozenge.
Indications for the use of Omez
According to the instructions, Omez is used for:
Peptic ulcer of the stomach and duodenum;
Erosive and ulcerative lesions of the stomach and duodenum associated with the intake of non-steroidal anti-inflammatory drugs;
Reflux esophagitis;
Stress ulcers;
Zollinger-Ellison Syndrome.
As part of complex therapy, the use of Omez is also indicated for erosive and ulcerative lesions of the stomach and duodenum associated with Helicobacter pylori.
Omez D is indicated for use in the treatment of dyspepsia and gastroesophageal reflux, which does not respond well to monotherapy with histamine H2 receptor antagonists or proton pump inhibitors.
Contraindications
Omez has a narrow range of contraindications. You should not take the drug:
During pregnancy;
In childhood;
During lactation;
With increased sensitivity to the components of Omez.
According to the instructions Omez D is contraindicated for use in childhood, during lactation, as well as for:
Gastrointestinal bleeding;
Prolactin-secreting pituitary tumor;
Perforation of the stomach or intestines;
Mechanical obstruction of the stomach or intestines.
According to strict indications, Omez D can be taken during pregnancy.
Method of using Omez
The dosage and duration of use of Omez depends on the disease:
With an exacerbation of duodenal ulcer, usually take 1 capsule per day for a month. In some cases, it may be necessary to double the dosage. According to reviews, Omez can be taken regardless of food intake
In Zollinger-Ellison syndrome, the starting dose is usually 3 capsules of Omez per day. In some cases, it needs to be doubled, then the daily dose should be divided into two doses. You can also use Omez and intravenously in cases of impossibility of oral treatment;
With an exacerbation of gastric ulcer, erosive and ulcerative lesions of the gastrointestinal tract, which are caused by the intake of non-steroidal anti-inflammatory drugs, as well as with erosive-ulcerative esophagitis, longer treatment is required - up to two months. Omez, according to the instructions, take 1-2 capsules per day or, if necessary, intravenously, 40 mg;
With Mendelssohn's syndrome, Omez is prescribed at night in the form of an intravenous infusion of 40 mg, and also at least two hours before the operation;
With the eradication of Helicobacter pylori, simultaneously with antibacterial agents, take 1 capsule of Omez twice a day for a week.
As an anti-relapse treatment of reflux esophagitis, gastric ulcer and duodenal ulcer, long-term use of Omez is effective - up to six months, one capsule per day.
According to the indications of Omez D, it is recommended to take one capsule 10-20 minutes before meals twice a day.
Omez infusion solution is prepared immediately before use, for which only 5% glucose solution without preservatives should be used. After adding at least 5 ml of solvent to the vial, it should be shaken until the lyophilisate is completely dissolved. The duration of administration of 100 ml of the prepared Omez solution should be at least half an hour.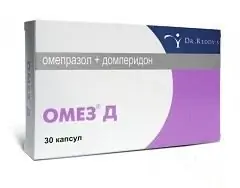 Before starting the use of Omez, the presence of malignant processes should be excluded, especially with gastric ulcer, since taking the drug can hide the symptoms and delay the correct diagnosis.
Side effects
As a rule, Omez is well tolerated according to reviews, but in some cases it can cause reversible side effects, most often in the form of:
Abdominal pain, taste disturbances, diarrhea or constipation, nausea, flatulence, vomiting, dry mouth, stomatitis;
Agranulocytosis, leukopenia, pancytopenia, thrombocytopenia;
Paresthesia, agitation, headache, insomnia, dizziness, drowsiness, depression, hallucinations;
Angioneurotic edema, urticaria, interstitial nephritis, bronchospasm, anaphylactic shock;
Muscle weakness, myalgia and arthralgia;
Itching, erythema multiforme, alopecia, photosensitivity;
Peripheral edema, visual impairment, fever, increased sweating, gynecomastia.
In severe liver diseases, Omez, according to reviews, can cause hepatitis, encephalopathy and impaired liver function.
The use of Omez D can also be accompanied by transient intestinal spasms, hyperprolactinemia and extrapyramidal disorders.
Omez should not be used in high doses, so as not to lead to an overdose, which manifests itself as drowsiness or agitation, dry mouth, blurred vision, nausea, headache, confusion, increased sweating, arrhythmia.
Storage conditions
Omez is a prescription anti-ulcer drug in List B. Shelf life of capsules - 36 months, lyophilisate for solution preparation - no more than 24 months.
Omez: prices in online pharmacies
Drug name
Price
Pharmacy
Omez 10 mg enteric capsules 10 pcs.
RUB 59
Buy
Omez Insta 20 mg powder for suspension for oral administration 5.885 g 5 pcs.
RUB 64
Buy
Omez 40 mg lyophilisate for preparation of solution for infusion 1 pc.
RUB 137
Buy
Omez 20 mg enteric capsules 30 pcs.
147 RUB
Buy
Omez capsules 20mg 30 pcs.
RUB 150
Buy
Omez lyof. for prig solution for inf. 40mg
159 r
Buy
Omez 40 mg enteric capsules 28 pcs.
RUB 218
Buy
Omez D 10 mg + 10 mg capsules 30 pcs.
229 r
Buy
Omez DSR 30 mg + 20 mg modified release capsules 30 pcs.
RUB 300
Buy
Reviews Omez DSR
RUB 300
Buy
Omez DSR capsules with modif. release 30mg + 20mg 30 pcs.
452 RUB
Buy
See all offers from pharmacies
Information about the drug is generalized, provided for informational purposes only and does not replace the official instructions. Self-medication is hazardous to health!
Popular by topic