Table of contents: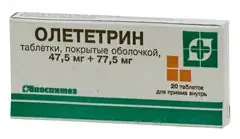 Video: Oletetrin - Instructions For Use, Indications, Doses, Analogues
Oletetrin
Instructions for use:
1. Release form and composition
2. Indications for use
3. Contraindications
4. Method of application and dosage
5. Side effects
6. Special instructions
7. Drug interactions
8. Analogs
9. Terms and conditions of storage
10. Terms of dispensing from pharmacies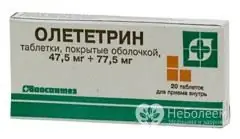 Oletetrin is an antibacterial combined preparation with a broad spectrum of action.
Release form and composition
Oletetrin is produced in the form of coated tablets (in blisters of 10 pcs., 1 or 2 packages in a cardboard box; in polymer cans of 25 pcs., 1 can in a cardboard box).
The composition of 1 tablet contains active substances:
Oleandomycin phosphate (tablets 125/250 mg) - 47.5 / 95 mg;
Tetracycline (tablets 125/250 mg) - 77.5 / 155 mg.
Auxiliary components: calcium stearate, medical talc, potato starch.
Indications for use
Oletetrin is prescribed for the treatment of diseases caused by microorganisms that are sensitive to the action of active substances, including purulent infections of the skin and soft tissues, osteomyelitis, pneumonia, meningitis, pharyngitis, sinusitis, tonsillitis, bronchitis, bronchiectasis, otitis media, cholecystitis, prostatitis, infections of the genitourinary organs, pyelonephritis, endometritis, cystitis, erysipelas, purulent gonorrhea, brucellosis, tularemia.
Contraindications
Hepatic / renal impairment;
Mycoses;
Leukopenia;
Age under 8;
Pregnancy and lactation;
Hypersensitivity to drug components.
Method of administration and dosage
Oletetrin is taken orally with water, preferably after a meal.
Recommended dosage regimen:
Children from 8 years old: 20-30 mg / kg per day; frequency of application - 4 times a day;
Adults: 4 times a day, 250 mg; the maximum is 2000 mg per day.
The duration of the course is from 7 to 10 days (determined by the severity of the infection).
Side effects
During treatment, side effects may develop in the form of nausea, vomiting, decreased appetite, abdominal pain, constipation or diarrhea, dysphagia, glossitis, esophagitis, allergic reactions (itching, skin rash, eosinophilia).
Long-term therapy can lead to the occurrence of such disorders as intestinal dysbiosis, increased activity of "hepatic" transaminases, candidiasis, neutropenia, the development of a lack of vitamins B and K, thrombocytopenia, hemolytic anemia, photosensitization, hypercreatininemia, hyperbilirubinemia, azotemia.
special instructions
During the development of teeth in children, the use of Oletetrin can lead to a change in their color (it is irreversible).
Drug interactions
With the combined use of Oletetrin with some drugs, the following effects may occur:
Bactericidal drugs: decrease in their effectiveness;
Vitamin A: increased likelihood of intracranial hypertension;
Preparations and food products containing salts of magnesium, calcium, aluminum, iron (iron preparations, antacids, dairy products and milk): a decrease in the absorption of Olettrin;
Methoxyflurane: increased nephrotoxicity;
Oral contraceptives: reduced effectiveness and increased risk of uterine bleeding.
Analogs
There is no information about Oletetrin analogues.
Terms and conditions of storage
Keep out of reach of children at temperatures up to 25 ° C.
Shelf life is 2 years.
Terms of dispensing from pharmacies
Dispensed by prescription.
Information about the drug is generalized, provided for informational purposes only and does not replace the official instructions. Self-medication is hazardous to health!
Popular by topic