Table of contents: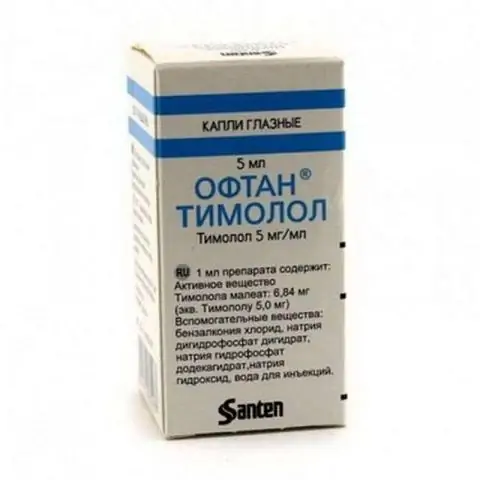 Video: Xalatamax - Instructions For The Use Of Eye Drops, Price, Analogues
Xalatamax
Xalatamax: instructions for use and reviews
1. Release form and composition
2. Pharmacological properties
3. Indications for use
4. Contraindications
5. Method of application and dosage
6. Side effects
7. Overdose
8. Special instructions
9. Application during pregnancy and lactation
10. Use in childhood
11. Drug interactions
12. Analogs
13. Terms and conditions of storage
14. Terms of dispensing from pharmacies
15. Reviews
16. Price in pharmacies
Latin name: Xalatamax
ATX code: S01EE01
Active ingredient: latanoprost (latanoprost)
Manufacturer: Jadran Galenskiy Laboratories (Republic of Croatia)
Description and photo update: 2018-21-11
Prices in pharmacies: from 388 rubles.
Buy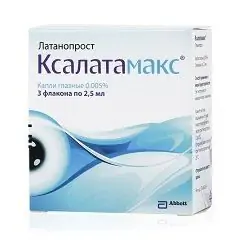 Xalatamax is an antiglaucoma remedy.
Release form and composition
Dosage form of Xalatamax - eye drops 0.005%: transparent colorless liquid (2.5 ml in plastic bottles equipped with a pipette dispenser, or in dropper bottles; in a cardboard box 1 or 3 bottles).
Composition of 1 ml drops:
active substance: latanoprost - 0.05 mg;
additional components: sodium dihydrogen phosphate monohydrate, benzalkonium chloride, sodium chloride, sodium hydrogen phosphate, purified water.
Pharmacological properties
Pharmacodynamics
The active substance of Xalatamax is latanoprost - a selective agonist of FP receptors and an analogue of prostaglandin (PG) F 2α. It has anti-glaucoma effect, and also reduces intraocular pressure, increasing the outflow of aqueous humor.
The main mechanism of action of the drug is due to its ability to increase uveoscleral outflow.
The decrease in intraocular pressure begins 3-4 hours after instillation, the maximum effect can be achieved in 8-12 hours. The drug remains effective for at least 24 hours.
Pharmacokinetics
After instillation, latanoprost penetrates well through the cornea, while it is hydrolyzed to the biologically active acid of latanoprost. The maximum concentration of the drug in aqueous humor is observed 2 hours after instillation. It is metabolized mainly in the liver. Almost no acid metabolism occurs in the tissues of the eye.
The half-life is 17 minutes.
The main metabolites are 1,2-dinor- and 1,2,3,4-tetranor-metabolites, which have no or weak biological activity. Excreted by the kidneys.
Indications for use
increased intraocular pressure;
open-angle glaucoma.
Contraindications
age up to 18 years;
individual hypersensitivity to any component of the drug.
According to the instructions, Xalatamax is used with caution in inflammatory, congenital glaucoma, aphakia, pseudoaphakia, damage to the posterior lens capsule and the presence of other risk factors for the development of macular edema.
Instructions for use of Xalatamax: method and dosage
Eye drops Ksalatamax are instilled into the conjunctival sac of the eye 1 drop once a day, in the evening. With more frequent use, the effectiveness of the drug decreases.
If the next instillation is missed, the dose should not be doubled, the drug should be continued as usual.
The duration of the therapeutic course and the need for repeated courses are determined by the doctor individually.
Side effects
from the organ of vision: eye irritation (itching, burning sensation, tingling, feeling of sand or a foreign body in the eyes), eye pain, conjunctival hyperemia, conjunctivitis, blepharitis, eyelid edema, increased iris pigmentation, edema and erosion of the cornea, blurred vision, transient point erosion of the epithelium, a change in the direction of growth of eyelashes (sometimes irritating the eye), macular edema (including cystoid), keratitis, iritis, uveitis, increased pigmentation, an increase in the number, thickening and lengthening of eyelashes and vellus hair;
from the respiratory system: shortness of breath, bronchial asthma (including acute attacks or exacerbation of the disease in patients with a history of bronchial asthma);
from the musculoskeletal system: muscle and joint pain;
from the nervous system: headache, dizziness;
dermatological reactions: skin rashes, darkening of the eyelid skin and other local skin reactions from the eyelids;
others: nonspecific chest pain.
Overdose
In case of an overdose, irritation of the mucous membrane of the eye and hyperemia of the episclera or conjunctiva are noted.
Treatment is symptomatic.
special instructions
Xalatamax can cause gradual changes in eyelashes and vellus hair: lengthening, thickening, thickening, changing the direction of growth, increased pigmentation. These changes are reversible and gradually disappear after discontinuation of the drug.
In patients with lentigo or nevi on the iris, no changes occur during the use of the drug.
Before prescribing Xalatamax, the doctor should inform the patient about a possible change in eye color. This is due to the fact that latanoprost increases the amount of brown pigment in the iris, which can gradually change the color of the eyes. Most often, this effect is observed in patients with mixed iris coloration, for example, yellow-brown, gray-brown, blue-brown or green-brown, due to an increase in the melanin content in the stromal melanocytes of the iris. Brown pigmentation usually spreads concentrically around the pupil to the periphery of the iris, with some or all of the iris becoming intense brown. In patients with uniformly colored eyes of green, gray, brown or blue color, changes in shade after two years of using Xalatamax were rarely observed. The color change is not accompanied by any pathological processes or clinical symptoms. After the end of therapy with latanoprost, no further increase in brown pigment is observed, but the developed color change is usually irreversible.
Therapy can be discontinued in the event of an intense change in eye pigmentation.
If only one eye is treated, permanent heterochromia (unequal color of the right and left eyes) may develop.
Xalatamax eye drops contain benzalkonium chloride as a preservative, which can be absorbed by contact lenses. For this reason, it is recommended to remove the lenses before instilling the drug and put them on no earlier than 15 minutes after the procedure.
During instillation, be careful not to touch the tip of the pipette to the eye or other surfaces. Close the bottle tightly after each use.
Influence on the ability to drive vehicles and complex mechanisms
After instillation, temporary blurred vision is possible. In this case, it is recommended to refrain from driving a car and performing potentially hazardous activities until visual perception is restored.
Application during pregnancy and lactation
Due to the lack of sufficient experience in the use of latanoprost during pregnancy, Xalatamax can only be used if the expected benefits are higher than the potential risks. Treatment should be carried out under close medical supervision.
The drug can pass into breast milk, so feeding should be discontinued if treatment is required during lactation.
Pediatric use
Xalatamax eye drops are not used in patients under the age of 18.
Drug interactions
Latanoprost has synergism with regard to lowering intraocular pressure in the case of simultaneous use of adrenergic agonists, β-blockers or carbonic anhydrase inhibitors, partial synergism - when used in conjunction with m-cholinomimetics.
According to in vitro studies, when Xalatamax eye drops are mixed with thiomersal-containing eye drops, precipitation occurs. Therefore, these drugs should be used with a minimum interval of 5 minutes.
In the case of the simultaneous use of another analogue of PG, a paradoxical increase in intraocular pressure is possible.
Analogs
Analogs of Xalatamax are: Glaumax, Glauprost, Xalatan, Lanotan, Prolatan, Latanol, Trilactan, Latanoprost, Latanoprost-Teva.
Terms and conditions of storage
Keep out of the reach of children. Store at a temperature of 2-8 ° C in a dark, dry place.
Shelf life is 2 years.
After the first opening of the bottle, the drug can be used for no more than 4 weeks. Store at temperatures up to 25 ° C.
Terms of dispensing from pharmacies
Dispensed by prescription.
Reviews about Xalatamax
According to pharmacists, Xalatamax is one of the drugs of choice for the treatment of glaucoma. It effectively increases the outflow of aqueous humor and reduces intraocular pressure. Available in convenient plastic bottles, it is applied only once a day.
Reviews of Xalatamax from patients who used it with increased intraocular pressure or glaucoma are positive. The most common side effect is eye discoloration.
Price for Xalatamax in pharmacies
The price for Xalatamax is approximately 444-509 rubles. for 1 bottle, 1126-1244 rubles. per package containing 3 bottles.
Xalatamax: prices in online pharmacies
Drug name
Price
Pharmacy
Xalatamax 0.005% eye drops 2.5 ml 1 pc.
388 r
Buy
Xalatamax eye drops 0.005% 2.5ml
566 r
Buy
Xalatamax 0.005% eye drops 2.5 ml 3 pcs.
RUB 816
Buy
Xalatamax eye drops 0.005% 2.5ml 3 pcs.
1239 RUB
Buy
Anna Kozlova Medical journalist About the author
Education: Rostov State Medical University, specialty "General Medicine".
Information about the drug is generalized, provided for informational purposes only and does not replace the official instructions. Self-medication is hazardous to health!
Popular by topic