Table of contents: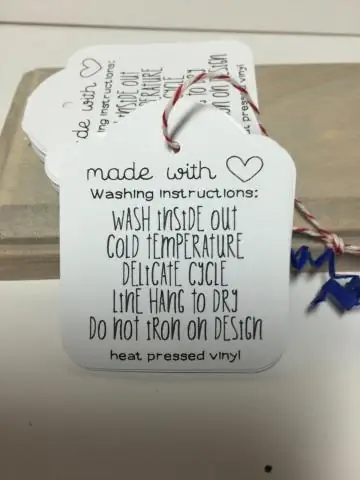 Video: Krom-allerg - Instructions For The Use Of Eye Drops, Price, Analogues, Reviews
Chrome allergy
Krom-allergy: instructions for use and reviews
1. Release form and composition
2. Pharmacological properties
3. Indications for use
4. Contraindications
5. Method of application and dosage
6. Side effects
7. Overdose
8. Special instructions
9. Application during pregnancy and lactation
10. Use in childhood
11. Drug interactions
12. Analogs
13. Terms and conditions of storage
14. Terms of dispensing from pharmacies
15. Reviews
16. Price in pharmacies
Latin name: Crom-Allerg
ATX code: S01GX01
Active ingredient: cromoglicic acid (Cromoglicic acid)
Manufacturer: K. O. Rompharm Company S. R. L. (SC Rompharm Company, SRL) (Romania)
Description and photo update: 2019-24-07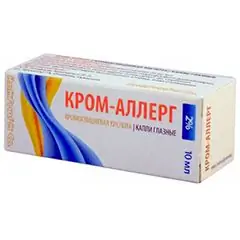 Krom-allergy is an antiallergic drug for topical use in ophthalmology, a stabilizer of mast cell membranes.
Release form and composition
Krom-allergy is produced in the form of eye drops 2%: a clear solution, colorless or slightly yellow (10 ml each in white polymer dropper bottles, 1 dropper bottle in a cardboard box).
1 ml of solution contains:
active substance: sodium cromoglycate - 20 mg;
auxiliary components: polysorbate-80, sodium hydrogen phosphate dodecahydrate, sorbitol, sodium dihydrogen phosphate monohydrate, benzalkonium chloride, disodium edetate dihydrate, purified water.
The preparation is accompanied by instructions for the use of Crom-allergy.
Pharmacological properties
Pharmacodynamics
Krom-allergy is a drug for topical use in ophthalmology, has antiallergic and membrane-stabilizing effect. Its active substance, cromoglycic acid, is a stabilizer of mast cell membranes. The mechanism of action of the drug is due to blocking the entry of calcium ions into cells, which helps to delay the release of inflammatory mediators of biologically active substances, including histamine and leukotrienes.
Pharmacokinetics
After instillation, cromoglycic acid is slightly absorbed through the mucous membrane of the eye. The systemic bioavailability of the drug does not exceed 0.03%. The half-life is 5-10 minutes.
Indications for use
acute and chronic allergic conjunctivitis - treatment (as part of complex therapy) and prevention;
irritation of the mucous membrane of the eyes caused by allergic reactions, which are caused by such factors as unfavorable environmental conditions, plants, pets, household chemicals, harmful working conditions (including dust, smoke, fumes of solvents or other chemicals), cosmetics, medicines - in order to alleviate the condition.
Contraindications
Absolute:
age up to four years;
hypersensitivity to the components of the drug.
It is recommended to use Crom-allergy with caution in pregnant and lactating women.
Krom-allergy, instructions for use: method and dosage
Drops Krom-allergy are intended for topical application by instillation into the lower conjunctival sac of the affected eye.
The procedures should be carried out at the same time interval.
Recommended dosing regimen for adults and children over four years of age:
treatment: 1-2 drops 4 times a day. The maximum frequency of instillations is 6 times a day. Course duration: with seasonal allergic conjunctivitis - 7 days, with chronic allergic conjunctivitis - 28 days;
prevention of seasonal allergic conjunctivitis: 1 drop 4 times a day. The drug should be started 7-10 days before the onset of seasonal hay fever and continued for at least 7 days after the symptoms of the disease disappear.
After opening the bottle, the drug remains stable for 28 days.
Side effects
on the part of the organ of vision: burning sensation in the eye, superficial damage to the tissues of the cornea, transient impairment of the clarity of visual perception;
from the immune system: itching, mild soreness and conjunctival hyperemia;
other reactions: isolated cases - nausea.
Overdose
Overdose symptoms have not been established.
special instructions
Before each instillation, contact lenses should be removed and reinstalled 15 minutes after the procedure.
Influence on the ability to drive vehicles and complex mechanisms
During the period of application of Krom-allergy, it is recommended to be careful when engaging in potentially hazardous activities that require increased concentration of attention and high speed of psychomotor reactions, for example, when driving.
Application during pregnancy and lactation
During pregnancy and lactation, the use of Crom-allergy is possible only as directed by a doctor in cases where the expected therapeutic effect for the mother outweighs the potential risk for the fetus and child.
Slight systemic absorption of cromoglycic acid minimizes the risk of adverse drug effects.
Pediatric use
The use of Krom-allergy is contraindicated for the treatment of children under four years of age.
Drug interactions
The interaction of cromoglycic acid with ophthalmic agents containing glucocorticosteroids may reduce the need for their use.
Analogs
Allergo-Komod, Kromohexal, Kromospir, Intal, Dipolkrom, Kromitsil-SOLOpharm, Kromoglin, Cromoglycic acid, Lekrolin, Optivell, Hi-Krom, Nalkrom, etc. are analogs of the Krom-allergy.
Terms and conditions of storage
Keep out of the reach of children.
Store at temperatures up to 25 ° C, protected from moisture and light.
Shelf life is 4 years.
Terms of dispensing from pharmacies
Dispensed by prescription.
Reviews about Chrom-allergy
Reviews about the Chromium allergy are predominantly positive. Many patients note the high effectiveness of the drug in the treatment of allergic conjunctivitis of various etiologies, including hay fever and dust mite allergy.
Indicate the rapid action of the drug, which is manifested by the cessation of itching, removal of edema, redness and irritation. The advantages of drops include good tolerance and low cost. Prophylactic use of the drug before the onset of the expected exacerbation of seasonal allergic conjunctivitis allows you to minimize the manifestation of unpleasant symptoms of the disease.
Price for Chrom-allergy in pharmacies
The price of Krom-allergy for a package containing 1 dropper bottle (10 ml) can range from 59 rubles.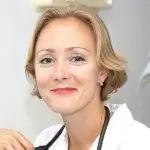 Anna Kozlova Medical journalist About the author
Education: Rostov State Medical University, specialty "General Medicine".
Information about the drug is generalized, provided for informational purposes only and does not replace the official instructions. Self-medication is hazardous to health!
Popular by topic