Table of contents: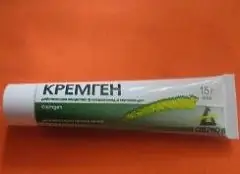 Video: Kremgen - Instructions For Use, Indications, Doses, Analogues
Kremgen
Instructions for use:
1. Release form and composition
2. Indications for use
3. Contraindications
4. Method of application and dosage
5. Side effects
6. Special instructions
7. Drug interactions
8. Analogs
9. Terms and conditions of storage
10. Terms of dispensing from pharmacies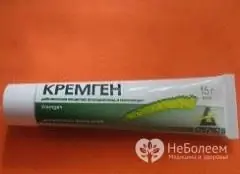 Kremgen is a glucocorticosteroid, a combined agent for external use with anti-inflammatory, anti-allergic, antipruritic and anti-exudative action.
Release form and composition
Dosage form - ointment (15 or 30 g in tubes).
Content of active ingredients in 1 g of ointment:
Gentamicin sulfate - 0.1 g;
Fluocinonide - 0.05 g.
Auxiliary components: dimethicone, polyethylene glycol 4000, propylene glycol, glycerol, stearyl alcohol, citric acid.
Indications for use
The use of Kremgen is indicated for the treatment of skin diseases of allergic and inflammatory etiology, complicated by bacterial infection:
Dermatitis (contact allergic, atopic (neurodermatitis, diathesis in children), seborrheic, exfoliative, intertriginous, radiation;
Microbial and coin-shaped eczema, including hand skin eczema;
Folliculitis;
Furunculosis;
Psoriasis;
Discoid lupus erythematosus;
Lichen planus;
Trophic ulcers;
Senile and anogenital itching;
Frostbite and skin burns of 1 degree;
Insect bites.
Contraindications
Lupus;
Fungal and viral skin lesions;
Skin neoplasms of unknown origin;
Syphilitic lesion of the skin;
Chicken pox;
Primary purulent lesions of soft tissues, skin and eyes, mucous surfaces of the mouth and nose;
Age up to 2 years;
Hypersensitivity to drug components.
The drug should be prescribed with caution during pregnancy, the use is justified if the intended therapeutic effect for the mother outweighs the potential risk to the fetus.
Method of administration and dosage
Kremgen is intended for external use. A small amount of ointment is spread in a thin layer over the affected area of the body and rubbed into the skin with light movements.
The frequency of procedures and the period of treatment is prescribed by the doctor based on clinical indications.
Usually, the ointment is used 2-3 times a day, as the clinical effect is achieved, the frequency of procedures is adjusted to 1 time a day.
Side effects
Prolonged use of Cremgen can cause the development of side effects in the form of fungal infections of the skin, stretch marks, hirsutism, hypertrichosis, skin atrophy, allergic reactions, skin irritation at the site of application.
The appearance of undesirable phenomena is more often observed when using occlusive dressings.
special instructions
In case of development of allergic reactions, local irritation or fungal skin lesions, the use of the ointment should be canceled and a doctor should be consulted.
Drug interactions
Drug interaction of Kremgen with other drugs has not been established.
Analogs
There is no information about Kremgen's analogues.
Terms and conditions of storage
Store in a dry, dark place at temperatures up to 25 ° C. Keep out of the reach of children.
Terms of dispensing from pharmacies
Available without a prescription.
Information about the drug is generalized, provided for informational purposes only and does not replace the official instructions. Self-medication is hazardous to health!
Popular by topic