Table of contents: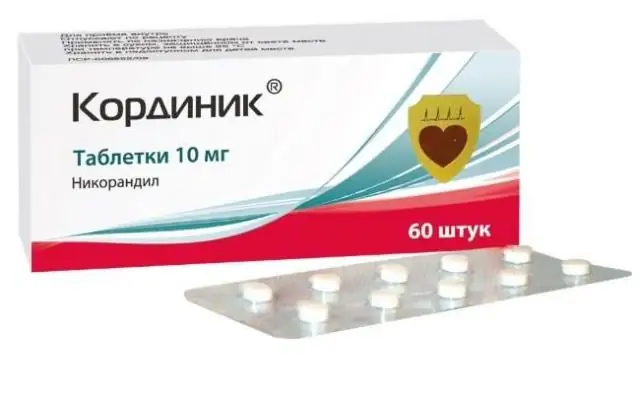 Video: Kordinik - Instructions For Use Of Tablets 10 And 20 Mg, Price, Analogues
Cordinic
Cordinik: instructions for use and reviews
1. Release form and composition
2. Pharmacological properties
3. Indications for use
4. Contraindications
5. Method of application and dosage
6. Side effects
7. Overdose
8. Special instructions
9. Application during pregnancy and lactation
10. Use in childhood
11. In case of impaired renal function
12. For violations of liver function
13. Drug interactions
14. Analogs
15. Terms and conditions of storage
16. Terms of dispensing from pharmacies
17. Reviews
18. Price in pharmacies
Latin name: Cordinik
ATX code: C01DX16
Active ingredient: Nicorandil (Nicorandil)
Manufacturer: PIK-PHARMA PRO, LLC (Russia)
Description and photo update: 2018-24-10
Prices in pharmacies: from 369 rubles.
Buy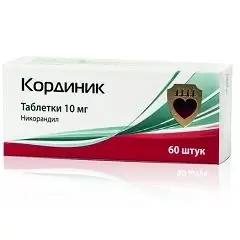 Kordinik is a drug with antianginal action.
Release form and composition
The dosage form of the release of Cordinica - tablets: white with a slight grayish-yellowish tinge, flat-cylindrical, round, with a beveled (in a cardboard box 2, 3 or 6 blisters of 10 tablets each).
Composition of 1 tablet:
active substance: nicorandil - 10 or 20 mg;
auxiliary components (10/20 mg): potato starch - 5/10 mg; calcium stearate - 1/2 mg; microcrystalline cellulose - 84/168 mg.
Pharmacological properties
Pharmacodynamics
Nicorandil has an antianginal effect based on a combination of the nitrate-like properties of the substance and its ability to open potassium channels. Due to the opening of potassium channels, nicorandil provides hyperpolarization of the cell membrane, and the nitrate-like effect consists in an increase in the intracellular content of cyclic guanyl monophosphate. These pharmacological effects cause relaxation of smooth muscle cells and cellular defense of the myocardium during ischemia.
The hemodynamic effects of Cordinica are expressed in a balanced decrease in pre- and afterload (this is in contrast to nitrates and blockers of slow calcium channels, which act mainly on pre- or afterload, respectively). Thus, nicorandil exerts minimal stress on the ischemic myocardium.
The drug does not affect myocardial contractility, therapy practically does not lead to a change in heart rate (heart rate). Reduces systemic blood pressure (blood pressure) by less than 10%; in patients with ischemic stroke, it has a beneficial effect on cerebral circulation.
Nicorandil has no effect on glucose metabolism and lipid metabolism. It relieves an attack of angina pectoris with a decrease in pain syndrome within 4-7 minutes after taking it under the tongue, complete relief is observed within 12-17 minutes.
Pharmacokinetics
Nicorandil is completely and rapidly absorbed from the gastrointestinal tract. The time to reach the maximum concentration of the substance is 30-60 minutes. It is not subject to intensive metabolism in the liver, the half-life is 50 minutes. It is excreted mainly by the kidneys.
The binding of nicorandil to blood plasma proteins is negligible. The free fraction in blood plasma is approximately 75%.
Pharmacokinetic parameters depend on the patient's age, the presence of concomitant kidney / liver pathology, and the conduct of combined therapy only to a small extent.
Indications for use
attacks of angina pectoris (relief);
stable angina pectoris (prevention of seizures as monotherapy in patients with intolerance to beta-blockers and slow calcium channel blockers or in combination with other antianginal drugs).
Contraindications
Absolute:
acute myocardial infarction (including the period 3 months after it);
unstable angina;
collapse, cardiogenic shock;
arterial hypotension (with systolic blood pressure <100 mm Hg);
chronic heart failure of III or IV functional class according to the NYHA classification;
atrioventricular block II and III degree;
left ventricular failure with low filling pressure;
severe bradycardia (with heart rate <50 beats / min);
combined use with phosphodiesterase-5 inhibitors (vardenafil, sildenafil, tadalafil);
pregnancy and the period of breastfeeding;
age up to 18 years;
individual intolerance to any component of the drug.
Relative (Kordinik is prescribed under medical supervision):
heart rhythm disturbances;
arterial hypotension;
atrioventricular block I degree;
Prinzmetal's angina;
impaired renal / hepatic function;
pulmonary edema;
hypovolemia;
angle-closure glaucoma;
anemia;
hyperkalemia.
Instructions for the use of Kordinika: method and dosage
Kordinik is taken orally with water. Food intake does not affect the effectiveness of the drug.
Long-term therapy (prevention of attacks) of stable angina
At the beginning of treatment, Kordinik is prescribed 10 mg 2 times a day.
The doctor selects an effective therapeutic dose individually, depending on the duration and severity of the disease. The standard dose is 10-20 mg 2-3 times a day. The maximum is 80 mg per day.
In cases of headache, the dose of the drug is reduced.
Relief of angina attacks
Cordinic should be taken immediately at the first signs of an attack of angina pectoris at a dose of 20 mg (under the tongue, without swallowing, until it is completely dissolved).
Side effects
digestive system: nausea, vomiting, unpleasant feelings in the stomach, a feeling of fullness in the stomach, stomatitis (in extremely rare cases); in isolated cases - an increase in the activity of hepatic transaminases (aspartate aminotransferase and alanine aminotransferase), alkaline phosphatase;
nervous system: weakness, headache (the violation can be mitigated by lowering the dose, the cancellation of therapy is not required), tinnitus, dizziness, insomnia;
cardiovascular system: tachycardia, palpitations, lowering blood pressure, peripheral edema, flushing of the face;
others: allergic reactions.
Overdose
The main symptoms: tachycardia, a marked decrease in blood pressure.
Therapy: gastric lavage, the appointment of activated charcoal (especially in the first 2 hours after an overdose), elevated position of the limbs, maintaining the function of the cardiovascular system, symptomatic and supportive treatment, intravenous dopamine and calcium gluconate. The use of hemodialysis is possible.
special instructions
It is necessary to cancel Kordinik gradually.
It is possible that the existing heart rhythm disturbances increase.
During the course, ECG indicators, the content of sodium and potassium ions in the blood, and blood pressure should be monitored.
Influence on the ability to drive vehicles and complex mechanisms
Patients during the period of therapy when driving vehicles should be careful.
Application during pregnancy and lactation
According to the instructions, Cordinic is not prescribed to women during pregnancy / lactation (there is no information confirming the safety of the drug).
Pediatric use
For patients under the age of 18, therapy is not prescribed (there is no information confirming the safety of the drug).
With impaired renal function
Cordinic for renal failure is prescribed with caution.
For violations of liver function
Cordinik with hepatic failure is prescribed with caution.
Drug interactions
Possible interactions:
antidepressants, phosphodiesterase-5 inhibitors (vardenafil, sildenafil, tadalafil), vasodilators, antihypertensive drugs, tricyclic antidepressants, diuretics, beta-blockers, monoamine oxidase inhibitors, ethanol: increased antianginal action;
sapropterin: lowering blood pressure below normal.
Analogs
The analogues of Cordinica are: Opsamit, Neovasculgen, Nikorandil, Coraksan, Adempas, Volibris, Revazio, Raenom, Traclir, Optinat, Silafil, Ivabradin, Vivaroxan, Bravadin and others.
Terms and conditions of storage
Store in a place protected from light and moisture at temperatures up to 25 ° C. Keep out of the reach of children.
Shelf life is 2 years.
Terms of dispensing from pharmacies
Dispensed by prescription.
Reviews about Kordinika
There are few reviews about Cordinica, indicating its effectiveness.
Price for cordinic in pharmacies
The approximate price for Kordinik 10 or 20 mg (60 tablets) is 370-409 or 389-399 rubles.
Kordinik: prices in online pharmacies
Drug name
Price
Pharmacy
Kordinik 10 mg tablets 60 pcs.
369 r
Buy
Kordinik tab. 10mg n60
429 r
Buy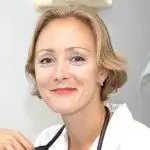 Anna Kozlova Medical journalist About the author
Education: Rostov State Medical University, specialty "General Medicine".
Information about the drug is generalized, provided for informational purposes only and does not replace the official instructions. Self-medication is hazardous to health!
Popular by topic