Table of contents: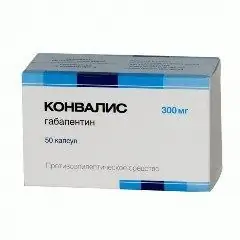 Video: Konvalis - Instructions For Use, Indications, Doses, Analogues
Konvalis
Instructions for use:
1. Release form and composition
2. Indications for use
3. Contraindications
4. Method of application and dosage
5. Side effects
6. Special instructions
7. Drug interactions
8. Analogs
9. Terms and conditions of storage
10. Terms of dispensing from pharmacies
Prices in online pharmacies:
from 472 rub.
Buy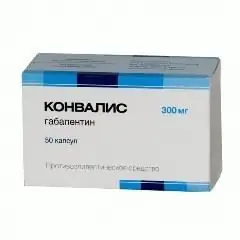 Konvalis is a drug with antiepileptic and analgesic effects.
Release form and composition
Konvalis is produced in the form of capsules: yellow, size No. 0; the contents of the capsules are crystalline powder, white with a slightly yellowish tinge or white (10 pcs. in blisters, 3 or 5 packages in a cardboard box).
1 capsule contains:
Active ingredient: gabapentin - 300 mg;
Auxiliary components: talc - 3 mg, lactose monohydrate - 66 mg, pregelatinized corn starch - 30 mg, magnesium stearate - 1 mg;
Capsule body: dye iron oxide yellow - 0.6286%, titanium dioxide - 2%, gelatin - up to 100%.
Indications for use
Epilepsy (as monotherapy or concurrently with other drugs in adults and children over 12 years of age in the treatment of partial epileptic seizures, including those occurring with secondary generalization);
Neuropathic pain (treatment in adults).
Contraindications
Lactose intolerance, lactase deficiency, glucose-galactose malabsorption;
Acute pancreatitis;
Age under 12;
Hypersensitivity to drug components.
Patients with renal failure Convalis should be taken with caution.
Due to the lack of the necessary data, the drug can be taken during pregnancy only in cases where the benefits of therapy are higher than the potential harm. During lactation, if necessary, breastfeeding should be interrupted.
Method of administration and dosage
Konvalis is taken orally, washed down with liquid in the required amount, regardless of the meal. The capsules should not be chewed.
In the treatment of partial epileptic seizures in adults and children from 12 years of age (as monotherapy or simultaneously with other drugs), the initial dose is 300 mg (1 capsule) once a day. The daily dose is gradually increased to 900 mg, increasing the frequency of taking the drug: the second day - 2 times a day, the third day - 3 times a day. If necessary, a further dose increase is possible.
The average daily dose (in 3 equal doses) is 3-4 capsules, the maximum is 12 capsules. To avoid the resumption of seizures, the maximum interval between doses of the drug should not be more than 12 hours.
In the treatment of neuropathic pain in adults, the initial dose is 300 mg once a day. Then, for two days, the frequency of administration is increased to 3 times a day. For intense pain, the drug in a daily dose of 900 mg (in 3 divided doses) can be taken from the first day. Depending on the response to treatment, a gradual increase in the dose is possible, but not more than 12 capsules per day.
In case of functional disorders of the kidneys, the dosage regimen is determined by the level of creatinine clearance (daily dose):
50-79 ml per minute: 2-6 capsules;
30-49 ml per minute: 1-3 capsules;
15-29 ml per minute: 1-2 capsules;
Up to 15 ml per minute: 1 capsule (can be taken every other day).
The initial dose in patients on hemodialysis is 300 mg. Additionally, after each four-hour hemodialysis session, the same dose is prescribed. On days when dialysis is not performed, the drug should not be taken.
Side effects
When using Konvalis for neuropathic pain, the following side effects may develop:
Respiratory system: pharyngitis, shortness of breath;
Central nervous system: tremor, gait disorder, ataxia, amnesia, confusion, hypesthesia, dizziness, impaired thinking, drowsiness;
Digestive system: abdominal pain, constipation, flatulence, dry mouth, diarrhea, dyspepsia, vomiting, nausea;
Sense organs: amblyopia;
Skin: skin rash;
Others: peripheral edema, headache, asthenic and flu-like syndromes, pains of various localization, infectious diseases, weight gain.
When using Konvalis for the treatment of partial seizures, disturbances from some body systems may develop:
Digestive system: nausea, vomiting, anorexia, flatulence, gingivitis, constipation, abdominal pain, dental disease, dyspepsia, diarrhea, dry throat or mouth, increased appetite;
Cardiovascular system: symptoms of vasodilation, increase or decrease in blood pressure;
Central nervous system: emotional lability, hyperkinesis, dizziness, absence, weakening or increased tendon reflexes, paresthesia, hostility, anxiety, amnesia, confusion, ataxia, depression, impaired coordination of movements, dysarthria, drowsiness, insomnia, nystagmus, impaired thinking, fibrillation muscle tremors;
Respiratory system: pneumonia, pharyngitis, cough, rhinitis;
Urinary system: urinary tract infections;
Hematopoietic system: leukopenia, purpura (usually described as bruising caused by physical injury);
Reproductive system: impotence;
Musculoskeletal system: myalgia, back pain, arthralgia, increased fragility of bones;
Senses: amblyopia, visual impairment, diplopia;
Skin: skin rash, abrasions, itchy skin, acne;
Others: peripheral edema, asthenic syndrome, headache, facial edema, fever, fatigue, viral infection, weight gain.
When comparing the tolerance of Konvalis in daily doses of 300 and 3600 mg, there was a dose dependence of such phenomena as ataxia, dizziness, drowsiness, nystagmus and paresthesia.
When conducting post-registration studies, cases of unexplained sudden death were noted, the connection of which with the Konvalis treatment was not established. In the course of therapy, side effects such as thrombocytopenia, acute renal failure, various allergic reactions, dysfunction of the pancreas and liver, gynecomastia, an increase in the volume of the mammary glands, palpitations, hallucinations, movement disorders (in the form of myoclonus, dyskinesia, dystonia), urinary disorders, tinnitus.
After abrupt withdrawal of the drug, the following disorders were most often observed: sweating, anxiety, nausea, insomnia, pains of various localization.
In case of aggravation of any of the indicated side effects or with the development of other disorders not specified in the instructions, you should consult a doctor.
special instructions
In diabetes mellitus, it may be necessary to adjust the dose of hypoglycemic drugs.
During the use of Konvalis in the analysis of urine for total protein using the Ames N-Multistix SG test system, a false positive result may be obtained. The result obtained must be confirmed using another method.
If symptoms of acute pancreatitis develop, therapy should be interrupted.
While taking Konvalis, an increased risk of developing suicidal thoughts and suicides is possible. Monitoring the mental state of patients is necessary for the timely detection of behavioral disorders that may be harbingers of suicidal acts and thoughts.
It is necessary to cancel treatment or replace Konvalis with an alternative drug gradually, for at least 7 days. Abrupt withdrawal of the drug in patients with partial seizures can lead to the development of seizures.
During the period of therapy, one should refrain from driving a car and performing potentially hazardous types of work that require quick psychomotor reactions and increased concentration of attention.
Drug interactions
With the joint appointment of Konvalis with some drugs, the following effects may occur (AUC is the total concentration of the substance in the blood plasma; C max is the maximum concentration of the substance in the blood):
Antacids containing aluminum or magnesium: decrease in the bioavailability of gabapentin (an interval of at least 2 hours between doses of drugs should be observed);
Morphine (when taking morphine 2 hours before taking Konvalis): an increase in the average AUC of gabapentin by 44% (compared with gabapentin monotherapy);
Cimetidine: slight decrease in renal excretion of gabapentin;
Ethanol and drugs acting on the central nervous system: increased side effects of gabapentin from the central nervous system;
Naproxen: Increased absorption of gabapentin;
Hydrocodone: an increase in the AUC of gabapentin and a decrease in the AUC and C max of hydrocodone.
Analogs
Konvalis analogs are: Algerica, Gerolamik, Lamictal, Normieg, Lamitril, Latrigil, Topiramine, Levetiracetam, Levicitam, Lyrica, Epimil, Topilex, Neogabin, Topamax, Topilepsin, Epileptal, Epiramate, Epitrigin, Vimpatitor, Kepprazotin Gabagamma, Gabantin, Grimodin, Neuralgin, Tebantin, Gabalept, Gabapentin, Gabalept, Meditan, Newropentin, Neurontin, Katena.
Terms and conditions of storage
Store in a dark, dry place out of reach of children at temperatures up to 25 ° C.
The shelf life is 3 years.
Terms of dispensing from pharmacies
Dispensed by prescription.
Konvalis: prices in online pharmacies
Drug name
Price
Pharmacy
Konvalis 300 mg capsules 50 pcs.
472 r
Buy
Convalis 300mg capsules 50 pcs.
RUB 580
Buy
Information about the drug is generalized, provided for informational purposes only and does not replace the official instructions. Self-medication is hazardous to health!
Popular by topic