Table of contents: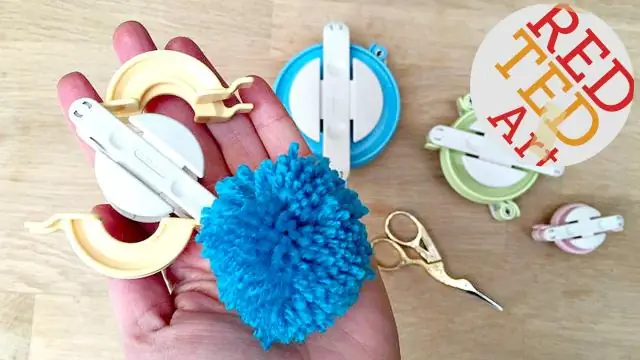 Video: Cloveit - Instructions For Using Cream And Ointment, Price, Analogs, Reviews
Cloveith
Cloveit: instructions for use and reviews
1. Release form and composition
2. Pharmacological properties
3. Indications for use
4. Contraindications
5. Method of application and dosage
6. Side effects
7. Overdose
8. Special instructions
9. Application during pregnancy and lactation
10. Use in childhood
11. Drug interactions
12. Analogs
13. Terms and conditions of storage
14. Terms of dispensing from pharmacies
15. Reviews
16. Price in pharmacies
Latin name: Clovate
ATX code: D07AD01
Active ingredient: clobetasol (clobetasol)
Manufacturer: JELFA PHARMACEUTICAL WORKS, SA (Poland)
Description and photo update: 2018-25-10
Prices in pharmacies: from 308 rubles.
Buy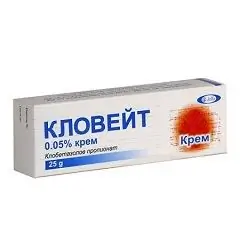 Cloveit is a glucocorticoid drug for external and local use.
Release form and composition
Dosage forms of the drug Cloveit:
ointment for external use 0.05%: a homogeneous translucent fatty soft mass of white color (25 g in aluminum tubes, in a cardboard box 1 tube);
cream for external use 0.05%: a homogeneous mass of white color (25 g each in aluminum tubes, in a cardboard box 1 tube).
The composition of 1000 mg ointment contains:
active ingredient: clobetasol propionate - 0.5 mg;
auxiliary ingredients: sorbitan sesquioleate - 5 mg; propylene glycol - 50 mg; white petrolatum - up to 1000 mg.
The 1000 mg cream contains:
active ingredient: clobetasol propionate - 0.5 mg;
auxiliary ingredients: white petrolatum - 252 mg; propylene glycol - 100 mg; polysorbate 40 - 53 mg; disodium edetate - 0.2 mg; chlorocresol - 1 mg; glyceryl monostearate - 31 mg; liquid paraffin - 23 mg; cetostearyl alcohol (cetyl alcohol and stearyl alcohol in a ratio of 6: 4) - 69 mg; triglycerides of octanoic and decanoic acids - 15 mg; sodium citrate - 0.5 mg; colloidal silicon dioxide - 1 mg; citric acid - 0.5 mg; flavoring chemoderm 841 - 0.3 mg; purified water - up to 1000 mg.
Pharmacological properties
Pharmacodynamics
Cloveit's active ingredient, clobetasol (in the form of clobetasol propionate), is a topical glucocorticosteroid (GCS). It prevents marginal standing (accumulation) of neutrophils, reduces inflammatory exudation, as well as the production of lymphokines, slows down the process of migration of macrophages, weakens the intensity of granulation and infiltration processes. Thanks to these properties of the active substance, Cloveit has antipruritic, local anti-inflammatory, anti-allergic and anti-exudative effects.
Pharmacokinetics
The average value of the maximum concentration (C max) of clobetasol - 0.63 ng / ml, is achieved in plasma after applying 30 g of clobetasol propionate to healthy skin in the form of 0.05% ointment: after the first application - after 13 hours, with the second application - after 8 hours. 10 hours after the application of the second dose of clobetasol propionate cream in the amount of 30 g, the average C max in plasma slightly exceeds that of the application of the ointment. 3 hours after a single application of 25 g of 0.05% Cloveit ointment, the mean C max of clobetasol propionate in plasma in patients with psoriasis is 2.3 ng / ml, in patients with eczema - 4.6 ng / ml.
Application of the drug to large areas of the skin surface enhances absorption, and inflammation / damage to the skin increases absorption, which contributes to the manifestation of a systemic effect.
Clobetasol propionate is metabolized mainly in the liver, a small amount in the kidneys. Eliminated in the urine.
Indications for use
Kloveit cream and ointment is recommended for local treatment of psoriasis (except for pustular and extensive plaque), various forms of eczema, lichen planus, DHQ (discoid lupus erythematosus) and other skin diseases that are resistant to less active GCS for local use.
Contraindications
viral, bacterial and fungal skin diseases, including chickenpox, herpes simplex, actinomycosis, skin tuberculosis, etc.;
rosacea (rosacea);
acne (acne vulgaris);
skin cancer;
nodular prurigo (Hyde's disease);
perioral dermatitis;
cutaneous manifestations of syphilis;
perianal and genital itching;
widespread plaque and pustular psoriasis;
diaper dermatitis;
age under 1 year;
the period of pregnancy and breastfeeding;
individual hypersensitivity to any component of the drug.
Instructions for use of Cloveit: method and dosage
According to the instructions, Cloveit is intended for external use. Apply a thin layer of ointment or cream to the affected area.
Recommended dosage: application 1-2 times a day. The course of continuous treatment lasts from 3 to 4 weeks.
With persistent, non-treatable skin diseases, especially with hyperkeratosis, it is possible to increase the anti-inflammatory effect of Cloveit. To do this, during a night's sleep, an occlusive dressing (for example, made of plastic wrap) is applied over the application of the drug, usually enhancing the positive effect. Every time you change the dressing, you need to cleanse the skin. In the future, it is possible to maintain the achieved result without an occlusive dressing.
Side effects
Negative side effects from the skin and subcutaneous tissue: itching, burning, dry skin, steroid acne. As a result of prolonged use, a weakening of the protective function of the skin may develop. Due to the use of high doses of Cloveit for a long time, atrophic changes in the skin are possible: the appearance of striae (atrophic stripes), thinning of the skin, expansion of superficial blood vessels (especially when using occlusive dressings and applying cream / ointment to areas of skin with folds), hypertrichosis, skin pigmentation. In rare cases, the use of external forms of corticosteroids in the treatment of psoriasis or their cancellation can provoke pustular psoriasis.
Application of the drug to large surfaces or use for a long period may be accompanied by systemic absorption and cause the development of a number of systemic adverse reactions: ulceration of the mucous membrane of the gastrointestinal tract (GIT), gastritis, symptoms of hypercortisolism, increased intraocular pressure.
The risk of developing hypercortisolism is increased in children, especially in the case of using an occlusive dressing, the role of which can be played by a diaper. In adult patients, provided that the drug Cloveit is used in a weekly dose of no more than 50 g, the suppression of the function of the pituitary and adrenal glands is transient. After the end of the course of therapy, these functions are quickly restored.
In rare cases, Cloveit can cause an exacerbation of the symptoms of the disease.
Overdose
Acute overdose of clobetasol is unlikely. With chronic overdose or improper treatment, symptoms of hypercortisolism may develop. In this case, a gradual withdrawal of the drug is required under medical supervision.
special instructions
Cloveit ointment is recommended to be prescribed to patients with skin lesions, accompanied by dryness, thickening, hyperkeratosis.
Cloveit cream is used to treat inflammatory skin diseases in the acute stage, also accompanied by the development of wetness, and to treat inflammation of the scalp.
Use Cloveit should be short-term.
External forms of corticosteroids should not be prescribed for long-term treatment, especially for young children, since this may suppress adrenal function. In the case of Kloveit treatment of children, a doctor's supervision is necessary at least once a week.
Atrophic changes in the skin with prolonged use of GCS externally are most often formed in the face.
The ointment / cream should not be applied to the periorbital area as this can cause glaucoma.
When treating psoriasis with external glucocorticoids, it is possible to develop relapses of the disease, tolerance to the drug, generalized form of pustular psoriasis, local / systemic toxic side effects due to a violation of the barrier function of the skin, and therefore requires careful monitoring of the patient's condition.
In the event of a secondary infection, appropriate antibiotic therapy is required. Any signs of generalization of infection require the termination of external use of GCS and appropriate therapy with antibacterial drugs.
In the warm, humid conditions created by occlusive dressings, the risk of bacterial infection is increased and the skin must be thoroughly cleansed before applying the next dressing.
It is not recommended to dilute the Cloveit cream.
Influence on the ability to drive vehicles and complex mechanisms
There is no data.
Application during pregnancy and lactation
Pregnant women should not use glucocorticoids for external use, including Cloveit, for a long time and / or in high doses.
The safety of topical use of clobetasol during breastfeeding has not been established.
Pediatric use
Cloveit is contraindicated before the age of 1 year. Children from 1 year of age and older, during drug therapy, need medical supervision at least once a week.
Drug interactions
There is no data.
Analogs
Dermovate, Powercourt, Etrivex, etc. are the analogues of Cloveit.
Terms and conditions of storage
Store at temperatures up to 25 ° C. Keep out of the reach of children. The cream must not be frozen.
Shelf life: cream - 3 years, ointment - 2 years.
Terms of dispensing from pharmacies
Dispensed by prescription.
Reviews about Kloveite
According to reviews, Cloveit has a mild, quick effect on psoriasis, softens and heals the skin well. Safe to use, but requires adherence to prescriptions, as it can be addictive.
The price of Cloveit in pharmacies
Approximate price for 0.05% Cloveit cream per 25 g tube - 299 rubles.
Cloveit: prices in online pharmacies
Drug name
Price
Pharmacy
Cloveit 0.05% cream for external use 25 g 1 pc.
308 RUB
Buy
Cloveit 0.05% ointment for external use 25 g 1 pc.
309 RUB
Buy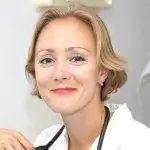 Anna Kozlova Medical journalist About the author
Education: Rostov State Medical University, specialty "General Medicine".
Information about the drug is generalized, provided for informational purposes only and does not replace the official instructions. Self-medication is hazardous to health!
Popular by topic