Table of contents: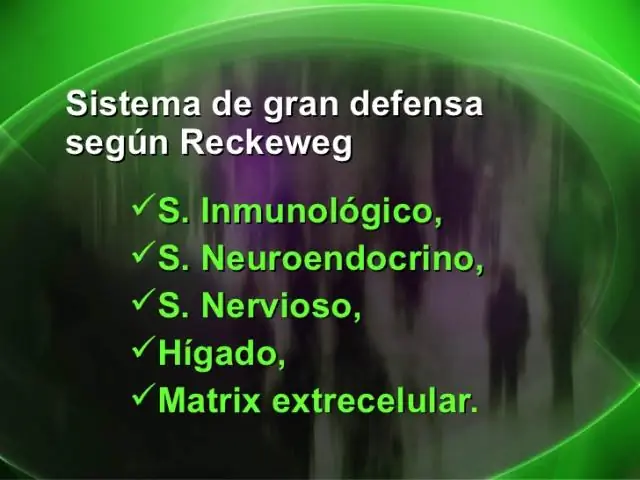 Video: Ovarium Compositum - Instructions For Use, Reviews, Price, Analogues
Ovarium compositum
Ovarium compositum: instructions for use and reviews
1. Release form and composition
2. Pharmacological properties
3. Indications for use
4. Contraindications
5. Method of application and dosage
6. Side effects
7. Overdose
8. Special instructions
9. Drug interactions
10. Analogs
11. Terms and conditions of storage
12. Terms of dispensing from pharmacies
13. Reviews
14. Price in pharmacies
Latin name: Ovarium compositum
ATX code: G02CX
Active ingredient: Ingredients of the homeopathic preparation
Producer: Biologische Heilmittel Heel GmbH (Germany)
Description and photo update: 2018-15-05
Prices in pharmacies: from 754 rubles.
Buy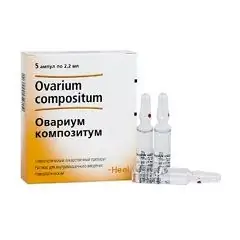 Ovarium compositum is a homeopathic medicine.
Release form and composition
Ovarium compositum is produced in the form of a solution for intramuscular (i / m) administration of homeopathic: colorless, odorless transparent liquid (2.2 ml, or 2.2 g, in a glass ampoule without color, 5 ampoules in a blister strip, in a cardboard box 1, 2, 10 or 20 packs).
1 ampoule contains 22 μl of the following active ingredients: D (homeopathic dilution) 4 - Aquilegia vulgaris (aquilegia vulgaris), Hydrastis canadensis (hydrastis canadensis), Lilium lancifolium (lilium lancifolium) or Lilium tigrinum (lilium tigrinum); D6 - Cypripedium calceolus var. Pubescens (cypripedium calceolus var. Pubescens), Bovista (bovista), Ipecacuanha (Ipecacuanha); D8 - Ovarium suis (ovarium suis), Apisinum (apisinum), Kreosotum (creosotum); D10 - Placenta suis (placenta suis), Uterus suis (uterus suis), Salpinx suis (salpinx suis), Sepia officinalis (sepia officinalis), Magnesium phosphoricum (magnesium phosphoricum), Lachesis mutus (lachesis mutus), Mercurius solmani Hahnemann), Acidum cis-aconiticum (acidum cis-aconiticum); D13 - Hypophysis suis (hypophysis suis);D18 - Pulsatilla pratensis (pulsatilla pratensis).
Excipients: water for injection, to establish isotonia - sodium chloride.
Pharmacological properties
Pharmacodynamics
A multicomponent homeopathic preparation, the clinical effect of which is determined by the components of the composition, used for mastopathy, menstrual irregularities, premenstrual syndrome.
Indications for use
The use of Ovarium compositum is indicated in the complex therapy of menstrual irregularities.
Contraindications
Individual hypersensitivity to drug components.
Instructions for use of Ovarium compositum: method and dosage
The solution is intended for intramuscular administration.
The doctor prescribes the dose and duration of treatment, taking into account clinical indications.
Recommended dosage: 1 ampoule 1-3 times a week, the course of therapy is individual.
Side effects
Against the background of the use of a homeopathic preparation, increased salivation and allergic reactions may occur. Therefore, in case of detection of undesirable effects, a woman should stop treatment and seek medical advice.
Overdose
Overdose symptoms have not been established.
special instructions
Do not overheat the solution!
A temporary exacerbation of the existing symptoms is possible, which is characteristic of homeopathic medicines. In the event of an initial aggravation of the condition or the appearance of undesirable effects, it is recommended to stop the administration of the solution and consult a doctor.
Influence on the ability to drive vehicles and complex mechanisms
According to the instructions, Ovarium compositum does not affect the patient's ability to drive vehicles.
Drug interactions
The use of Ovarium compositum does not exclude the simultaneous use of other drugs.
Analogs
There is no information on analogues of Ovarium compositum.
Terms and conditions of storage
Keep out of the reach of children.
Store at temperatures up to 15-25 ° C, protected from light and moisture.
The shelf life is 5 years.
Terms of dispensing from pharmacies
Dispensed by prescription.
Reviews about Ovarium compositum
Reviews about Ovarium compositum are mostly positive. In most cases, regular use of the drug has a positive therapeutic effect in the treatment of infertility and menstrual irregularities, with menopause, it improves the general condition.
Women with menstrual irregularities after a course of treatment note the absence of prolonged spotting before the start of the cycle, unpleasant symptoms of premenstrual syndrome, significant discharge during menstruation.
Some cases of negative effects of the drug on the body in the form of dizziness and cycle disturbances have been described.
Price for Ovarium compositum in pharmacies
The price of Ovarium compositum for a package containing 5 ampoules is 706–1149 rubles, 100 ampoules - from 13,824 rubles.
Ovarium compositum: prices in online pharmacies
Drug name
Price
Pharmacy
Ovarium compositum homeopathic solution for intramuscular administration 2.2 ml 5 pcs.
754 RUB
Buy
Ovarium compositum rr d / in. 2,2ml n5
1609 RUB
Buy
Ovarium compositum homeopathic solution for intramuscular administration 2.2 ml 100 pcs.
RUB 16223
Buy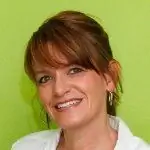 Maria Kulkes Medical journalist About the author
Education: First Moscow State Medical University named after I. M. Sechenov, specialty "General Medicine".
Information about the drug is generalized, provided for informational purposes only and does not replace the official instructions. Self-medication is hazardous to health!
Popular by topic