Table of contents: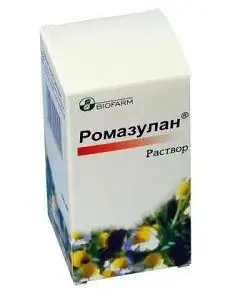 Video: Romazulan - Instructions For Use, Indications, Doses, Analogues
Romazulan
Instructions for use:
1. Release form and composition
2. Indications for use
3. Contraindications
4. Method of application and dosage
5. Side effects
6. Special instructions
7. Drug interactions
8. Analogs
9. Terms and conditions of storage
10. Terms of dispensing from pharmacies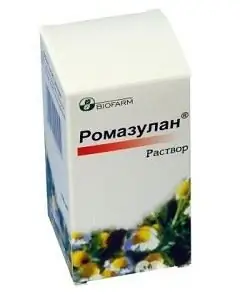 Romazulan is an antimicrobial anti-inflammatory herbal preparation for local, external and systemic use, which has antispasmodic and carminative action
Release form and composition
Dosage form Romazulan - solution: a transparent brownish-greenish liquid with a characteristic smell of alcohol and pharmacy chamomile, during storage, the formation of a precipitate is allowed (50 ml or 100 ml each in transparent brown polyvinyl chloride bottles, sealed with a black propylene cap with a safety ring, guaranteeing tightness; in a cardboard box 1 bottle with instructions for use).
100 g of solution contains:
Active ingredients: guaiazulene - 0.037 g, liquid extract of aqueous-alcoholic extract of chamomile (Chamomilla recutita (L) Rauschert with 50% ethyl alcohol and ammonia in concentrated solution up to pH 8.0 / 8.5; with a ratio of raw materials to the finished extract - 44: 100) - 95.881 g;
Auxiliary components: polysorbate 80 (tween 80) - 4.082 g.
Indications for use
Inside: as part of the complex treatment of flatulence, gastritis, colitis, duodenitis;
Outwardly: therapy of inflammatory diseases of the skin due to the formation of cracks in the skin, insect bites, etc.;
Topically: therapy of inflammatory diseases of the mucous membrane of the oropharynx (for rinsing), vaginitis (for douching).
Contraindications
All methods of application: hypersensitivity to the components of the solution;
Ingestion: during pregnancy and breastfeeding, age up to 12 years.
Method of administration and dosage
Inside: for the treatment of gastrointestinal diseases - for 1 / 2 teaspoon Romazulana 200 ml (1 cup) of warm water, 2-3 times per day. The duration of therapy is 2-3 weeks, a second course is possible on the recommendation of the attending physician;
Topically (washing, compresses, dressings) and locally (enemas, gargles, vaginal douching) prior to use the drug is diluted 1 / 2 tablespoon solution per 1 liter of water.
Side effects
Hypersensitivity reactions are possible.
special instructions
It should be borne in mind that the composition of the drug contains ethyl alcohol in an amount of at least 31.5%.
Drug interactions
At the moment, there is no information on the interaction of Romazulan with other medicinal substances / drugs.
Analogs
The analogue of Romazulan is Azulan.
Terms and conditions of storage
Keep out of the reach of children, in a dry, dark place at a temperature not exceeding 25 ° C.
Shelf life is 2 years.
Terms of dispensing from pharmacies
Available without a prescription.
Information about the drug is generalized, provided for informational purposes only and does not replace the official instructions. Self-medication is hazardous to health!
Popular by topic