Table of contents: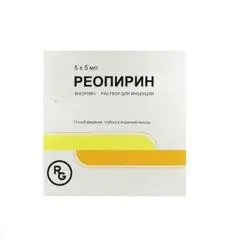 Video: Reopirin - Instructions For Use, Indications, Doses, Analogues
Reopirin
Instructions for use:
1. Release form and composition
2. Indications for use
3. Contraindications
4. Method of application and dosage
5. Side effects
6. Special instructions
7. Drug interactions
8. Analogs
9. Terms and conditions of storage
10. Terms of dispensing from pharmacies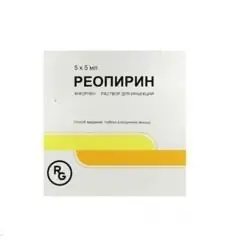 Reopirin is a combined drug of anti-inflammatory, analgesic and antipyretic action.
Release form and composition
Reopirin comes in the following forms:
Dragee (10 pieces in a blister, two blisters in a cardboard box);
Solution for injection (5 ml in an ampoule, in a cardboard box, five ampoules).
Active ingredients in 1 tablet:
Phenylbutazone sodium - 125 mg;
Aminophenazone 125 mg
Active ingredients in 1 ml of solution:
Phenylbutazone sodium - 150 mg;
Aminophenazone - 150 mg
Indications for use
Polyneuritis, neuralgia, neuritis;
Retinitis, iritis, iridocyclitis;
Parametritis;
Lumbago;
Adnexitis;
Polyserositis, pericarditis (with severe pain);
Diseases of the soft extra-articular tissues and the spine with pain and severe inflammation;
Non-infectious arthritis of various origins (including gouty arthritis and acute rheumatoid arthritis).
Contraindications
Chronic cardiomyopathy;
Heart rhythm disorders;
Edematous syndrome (including a history);
Heart defects;
Peptic ulcer of the duodenum and stomach;
Diseases of the organs of the hematopoietic system;
Diseases of the kidneys and liver;
Children up to age 7;
Hypersensitivity to the drug.
Method of administration and dosage
In rheumatic diseases, Reopirin is taken orally at a dose of 4-6 tablets per day or deeply intramuscularly, 5 ml per day every day or every other day (the solution is injected slowly (within 1-2 minutes) into the gluteus muscle using a long needle).
In case of parametritis and adnexitis, the drug is injected intramuscularly in a dose of 5 ml every 4-5 days until the symptoms disappear.
For children aged 7 to 14 years, the recommended dose of Reopirin is 0.5-1 tablets or 0.5-1 ml of solution 3 times a day every day or every other day.
Side effects
Digestive system: possibly - vomiting, nausea, increased stool frequency, erosive and ulcerative lesions of the gastrointestinal tract, epigastric pain;
Cardiovascular system: tachycardia;
Central nervous system: drowsiness, dizziness;
Urinary system: hematuria, glucosuria, renal tubular necrosis (with long-term treatment in high doses);
Metabolism: sodium and water retention;
Hematopoietic system: rarely - anemia, thrombocytopenia, leukopenia; with long-term treatment with high doses of the drug - agranulocytosis;
Allergic reactions: urticaria, itching, skin rash;
Local reactions: pain at the injection site, sterile abscess at the injection site.
special instructions
For children, Reopirin is prescribed in exceptional cases, in a hospital setting and only under the supervision of a physician and with regular monitoring of the peripheral blood picture, liver function and urine composition.
In case of suspicion of epilepsy, parenteral administration of Reopirin is not recommended.
With prolonged use, the number of leukocytes should be monitored every week.
Drug interactions
With simultaneous use, the drug weakens the effect of phenytoin, cephalosporins, imipramine and griseofulvin.
Reopyrin enhances the effect of anticoagulants, barbiturates, sulfonamides and oral hypoglycemic agents.
Analogs
The analogue of Reopirin is Pirabutol.
Terms and conditions of storage
Store at 15-25 ° C. Keep out of the reach of children. The shelf life is 3 years.
Terms of dispensing from pharmacies
Dispensed by prescription.
Information about the drug is generalized, provided for informational purposes only and does not replace the official instructions. Self-medication is hazardous to health!
Popular by topic