Table of contents: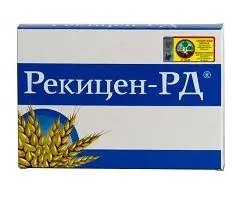 Video: Rekitsen-RD - Instructions For Use, Indications, Doses
Rekitsen-RD
Instructions for use:
1. Release form and composition
2. Indications for use
3. Contraindications
4. Method of application and dosage
5. Side effects
6. Special instructions
7. Drug interactions
8. Terms and conditions of storage
Prices in online pharmacies:
from 104 rub.
Buy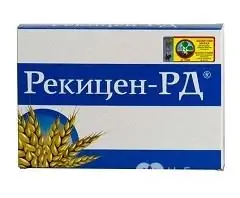 Rekitsen-RD is a dietary supplement (biologically active additive) of animal, mineral and vegetable origin. Restores the intestinal microflora in acute intestinal infections and dysbiosis, has a pronounced adsorption capacity against various toxic agents, activates the humoral link of immunity, has an antioxidant and anti-atherogenic effect, reduces high blood glucose levels, restores digestion in diseases of the stomach, intestines and liver, eliminates heartburn and normalizes stool.
Release form and composition
Rekitsen-RD is produced in the form of granules (in bags of 100 g or 500 g).
Granule composition:
wheat bran fermented with wine yeast;
alimentary fiber;
pectin;
trace elements (magnesium, copper);
essential amino acids;
vitamins (D and B group).
Indications for use
Rekitsen-RD is used as a biologically active food supplement - a source of dietary fiber, copper and magnesium.
In addition, dietary supplements are used as a prophylactic and fortifying agent in practically healthy people (in adults and children), patients with diabetes mellitus, dysbiosis, oncological diseases, as well as when exposed to unfavorable environmental factors (high radiation background, increased environmental pollution).
Rekitsen-RD is also used in complex treatment or as a means of monotherapy for diseases of the gastrointestinal tract (acute intestinal infections, gastritis, peptic ulcer of the duodenum and stomach, stomatitis, liver disease, dysbiosis, colitis), to reduce flatulence, eliminate heartburn, with alcohol pathology and alcohol intoxication, with metabolic disorders (an increase in glucose and atherogenic lipoproteins in the blood, a decrease in antioxidant potential).
Contraindications
Rekitsen-RD is contraindicated in case of hypersensitivity to its individual components.
Method of administration and dosage
BAA Rekitsen-RD is taken orally. It can be used as a dry powder, washed down with water, or pre-soaked in water, or added to food just before consumption.
Recommended dosage regimen for different age groups:
children aged 3-14 years - one teaspoon three times a day during meals for 20-30 days;
adolescents 14-18 years old and adult patients - one tablespoon three times a day during meals for 30 days.
Side effects
In the first two days of taking dietary supplements Rekiten-RD, stool frequency may increase (due to increased intestinal motility), which passes on its own.
With prolonged use of dietary supplements, slight weight loss is possible.
special instructions
Before using dietary supplements Rekitsen-RD, it is recommended to consult a specialist. If the agent is used in children, consultation with a pediatrician is required.
Drug interactions
There is no information on drug interactions.
Terms and conditions of storage
Store in a dry place, out of the reach of children, at a temperature not exceeding 25 ° C.
The shelf life is 1.5 years.
Rekitsen-RD: prices in online pharmacies
Drug name
Price
Pharmacy
Rekitsen-RD granules 100 g 1 pc.
RUB 104
Buy
Rekitsen-RD granules 100g
118 RUB
Buy
Rekicen-RD with milk thistle extract 0.7 g tablets 90 pcs.
124 RUB
Buy
Rekicen-RD with licorice extract 0.7 g tablets 90 pcs.
182 r
Buy
Rekitsen-RD with fructooligosaccharides 0.7 g tablets 90 pcs.
231 RUB
Buy
Information about the drug is generalized, provided for informational purposes only and does not replace the official instructions. Self-medication is hazardous to health!
Popular by topic