Table of contents: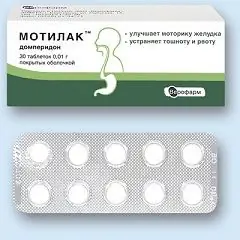 Video: Motilak - Instructions For Use, Indications, Dosage, Reviews
Motilak
Instructions for use:
1. Pharmacological action
2. Release form
3. Indications for use
4. Contraindications
5. Method of application
6. Side effects
7. Storage conditions
Prices in online pharmacies:
from 275 rubles.
Buy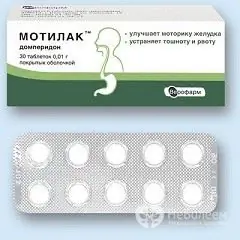 Motilak is a centrally acting antiemetic synthetic drug.
pharmachologic effect
The active substance Motilak has an antiemetic and prokinetic effect, accelerating, if necessary, gastric emptying, increasing the duration of peristaltic contractions of the stomach and duodenum, eliminating the development of nausea and vomiting and increasing the tone of the lower esophageal sphincter.
Motilac, according to reviews, has no effect on gastric secretion.
Release form
Motilak is produced as:
White biconvex film-coated tablets containing 10 mg of domperidone;
White biconvex lozenge tablets containing 10 mg of domperidone.
10 pieces per pack.
Indications for Motilak's use
According to the instructions, Motilac is used for dyspeptic symptoms, often associated with gastroesophageal reflux and esophagitis, which manifest themselves as:
Flatulence, belching;
Feeling bloated;
Heartburn;
Pain in the upper abdomen;
Fullness in the epigastrium.
In addition, the use of Motilak is recommended for nausea and vomiting of any etiology, including organic, functional and infectious, which is caused by drug therapy, radiotherapy, diet disorder or intoxication.
Contraindications
Motilac according to the instructions is contraindicated to use:
In children under 5 years of age;
With prolactinoma;
With hypersensitivity to domperidone or auxiliary components of the drug.
During pregnancy, especially in the first trimester, as well as during lactation, Motilak is prescribed only according to strict indications.
Motilac should not be used in case of gastrointestinal bleeding, as well as in case of mechanical obstruction or perforation.
Method of application of Motilak
Depending on age and indications, Motilak is prescribed:
For chronic dyspeptic symptoms - three times a day, one tablet for adults and 2.5 mg per 10 kg of body weight for children over 5 years old. In some cases, additionally take a single dose of the drug before bedtime;
For nausea and vomiting, a single dose for adults is 2 tablets, for children - 5 mg per 10 kg of body weight.
For chronic symptoms, Motilak is recommended to be taken 20-30 minutes before meals according to the instructions.
Do not take Motilac at the same time as:
Anticholinergic drugs due to the fact that they can neutralize the action of Motilak.
Antacids and inhibitors of gastric secretion to avoid a decrease in the bioavailability of the drug.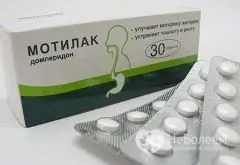 In cases of overdose with Motilac, according to reviews, symptoms such as drowsiness, extrapyramidal reactions and disorientation appear most often.
Side effects
According to reviews, Motilak is well tolerated. In rare cases, when using the drug, violations may develop:
Digestive system, in the form of transient intestinal spasm;
Central nervous system, most often in children, manifested as extrapyramidal symptoms;
The endocrine system, which manifests itself as gynecomastia, galactorrhea and dysmenorrhea due to hyperprolactinemia.
From allergic reactions when using Motilak, urticaria and rash most often develop.
Storage conditions
According to indications, Motilac can be purchased without a doctor's prescription. The recommended shelf life of tablets, subject to the temperature regime, is 24 months.
Motilak: prices in online pharmacies
Drug name
Price
Pharmacy
Motilak 10 mg film-coated tablets 30 pcs.
275 RUB
Buy
Motilak tablets p.p. 10mg 30 pcs.
389 r
Buy
Information about the drug is generalized, provided for informational purposes only and does not replace the official instructions. Self-medication is hazardous to health!
Popular by topic