Table of contents: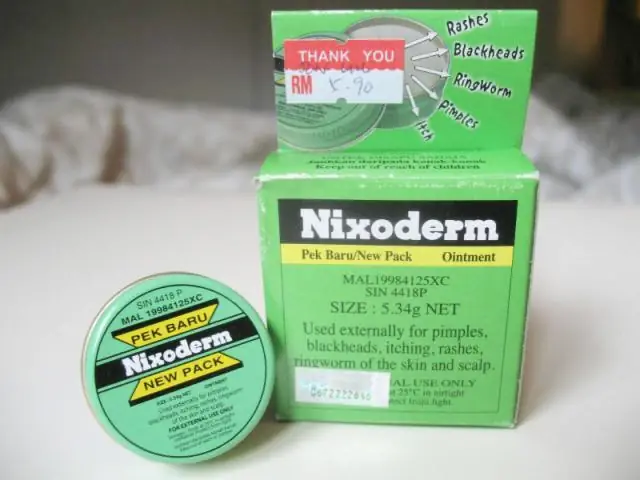 Video: Salicylic Ointment - Instructions For Use, Price, Reviews, Analogues
Salicylic ointment
Salicylic ointment: instructions for use and reviews
1. Release form and composition
2. Pharmacological properties
3. Indications for use
4. Contraindications
5. Method of application and dosage
6. Side effects
7. Overdose
8. Special instructions
9. Application during pregnancy and lactation
10. Use in childhood
11. In case of impaired renal function
12. Drug interactions
13. Analogs
14. Terms and conditions of storage
15. Terms of dispensing from pharmacies
16. Reviews
17. Price in pharmacies
Latin name: Salicylic oinment
ATX code: D01AE12
Active ingredient: salicylic acid (Salicylic acid)
Producer: Tver Pharmaceutical Factory, JSC (Russia); Tula pharmaceutical factory (Russia); Yaroslavl Pharmaceutical Factory (Russia); Pharmstandard-Fitofarm-NN (Russia), etc.
Description and photo update: 2019-20-08
Prices in pharmacies: from 22 rubles.
Buy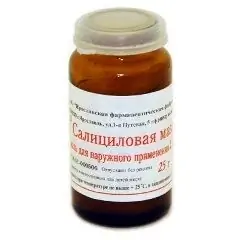 Salicylic ointment is a preparation for external use, with keratolytic, local irritating, antiseptic and anti-inflammatory effects.
Release form and composition
Dosage form - ointment for external use 2, 3 and 5%: dense mass from light yellow to white with a homogeneous structure (25 or 40 g each in dark glass jars, or polyethylene; in a cardboard box 1 can; 10, 20 each, 25, 30 or 50 g in aluminum tubes, in a cardboard box 1 tube).
100 g of ointment contains:
active substance: salicylic acid - 2, 3 or 5 g;
auxiliary component: petroleum jelly.
Pharmacological properties
Salicylic ointment has an antiseptic, keratolytic, anti-inflammatory and local irritant effect.
Indications for use
burns;
infectious and inflammatory skin lesions;
psoriasis;
eczema;
oily seborrhea;
pityriasis versicolor;
ichthyosis;
dyskeratosis.
Contraindications
renal failure;
the period of pregnancy and breastfeeding;
childhood;
individual intolerance to the components of the drug.
Instructions for the use of salicylic ointment: method and dosage
Salicylic ointment is used externally.
Previously, the affected area should be cleaned of necrotic tissues, if there are bubbles, open them, rinse thoroughly with an antiseptic solution.
Depending on the nature of the disease, the ointment can be applied directly to the skin of the affected area of the body, then covered with a sterile napkin, or soaked in a sterile napkin and applied to the wound area.
Recommended dosage: at the rate of 0.2 g per 1 cm 2, change the dressing once every 2-3 days.
Treatment continues until the wound is completely cleared of purulent-necrotic masses.
Side effects
The use of the ointment can cause allergic reactions of local localization in the form of itching, burning, hyperemia.
Overdose
There is no information.
special instructions
Do not apply ointment to hairy warts, birthmarks.
Do not allow the ointment to get on the mucous surfaces; in case of accidental contact, they must be washed with plenty of water.
It is required to take into account the possibility of increased absorption of salicylic acid when carrying the drug on weeping wound surfaces or in the treatment of pathologies with hyperemia and inflammation of the skin (including psoriatic erythroderma).
Application during pregnancy and lactation
According to the instructions, Salicylic ointment is not prescribed during pregnancy / lactation.
Pediatric use
Salicylic ointment therapy is contraindicated in patients under 18 years of age.
With impaired renal function
Renal failure is a contraindication to therapy.
Drug interactions
Salicylic acid helps to increase the permeability of the skin, this should be taken into account when concomitant therapy with other drugs for topical use, since their absorption can be significantly enhanced.
With simultaneous use with oral hypoglycemic agents (sulfonylurea derivatives) and methotrexate, the risk of increasing their side effects increases.
Analogs
Analogues of Salicylic ointment are: Urgokor corn, Zinc-salicylic ointment 5%, Salicylic acid.
Terms and conditions of storage
Keep out of the reach of children. Store in a dark place at a temperature of 8-15 ° C.
Shelf life is 2 years.
Terms of dispensing from pharmacies
Available without a prescription.
Reviews of salicylic ointment
According to most reviews, Salicylic Ointment is the best inexpensive remedy for problem skin. Suitable for everyone, practically does not cause side reactions. Most often, patients note its low cost, availability in pharmacies and high efficiency in the treatment of many skin diseases. The disadvantages include a greasy consistency, which makes the drug difficult to wash off the skin.
Salicylic ointment price in pharmacies
The approximate price for Salicylic ointment 2%, 25 mg in 1 jar or tube is 20-25 rubles.
Salicylic ointment: prices in online pharmacies
Drug name
Price
Pharmacy
Salicylic ointment 2% ointment for external use 25 g 1 pc.
22 RUB
Buy
Salicylic ointment 2% ointment for external use 25 g 1 pc.
RUB 26
Buy
Salicylic ointment 2% ointment for external use 25 g 1 pc.
RUB 27
Buy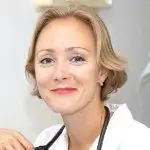 Anna Kozlova Medical journalist About the author
Education: Rostov State Medical University, specialty "General Medicine".
Information about the drug is generalized, provided for informational purposes only and does not replace the official instructions. Self-medication is hazardous to health!
Popular by topic