Table of contents: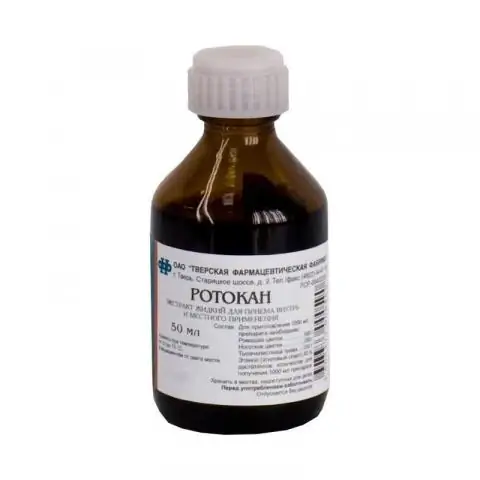 Video: Rotokan-vilar - Instructions For Use, Price, Reviews, Composition
Rotokan-vilar
Rotokan-vilar: instructions for use and reviews
1. Release form and composition
2. Pharmacological properties
3. Indications for use
4. Contraindications
5. Method of application and dosage
6. Side effects
7. Overdose
8. Special instructions
9. Application during pregnancy and lactation
10. Use in childhood
11. In case of impaired renal function
12. For violations of liver function
13. Drug interactions
14. Analogs
15. Terms and conditions of storage
16. Terms of dispensing from pharmacies
17. Reviews Rotokane-vilar
18. Price in pharmacies
Latin name: Rotocan-vilar
ATX code: A01AB11
Active ingredient: calendula medicinal flowers extract (Calendulae officinalis floridis extract) + pharmacy chamomile flowers extract (Chamomilla recutitae floridis extract) + yarrow herb extract (Achillea millefolii herbae extract)
Manufacturer: CJSC "Pharmcenter VILAR" (Russia)
Description and photo update: 2019-08-07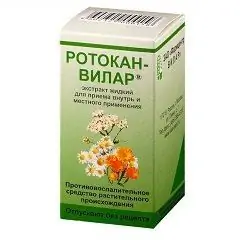 Rotokan-vilar is an anti-inflammatory agent of plant origin for systemic and local use, which has antimicrobial, hemostatic and tissue regeneration effect.
Release form and composition
The drug is produced in the form of a liquid extract for oral administration and topical application: a dark brown liquid with an orange tint with a specific odor; during storage, a precipitate may appear (25, 50 or 100 ml in an orange glass bottle sealed with a polyethylene stopper and a plastic screw cap, in a cardboard box 1 bottle; 50 ml in a dark glass bottle closed with a plastic screw cap with a control ring equipped with a sealing gasket, in a cardboard box 1 bottle; each box also contains instructions for the use of Rotokan-vilar).
To prepare 1000 ml of the drug, the following components are required:
active substances: calendula medicinal flowers - 250 g, yarrow grass - 250 g, chamomile flowers - 500 g;
auxiliary substances: ethanol (ethyl alcohol) 40% - sufficient volume to obtain 1000 ml of extract.
Pharmacological properties
Rotokan-vilar is a herbal medicine that has a local anti-inflammatory effect, showing spasmolytic and hemostatic properties.
Indications for use
inflammatory diseases of the oral mucosa of various etiology and periodontal disease, including aphthous stomatitis, ulcerative necrotizing gingivostomatitis, periodontitis;
chronic enteritis, gastroduodenitis, colitis (as part of complex therapy).
Contraindications
Absolute:
severe renal impairment;
functional disorders of the liver;
alcoholism;
diseases of the brain, traumatic brain injury;
age up to 18 years;
pregnancy and lactation;
hypersensitivity to the components in Rotokan-vilar.
Relative (for oral administration, use the drug with caution):
pyelonephritis, glomerulonephritis;
impaired renal function of mild / moderate severity.
Rotokan-vilar, instructions for use: method and dosage
Rotokan-vilar is used topically, orally and rectally.
A phytopreparation is used in the form of an aqueous solution, which is prepared immediately before use by diluting 1 teaspoon of the extract in 1 glass of boiled warm water. If well tolerated, it is allowed to increase the dose to 3 teaspoons per 1 glass of water.
In dental practice, for the treatment of periodontal disease after removing tartar and carrying out curettage of granulations from pathological gingival pockets, thin turundas, abundantly soaked in a prepared phytopreparation solution, should be introduced into them. This procedure is carried out once a day for 20 minutes, every day or every other day. The course of therapy includes 4-6 procedures.
With lesions of the inflammatory nature of the oral mucosa, an aqueous solution is used for rinsing for 1-2 minutes, or in the form of applications lasting 15-20 minutes. The procedures should be carried out 2-3 times a day, the course of treatment - from 2 to 5 days.
In gastroenterological practice, the drug is taken orally or administered rectally using microclysters. The prepared solution is taken orally 3-4 times a day 30 minutes before meals or 40-60 minutes after meals, по – ½ cup. The course is 14–21 days.
By means of microclysters, 50–100 ml of an aqueous solution are injected 1–2 times a day. The introduction is carried out after a cleansing enema. The course is 3–6 days.
Side effects
During the period of drug treatment, allergic reactions may occur.
Overdose
Until now, cases of overdose of Rotokan-vilar have not been recorded.
special instructions
Rotokan-vilar contains at least 33% ethyl alcohol.
In the maximum daily dose of an aqueous solution prepared by adding 1 teaspoon of the extract to 1 glass of warm boiled water, the content of absolute ethyl alcohol is approximately 3.2 g. The maximum daily dose of an aqueous solution, including 3 teaspoons of the extract per 1 glass of warm boiled water, the content of absolute ethyl alcohol is approximately 9.5 g.
Influence on the ability to drive vehicles and complex mechanisms
When taking Rotokan-vilar orally, you should refrain from driving and working with moving complex mechanisms, as well as from engaging in other potentially hazardous activities that require quick reactions and concentration.
Application during pregnancy and lactation
In pregnant and lactating women, the use of the drug is contraindicated.
Pediatric use
Patients under 18 years of age are not prescribed phytopreparation treatment.
With impaired renal function
In patients with severely impaired renal function, drug therapy is contraindicated.
In the presence of mild / moderate renal dysfunction, glomerulonephritis or pyelonephritis, oral Rotokan-Vilar should be taken with caution.
For violations of liver function
In the presence of functional disorders of the liver, taking Rotokan-vilar is contraindicated.
Drug interactions
No data available.
Analogs
Rotokan-vilar analogs are: Rotokan, ZheKaTon, Romazulan, Stomatofit.
Terms and conditions of storage
Store in a place protected from light, out of reach of children, at a temperature of 10-15 ° C.
Shelf life is 4 years.
Terms of dispensing from pharmacies
Available without a prescription.
Reviews about Rotokan-vilar
Reviews of Rotokan-vilar are positive in most cases. Many patients note the anti-inflammatory and antiseptic effects of the herbal remedy in the course of treatment of aphthous stomatitis, glossitis, periodontitis, gingivostomatitis. They also note a good result when using a herbal remedy as part of the complex therapy of colitis and chronic enteritis. The advantages of the product include its natural composition, mild action, low cost, and the fact that the diluted solution of the drug is water-based.
The disadvantage of Rotokan-vilar is the possible appearance of allergic reactions caused by it. In some reviews, they express dissatisfaction caused by the insufficient effect of treatment with the drug, as well as the ethanol that is part of it.
The price of Rotokan-vilar in pharmacies
The price for Rotokan-vilar can be 25–40 rubles. for a bottle of 50 ml.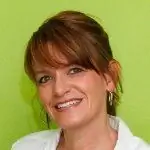 Maria Kulkes Medical journalist About the author
Education: First Moscow State Medical University named after I. M. Sechenov, specialty "General Medicine".
Information about the drug is generalized, provided for informational purposes only and does not replace the official instructions. Self-medication is hazardous to health!
Popular by topic