Table of contents: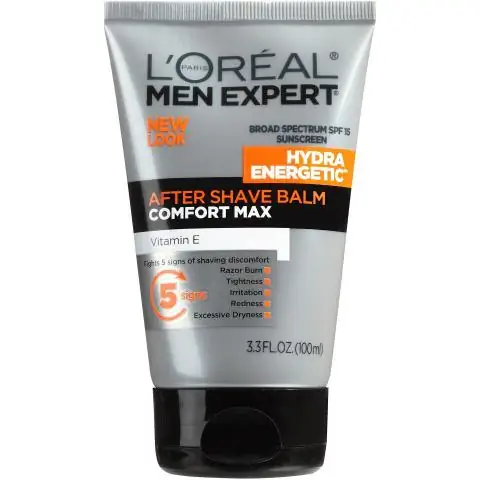 Video: Retinol Palmitate - Instructions For Use, Reviews, Price, Analogues
Retinol palmitate
Retinol palmitate: instructions for use and reviews
1. Release form and composition
2. Pharmacological properties
3. Indications for use
4. Contraindications
5. Method of application and dosage
6. Side effects
7. Overdose
8. Special instructions
9. Application during pregnancy and lactation
10. Use in childhood
11. In case of impaired renal function
12. For violations of liver function
13. Use in the elderly
14. Drug interactions
15. Analogs
16. Terms and conditions of storage
17. Terms of dispensing from pharmacies
18. Reviews
19. Price in pharmacies
Latin name: Retinol palmitate
ATX code: А11СА01
Active ingredient: Retinol palmitate (Retinol palmitate)
Producer: AI SI EN October (Russia), JSC MARBIOPHARM (Russia), JSC RETINOIDS FNPP (Russia)
Description and photo update: 2018-24-10
Prices in pharmacies: from 105 rubles.
Buy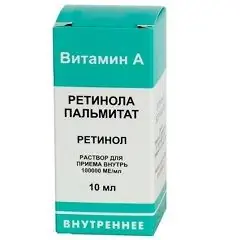 Retinola palmitate is a vitamin preparation for the treatment of hypo- and avitaminosis A.
Release form and composition
dragee: spherical, white or white with a yellowish tinge color, uniform color (10 pcs. in blisters, 5 packs in a cardboard box; 100 pcs. in polymer cans, in a cardboard box 1 can);
oily solution for oral administration: clear oily liquid from light yellow to yellow color without rancid odor (10, 15, 20, 30, 50, 100, 150 or 200 ml each in dark glass vials complete with a dropper or 150 and 200 ml in dark glass dropper bottles, in a cardboard box 1 bottle).
Composition of 1 dragee:
active substance: retinol palmitate (vitamin A palmitate in oily form - 1 million IU / g, stabilized by butylhydroxytoluene) - 3300 ME (1.82 mg);
additional components: beeswax, wheat flour, starch syrup, magnesium hydrosilicate (talc), sucrose (refined sugar), sunflower oil (refined deodorized), mint oil (rectified essential).
Composition of 1 ml solution:
active substance: retinol palmitate - 100,000 IU (in 1 drop from a dropper or eye dropper - about 3300 IU) (1 mg = 1817 IU);
additional components: butylhydroxyanisole, butylhydroxytoluene, rapeseed oil.
Pharmacological properties
Retinol palmitate is a fat-soluble vitamin that:
has a tonic effect;
participates in mineral metabolism, the synthesis of proteins, mucopolysaccharides and lipids, the formation of cholesterol, redox processes;
normalizes tissue metabolism;
promotes normal human adaptation to darkness (participates in photoreception processes);
enhances myelopoiesis, the production of lipase and trypsin, the synthesis of glycosaminoglycans, the processes of cell division;
maintains the normal state of the epithelium of the mucous membranes and skin;
increases the body's resistance to infections, diseases of the intestines, mucous membranes and respiratory tract;
has a positive effect on the function of the sebaceous, lacrimal and sweat glands;
stimulates cell regeneration;
activates the interaction of immunocompetent cells between themselves and the cells of the epidermis;
enhances the division of skin epithelial cells;
inhibits keratinization processes;
rejuvenates the cell population.
The local action of retinol palmitate is due to the presence of specific retinol-binding receptors on the surface of epithelial cells.
Indications for use
According to the instructions, Retinol palmitate is used for vitamin A deficiency (hypovitaminosis and vitamin A deficiency).
Also, the drug is prescribed in the complex therapy of the following diseases:
cirrhosis of the liver;
gastrointestinal diseases (erosive gastroduodenitis, gastric ulcer and 12 duodenal ulcer);
infectious and inflammatory diseases (including tracheitis, influenza, bronchitis, pneumonia, acute respiratory diseases, dysentery, measles);
eye diseases (xerophthalmia, hemeralopia, keratomalacia, conjunctivitis, retinitis pigmentosa, eczematous eyelid lesions);
rickets;
lesions and diseases of the skin, accompanied by dryness and delayed epithelialization (seborrheic dermatitis, acne, neurodermatitis, cracks, psoriasis, hyperkeratosis, ichthyosis, ichthyosiform erythroderma, skin tuberculosis, lichen hair red, ullerythema supraorbital, follicular keratosis dyskeratosis (Darrieus disease), epidermolysis bullosa, familial benign pemphigus Haley-Haley, keratoderma, leukoplakia, variable erythrokeratoderma, congenital pachyonychia, baldness, hair diseases).
In addition, vitamin A is used to prevent the formation of calculi in the urinary and biliary tract.
Contraindications
acute inflammatory skin diseases;
hypervitaminosis A;
chronic pancreatitis;
cholelithiasis;
hypersensitivity to drug components.
Carefully:
viral hepatitis;
cirrhosis of the liver;
renal failure;
chronic heart failure II – III degree;
nephritis;
alcoholism;
children and old age.
Instructions for the use of Retinol palmitate: method and dosage
Retinol palmitate should be taken orally after meals, early in the morning or late in the evening.
Treatment should be carried out under medical supervision.
For mild and moderate vitamin deficiencies, the drug is prescribed for adults in daily doses up to 33,000 IU, for children - 1,000–5,000 IU.
For eye diseases in adults, the daily dose can vary from 50,000 IU to 100,000 IU. At the same time, 0.02 g of riboflavin is taken.
For skin diseases in adults, the daily dose, depending on the indications, may be 50,000-100,000 IU. With ichthyosiform erythroderma and acne, the recommended daily dose for adults is 100,000–300,000 IU, for children - 5,000–10,000 IU.
For gastrointestinal diseases, 50,000 IU of retinol palmitate is usually prescribed per day.
Maximum doses:
for adults: single - 50,000 ME, daily - 100,000 ME;
for children: single - 5000 IU, daily - 20,000 IU.
Side effects
Retinol palmitate may cause allergic reactions in hypersensitive patients.
In some cases, with prolonged use, there are seizures, dry skin and mucous membranes, and increased sensitivity of the facial skin. These phenomena go away on their own after dose reduction or temporary discontinuation of the drug.
With prolonged daily intake of the vitamin by adults in doses of 200,000 IU, children - 100,000 IU, hypervitaminosis A or intoxication may develop. Symptoms of hypervitaminosis A in adults: facial flushing, lethargy, drowsiness, headache, nausea, vomiting, gait disturbance, soreness in the bones of the lower extremities.
When treating acne after 7-10 days, an exacerbation of the local inflammatory reaction is possible, which later stops on its own, and therefore does not require additional treatment.
Overdose
Acute overdose is manifested by hypervitaminosis A. Symptoms in adults: dryness and ulceration of the oral mucosa, bleeding gums, peeling lips, severe headache, dizziness, double vision, irritability, lethargy, drowsiness, confusion, peeling of the skin (especially palms), osteoporosis, nausea, diarrhea. In children, skin rashes, fever, sweating, drowsiness, and vomiting are possible.
Symptoms of chronic intoxication: excessive fatigue, headache, irritability, asthenia, hyperthermia, loss of appetite, dryness of the oral mucosa, vomiting, discomfort, gastralgia, cracks and dryness of lips and skin, photosensitivity, polyuria, nocturia, pollakiuria, bone pain, changes in bone radiographs, hair loss, oligomenorrhea, hemolytic anemia, portal hypertension, intraocular hypertension, hepatotoxic phenomena, yellow-orange spots in the nasolabial triangle, palms and soles, convulsions.
If symptoms of an overdose appear, retinol palmitate should be discontinued. For adults, a slight excess of retinol palmitate can be removed from the body by ingestion of alcohol. Overdose treatment is symptomatic. With pronounced symptoms, oral glucocorticosteroids are prescribed.
special instructions
To avoid an overdose, other preparations containing vitamin A should not be taken concurrently with Retinol palmitate.
The drug is not recommended to be taken during long-term treatment with tetracyclines.
With the simultaneous appointment of cholestyramine, retinol should be taken 1 hour before or 4-6 hours after.
Application during pregnancy and lactation
Retinol palmitate is not recommended for pregnant women (especially in the first trimester) and breastfeeding women.
Pediatric use
In childhood, the drug should be used with caution.
With impaired renal function
Retinol palmitate should be used with caution in renal failure and nephritis.
For violations of liver function
The drug should be used with caution in liver cirrhosis.
Use in the elderly
In old age, the drug should be used with caution.
Drug interactions
Retinol palmitate weakens the action of calcium supplements and increases the risk of hypercalcemia.
Mineral oils, colestipol, neomycin, and cholestyramine reduce the absorption of vitamin A, which may require an increase in its dose.
When the drug is combined with isotretinoin, the risk of developing a toxic effect increases.
Oral contraceptives, when used simultaneously, increase the plasma concentration of vitamin A.
When vitamin A is taken in high doses (from 50,000 IU) in combination with tetracyclines, the risk of intracranial hypertension increases.
Vitamin E reduces absorption, toxicity, and liver deposition of vitamin A. At high doses, tocopherol can reduce vitamin A stores in the body.
Glucocorticosteroids and salicylates reduce the risk of side effects.
Analogs
Retinol palmitate analogs are: Videstim, Retinol, Retinol acetate, Retinol acetate (vitamin A), Retinol acetate solution in oil.
Terms and conditions of storage
Dragee
Store at temperatures up to 25 ° С out of reach of children, dry, protected from light.
Expiration date - 1 year.
Oral solution
Store at temperatures up to 10 ° C, protected from light, out of reach of children.
Shelf life is 2 years.
Terms of dispensing from pharmacies
Available without a prescription.
Reviews of Retinol palmitate
According to reviews, Retinol palmitate is an inexpensive, practically free of side effects and effective means of a wide range of applications. Most often, this vitamin is taken for various dermatological diseases, including dry skin and acne, baldness and hair diseases.
Retinol palmitate price in pharmacies
The price of Retinol palmitate in dragee form is currently unknown. The cost of an oily solution for oral administration is approximately 95–115 rubles. per bottle of 10 ml, 255-280 rubles. for a bottle of 50 ml.
Retinol palmitate: prices in online pharmacies
Drug name
Price
Pharmacy
Retinol palmitate 100000 IU / ml solution for oral administration and external use (oily) 10 ml 1 pc.
RUB 105
Buy
Retinol palmitate 100000 IU / ml solution for oral administration and external use (oily) 50 ml 1 pc.
271 r
Buy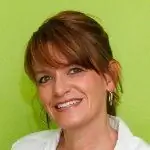 Maria Kulkes Medical journalist About the author
Education: First Moscow State Medical University named after I. M. Sechenov, specialty "General Medicine".
Information about the drug is generalized, provided for informational purposes only and does not replace the official instructions. Self-medication is hazardous to health!
Popular by topic