Table of contents: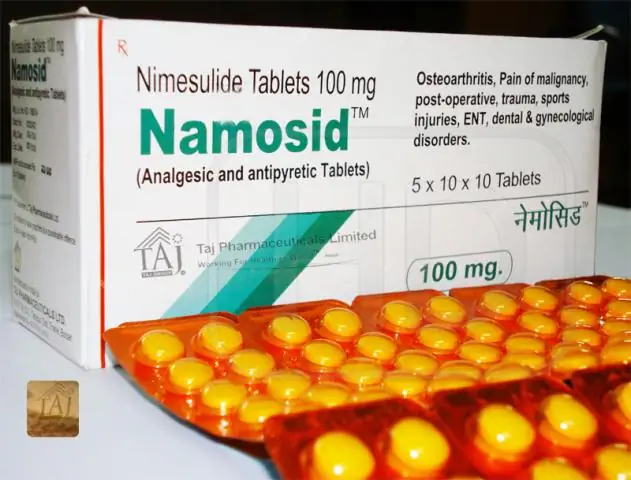 Video: Nimesulide - Instructions For The Use Of Tablets, Price, Reviews, Analogues
Nimesulide
Nimesulide: instructions for use and reviews
1. Release form and composition
2. Pharmacological properties
3. Indications for use
4. Contraindications
5. Method of application and dosage
6. Side effects
7. Overdose
8. Special instructions
9. Drug interactions
10. Analogs
11. Terms and conditions of storage
12. Terms of dispensing from pharmacies
13. Reviews
14. Price in pharmacies
Latin name: Nimesulid
ATX code: М01АХ17
Active ingredient: nimesulide (nimesulide)
Producer: JSC "AVVA-RUS", LLC "Atoll" (Russia), Replekpharm AD (Macedonia)
Description and photo update: 2019-16-08
Prices in pharmacies: from 36 rubles.
Buy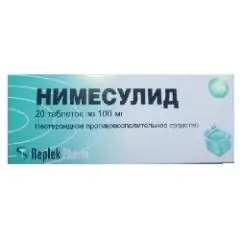 Nimesulide is a drug with anti-inflammatory and analgesic effects.
Release form and composition
Nimesulide is produced in the form of tablets: oblong with rounded ends, biconvex, light yellow with a faint greenish tinge, with a risk (in blisters made of lacquered aluminum printing foil and polyvinyl chloride film, 10, 15, 20, 30 pcs., 1 each -6 packs in a carton box).
The composition of 1 tablet includes:
Active ingredient: nimesulide - 100 mg;
Auxiliary components: microcrystalline cellulose - 66.8 mg, povidone - 14 mg, lactose monohydrate - 68 mg, potato starch - 68 mg, sodium carboxymethyl starch (sodium starch glycolate) - 36 mg, talc - 3.6 mg, magnesium stearate - 3, 6 mg.
Pharmacological properties
Nimesulide is a non-steroidal anti-inflammatory drug that is characterized by antiplatelet, anti-inflammatory, analgesic and antipyretic properties.
Pharmacodynamics
Nimesulide belongs to the drugs of the NSAID group from the sulfonanilide class. It is a selective competitive inhibitor of cyclooxygenase-2 (COX-2), which inhibits the production of prostaglandins at the site of inflammation. The inhibitory effect on COX-1 is insignificant, which causes a lower incidence of adverse reactions associated with the suppression of prostaglandin synthesis in healthy tissues.
Pharmacokinetics
When taken orally, nimesulide is absorbed to a high degree, and it does not change when the drug is combined with food intake. However, with meals, the rate of absorption decreases slightly. The substance binds to plasma proteins by about 95%. The degree of binding to acidic alpha1-glycoproteins is 1%, with lipoproteins - 1%, with erythrocytes - 2%. Changing the dose of nimesulide does not change the degree of binding.
The maximum concentration of the active component in plasma varies from 3.5 to 6.5 mg / l. The volume of distribution is 0.19‒0.35 l / kg. Nimesulide penetrates into the tissues of the female genital organs, where its concentration after a single dose is approximately 40% higher than the plasma concentration. The compound is well distributed in the acidic environment of the inflammation focus (40%) and is determined in the synovial fluid (43%), and also easily overcomes histohematogenous barriers.
Nimesulide metabolism is carried out in the liver with the participation of tissue monooxygenases. About 25% of the dose taken passes into the form of 4-hydroxynimesulide, which is the main metabolite and has a similar pharmacological activity. However, due to a decrease in the size of the molecules, 4-hydroxynimesulide can quickly diffuse along the hydrophobic channel of COX-2 to the active binding site of the methyl group. This metabolite is a water-soluble compound that is excreted without the participation of glutathione. There are also no reactions of conjugation of the II phase of metabolism (glucuronidation, sulfation, and others).
The half-life of nimesulide is approximately 1.56–4.95 hours, and that of 4-hydroxy nimesulide is 2.89–4.78 hours. The main metabolite is excreted in the urine (65%) and bile (35%), and also takes part in enterohepatic recirculation.
In patients with renal failure (CC 30–80 ml / min, or 1.8–4.8 l / h), as well as in elderly patients and children, the pharmacokinetic parameters of nimesulide do not change significantly.
Indications for use
According to the instructions, Nimesulide is prescribed for acute pain, pain syndrome in osteoarthritis (symptomatic therapy), primary dysmenorrhea.
Contraindications
Absolute:
Erosive and ulcerative lesions of the gastrointestinal tract (with exacerbation);
Severe disorders of the blood coagulation system;
Gastrointestinal bleeding or any other condition that is accompanied by bleeding;
Severe heart failure;
Cerebrovascular hemorrhage;
Pronounced functional impairment of the kidneys (with creatinine clearance less than 30 ml per minute);
Functional disorders of the liver;
Drug addiction;
Alcoholism;
Intolerance to non-steroidal anti-inflammatory drugs;
Simultaneous use with other hepatotoxic drugs;
Pregnancy and lactation;
Children under 12 years of age;
Hypersensitivity to drug components.
Relative (Nimesulide tablets should be used with caution in the presence of the following diseases / conditions):
Infectious diseases;
Diseases of the gastrointestinal tract (including history);
Arterial hypertension;
Heart and kidney failure;
Type 2 diabetes mellitus;
Hemorrhagic diathesis;
Severe metabolic disorders;
Asthenization (exhaustion, increased fatigue);
Dehydration;
Elderly age.
Instructions for the use of Nimesulide: method and dosage
Nimesulide tablets are taken orally, preferably after meals, with plenty of water.
Recommended dosage regimens:
Adults: 2 times a day, 1 tablet (100 mg); maximum 400 mg per day;
Children over 12 years of age weighing more than 40 kg: 2 times a day, 1 tablet (100 mg); maximum - 200 mg per day;
Children over 12 years old with body weight less than 40 kg: single dose - 1.5 mg / kg body weight, frequency of administration - 2-3 times a day; the maximum daily dose is 5 mg / kg.
The lowest effective dose of Nimesulide should be taken. The duration of therapy should not exceed 15 days.
Elderly patients do not need dose adjustment.
Side effects
During the use of Nimesulide, disturbances from some body systems can be observed, manifested with different frequencies (≥1 / 10 - very often;> 1/100, 1/1000, 1/10 000, <1/1000 - rarely; <1 / 10,000, including individual messages - very rare):
Nervous system: infrequently - dizziness; rarely - irritability, sleep disorder, anxiety; very rarely - encephalopathy, headache, Reine syndrome, drowsiness;
Cardiovascular system: infrequently - hypertension; rarely - palpitations, tachycardia;
Gastrointestinal tract: often - heartburn, vomiting, nausea, diarrhea; infrequently - bloating, constipation, gastritis; very rarely - ulceration of the mucous membrane of the gastrointestinal tract, pain in the stomach, melena, tarry stools, increased activity of hepatic transaminases, toxic hepatitis (including fatal);
Kidneys and urinary tract: rarely - hematuria, dysuria, fluid retention; very rarely - renal failure, oliguria, interstitial nephritis;
Blood and lymphatic system: rarely - eosinophilia, anemia, prolonged bleeding time; very rarely - agranulocytosis, thrombocytopenia, purpura, pancytopenia;
Allergic reactions: infrequently - skin rash and itching; rarely - exanthema, erythema; very rarely - severe skin phenomena, including toxic epidermal necrolysis (Lyell's syndrome), Stevens-Johnson syndrome, anaphylactic shock, bronchospasm;
Others: infrequently - edema; rarely - hyperkalemia, asthenia, vertigo, visual impairment, malaise; very rarely - hypothermia.
With the development of any of the described side effects, as well as in cases of other disorders, it is necessary to consult a doctor.
Overdose
Symptoms of an overdose of Nimesulide include nausea, vomiting, drowsiness, and apathy. They are usually reversible with supportive care. In some cases, depression of the respiratory center, acute renal failure, arterial hypertension, gastrointestinal bleeding are observed.
Treatments include symptomatic therapy and supportive patient care. The specific antidote is unknown. If an overdose has occurred within the last 4 hours, induce vomiting and give the patient activated charcoal at a dose of 60–100 g per adult, as well as osmotic laxatives. The effectiveness of hemodialysis and forced diuresis is considered minimal due to the high degree of binding of nimesulide to proteins.
special instructions
With the development during therapy of symptoms indicating liver damage (in the form of anorexia, nausea, vomiting, abdominal pain, increased fatigue, dark urine), or with abnormal results of functional liver tests, Nimesulide should be canceled. Such patients are not recommended to take the drug in the future.
Gastrointestinal bleeding or perforation / ulceration during therapy may occur at any time, with or without warning signs and a history of gastrointestinal complications. With the development of an ulcer or gastrointestinal bleeding, the drug should be discontinued.
During treatment with Nimesulide, it is recommended to avoid the use of ethanol, as well as the simultaneous use with hepatotoxic drugs, analgesics, and other non-steroidal anti-inflammatory drugs.
If the functional state of the kidneys deteriorates, treatment should be interrupted.
Patients with hemorrhagic diathesis Nimesulide should be used under constant supervision.
Most often, the development of side effects (including perforations, gastrointestinal bleeding, dysfunction of the heart, liver and kidneys) is observed in elderly patients, therefore, patients in this age group need regular clinical monitoring of the condition.
During the use of Nimesulide, care must be taken when driving vehicles, servicing moving mechanisms and performing other potentially hazardous types of work that require increased attention and quick psychomotor reactions, which is associated with the likelihood of side effects in the form of dizziness and drowsiness.
Drug interactions
With the simultaneous use of Nimesulide with certain drugs, the following effects may occur:
Drugs metabolized with the participation of the CYP2C9 enzyme: an increase in their concentration in blood plasma;
Cyclosporine: increased nephrotoxicity;
Antiepileptic (valproic acid), antifungal (ketoconazole), anti-tuberculosis drugs (isoniazid), amiodarone, methotrexate, methyldopa, amoxicillin: development of an additive hepatotoxic effect;
Warfarin, similar anticoagulants, acetylsalicylic acid: increased risk of bleeding (the combination is not recommended, in severe blood clotting disorders it is contraindicated; if necessary, the simultaneous use of these drugs should be controlled by the effect of anticoagulants);
Furosemide: a decrease in its effectiveness (care should be taken against the background of functional disorders of the heart and kidneys);
Lithium preparations: an increase in the concentration of lithium in the blood plasma and its toxicity (regular monitoring of its concentration is necessary).
Analogs
Analogs of Nimesulide are: Ameolin, Aponil, Mesulid, Nise, Nigan, Nimegesic, Nimesil, Nimesin, Nimid, Nimika, Nimudzhet, Nimulid, Nimuspaz, Nimesulid-Teva, Remesulid, Remisid, Sulidin.
Terms and conditions of storage
Store in a dark, dry place out of reach of children at temperatures up to 25 ° C.
Shelf life is 2 years.
Terms of dispensing from pharmacies
Dispensed by prescription.
Reviews about Nimesulide
Basically, reviews of Nimesulide are favorable. The drug effectively eliminates pain syndrome, fights inflammation and reduces fever. It begins to act quickly, and its action lasts long enough. Negative reviews about Nimesulide are extremely rare and usually contain references to adverse reactions.
The price of Nimesulide in pharmacies
The approximate price of Nimesulide is about 40-84 rubles (the package includes 20 tablets) or 106-200 rubles (the package includes 30 tablets).
Nimesulide: prices in online pharmacies
Drug name
Price
Pharmacy
Nimesulide tablets 100mg 10 pcs.
RUB 36
Buy
Nimesulide 100 mg tablets 20 pcs.
42 RUB
Buy
Nimesulide 100 mg tablets 20 pcs.
RUB 44
Buy
Nimesulide tablets 100mg 20 pcs.
RUB 70
Buy
Nimesulide 100 mg tablets 30 pcs.
RUB 75
Buy
Nimesulide 100 mg tablets 20 pcs.
RUB 75
Buy
Nimesulide tablets 100mg 20 pcs.
RUB 80
Buy
Nimesulide tablets 100mg 30 pcs.
124 RUB
Buy
Nimesulide 100 mg tablets 20 pcs.
153 r
Buy
Nimesulide tablets 100mg 20 pcs. Izvarino Pharma
166 r
Buy
Nimesulide 100 mg granules for oral suspension 2 g 10 pcs.
RUB 218
Buy
Nimesulide gran. for inviting suspension for oral administration 100mg package 2g. 10 pieces.
249 r
Buy
See all offers from pharmacies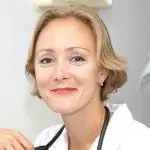 Anna Kozlova Medical journalist About the author
Education: Rostov State Medical University, specialty "General Medicine".
Information about the drug is generalized, provided for informational purposes only and does not replace the official instructions. Self-medication is hazardous to health!
Popular by topic