Table of contents: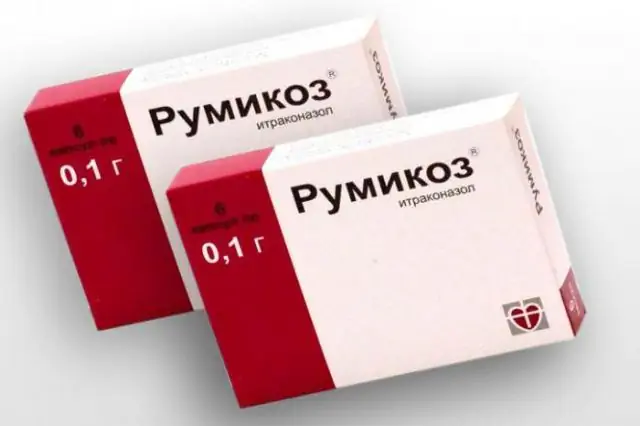 Video: Negrustin - Instructions For Use, Reviews, Price, Analogs, Capsules, Solution
Negrustin
Negrustin: instructions for use and reviews
1. Release form and composition
2. Pharmacological properties
3. Indications for use
4. Contraindications
5. Method of application and dosage
6. Side effects
7. Overdose
8. Special instructions
9. Application during pregnancy and lactation
10. Use in childhood
11. Drug interactions
12. Analogs
13. Terms and conditions of storage
14. Terms of dispensing from pharmacies
15. Reviews
16. Price in pharmacies
Latin name: Negrustin
ATX code: N06AX25
Active ingredient: St. John's wort grass (Hyperici herba)
Producer: Salutas Pharma (Germany)
Description and photo update: 2019-26-08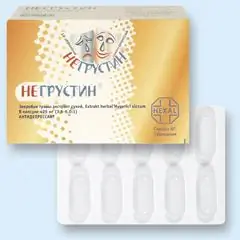 Negrustin is a herbal preparation with antidepressant, sedative and anxiolytic effects.
Release form and composition
Solution for oral administration (50 or 100 ml in dark glass vials, in a cardboard box 1 bottle complete with a measuring cup);
Capsules: hard gelatinous, with a matte red body and a matte green cap; contents - granules of grayish-brown color with a characteristic pleasant aroma (10 pcs. in a blister, in a cardboard box of 3, 4, 6 or 10 blisters).
Each pack also contains instructions for the use of Negrustin.
1 ml of oral solution contains:
Active ingredient: liquid extract of St. John's wort - 791 mg;
Excipients: sorbitol 70%, propylene glycol, glycerin, flavorings.
1 capsule contains:
Active ingredient: dry extract of St. John's wort - 425 mg;
Excipients: calcium hydrogen phosphate dihydrate, microcrystalline cellulose, lactose monohydrate, magnesium stearate, colloidal silicon dioxide, talc;
Shell composition: sodium lauryl sulfate, chlorophyll-copper (chlorophyll copper complex, E141), titanium dioxide (E171), gelatin, purified water, iron oxide yellow (E172), iron (III) oxide red (E172).
Pharmacological properties
Pharmacodynamics
Negrustin is one of the herbal preparations with antidepressant activity. Favorably affects the functional state of the central and autonomic nervous system.
The main component of St. John's wort extract is hypericin. It is assumed that hypericin can inhibit the activity of MAO (monoamine oxidase) type A. The flavonoids included in the extract of St. John's wort have a sedative effect and bind to benzodiazepine receptors.
The main effects of Negrustin are considered to improve mood, increase mental and physical performance, and normalize sleep.
Indications for use
For both dosage forms:
Psychovegetative disorders (including as part of complex therapy);
States of anxiety, worry and fear;
Depressive disorders of mild to moderate severity.
Contraindications
Absolute:
A history of photosensitization due to taking St. John's wort preparations;
Endogenous depression;
Children under 12 years of age;
Hypersensitivity to the components of Negrustin.
It is not recommended to prescribe the drug during treatment with monoamine oxidase inhibitors.
With caution, Negrustin in the form of a solution for oral administration should be taken by patients with fructose intolerance.
Negrustin, instructions for use: method and dosage
Negrustin should be taken orally with meals: swallow the capsules whole and drink plenty of water, take the solution neat or dilute in a little water.
Adults and children over 12 years of age are prescribed 1 capsule 1-2 times a day or 1 ml of solution 3 times a day.
The duration of therapy is 6-8 weeks. If necessary, the doctor may recommend repeated courses.
Side effects
Dermatological reactions: photosensitivity (hypersensitivity to the action of ultraviolet or visible radiation);
Gastrointestinal tract: dyspeptic disorders;
Others: allergic reactions.
Overdose
There is no information on the development of an overdose.
The main symptoms: increased side reactions.
If high doses of Negrustin are taken, sun exposure should be avoided for 1–2 weeks.
special instructions
During treatment, especially for patients with fair skin, prolonged exposure to the sun should be avoided and tanning salons should be avoided.
It is not recommended to simultaneously use other drugs that can cause photosensitivity.
Sorbitol is part of the Negrustin solution, with each intake, about 121 mg of this substance enters the body.
Patients with diabetes mellitus must take into account that 1 ml of solution corresponds to 0.01 XE (bread unit).
There are no data on the harmful effects of St. John's wort preparations on pregnant and lactating women, however, during these periods, Negrustin can only be used as directed by a doctor, after a careful assessment of the expected benefits and potential risks to the fetus / child.
Influence on the ability to drive vehicles and complex mechanisms
Negrustin can have a negative effect on the psychophysical abilities of a person, especially when used concurrently with alcohol or tranquilizers. This should be taken into account by vehicle drivers and patients whose work is associated with increased attention and high reaction rates.
Application during pregnancy and lactation
Despite the fact that there are no data on the negative effects of the drug, Negrustin is not recommended to be used during pregnancy / lactation. In exceptional cases, a medicinal product can be prescribed by a doctor, provided that the expected benefit to the mother exceeds the possible risk to the fetus / child.
Pediatric use
Negrustin therapy is contraindicated in patients under 12 years of age, due to the lack of sufficient clinical data.
Drug interactions
Indirect anticoagulants (eg, fenprocoumon and warfarin), protease inhibitors, amitriptyline, indinavir, nortriptyline, theophylline, and cyclosporine may reduce the effectiveness of Negrustin.
With the simultaneous use of other drugs that cause photosensitization, it is possible to increase the body's sensitivity to the action of ultraviolet radiation.
St. John's wort preparations taken along with oral contraceptives can lead to bleeding.
With the combined use of Negrustin with other antidepressants (for example, fluvoxamine, paroxetine, citalopram, sertraline or fluoxetine), side effects may increase or develop, such as psychomotor agitation, fear, nausea and vomiting.
Analogs
Analogues of Negrustin are: Deprim, Gelarium Hypericum, Deprim Forte, Gerbion Hypericum, Neuroplant, Doppelgerts Nervotonik, Novoimanin, Life 600, St. John's wort extract, Life 900, Turinervin, Hypericin, St. John's wort extract dry.
Terms and conditions of storage
Store at temperatures up to 25 ºС out of reach of children.
Shelf life of capsules - 3 years, oral solution - 4 years.
Terms of dispensing from pharmacies
Available without a prescription.
Reviews about Negrustin
Reviews about Negrustin are different. The advantages include herbal composition, the ability to purchase the drug without a prescription, and the absence of adverse reactions. It is noted that the remedy reduces the level of anxiety, improves mood. Other users report that there was no claimed therapeutic effect with the drug.
Price for Negrustin in pharmacies
The approximate price for Negrustin (30 capsules) is 176 rubles.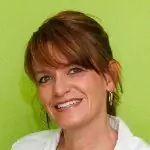 Maria Kulkes Medical journalist About the author
Education: First Moscow State Medical University named after I. M. Sechenov, specialty "General Medicine".
Information about the drug is generalized, provided for informational purposes only and does not replace the official instructions. Self-medication is hazardous to health!
Popular by topic