Table of contents: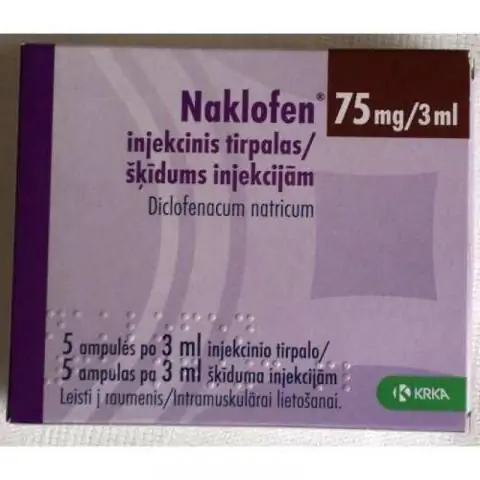 Video: Naklofen - Instructions For Use, Price, Tablets, Injections, Reviews
Naklofen
Naklofen: instructions for use and reviews
1. Release form and composition
2. Pharmacological properties
3. Indications for use
4. Contraindications
5. Method of application and dosage
6. Side effects
7. Overdose
8. Special instructions
9. Drug interactions
10. Analogs
11. Terms and conditions of storage
12. Terms of dispensing from pharmacies
13. Reviews
14. Price in pharmacies
Latin name: Naklofen
ATX code: М01АВ05
Active ingredient: diclofenac (diclofenac)
Manufacturer: Krka, Slovenia
Description and photo update: 2019-13-08
Prices in pharmacies: from 86 rubles.
Buy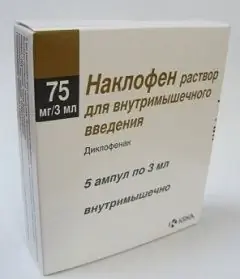 Naklofen is a non-steroidal anti-inflammatory drug (NSAID).
Release form and composition
Dosage forms of Naklofen:
Enteric film coated tablets: yellow-brown in color, have a round slightly biconvex shape and a smooth surface (10 pcs. In blisters, 2 blisters in a cardboard box);
Solution for intramuscular (i / m) administration: colorless or yellowish transparent liquid (3 ml in ampoules, 5 pcs in blisters, in a cardboard box 1 blister, or 3 ml in glass ampoules, 5 pcs in plastic pallets, in a carton box 1 pallet);
Rectal suppositories: cone-shaped with a uniform waxy structure of yellowish-white or white color (5 pcs. In strips, in a cardboard box 2 strips);
Gel for external use 1%: a homogeneous mass of white (60 g each in aluminum tubes, in a cardboard box 1 tube).
The active ingredient of Naklofen is diclofenac sodium:
1 tablet - 50 mg;
1 ml of solution - 25 mg;
1 suppository - 50 mg;
1 g of gel - 10 mg, which is equivalent to 11.6 mg of diclofenac diethylamine.
Auxiliary components:
Tablets: corn starch, lactose monohydrate, microcrystalline cellulose, povidone, magnesium stearate, colloidal anhydrous silicon dioxide;
Solution: propylene glycol, benzyl alcohol, sodium hydroxide, sodium disulfite, water for injection;
Suppositories: solid fat;
Gel: diethanolamine, carbomer, isopropanol, macrogol, vaseline oil, propylene glycol, cetomacrogol, sodium sulfite anhydrous, decyloleate, purified water.
Additionally, as part of an enteric film shell: titanium dioxide, hypromellose, propylene glycol, iron dye yellow oxide (E172), iron dye red oxide (E172), copolymer of ethyl acrylate and methacrylic acid, talc.
Pharmacological properties
Naklofen is characterized by anti-inflammatory, antipyretic and analgesic effects.
Pharmacodynamics
Diclofenac sodium non-selectively inhibits the activity of the enzyme cyclooxygenase 1 and 2, which leads to disturbances in the metabolism of arachidonic acid and a decrease in the production of thromboxane, prostacyclin and prostaglandins. This leads to a decrease in the concentration of prostaglandins in the synovial fluid, gastric mucosa and urine. Naklofen demonstrates the greatest efficiency during painful attacks of an inflammatory nature.
In rheumatic diseases, diclofenac sodium has an analgesic and anti-inflammatory effect, which significantly reduces the severity of pain, eliminates morning stiffness and swelling of the joints and improves their functional state. The active ingredient of Naklofen allows you to get rid of pain, discomfort and swelling of inflammatory origin in trauma and in the postoperative period.
As a non-steroidal anti-inflammatory drug (NSAID), Naklofen is characterized by antiplatelet activity. In the recommended doses, it practically does not change the bleeding time. With prolonged therapy, the analgesic effect of diclofenac sodium does not decrease.
Pharmacokinetics
Diclofenac sodium is absorbed from the digestive tract quickly and completely, food intake increases the half-life by 1-4 hours and reduces the maximum concentration of the substance in the blood by about 40%. After oral administration of 50 mg of Naklofen, the maximum concentration of its active component - 1.5 μg / ml - is achieved in about 2-3 hours. With the intramuscular injection of 75 mg of Naklofen, the maximum plasma concentration is reached after 15-30 minutes. The content of diclofenac sodium in plasma is characterized by a linear dependence on the value of the dose administered to the body. Its repeated administration does not lead to changes in the pharmacokinetics of the drug.
When the gel is applied, no more than 6-7% of diclofenac sodium is absorbed into the systemic circulation.
The substance does not show a tendency to cumulation if the recommendations for use of the drug are followed. Its bioavailability is 50%, and the degree of binding to plasma proteins is 99% (mainly albumin). Diclofenac sodium penetrates into the synovial fluid, in which its maximum content is recorded 2–4 hours later than in blood plasma. The half-life of the synovial fluid is 3–6 hours (the concentration of diclofenac sodium in the synovial fluid after administration of Naklofen after 4–6 hours is higher than in plasma, and remains so for 12 hours). The relationship between the content of diclofenac sodium in synovial fluid and the clinical efficacy of Naklofen remains unexplored.
Approximately 50% of diclofenac sodium is metabolized during the "first pass" through the liver. Its mechanism consists in single or multiple hydroxylation and conjugation with glucuronic acid. The cytochrome P 450 system is involved in metabolic processesCYP2C9. Diclofenac sodium metabolites have less pharmacological activity than itself. Systemic clearance is 260 ml / min, and the volume of distribution reaches 550 ml / kg. Plasma half-life is 2 hours. Approximately 70% of the administered dose is excreted in the form of metabolites that do not have pharmacological activity. Less than 1% of diclofenac sodium is excreted unchanged, and the remainder of the dose is excreted as metabolites in the bile. In patients with severe renal dysfunction (CC less than 10 ml / min), the degree of excretion of metabolites in the bile increases, but an increase in their concentration in the blood is not observed.
In patients with compensated liver cirrhosis or chronic hepatitis, as well as in elderly patients, the pharmacokinetic parameters of diclofenac sodium do not change.
It is known that diclofenac sodium passes into breast milk in small amounts.
Indications for use
According to the instructions, Naklofen is indicated for symptomatic therapy aimed at achieving a rapid analgesic and anti-inflammatory effect; the drug has no effect on the progression of the disease.
Indications for the use of Naklofen tablets, solution and suppositories:
Degenerative and inflammatory pathologies of the musculoskeletal system: rheumatoid arthritis, juvenile chronic arthritis, psoriatic arthritis, ankylosing spondylitis (ankylosing spondylitis), arthritis in Reiter's disease, gouty arthritis, rheumatic soft tissue lesions, osteoarthritis of the spine and peripheral joints, including periarthritis, myositis, synovitis, radicular syndrome;
Pain syndrome of mild or moderate severity in traumatic lesions (accompanied by inflammation), in the postoperative period, with biliary and renal colic, myalgia, neuralgia, lumbar ischialgia, as well as in conditions such as migraine, headache and toothache, adnexitis, algodismenorrhea.
In addition, Naklofen is prescribed:
Tablets: for proctitis, febrile syndrome, severe pain syndrome against the background of infectious and inflammatory pathologies of the throat, ear, nose (tonsillitis, otitis media, pharyngitis) as part of complex therapy;
Solution: for proctitis;
Gel: for rheumatoid arthritis, bursitis, tendovaginitis and other rheumatic lesions of soft tissues, osteoarthritis, damage to muscles, ligaments and tendons, bruises, swelling of soft tissues of inflammatory genesis, painful joints and muscles, including against the background of heavy physical exertion.
Contraindications
III trimester of pregnancy;
Acetylsalicylic acid intolerance syndrome (complete or incomplete) - asthma, urticaria, rhinosinusitis, polyps of the nasal mucosa;
Hypersensitivity to NSAIDs, diclofenac and drug components.
Contraindications to the use of Naklofen tablets, solution and suppositories:
Oppression of bone marrow hematopoiesis;
Acute inflammatory bowel disease (Crohn's disease, ulcerative colitis (NUC));
Exacerbation of gastrointestinal bleeding, erosive and ulcerative pathologies of the gastric or duodenal mucosa;
The period after coronary artery bypass grafting;
Decompensated heart failure;
Hemostasis disorders, cerebrovascular and other types of bleeding;
Severe renal failure (creatinine clearance (CC) less than 30 ml / min), including progressive kidney disease, diagnosed with hyperkalemia;
Active liver disease, severe liver failure;
Breastfeeding period.
Naklofen suppositories, solution and tablets are recommended to be prescribed with caution in ischemic heart disease, cerebrovascular diseases, hyperlipidemia or dyslipidemia, diabetes mellitus, peripheral arterial disease, smoking, CC less than 60 ml / min; history of gastrointestinal (GIT) ulcers, Helicobacter pylori infection, prolonged use of NSAIDs, frequent alcohol consumption, severe somatic diseases; concomitant therapy: antiplatelet agents (acetylsalicylic acid, clopidogrel), selective serotonin reuptake inhibitors (citalopram, fluoxetine, paroxetine, sertraline), anticoagulants (including warfarin), oral glucocorticosteroids (prednisolone); elderly patients receiving diuretics, including debilitated patients with low body weight.
In addition, Naklofen tablets and solution should be used with caution in patients with systemic connective tissue diseases, epilepsy induced by porphyria, diverticulitis, with a significant decrease in circulating blood volume (BCC), including after extensive surgery.
The use of diclofenac in the I-II trimester of pregnancy is possible only for health reasons, if the expected clinical effect for the mother exceeds the potential threat to the fetus.
Do not use suppositories for hemorrhoids, rectal bleeding, trauma or inflammation of the rectum.
With caution, suppositories are prescribed with concomitant therapy with fibrinolytics.
The use of the gel is contraindicated in violation of the integrity of the skin.
It is recommended to use Naklofen gel with caution in patients with chronic heart failure, exacerbation of hepatic porphyria, erosive and ulcerative lesions of the gastrointestinal tract, severe impaired renal and / or liver function, bleeding disorders (including hemophilia, tendency to bleeding, prolonged bleeding time), bronchial asthma; during breastfeeding and old age.
Age restrictions for the use of Naklofen:
Tablets: up to 15 years old or weighing less than 45 kg;
Solution: up to 18 years old;
Suppositories: up to 15 years old;
Gel: up to 6 years old.
Instructions for use of Naklofen: method and dosage
Tablets: taken orally, swallowed whole with plenty of water, during or immediately after a meal. Recommended dosage: at the beginning of treatment - 1 tablet 2-3 times a day, but not more than 3 tablets a day. After achieving the optimal effect, the patient is transferred to a maintenance dose - 2 tablets per day;
Solution: injected intramuscularly in a single dose of 1 ampoule (75 mg). Re-introduction with severe renal colic - after 30 minutes, with other pathologies - only after 12 hours. The duration of the intramuscular injection of the solution should not exceed 2 days, then the patient (if necessary) should be transferred to taking pills or using suppositories. Naklofen solution should not be mixed in the same syringe with other drugs;
Suppositories: for patients with poor tolerance to oral administration of diclofenac, the drug is used rectally. Recommended dosage: for adults - 1 suppository 2-3 times a day, the appointment depends on the severity of the disease; patients aged 15-18 years - 1 suppository no more than 2 times a day. Maintenance dose - 1 suppository 2 times a day. The minimum effective dose should be used for the shortest possible period;
Gel: applied externally, applying a certain amount to the affected area of the body and rubbing gently into the skin. Dosing has age restrictions: patients over 12 years old - a single length of a strip of gel is 5-10 cm, the procedure is carried out 2-3 times a day; children from 6 to 12 years old - no more than 3 cm of gel, 2 times a day. If you need to use the drug for more than 10 days, you should consult your doctor.
In the case of the simultaneous use of other forms of diclofenac, its total daily dose should not exceed 150 mg.
Side effects
The use of Naklofen solution and suppositories and tablets can cause side effects:
Nervous system: often - dizziness, headache; rarely - drowsiness; very rarely - memory disorders, nightmares, impaired sensitivity (including paresthesias), tremors, anxiety, convulsions, cerebrovascular disorders, insomnia, disorientation, irritability, depression, mental disorders, aseptic meningitis;
Cardiovascular system: very rarely - chest pain, palpitations, increased blood pressure (BP), extrasystole, myocardial infarction, vasculitis, heart failure;
Digestive system: often - nausea, pain in the epigastric region, increased activity of aminotransferases, vomiting, dyspepsia, diarrhea, anorexia, flatulence; rarely - proctitis, gastrointestinal ulcers (with or without bleeding, perforation), gastritis, bleeding from the gastrointestinal tract (melena, vomiting and / or diarrhea mixed with blood), liver dysfunction, jaundice, hepatitis; very rarely - dry mouth and other mucous membranes, glossitis, stomatitis, erosive and ulcerative lesions of the esophagus, constipation, exacerbation of Crohn's disease or ulcerative colitis, nonspecific hemorrhagic colitis, fulminant hepatitis, pancreatitis;
Urinary system: very rarely - hematuria, acute renal failure, proteinuria, nephrotic syndrome, papillary necrosis, interstitial nephritis;
Sense organs: often - vertigo; very rarely - tinnitus, hearing impairment, visual impairment (diplopia, blurred vision), impaired taste;
Hematopoietic organs: very rarely - leukopenia, thrombocytopenia, eosinophilia, agranulocytosis, aplastic and hemolytic anemia;
Respiratory system: rarely - shortness of breath and bronchial asthma, cough; very rarely - laryngeal edema, pneumonitis;
Allergic reactions: anaphylactoid or anaphylactic reactions, including a strong decrease in blood pressure and shock; very rarely - angioedema (including the face);
Skin: often - skin rash; rarely - urticaria; very rarely - itching, bullous rashes, exfoliative dermatitis, eczema (including eczema multiforme and Stevens-Johnson syndrome), purpura, Lyell's syndrome, photosensitivity, including allergic, hair loss.
In addition, it is possible:
Solution: at the injection site - the appearance of pain, irritation, redness and swelling of the skin;
Suppositories: local irritation and inflammation.
Against the background of the use of Naklofen gel, side effects rarely appear:
Skin: redness, urticaria, burning sensation, photosensitivity, erythematous skin rash, eczema, contact dermatitis in the form of itching, papular-vesicular rashes, skin peeling, hyperemia, swelling of the skin area covered by the gel;
Systemic reactions: angioedema, bronchial asthma, systemic anaphylactic reactions, shock.
Overdose
When taken orally or when Naklofen is administered into the body in high doses, symptoms of an overdose are convulsions, vomiting, tinnitus, dizziness, diarrhea, bleeding from the gastrointestinal tract. With a significant overdose, acute renal failure may develop, as well as the hepatotoxic effect of the drug.
As a treatment, gastric lavage, intake of activated carbon, symptomatic therapy aimed at eliminating the suppression of the respiratory center, increased blood pressure, gastrointestinal irritation, convulsions, and renal dysfunction are prescribed. Due to the significant binding of diclofenac sodium to plasma proteins and intensive metabolism, hemodialysis and forced diuresis are considered ineffective. With external application of Naklofen gel, overdose is unlikely.
special instructions
In some cases, when a rapid achievement of a therapeutic effect is required, the Naklofen tablet can be taken 30 minutes before meals and washed down with a sufficient amount of water.
Naklofen tablets, suppositories and injections must be prescribed in the minimum effective doses and the shortest possible course, this will reduce the risk of side effects from the gastrointestinal tract.
Patients with a history of upper gastrointestinal pathology should be carefully monitored during treatment with Naklofen.
Diclofenac should be used with caution in Crohn's disease and ulcerative colitis in order to prevent exacerbation of the disease.
In rare cases, long-term therapy with diclofenac can cause the development of severe hepatotoxic reactions, so it is necessary to regularly monitor liver function.
In addition, with prolonged treatment, feces should be analyzed for occult blood, and the picture of peripheral blood should be monitored.
Due to the effect of diclofenac on renal blood flow, treatment of elderly patients (taking diuretics), with renal or heart failure, with reduced BCC should be accompanied by constant monitoring of renal function.
It is recommended to use Naklofen with caution in patients with simultaneous reception of anticoagulants or fibrinolytics, with blood clotting disorders, epilepsy, porphyria.
During the treatment period, you should not drink alcoholic beverages.
Diclofenac has a negative effect on fertility, therefore, the administration of the drug is not recommended for women wishing to become pregnant or suffering from infertility.
The use of diclofenac sodium for infectious diseases can mask disease symptoms.
Suppositories should not be used in combination with other NSAIDs.
Suppositories may affect the properties of platelets, but do not replace the preventive effect of acetylsalicylic acid in cardiovascular pathologies.
Naklofen tablets, suppositories and injections can reduce the speed of motor and mental reactions, and therefore it is recommended that patients abandon potentially hazardous activities during the period of drug use, the implementation of which requires a high speed of psychomotor reactions and increased attention.
The gel should not be applied to areas with compromised skin integrity.
Do not allow the gel to come into contact with mucous membranes, eyes or open wounds. The use of occlusive dressings is contraindicated.
Care must be taken if a large dose of gel is to be applied to large areas of sensitive skin for an extended period.
When used simultaneously with other forms of diclofenac, it is required to strictly observe the maximum total daily dose.
During the period of gel treatment, prolonged exposure to direct sunlight should be avoided.
It is recommended that you wash your hands thoroughly after each rubbing the gel into the skin.
Naklofen gel does not affect the patient's ability to drive vehicles and mechanisms.
Drug interactions
Since the use of Naklofen is indicated only as directed by the attending physician, the simultaneous administration of other drugs must be started after prior consultation with a specialist in order to prevent the development of side effects.
Analogs
Naklofen's analogs are: Diclofenac, Diclofenac Retard, Diclofenac-Akos, Diclofenac-Ratiopharm, Diclonat P, Diklovit, Diklak, Voltaren, Voltaren Emulgel, Ortofen, Rapten, Naklofenlgan, Duo, Phyloberom, Almirallofen Felix, Indystoren, Feloran, Fastum gel, Nise, Dolgit, Dolaren, Flamidez, Ketorol, Ketonal.
Terms and conditions of storage
Keep out of the reach of children:
Tablets - in a dry place, at a temperature not exceeding 25 ° C;
Solution and suppositories - at temperatures up to 25 ° C;
Gel - up to 30 ° C.
Shelf life: tablets and solution - 5 years, suppositories and gel - 4 years.
Terms of dispensing from pharmacies
Naklofen tablets, solution and suppositories are prescription, gel is dispensed without a prescription.
Reviews about Naklofen
According to reviews, Naklofen well eliminates the symptoms of the disease when used according to indications. Many patients confirm that it quickly and permanently relieves pain during treatment. Adverse reactions are rare and most often manifest as nausea, stool problems and allergic reactions (hives, itching and skin irritation). Almost all patients like the low cost of the drug.
Price for Naklofen in pharmacies
At the moment, the price of Naklofen is unknown, since it cannot be purchased on free sale. However, you can buy its analogues: for example, Diclofenac tablets at a price of 71-80 rubles (for a package containing 20 tablets with a dosage of 100 mg) or Fastum gel at a price of 546-585 rubles (for a 100 g tube).
Naklofen: prices in online pharmacies
Drug name
Price
Pharmacy
Naklofen SR 100 mg film-coated tablets of prolonged action 20 pcs.
RUB 86
Buy
Naklofen Duo 75 mg Modified Release Capsules 20 pcs.
93 rbl.
Buy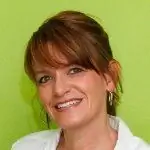 Maria Kulkes Medical journalist About the author
Education: First Moscow State Medical University named after I. M. Sechenov, specialty "General Medicine".
Information about the drug is generalized, provided for informational purposes only and does not replace the official instructions. Self-medication is hazardous to health!
Popular by topic