Table of contents: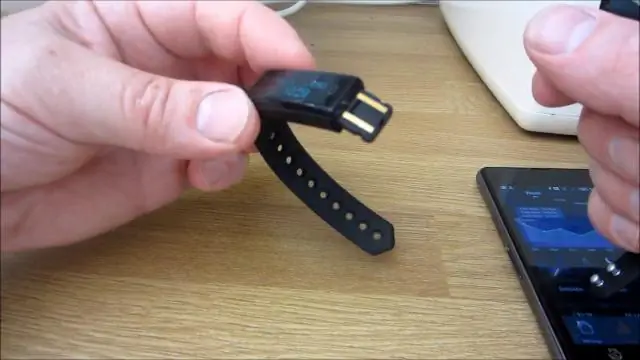 Video: Corrida Plus - Instructions For Use, Reviews, Price, Analogues
Bullfight plus
Corrida plus: instructions for use and reviews
1. Release form and composition
2. Pharmacological properties
3. Indications for use
4. Contraindications
5. Method of application and dosage
6. Side effects
7. Overdose
8. Special instructions
9. Application during pregnancy and lactation
10. Drug interactions
11. Analogs
12. Terms and conditions of storage
13. Terms of dispensing from pharmacies
14. Reviews
15. Price in pharmacies
Latin name: Korrida plus
Active ingredient: marsh calamus (Acorus calamus), peppermint (Меntha рireritа L)
Manufacturer: Evalar, CJSC (Russia)
Description and photo updated: 2018-23-11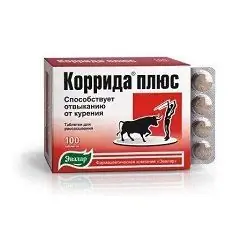 Corrida plus - dietary supplement (biologically active food additive), a source of isovitexin and menthol; used as a smoking cessation aid.
Release form and composition
Dosage form - tablets for resorption weighing 530 mg (in a cardboard box 1 or 10 contoured non-cell packs of 10 tablets, or 5 blisters of 20 tablets, or 1 bottle of 100 tablets).
Active ingredients in 1 tablet:
rhizomes of calamus marsh - 60 mg;
peppermint leaves - 16 mg.
Auxiliary components: sorbitol, sugar, microcrystalline cellulose.
Biologically active components in 1 tablet (not less):
essential oils - 1 mg;
menthol - 0.035 mg.
Pharmacological properties
Bullfighting Plus is a dietary supplement that contains plant-based active ingredients to help you quit smoking without gaining weight and to promote lung tissue regeneration.
The main effects of dietary supplements:
development of aversion to tobacco smoke;
suppression of the urge to smoke;
elimination of violations caused by nicotine;
cleansing the body of toxins and poisons.
Indications for use
According to the instructions, Corrida plus is prescribed as a source of isovitexin and menthol.
The supplement is recommended for people who quit smoking as a means of promoting smoking cessation, as well as as part of a complex therapy for severe nicotine addiction.
Bullfighting plus can also be used by non-smokers as a tonic and tonic supplement for the following diseases / conditions:
angina;
digestive system disorders, including heartburn;
sexual disorders in women and men.
Contraindications
pregnancy and the period of breastfeeding;
the presence of individual intolerance of the components included in the dietary supplement.
Instructions for the use of Corrida plus: method and dosage
The tablets should be sucked until completely dissolved in the mouth.
The recommended dosing regimen for adults: 1 tablet (if you want to smoke) up to 30 times a day. The duration of the course is 28 days. If necessary, therapy can be repeated.
The desire to smoke is suppressed by the sharp taste sensations, and the complex action of the dietary supplement at the thought of smoking causes nausea.
If the desire to smoke is renewed, the next pill should be taken. The number of pills taken should be reduced every day (as the need for smoking decreases).
Persons with severe nicotine addiction Corrida plus should be used as part of complex tobacco smoking therapy (in combination with acupuncture, psychotherapy).
With mild and moderate nicotine addiction, only the use of dietary supplements is sufficient. In this case, the daily dose may be 10 tablets. Even if there is no craving for smoking, it is recommended to take at least 5 tablets daily.
The duration of the period necessary for a complete cessation of smoking is largely determined by the individual capabilities of the body and psychological mood.
If Corrida plus is used as a fortifying and prophylactic agent by non-smokers, the supplement can be taken 3-4 times a day, 1-2 tablets.
Side effects
Individual intolerance to the components is possible. In such cases, a decrease in the daily dose is indicated.
Overdose
There is no information.
special instructions
Tobacco smoking in combination with Corrida plus therapy causes unpleasant somato-vegetative reactions, manifested in the form of a change in taste, nausea, palpitations, and dizziness when trying to smoke. In such cases, you should immediately stop smoking and take a few deep breaths.
Bullfighting plus is not a drug, a medical consultation is required before use.
Application during pregnancy and lactation
It is not recommended to take dietary supplements during pregnancy / lactation.
Drug interactions
There is no information.
Analogs
Analogs of Corrida plus are Tabex, Nikvitin, Champiks.
Terms and conditions of storage
Store at a relative humidity of up to 75% at a temperature not exceeding 25 ° C. Keep out of the reach of children.
Shelf life is 2 years.
Terms of dispensing from pharmacies
Available without a prescription.
Reviews of Bullfighting Plus
Reviews of Bullfighting Plus are quite diverse and even contradictory. Some former smokers note that it is the supplement that helps to quit smoking. Also, the advantages include a natural composition. In other cases, patients indicate that the dietary supplement is ineffective, has an unpleasant taste and aftertaste.
Price for Bullfighting plus in pharmacies
The approximate price for Bullfighting Plus (100 tablets) is 320 rubles.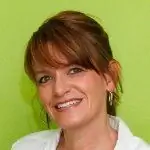 Maria Kulkes Medical journalist About the author
Education: First Moscow State Medical University named after I. M. Sechenov, specialty "General Medicine".
Information about the drug is generalized, provided for informational purposes only and does not replace the official instructions. Self-medication is hazardous to health!
Popular by topic